Lindsay Lohan wants everyone to know that she's not Xenu's Deep Throat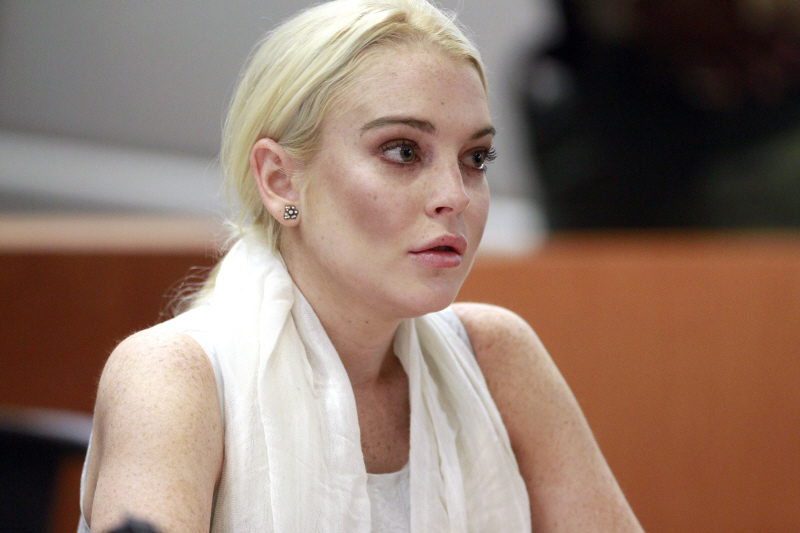 Bedhead has been discussing the October Vanity Fair cover story all week – go here for a recap. VF's cover story is all about Tom Cruise and Xenu and David Miscavige and how in 2004-05, the Church of Scientology "auditioned" girlfriends/wives for Xenu's Favorite Midge. So, obviously, the eyes of the gossip world wandered away from Lindsay Lohan's crack antics for two seconds, so she had to inject herself into the discussion: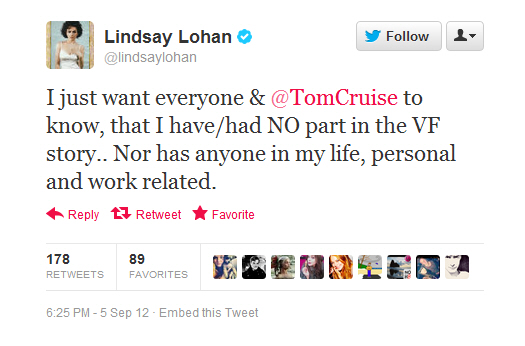 So… why? WTF? Did Lindsay tweet this in between a series of shots and lines and she thought, "Yeah, I just wanna clear the air MOVE THAT VANITY FAIR, I'M LINDSAY LOON. I mean, Lohan. Whatever, I'm so f—ked up right now." Or is there something shadier and crackier going on?
Well, the VF article (written by Maureen Orth, a wonderful journalist and the widow of Tim Russert) does make mention of some of the non-CoS-bots who were "auditioned" for Tom. Women like Sofia Vergara (God, remember that?) and Scarlett Johansson (who, quite honestly, probably thought she was truly auditioning for a film role). Did Lindsay get the approach too? Early excerpts from the VF piece say that Lohan did get a name drop:
"Lindsay met with Tom before he met Katie," a source very close to Lohan reveals. "At first, she was super excited to work with Tom and thought it was about a role in 'Mission Impossible.' It soon became clear that he wasn't looking for an actress but something very different."

Lindsay's father Michael Lohan, who has no formal role in his daughter's career, told me he knows nothing about the meeting with Cruise. "Tom has never called me to ask for her hand in marriage," he added.

"Another actress that was being considered was Scarlett," the same insider reveals. "The whole thing was very strange."

Scarlett's spokesperson confirmed that the actress did meet with Tom and producers around the time in question, but says it was for a role in one of the "Mission Impossible" films.
So Lindsay's name IS mentioned as one of the "girlfriend possibilities" for Tom within the article. Which brings me back to the Cracken's crack tweet – did Orth contact Lindsay to see if the Cracken was ever brought in? When you think about it that way… it's possible that Orth might have contacted Lohan or Lohan's people, in a bid to clarify and properly research the issue. And Lindsay wanted Tom Cruise and Xenu to know that A) She didn't talk to Orth and B) That's she's totally open to being Tom's girlfriend right now. Oh, Xenu wouldn't even know where to start with this crackhead.
UUUUUUUUUUUUUUUUUUGH. So… I wrote all of that and now it turns out that the HuffPo story is full of it and that Vanity Fair's story doesn't mention the Crack Monster at all. So it's just typical crackie shenanigans, basically.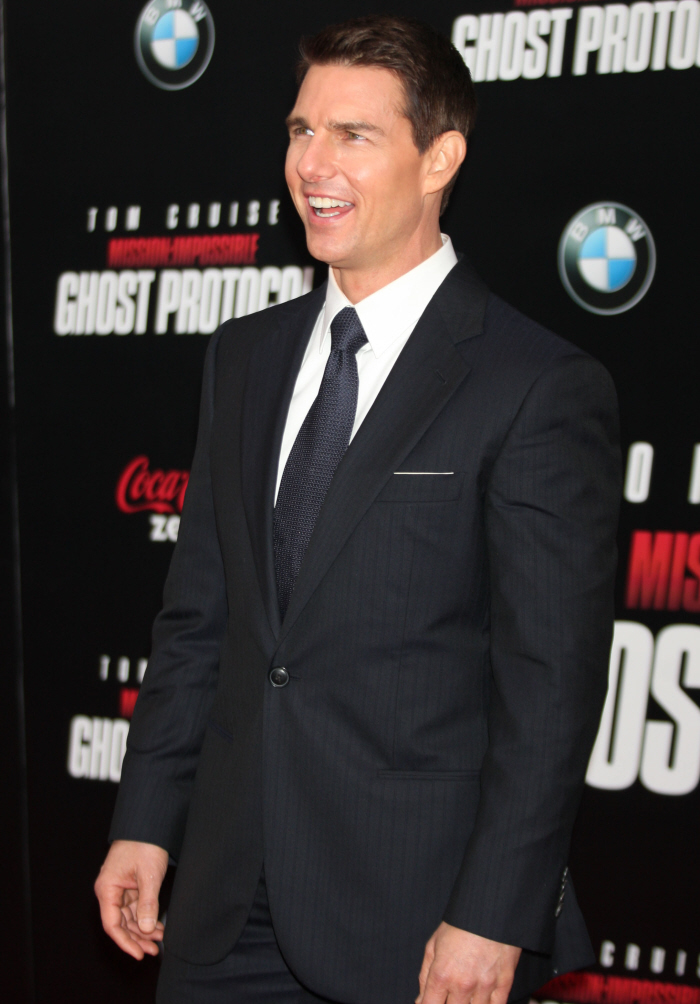 Lindsay Lohan in 2005, around the time she "auditioned".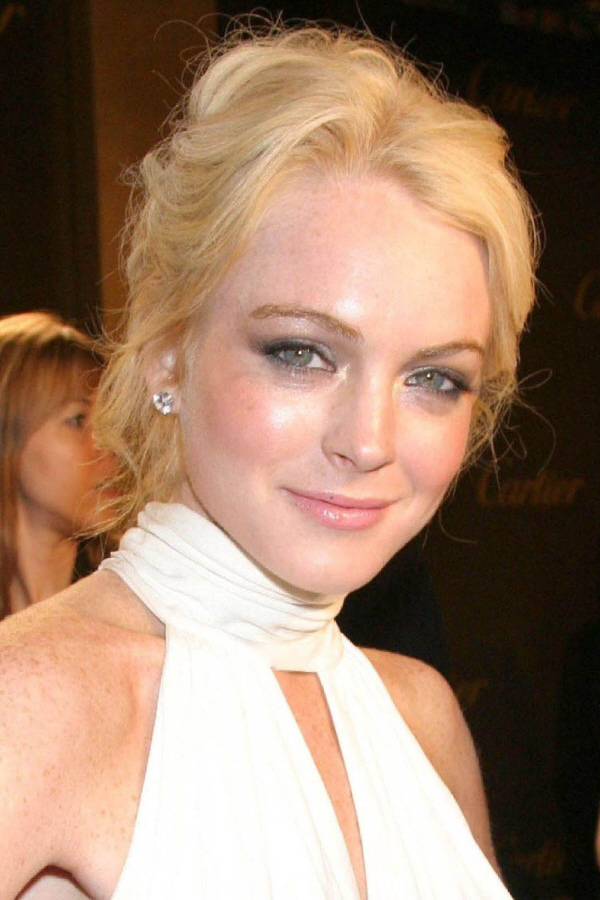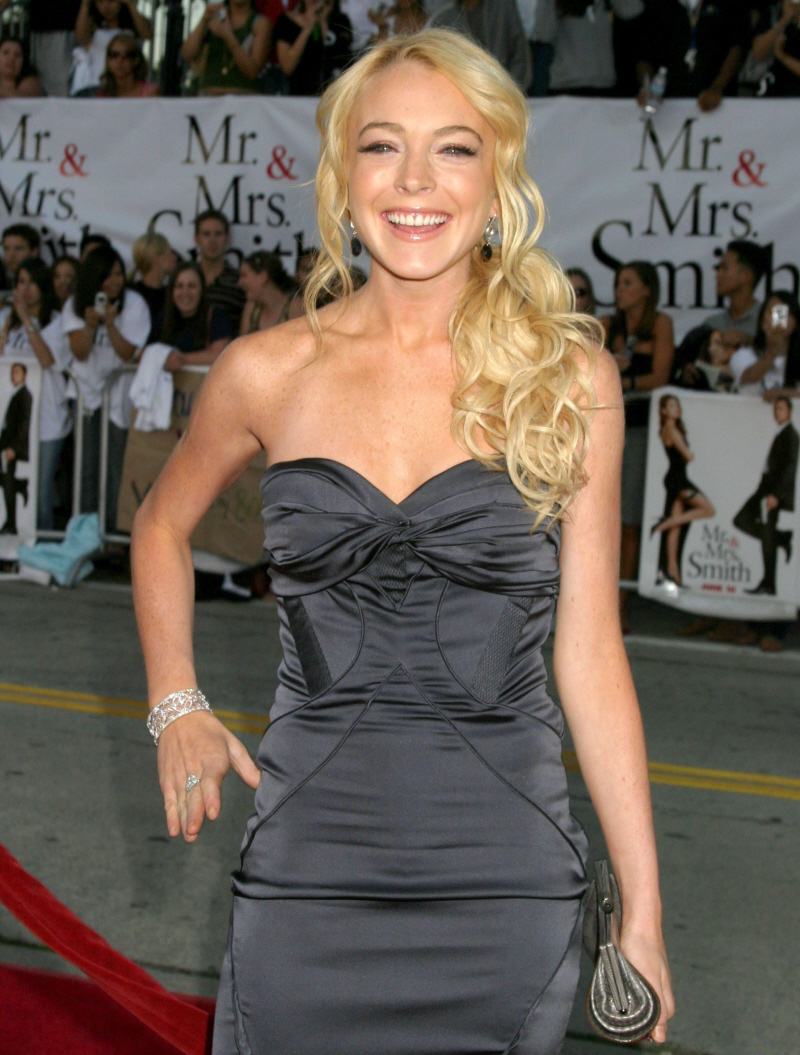 Photos courtesy of WENN.

Written by Kaiser

Posted in Lindsay Lohan, Tom Cruise

- Mariah Carey lip synced on American Idol [CDAN]
- Colin Firth is looking good [Lainey Gossip]
- Internet celebrity charged with murder! [D-Listed]
- What is Paz Vega wearing? [Go Fug Yourself]
- New bachelors on The Bachelorette [Reality Tea]
- Goodbye to The Office [Pajiba]
- Bachelor Sean's fiance cheats on him [Evil Beet]
- Britney Spears out with her man [Popsugar]
- Nina Dobrev works it [Popoholic]
- Cindy Crawford needs to lay off the 'tox [Celebslam]
- Who said it: Carrie Bradshaw or The Dalai Lama? [Buzzfeed]
56 Responses to "Lindsay Lohan wants everyone to know that she's not Xenu's Deep Throat"