Halle Berry's custody case is weaker after Kate Middleton's topless photo scandal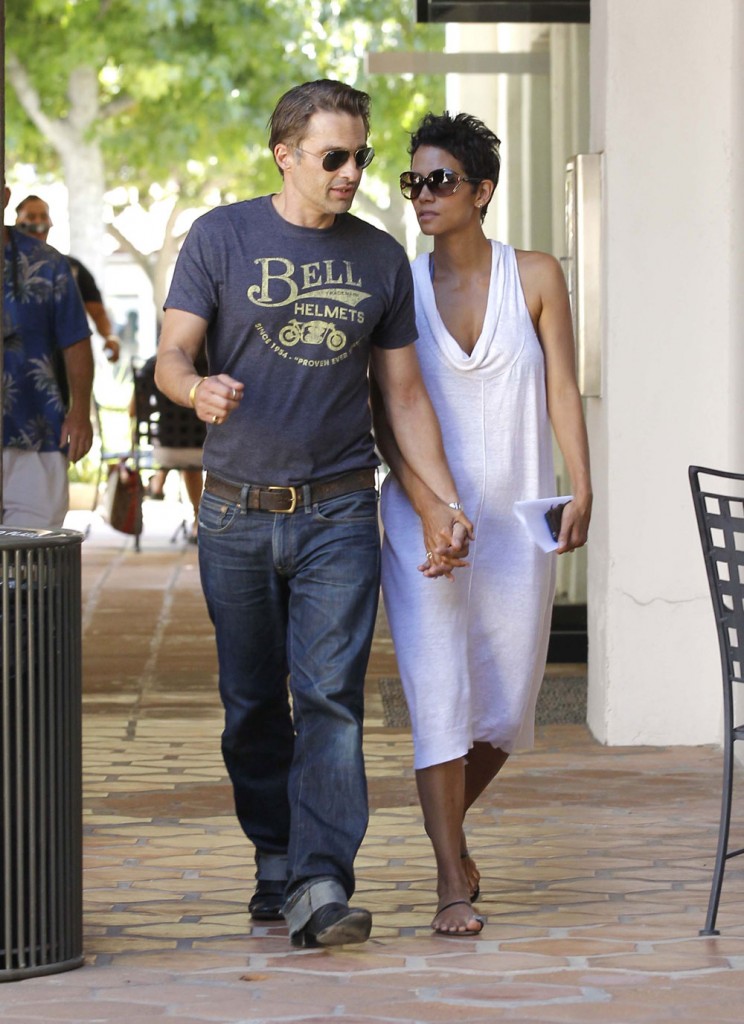 Halle Berry's custody case, in which she's trying to move to France to be with her French fiance (whom she's still inexplicably with), may have just gotten a lot weaker. Halle has been claiming that she needs to move to France to escape the aggressive paparazzi that follow her in L.A., nevermind that moving an hour away could accomplish the same thing. The lawyer for Halle's ex, Gabriel Aubry, has been using the Princess Diana paparazzi tragedy as an example of how it's not necessarily better or safer for celebrities in France than the US. Well Aubry's lawyer has some very good new ammunition with the Kate Middleton topless photo scandal. As you know, Kate was on a private balcony at a private estate in France just minding her business sunning her boobies when a photographer with a long lens snapped some photos and sold them to the tabloids. It's now a huge thing with lawsuits and threats and drama, and it could also blow holes in Halle's case. Here's hoping!
Halle Berry may be collateral damage in the publication of the Kate Middleton topless photos … TMZ has learned.

Halle's lawyer has been trying to convince the judge in her custody battle with Gabriel Aubry … Nahla is better off living in France with her mom because the paparazzi are more gentle and respectful of celebs.

Gabriel's lawyer had only one real piece of ammo to counter Halle's claim — the paparazzi chasing Princess Diana to her death. But that happened 15 years ago. Now Gabriel's lawyers have new firepower — the pics taken of Kate Middleton were by an intrusive photog who we're told used a telephoto lens to capture intimate shots of her on a secluded balcony.

We're told Gabriel's lawyer is aware of the new Kate photos and it's almost certain he'll raise the issue when the trial resumes.

Here's the reality … Halle has a right to move to France, and the judge will ultimately base his decision on what will be in the best interests of Nahla. Since Halle has had primary physical custody since her daughter's birth, she has a huge advantage in the case.
In response to this story, Halle Berry did some bikini photo ops for the paparazzi. She really did, I'm not just being sarcastic. (You can see the photos at this linke.) This story from TMZ came out in the afternoon Friday around 4:30 PST. (When we had all clocked out, which is why I'm getting to it Monday. I'm lazier than Kaiser and Bedhead.) On Sunday, Halle did her best "carefree" face at the beach in a bikini top and cutoff shorts. If I had her figure I'd go around in a bikini most of the time too, but this timing is more than suspect.
The National Enquirer has a story straight from Halle's camp about how she's super freaked out and worried about the paparazzi. A "source" tells them Halle "fears every camera flash that goes off in her face and sincerely believes she or her daughter is going to come to serious harm if the two remain in Los Angeles." She looks so worried and frazzled on the beach posing for that guy she called.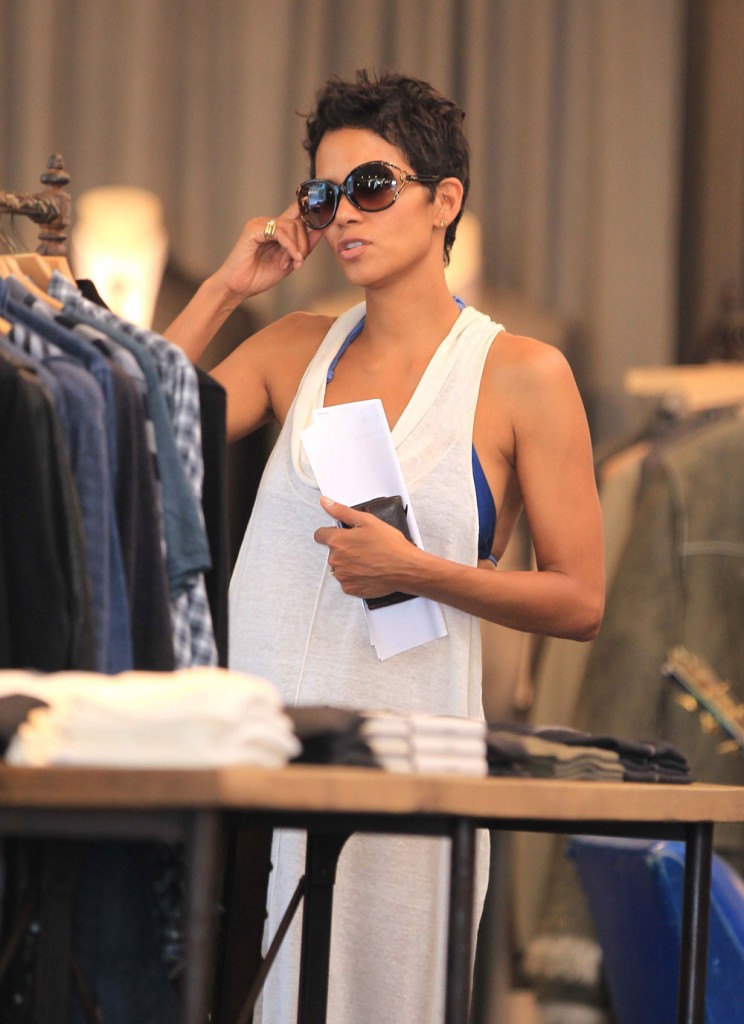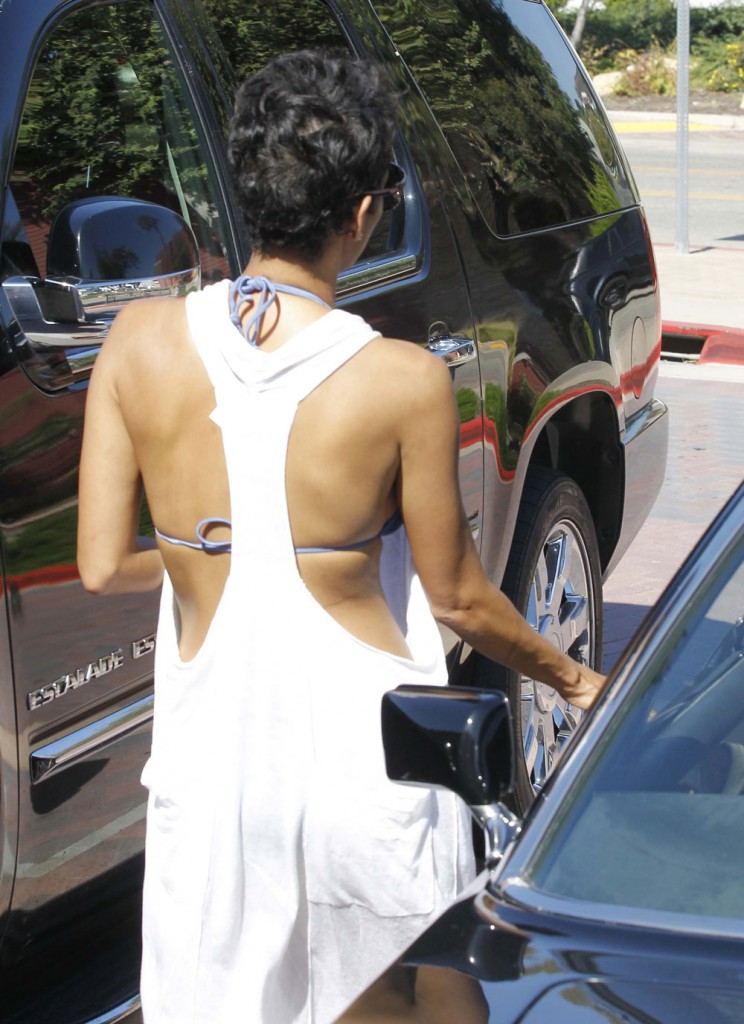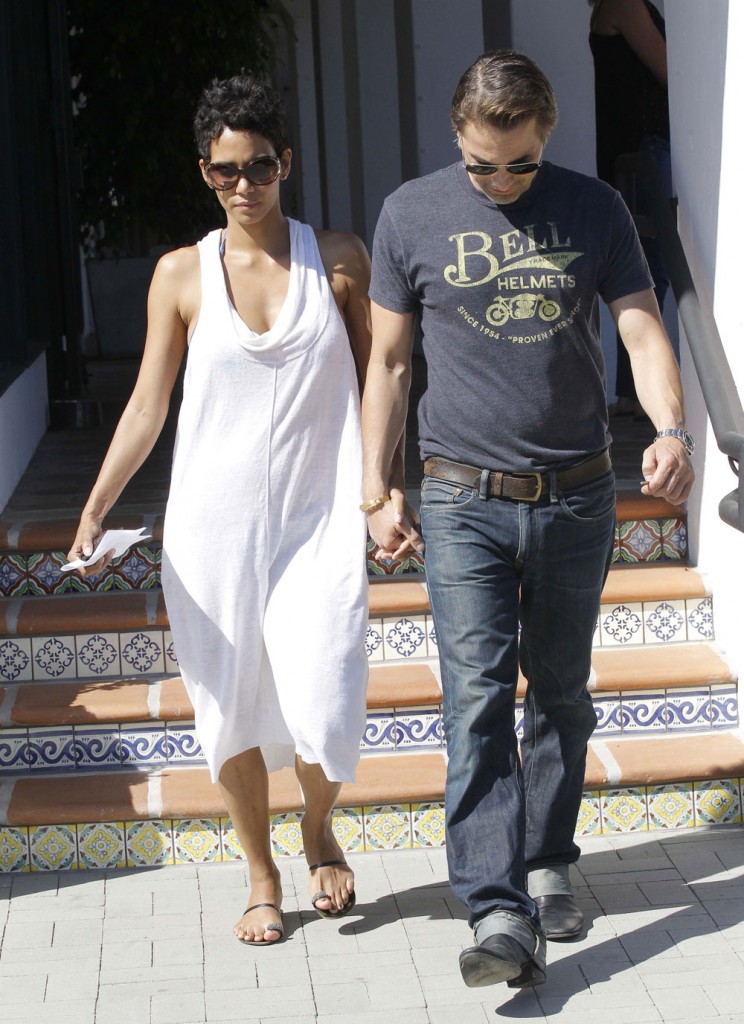 Here are Halle Berry and Olivier Martinez out on Saturday shopping. Note that Halle is wearing a bikini with a coverup, and that this was a full day before her bikini beach photos. Credit: Miguel/Sasha/FameFlynet
Written by Celebitchy

Posted in Custody battles, Gabriel Aubry, Halle Berry, Olivier Martinez

- Mariah Carey lip synced on American Idol [CDAN]
- Colin Firth is looking good [Lainey Gossip]
- Internet celebrity charged with murder! [D-Listed]
- What is Paz Vega wearing? [Go Fug Yourself]
- New bachelors on The Bachelorette [Reality Tea]
- Goodbye to The Office [Pajiba]
- Bachelor Sean's fiance cheats on him [Evil Beet]
- Britney Spears out with her man [Popsugar]
- Nina Dobrev works it [Popoholic]
- Cindy Crawford needs to lay off the 'tox [Celebslam]
- Who said it: Carrie Bradshaw or The Dalai Lama? [Buzzfeed]
39 Responses to "Halle Berry's custody case is weaker after Kate Middleton's topless photo scandal"