Eva Mendes debuts her curly locks on set with Jon Hamm: real hair or a wig?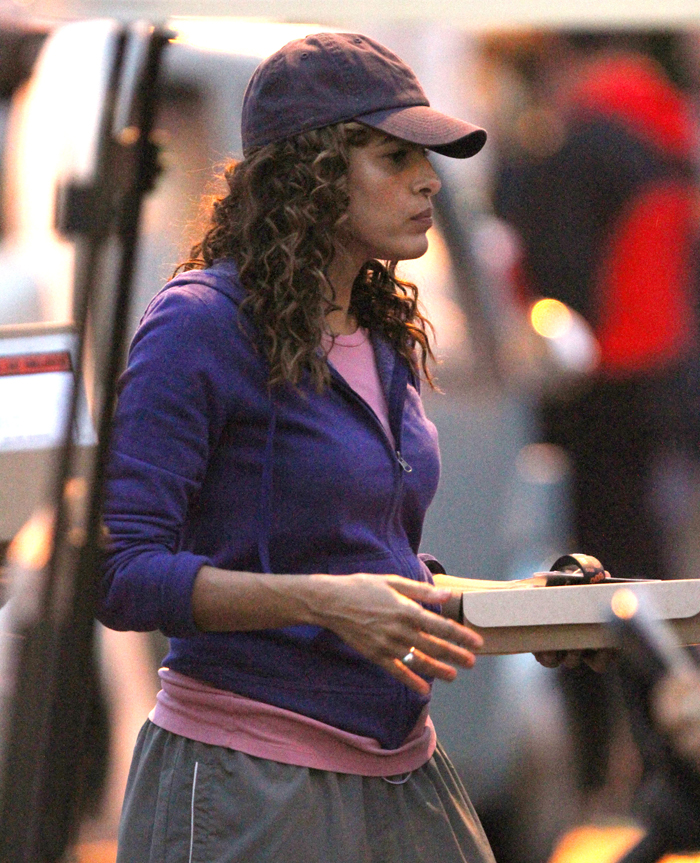 Here's some photos of Eva Mendes on the set of Clear History, which is an HBO film that she's filming with Jon "Freeballing" Hamm. I've included some photos of him at the bottom of this post, and it is with much regret that I report he is probably wearing underwear. Or so I assume because HBO probably has a slightly (ahem) more expansive budget than AMC does, which is my running theory on why Don Draper doesn't always wear undergarments. Or maybe he's just, you know, a male slut.
If you haven't noticed, Eva's hair is looking markedly different than her usual street style, and she's got some fairly springly curls going on, but are they real or just a wig? I'm inclined to say "wig," but I can't tell for sure because that hat complicates matters. Also, Eva has taken a "life-changing" trip to Sierra Leone to raise awareness for women's issues in the region, and she's spoken about her trip to People: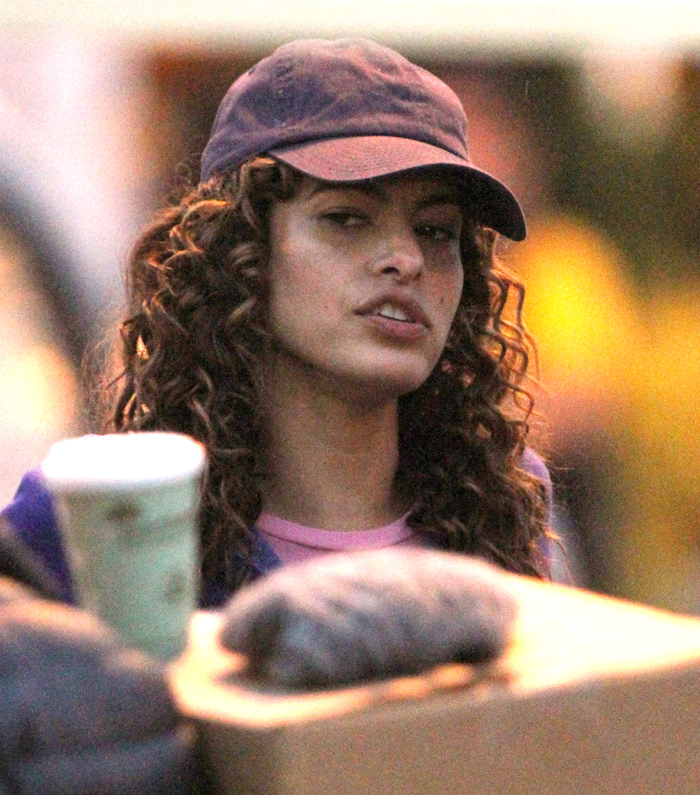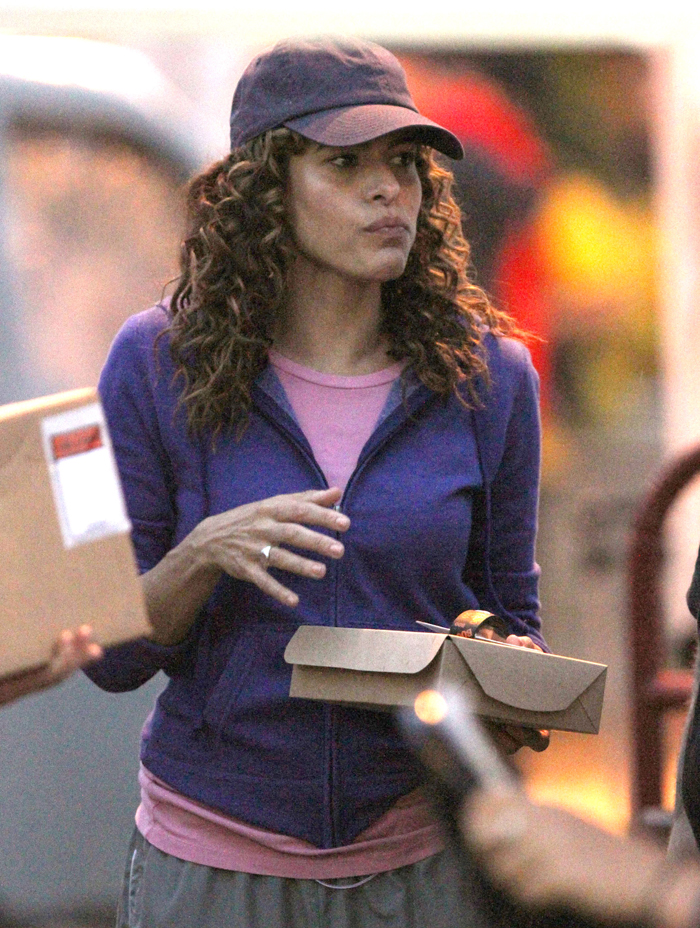 With a visit to Sierra Leone, Eva Mendes is helping raise awareness about serious issues affecting girls and women around the world.

Based on the best-selling book by Nicholas Kristof and Sheryl WuDunn, the new series "Half the Sky: Turning Oppression into Opportunity for Women Worldwide" introduces Mendes and other stars, including America Ferrera, Diane Lane, Meg Ryan, Gabrielle Union and Olivia Wilde to women and girls living under difficult circumstances, ranging from maternal death to prostitution.

Mendes, 38, kicks off the four-hour series – airing Oct. 1 and 2 at 9 p.m. ET on PBS – with her visit to Sierra Leone, where she meets with activist Amie Kandeh, a survivor of gender-based violence working with the International Rescue Committee to help other survivors toward safe, productive futures.

"I knew I was in for a life-changing experience," Mendes says of participating in the project.

"This experience has profoundly affected me," she says. "I was so shocked and saddened to learn the extent of gender-based violence taking place in Sierra Leone every day and that trip has made me want to be a part of the solution."
[From People]
Like most of you, I'm not a huge fan of Eva, and it's not even because she's all up in Ryan Gosling's Disneyland business because I think he's pretty inherently douchey too. Rather, I just think Eva is a lousy, one-note actress and a famewhore who rarely neglects to comment upon her own sexuality in any given interview. Still, I can't fault her in any way for participating in this cause. I do think that using the term "life-changing experience" is fairly cliché, but no one ever accused Eva of having a way with words beyond telling you whether or not she's wearing underwear at any given moment.
Speaking of underwear, here's some photos the Hamm. His hair is looking pretty interesting too, but that's probably due to the wind and not some potentially wiggy situation.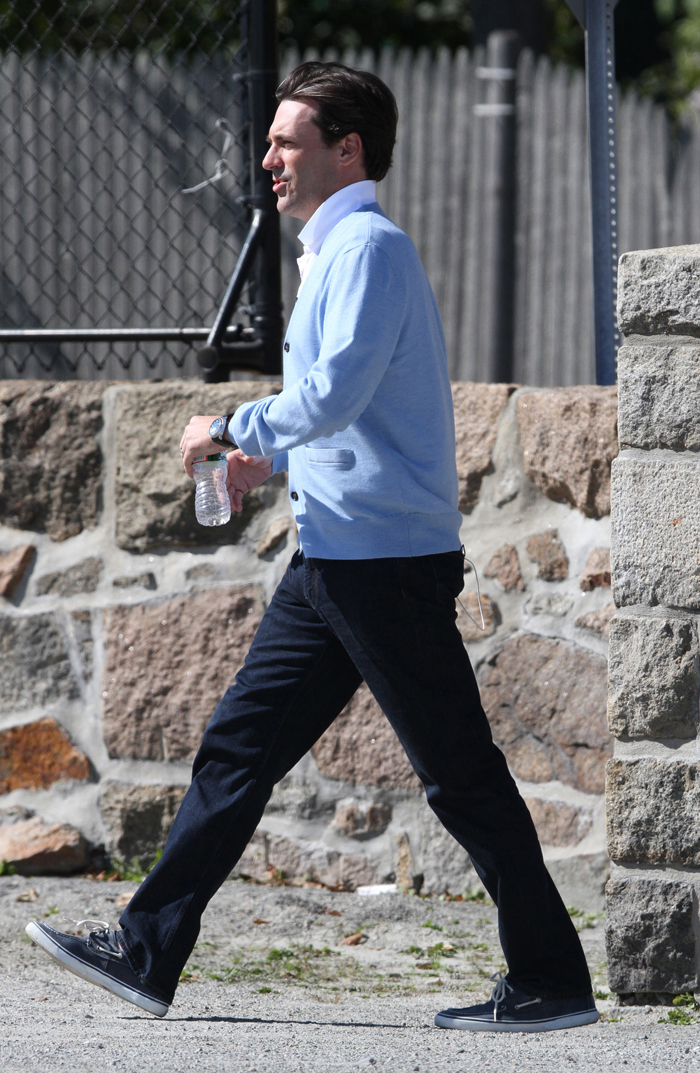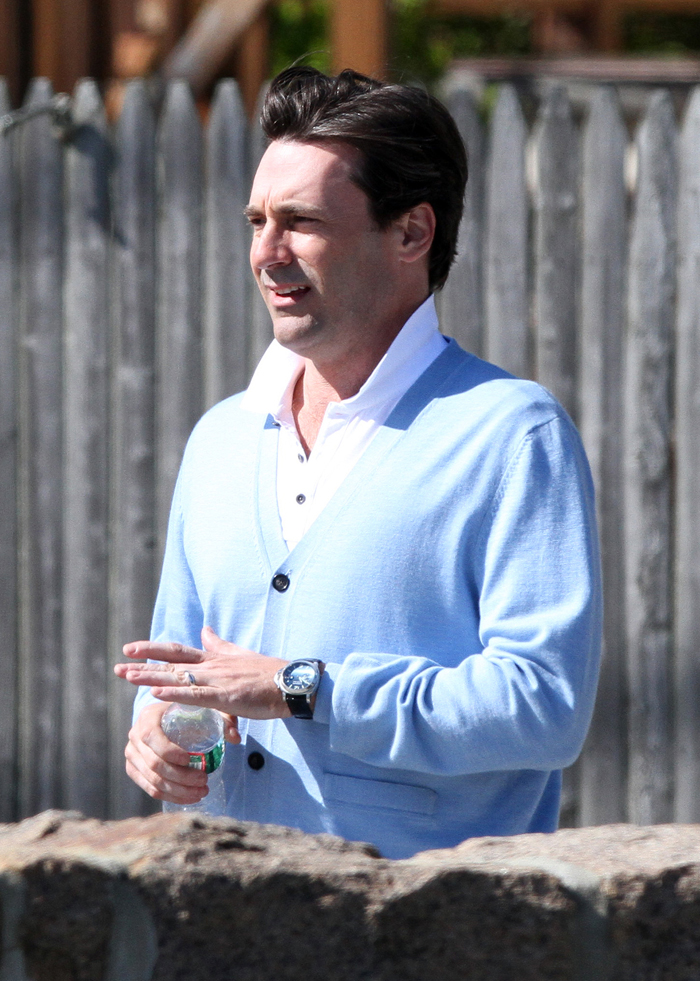 Photos courtesy of Fame/Flynet
Written by Bedhead

Posted in Eva Mendes, Hair, Jon Hamm

- Friends reunion on Ellen [Popsugar]
- Lindsey Vonn watches Tigers kids [Lainey Gossip]
- George Michael fell out of a car going 70mph [D-Listed]
- Real Housewives of Orange County recap [Reality Tea]
- New Man of Steel trailer [Pajiba]
- Jared Padalecki's hot bod [Buzzfeed]
- Doctors confirm Taylor Swift's new boobs [Evil Beet]
- Catherine Zeta-Jones finished treatment [CDAN]
- Anna Paquin hates the paps [Celebslam]
- Lance Armstrong is gross [The Blemish]
- What is Barbara Palvin wearing? [Moe Jackson]
- This is Petra Nemcova? [SVC]
28 Responses to "Eva Mendes debuts her curly locks on set with Jon Hamm: real hair or a wig?"