Ashley Greene named 'world's most beautiful vampire' on Marie Claire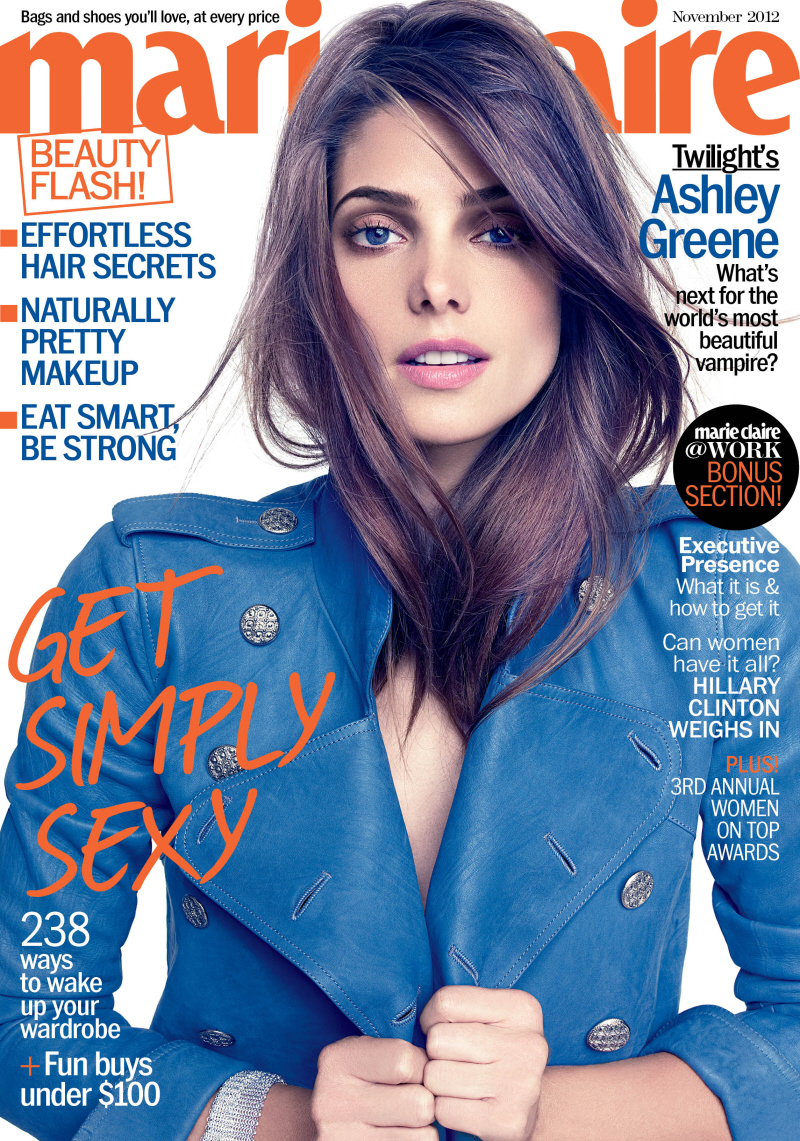 HAHAHA. I'm sorry, I just read the coverline for Ashley Greene's November cover of Marie Claire. Hahahaha. "What's next for the world's most beautiful vampire?" FOR REAL. How could Marie Claire's editors use that without chuckling to themselves? "Ha, check this out, Maude. Ashley Greene's publicist is making us put 'beautiful' in the coverline. HA!!" You know what else is great? Ashley is now trying to take a page out of Blake Lively's famewhore girl-guide: the interview takes place during a private cooking lesson, with Ashley emphasizing her amazing culinary skills. Ashley Greene = the new Blake Lively? I could see it. The article also mentions Ashley's extraordinary, breathtaking, mind-numbing beauty many, many times, and even compares her (favorably) to Scarlett Johansson and Anne Hathaway. You really have to wonder what they're smoking at Marie Claire, right? Anyway, some highlights:
On Kristen Stewart's affair with Rupert Sanders: "That is off-limits," she says sternly, adding with emphasis, "really." (The studio is rumored to have put a gag order on all the Twilight stars, though at last check the couple appear to be reconciling.)

The early Hollywood years: When she arrived in Los Angeles at 17, Greene was just another super-pretty model-actress who paid her dues waiting tables, booking bit parts in middling shows like Crossing Jordan and MADtv, and befriending other attractive up-and-comers, like Gossip Girl's Jessica Szohr. "It was definitely hard," Greene recalls, methodically pinching the edges of her tart crust. "But nothing positive comes out of being bitter. You just have to keep on working."

On being on the celebrity fast track: "It was a hard adjustment going from zero to 100 in a day. But it was also hard to talk to [friends], because you don't want to be a jerk. After the movie [Twilight] came out, some people said, 'You changed.' And I said, 'I haven't changed, dude. Your opinion of me has changed because I'm working on this film.' Trust me, my parents would let me know.

On the challenge of focusing on both career and personal life: "I'm always here and there – everyone in my industry is – and that's why a lot of relationships are fleeting. I've gotten very good at detaching whenever I have to go away for three months, which I realize is hard on friends and kind of selfish. You go on a couple of dates, and then someone ships off to do a movie. It's not like you're going to fly out and see them, because it's not serious enough for that."

On traveling first-class for Twilight and being a working actress: "Twilight has ruined me. When this is all over, flying internationally is going to be very hard for me. It is just not worth it to buy a first-class ticket, because of the cost. I'm lucky because my dad taught me to be frugal and save. And that's important because I want to know that I don't have to take an acting job for two or three years if I don't want to and that I'll still be able to make my house and car payments and buy food for my dogs."
I love that Ashley always get the questions about how her life has changed because of the enormous success of the Twilight franchise, and Ashley consistently answers those questions like she's got the starring role, like she's playing Bella and in her mind, all of the Twihards really do care about her and not Kristen Stewart. And she could have slid some dirt in there about Robsten, but she avoided taking the bait. I don't know how I feel about that – I probably would have yelled at her if she had said something harsh, but I would have secretly loved it. I can't wait for Kellan "Kellan Lutz" Lutz to get questions about Robsten. It will be epic!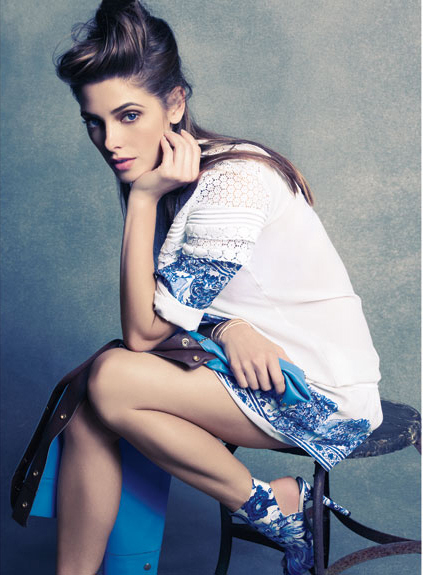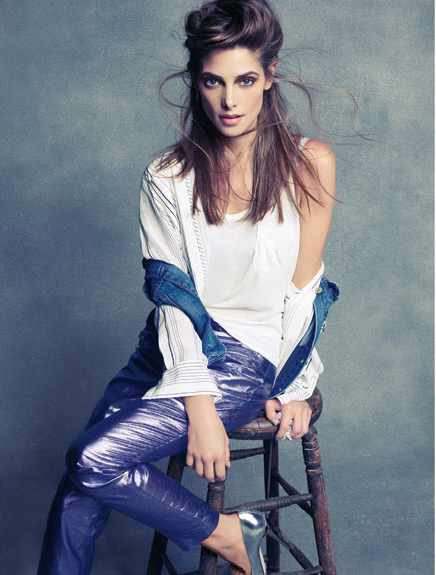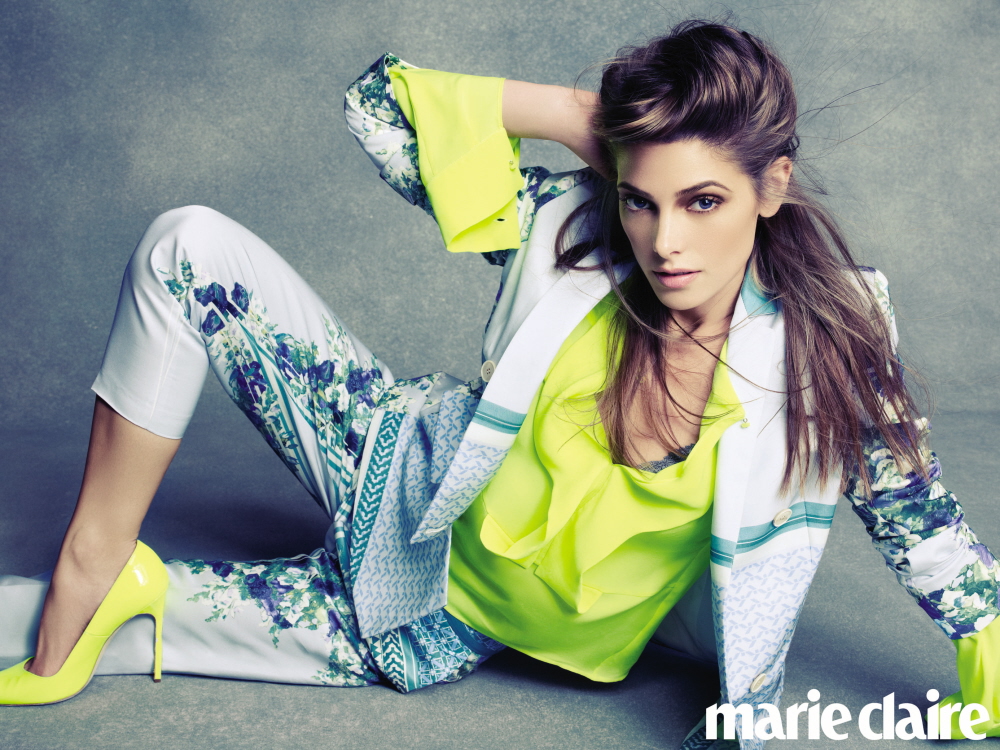 Photos courtesy of Marie Claire.

Written by Kaiser

Posted in Ashley Greene

- Friends reunion on Ellen [Popsugar]
- Lindsey Vonn watches Tigers kids [Lainey Gossip]
- George Michael fell out of a car going 70mph [D-Listed]
- Real Housewives of Orange County recap [Reality Tea]
- New Man of Steel trailer [Pajiba]
- Jared Padalecki's hot bod [Buzzfeed]
- Doctors confirm Taylor Swift's new boobs [Evil Beet]
- Catherine Zeta-Jones finished treatment [CDAN]
- Anna Paquin hates the paps [Celebslam]
- Lance Armstrong is gross [The Blemish]
- What is Barbara Palvin wearing? [Moe Jackson]
- This is Petra Nemcova? [SVC]
85 Responses to "Ashley Greene named 'world's most beautiful vampire' on Marie Claire"