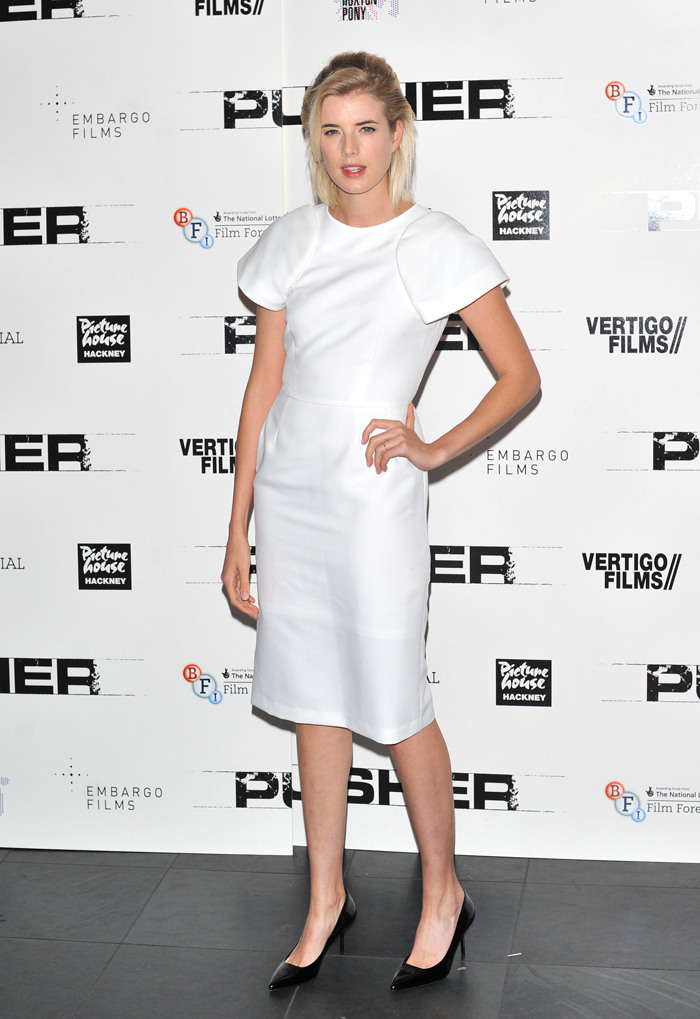 Here are some photos of Agyness Deyn (in an ill-fitting white Comme des Garcons dress) at the London screening for Pusher, which is her latest film that I probably won't end up watching. She's had a handful of roles over the past few years, including the small role of Aphrodite in the Clash of the Titans remake. It seems that Agyness (a.k.a. Laura Hollins) has largely abandoned her native United Kingdom on the downswing of a rather lucrative modelling career (and she had a good run despite lying about her age the whole time — she's 29 now). As such, she's been situated in the States for awhile and was the rumored jumpoff for James Franco when he dumped his long-term girlfriend. Then in mid June, she surprised everyone by eloping with Giovanni Ribisi, and may have received a surprise of her own when it was reported that in early August, she suddenly realized she was married to a hardcore Scientologist. Oops.
For now though, Agyness isn't budging from her marriage, and instead, has been preparing to amp up her acting career. Now she says she has "officially" quit modelling (and presumably singing, which she has tried as well) to go full force in Hollywood. Here are some excerpts from her Independent interview: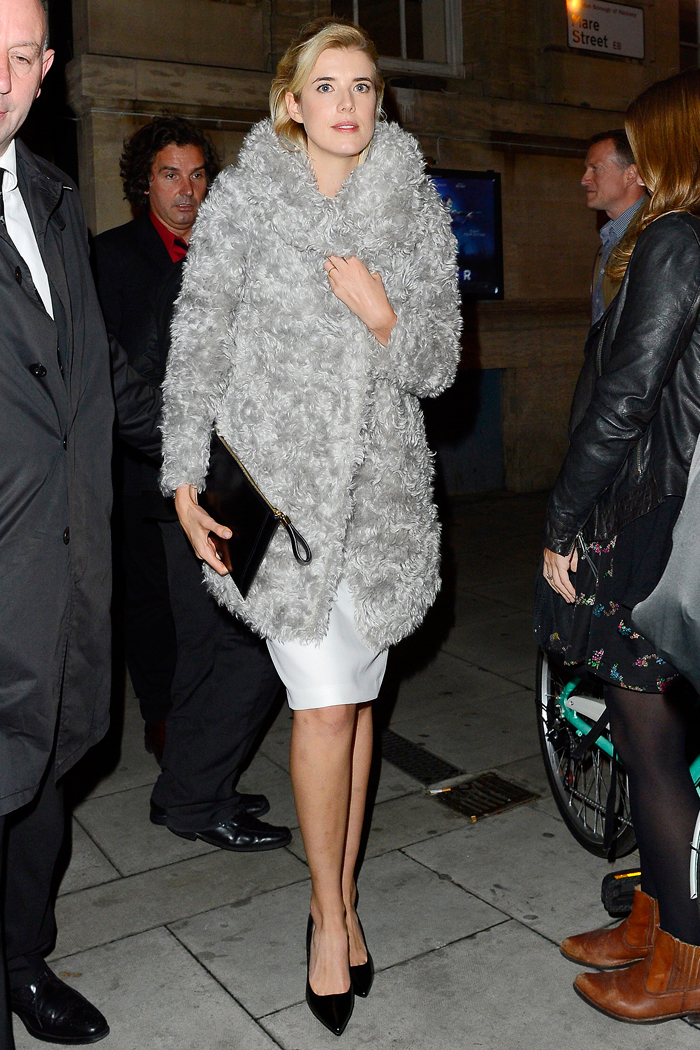 On playing a stripper with a heart of gold: "My new film, Pusher, has drugs in it, guns, girls. It could have gone a completely different way, but it's actually a beautiful, vibrant movie, and my character, [the heroin-addicted stripper] Flo, is lovable, vulnerable — an angel. I had to immerse myself in the character. I worked with this amazing girl from the London strip scene as research. She taught me to be a dancer and gave me the reality that I needed for Flo to be empathetic.

What she really wants to do is act: "I didn't really know what I wanted to do when I was a girl but it was clear that something was stewing. I was very sporty — I swam competitively — and I loved music, the arts, having a creative outlet. And then I got spotted [by a modelling agency], and I've had this great chunk of time — 10 years — to find out what I really wanted to do, which is to act."

But she loved modelling: "Oh god, I loved it. Being 18 years old, from Manchester, and suddenly having this new world to explore — being able to travel, meet all these different people, and immerse myself in all these different cultures — was just so much fun. I suppose I have stopped modelling officially. I've not done any for a good long while now. I think it was about four years ago when my feelings were changing towards the industry. I didn't hate it, but I was yearning to do something different. I was on a gradient. It was a gradual thing."

She has heroes: "It is so inspiring when you come across a woman who is very strong and dedicated and is amazing at what they do. That's how I feel about Meryl Streep. You watch her, and you can't help but notice all of that about her. She's so influential."

On her new hubby: "I always keep my cards close to my chest I live in Los Angeles these days, and I'm a very private person. That's just the way I roll. My husband [the actor Giovanni Ribisi, whom she married in June in a secret ceremony] is as well. We don't socialise on that [celebrity] level, but in terms of recognition, it does feel really nice when a young girl tells me that I've inspired her in some way."
[From Independent]
While I can appreciate that Agyness claims that she wants privacy, and she and Giovanni's elopement does support that claim, I also think it's a bit sketchy that she started hooking up with prominent American actors right at the point when her modelling career began drying up. If she really was freaked by Giovanni's strong, second-generation Scientology ties, then she's certainly not acting on that fear. Maybe she's actually into the CO$ stuff too for the promised career connections. Or maybe she's just pretending not to hate CO$ because she doesn't want to ruin her existing acting connections. All I really know is that I've always caught an air of falsity about Agyness.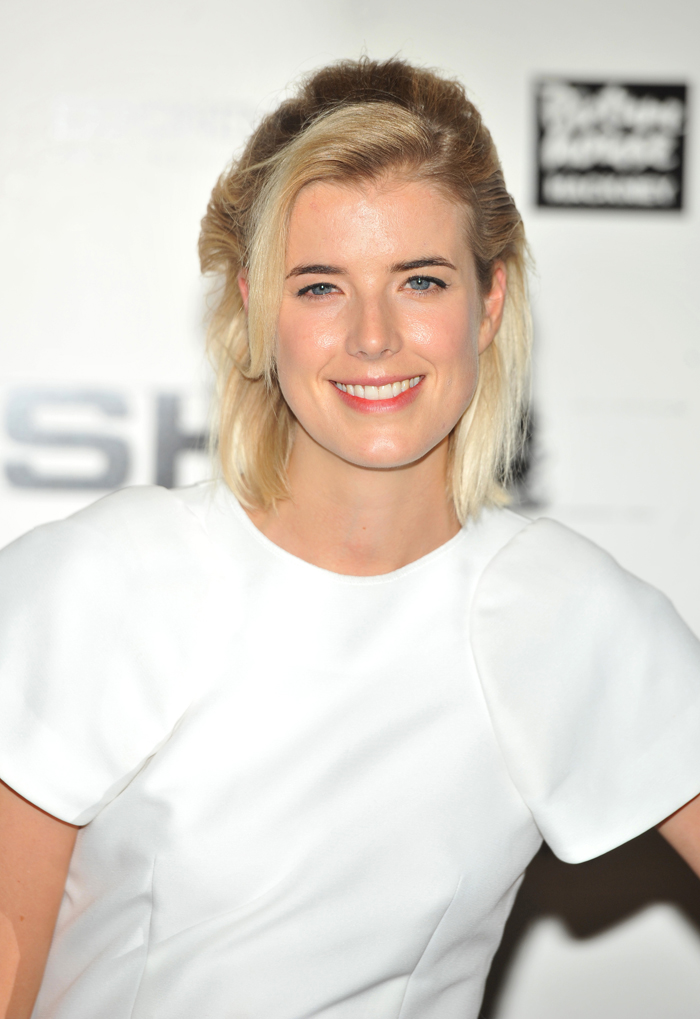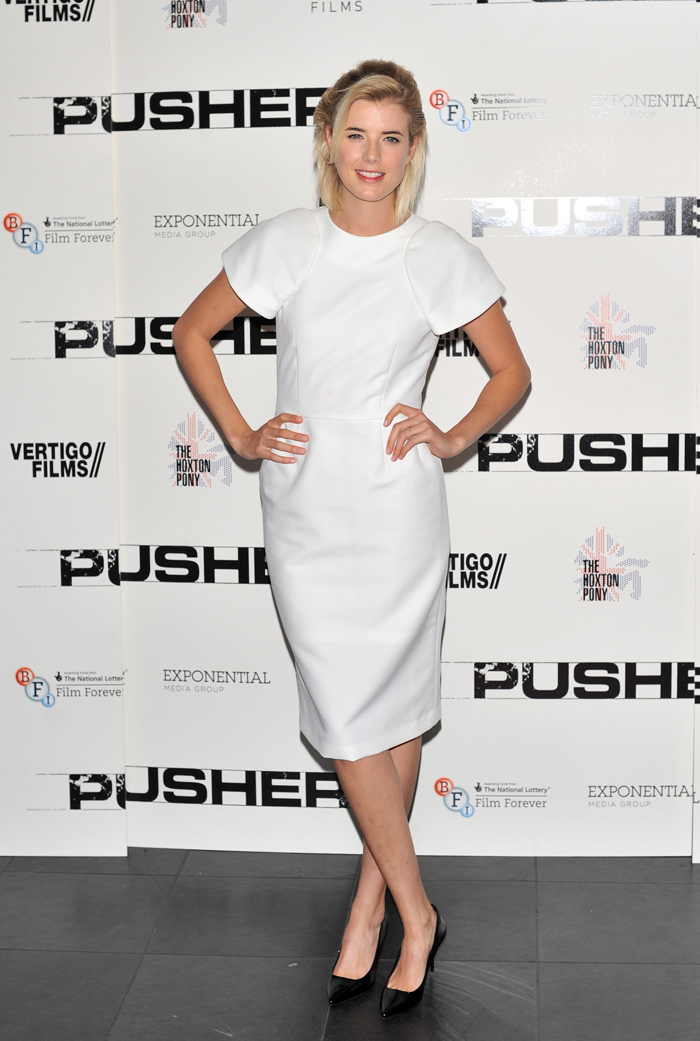 Photos courtesy of WENN