PETA acts like they're the ones who got NBC's 'Animal Practice' cancelled, not ratings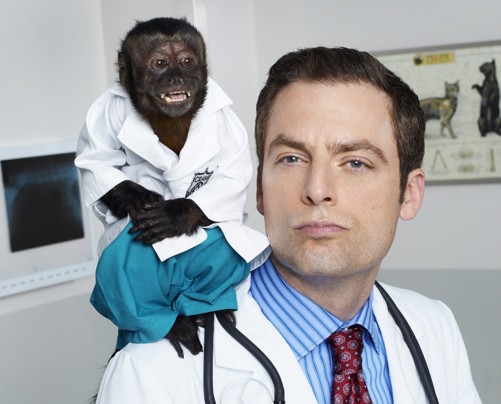 NBC has announced that a new sitcom that I never heard of (although I watch shows on DVR and on demand via Hulu and XFinity, but they have commercials there too), "Animal Practice," has been cancelled. Most coverage is focusing on the low ratings for the show, which had only about 3.85 million viewers compared to other higher-ranking sitcoms like ABC's Modern Family at over 12 million. However PETA is of course declaring this a victory since they urged a boycott of this show no one watched. Animal Practice is about a veterinary hospital, and it stars the little Capuchin monkey, Crystal, who was also in the Hangover sequel. So of course PETA is against it, since no animals should perform anywhere or work at any job, basically:
EW explains this for us:
"PETA's staff are celebrating today in response to news that NBC's Animal Practice has been canceled," the organization said in a statement. "The cancellation of Animal Practice sends the strong message that using animals for cheap laughs on TV shows is archaic and uninteresting to today's viewers, who are sophisticated enough to know that not only is putting a monkey in a lab coat not funny, it's also cruel."

Yes, thank goodness that Crystal, the most pampered monkey on the planet, has been rescued from employment with a cast of comic actors in Hollywood (on a series that, if anything, idolized the animal kingdom).

NBC is replacing Animal Practice next month with the return of sitcom Whitney. PETA waged a protest against the freshman comedy, saying trained animals are often removed from their mothers in a "traumatic way," undergo "physical abuse" during the training process and worried the sitcom might encourage people to buy monkeys as pets.

The organization claims 40,000 members wrote to NBC and the show's advertisers. Though Animal Practice would have needed more than 50 times that number of extra viewers to have had a shot at remaining on the air.
I agree that animals shouldn't be forced to perform in circuses under horrible abusive conditions, but come on, a TV show or movie? What are we going to do, use animatronic creatures in place of pets? Television tries to portray situations in life and we have pets. Maybe little performing monkeys aren't the best example of that, but this is a lame thing to get up in arms about.
I tried to Google "PETA against dogs" to see what their stance was on dogs on television, and one of the suggested phrases was "PETA against seeing eye dogs." I'm not sh*tting you, a VP at PETA said in 2009 that they "oppose most seeing-eye-dog programs" due to the fact that the dogs are bred, not obtained from shelters, and "people are prohibited from petting or playing with them and they cannot romp and run and interact with other dogs; and their lives are repeatedly disrupted." That's ridiculous! I also found this article in which a blind person who relies on a guide dog recounted a story about how her friend, also blind with a dog, was accosted by PETA protesters for treating her dog cruelly – just for relying on the dog to get her around! The protesters actually surrounded the blind woman and insulted her for having a guide dog. I can't with PETA, this is despicable, so I'm going to switch topics and bitch about NBC now.
Instead of supporting their existing comedies, namely "Community," NBC execs fired Community's showrunner and pushed back the premiere of the new season to some unspecified future date. They put in this dud of a show and are facing the consequences. And instead of letting us see new episodes of "Community" they're replacing "Animal Practice" with reruns of another lousy show, "Whitney." So help me NBC better not mess up "Parenthood" or I am done with them.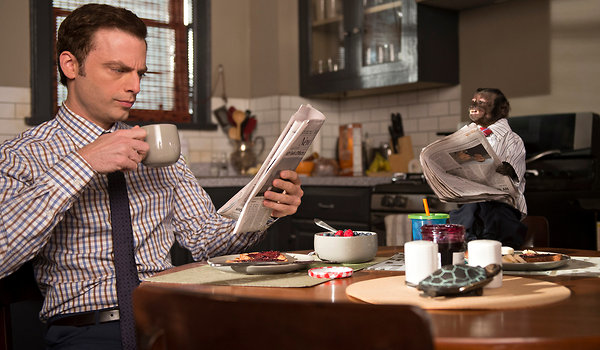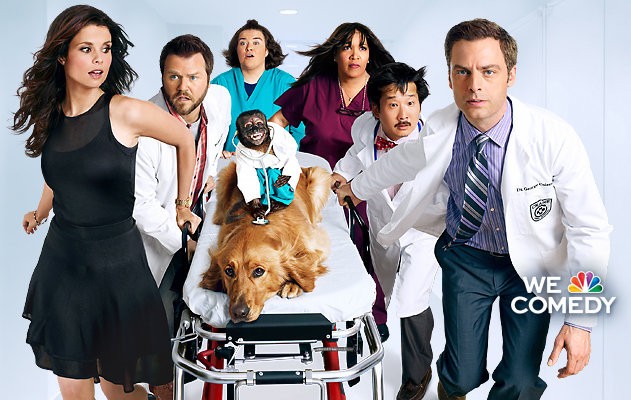 Written by Celebitchy

Posted in PETA, Television

- Zach Galifianakis is awesome [Buzzfeed]
- Prince at the Billboard Music Awards [D-Listed]
- Bieber's Billboard look [Go Fug Yourself]
- Married to Medicine recap [Reality Tea]
- Celebrity first marriages [Pajiba]
- The last Mad Men baffled a lot of people [Lainey]
- Karolina Kurkova's crazy hot dress [Moe Jackson]
- Jennifer Garner on set [Popsugar]
- Kitten vs. Lizard [CDAN]
- Doetzen Kroes' great butt [Celebslam]
- Shameless star Jeremy Allen White [OMG Blog]
- RIP Ray Manzarek [Bossip]
40 Responses to "PETA acts like they're the ones who got NBC's 'Animal Practice' cancelled, not ratings"