Demi Lovato denies she's a cutter – despite pictorial evidence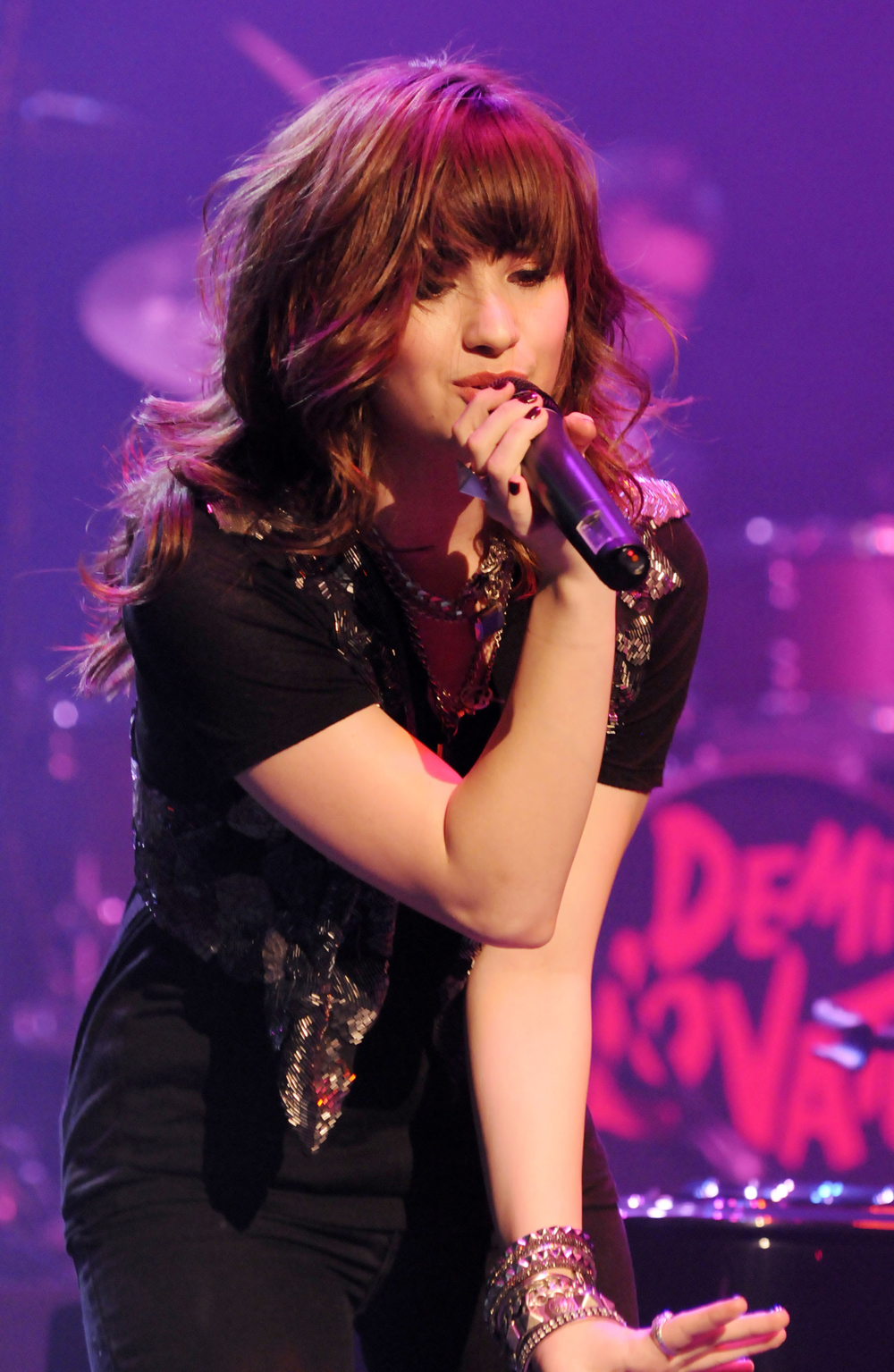 One of Miley Cyrus' teen queen competitors, Demi Lovato, is having to issue some major denials after pictures emerged of what appears to be cutting scars on the inside of her left wrist. Lovato's rep insists she's not a cutter and said she wore some gummy bracelets that were too tight earlier that day. A pretty creative excuse, I'll give her that. If you're going to lie, at least make it good, right?
Demi Lovato is a cut above this latest rumor.

Responding to an innocent musing from blogger Perez Hilton that Selena Gomez's BFF could be self-mutilating, a rep for Lovato tells E! News that the allegation is "completely false."

"Demi was wearing gummy bracelets just prior to her appearance on the red carpet and, because of how tight they were, they left indentations on her wrist," publicist Allison Leslie says, referring to a zoomed-in pic showing a few thin red marks on the inside of the 16-year-old's wrist.

And, considering the controversial photo was taken on the red carpet at Miley Cyrus' 16th birthday party (the one on Oct. 5, not to be confused with all her other B-day parties this year), Perez's suggestion that maybe the Disney Channel queen dug her claws into the Camp Rock darling is probably nothing but wishful thinking on his part.
[From E! News]
You can see the photo on E!'s website above. Unfortunately for Demi's rep, bracelets go all the way around the wrist, and the marks are only on the inside. They're also so dark that it would have had to be some dangerously tight bracelets to leave marks like that. I think Lovato's hand would have turned blue. The marks are also slightly different lengths and widths. I don't think there's any plausible way to say they came from gummy bracelets.
Evil Beet points out how dangerous cutting is, and that it's a predictor of future significant psychological issues. They also have a picture of Demi's inner wrist from a month earlier with similar scars. So I doubt she was dumb enough to wear what would have been painful bracelets twice. Also, in the picture in E!'s article, there is a cut that's further down her wrist at the base (and very wide part) of her hand. If the bracelets were big enough to fit there, they were too big to leave marks on the thinner part of her wrist. If she is cutting, hopefully someone will get Demi some help asap.
Here's Disney star Demi Lovato performing live at the Wiltern Theatre Los Angeles on Monday. In all fairness, she is wearing bracelets – though they're not tight. Images thanks to WENN.

Written by JayBird

Posted in Demi Lovato

- Zach Galifianakis is awesome [Buzzfeed]
- Prince at the Billboard Music Awards [D-Listed]
- Bieber's Billboard look [Go Fug Yourself]
- Married to Medicine recap [Reality Tea]
- Celebrity first marriages [Pajiba]
- The last Mad Men baffled a lot of people [Lainey]
- Karolina Kurkova's crazy hot dress [Moe Jackson]
- Jennifer Garner on set [Popsugar]
- Kitten vs. Lizard [CDAN]
- Doetzen Kroes' great butt [Celebslam]
- Shameless star Jeremy Allen White [OMG Blog]
- RIP Ray Manzarek [Bossip]
61 Responses to "Demi Lovato denies she's a cutter – despite pictorial evidence"