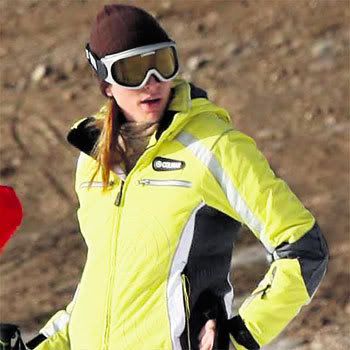 Paul McCartney has agreed to pay nearly $4,000 USD a week for a rental house for his estranged wife, harpie Heather Mills. Mills and McCartney reached the agreement during their ongoing divorce proceedings. Experts say it is common for rich people to provide housing for the other party in a divorce:
HEATHER Mills has won the first round of her increasingly bitter divorce battle with Sir Paul McCartney after he agreed to pay the £2,000 a week rent on her new home.

Macca, 64, is to foot the bill for his estranged wife's pad near Regent's Park in London where she will live with their daughter Bea, three.

The move comes after friends of 39-year-old Heather told how she has cut all ties with the former Beatle over his alleged refusal to reinstate her security after she got deaths threats from gangsters.

One pal said her rent agreement was "negotiated in court" and added: "Heather says Macca has to pay for their accommodation. She thinks the divorce will be settled within the year."

Heather will no doubt be pleased with the order, but it won't ease her fury over the security issue.
Heather recently threw herself a 39th birthday party at a Slovenian ski resort. She paid for 40 friends to join her at the party, including the 22 year-old personal trainer with whom she is rumored to be having an affair.
Mills is launching a website to help spread the word about her green lifestyle. She is also promoting a new makeup and personal care line. It doesn't sound that environmentally friendly to me to fly in 40 people for a party, but at least she's getting the word out. She certainly has enough green money to go around.
Last week I was quick to poo-poo a report that Paul McCartney's stepsister and stepmother said he was verbally abusive to them as a young man and that he made a sexually charged remark and patted his then 13 year-old stepsister's butt. Readers pointed out that I was being pigheaded and shouldn't dismiss their claims so quickly. People said that abuse is often hidden and that it was not right of me to question the accuser's account due to Paul's gentle public persona.
It may turn out that the truth of what happened in Paul and Heather's marriage is not as one-sided as I like to think. While the British press and bloggers like me like to vilify Heather, she may be telling her version of the truth, and Paul could have pushed her around. She comes off as smug and self-righteous, and has been caught lying multiple times in the past, so it's hard to trust her. Whatever happens with the divorce settlement it is likely she will be set for life.