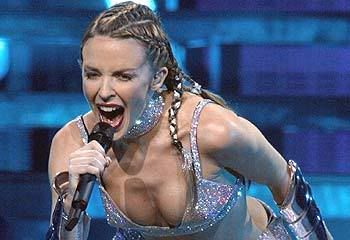 Kylie Minogue's unrelenting tour schedule seems to have taken a toll on the Australian singer. Minogue is in remission from breast cancer and people fear for her health after she cut a concert short and cancelled two others scheduled for tonight and tomorrow. Doctors say she has a respiratory infection and ordered her to rest.
Minogue, recovering from a battle with breast cancer, also cut short Saturday night's gig after only 45 minutes.

Doctors diagnosed a chest infection — several of her crew are believed to have flu — and urged her to rest to be able to sing on Thursday and Friday.

Minogue's British Showgirl Homecoming Tour followed a successful, but hectic, comeback tour of Australia.

A fan at Saturday's concert said it was upsetting to see her suffering so obviously on stage.

"She tried to reassure us, but so many people were crying," said office worker Alice Kennett, 27.

The singer told Saturday night's disappointed audience she was unwell as soon as she appeared on stage.

She struggled through about nine songs before calling it quits.

"I must apologise because I can't sing all the words tonight. I've got a cold and I'm struggling a bit. Do you mind if I just stand here and pose all night?" she said.

She was joined on stage by sister Dannii before abandoning the show.
The show was her 29th out of a 33th show tour of England and Australia.
We ran a questionable gossip item last week that Minogue is smoking a lot of pot. Whether or not that's true, she seems to have pushed herself too hard in her incredible comeback tour. Best wishes to Kylie for a quick recovery and hopefully she'll get the rest she needs.