Sandra Bullock has given her son Louis an adorable little Mohawk: super-cute?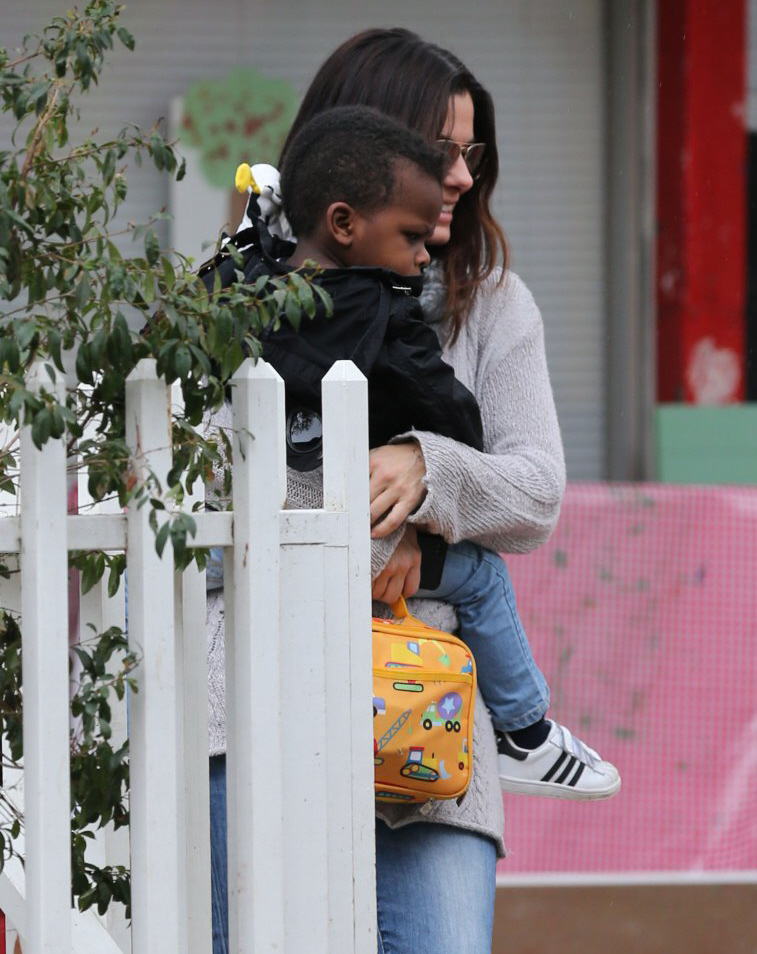 Sometimes I just like to check in with Sandra Bullock and see what she's up to. These are new pics of Sandy and little Louis yesterday in LA. I think Sandra was picking him up from preschool or something. You know why I love Louis? It's because I'm a big fan of grumpy babies. He is one grumpy child, and I can't get enough of it. I'm sure he's happy and he loves his mom and Sandy is a great mother and everything, but I just crack up every time I see Louis's naturally grumpy little face. He looks old before his time, you know? Like he's all of three-and-a-half and already he looks at the world with a jaded expression of "FML."
Anyway, these pics are notable because it looks like Sandra is letting Louis grow out a Mohawk. What is it with celebrity parents and their kids' Mohawks? A lot of little boys are doing the 'Hawk these days. It's a cute look on a young child, and why not? I don't think Louis is so sure about it, though. His face says "Really, mom? A Mohawk? Like I don't have enough problems?"
For whatever reason, I actually thought Sandra's long-awaited turn in Gravity was going to be coming out in December, but the film isn't going to be released until next year. Gravity is the sci-fi film which Sandra signed on to after Angelina Jolie refused to take on the role after multiple approaches. It's also the film that united Sandra and George Clooney (he plays her husband in the movie). So… basically, we've had no Sandra Bullock movies in 2012. I miss her.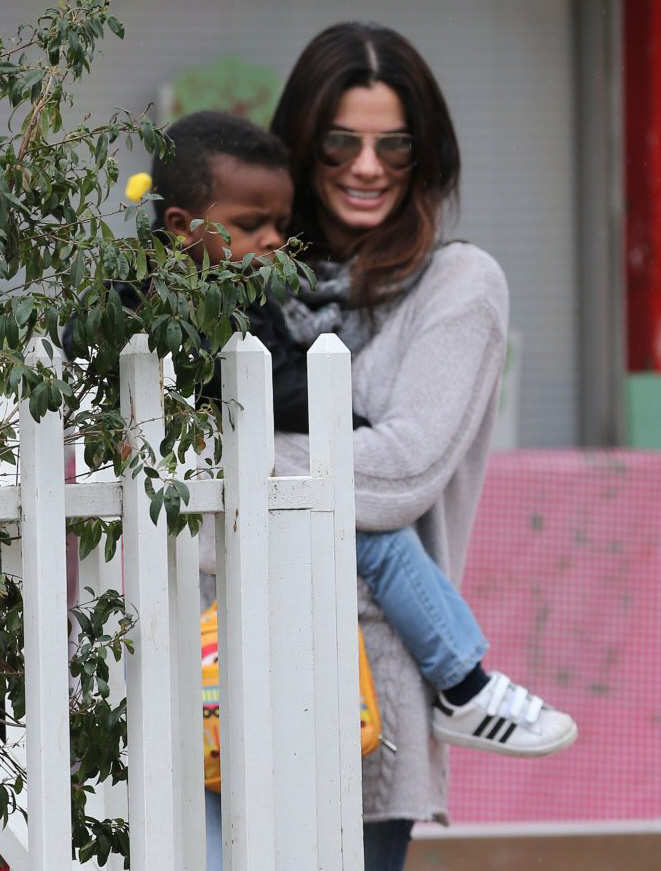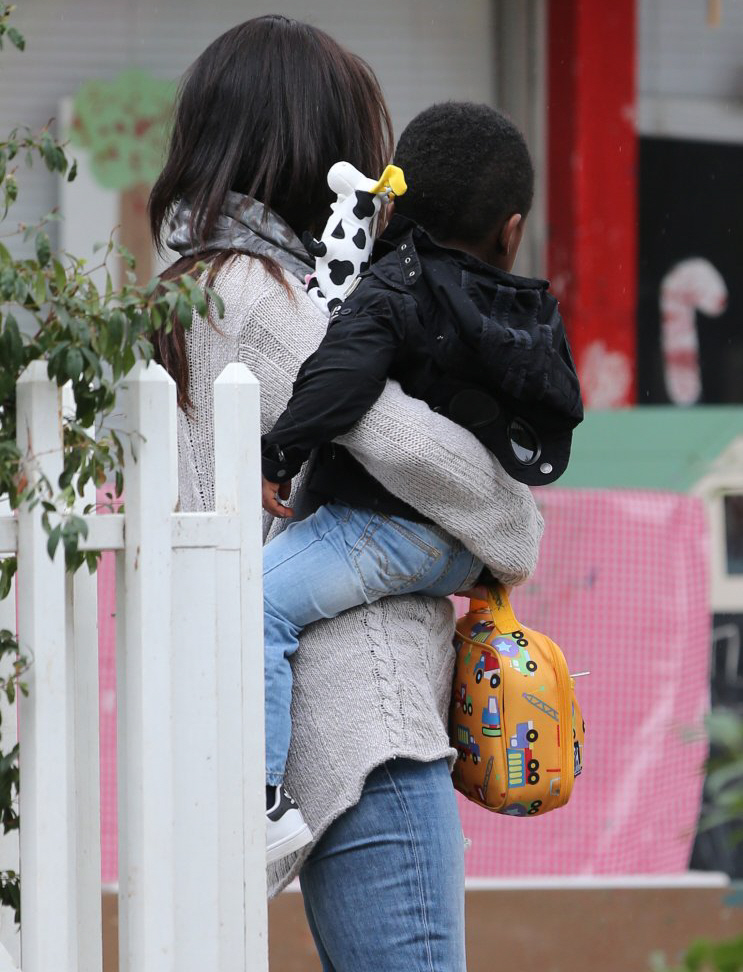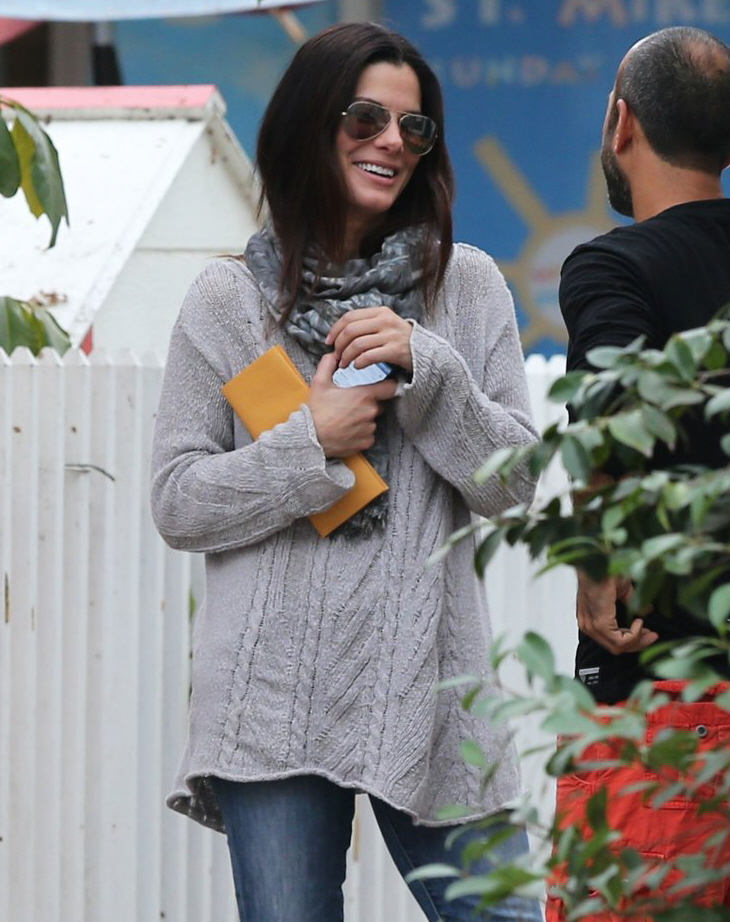 Photos courtesy of Fame/Flynet.

Written by Kaiser

Posted in Hair, Sandra Bullock

- Zach Galifianakis is awesome [Buzzfeed]
- Prince at the Billboard Music Awards [D-Listed]
- Bieber's Billboard look [Go Fug Yourself]
- Married to Medicine recap [Reality Tea]
- Celebrity first marriages [Pajiba]
- The last Mad Men baffled a lot of people [Lainey]
- Karolina Kurkova's crazy hot dress [Moe Jackson]
- Jennifer Garner on set [Popsugar]
- Kitten vs. Lizard [CDAN]
- Doetzen Kroes' great butt [Celebslam]
- Shameless star Jeremy Allen White [OMG Blog]
- RIP Ray Manzarek [Bossip]
32 Responses to "Sandra Bullock has given her son Louis an adorable little Mohawk: super-cute?"