Jessica Simpson and Nick Lachey are hooking up at hotels!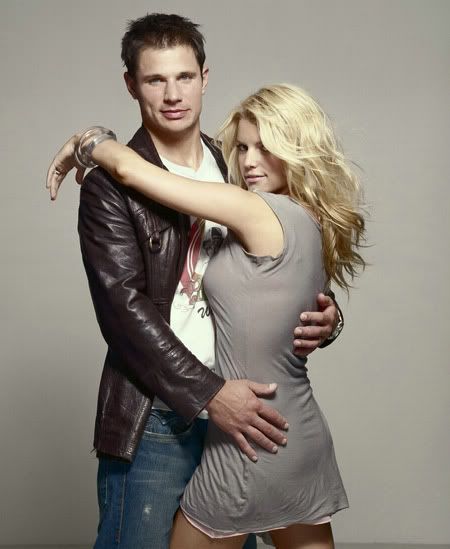 Jessica Simpson and Nick Lachey may be ready for a reconciliation. Mike Walker of the National Enquirer reports that they have been meeting up secretly at out-of-the-way hotels in the San Fernando Valley:
Have Jessica Simpson and Nick Lachey been caught in a romantic tryst? That's what a report suggests as
apparently the pair have been sneaking off to the San Fernando Valley to meet in what is described as 'discreet hotels."
Gossip king Mike Walker… writes that the pair are meeting at discreet hotels in the Valley and.. that Jessica reportedly dished to a source:
"We still have our problems, but we're still very attached to each other." She continued, according to the source by adding "We still have the need for love and affection."
Walker bets that they'lll reconcile, and it looks that way to us, too! In his Rolling Stone interview, Lachey admitted that he's still very much in love with Simpson. Simpson has also been spotted wearing her wedding ring around her neck to remind her of happier times. Let's hope that Simpson has realized what she's been missing and that she'll grow up enough to weather the storms that come up in every long term relationship.
Meanwhile Lachey has blasted reports that Lindsay Lohan intends to get in his pants, saying he doesn't consider her worthy, and doesn't know anyone else who does, either!
Lindsay Lohan… has always had a crush on Jessica Simpson's estranged husband, and now he's single she can't wait to meet again. Lohan has said, "You better believe, the next time I see Nick Lachey out I'm going to attack him… He's such a dog, he'd go for it." Lachey responded to the raunchy comments on The Ace + TJ Morning Show on Monday (01 May 06), while being interviewed in Charlotte, North Carolina. Towards the end of the interview one of the radio show's hosts asked him if there was any chance he would hook-up with the young star. Lachey quickly dispelled any rumours of a potential romance snapping, "I can safely say that I don't have any interest in Lindsay Lohan… nor do I understand anyone else that does."
Here's Jessica stopping for food and going tanning in LA yesterday. [via]
Written by Celebitchy

Posted in Hookups, Jessica Simpson, Nick Lachey, Reconciliations

- Harry Styles & Kimberly Stewart going strong [Lainey]
- Demi Moore's new man is gross [D-Listed]
- Fug or fab: Emma Stone [Go Fug Yourself]
- Arrest warrant issued for Jenelle Evans [Reality Tea]
- Only God Forgives review [Pajiba]
- Hugh Jackman, scooter master [Buzzfeed]
- Who does Drew Barrymore call her sister? [Evil Beet]
- Cannes couples past and present [Popsugar]
- Arrested Development supercut [CDAN]
- Lea Michele's see through skirt [Celebslam]
- Cheating wife's lover escapes out of window [Movin925]
- Joe Francis is crazy [Starcasm]
One Response to "Jessica Simpson and Nick Lachey are hooking up at hotels!"