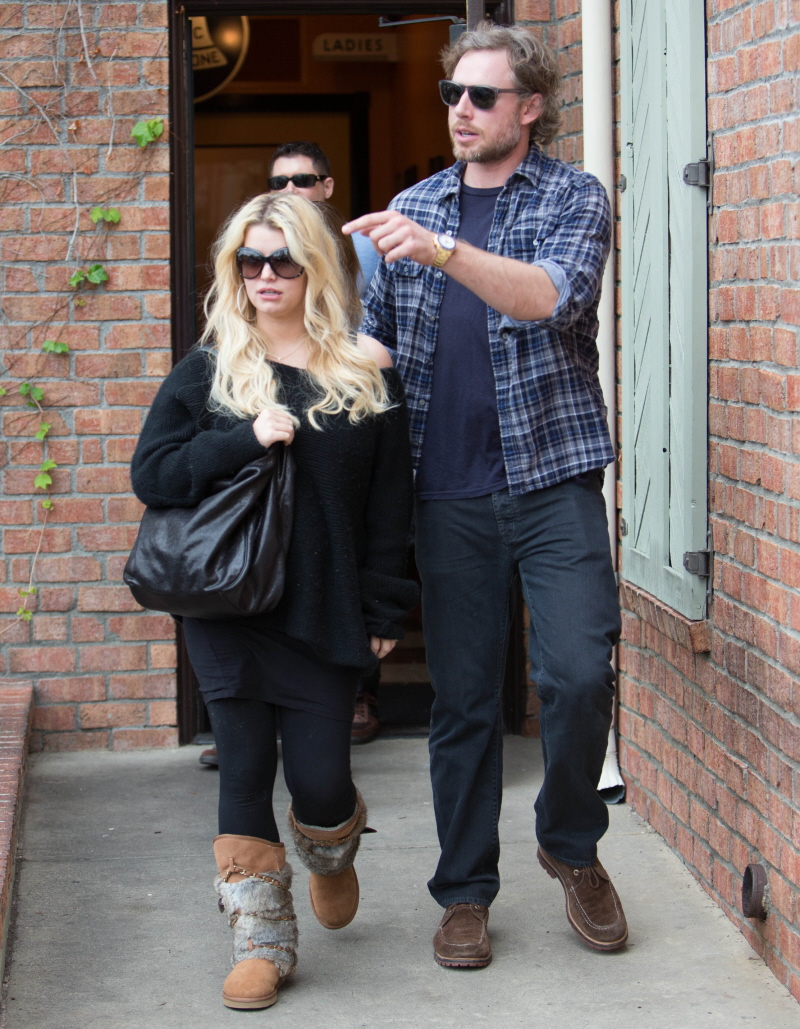 I'm really looking forward to the holidays this year. Christmas falls on a Tuesday – two Tuesdays from now. That week, we're probably going to be taking off for Christmas Eve, Christmas day, and then there will be some light posting for the last half of the week, depending on what's happening. I have a nightmare scenario, though – what if EVERYONE gets married? There have been many reports about Jennifer Aniston and Justin Theroux's possible destination wedding. Then Brad Pitt said that he and Angelina were probably going to go through with their wedding "soon" too. What if there's an Uncool Bermuda Triangle Wedding-Off? I'm actually concerned. I'm actually worried that I'm going to have to drunkenly write about somebody's wedding on Christmas Day. Bah humbug!
Anyway, while I put the chances of a Bermuda Triangle Wedding-Off at "slim," I do think there's a decent chance that Jessica Simpson could end up with a near-Christmas elopement. Prepare yourselves.
Are Jessica Simpson and Eric Johnson planning a secret wedding? RadarOnline.com has exclusively learned that the couple is heading to Hawaii on December 21st, and they've invited a group of close friends and family along for the trip.

Better still, Jessica, 32, and Eric, 33, have said they plan on making a big announcement to everyone there, but it can't be about her surprisingly second pregnancy because that cat is already out of the bag!

"For the holidays Jessica and Eric are going to Hawaii and they've invited a lot of their close friends and family," a source close to the Simpson family tells RadarOnline.com. "No one quite knows what is being planned, but family members are speculating that they could be planning a surprise wedding.

"Jessica and Eric had planned to get married before the end of the year, but because Jessica was helping her best pal Cacee with her wedding she got sidetracked. Then, her father's problems shattered her world and she discovered she was expecting.

"Jessica is certain though that she wants to get married before her baby is born, and isn't bothered if she's showing in any wedding pictures. She just wants a relaxed and intimate ceremony and has been dropping hints that the big day could be right before Christmas," the source divulges.

As RadarOnline.com previously reported, Jessica has made it clear that she wants to walk down the aisle before her second baby is born.

"Jessica wanted to get married before Christmas and was thinking of a date in December," a source close to the Simpson family previously told RadarOnline.com. "But then Cacee set a date with Donald (Faison) for December, her father was caught up in the gay scandal and then she found out she was pregnant. Her plans were derailed and the wedding became a secondary detail with everything that was going on in her life.

"However, she still wants to get married soon and is seriously considering marrying Eric before her baby is due."
Yeah. I could totally see this happening. Shall we place our bets? Here's my guesstimation:
Odds that Jessica Simpson will have a Hawaiian elopement: 50-50
Odds that Jennifer Aniston will get married during the holidays: 1 in 6, maybe
Odds that Brangelina will have some small, quiet, French wedding: 1 in 4, maybe
God, what if all of them get married? And what if Duchess Kate debuts her noticeable baby bump at the same time? And what if Jennifer Aniston announced her pregnancy on Christmas Day? And what if Blake Lively announced she's pregnant too? And what if Rihanna and Chris Brown elope on Christmas Eve and then he goes on the honeymoon with Karrueche? GAH!!!!! I'm going to be working on Christmas, right?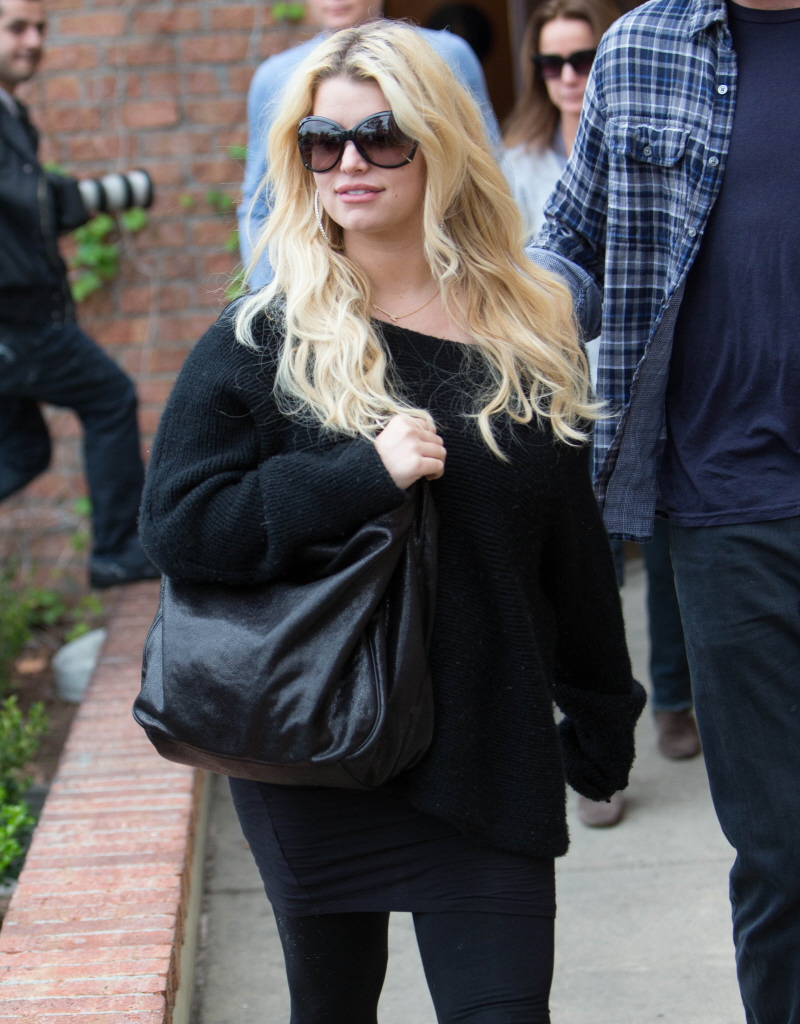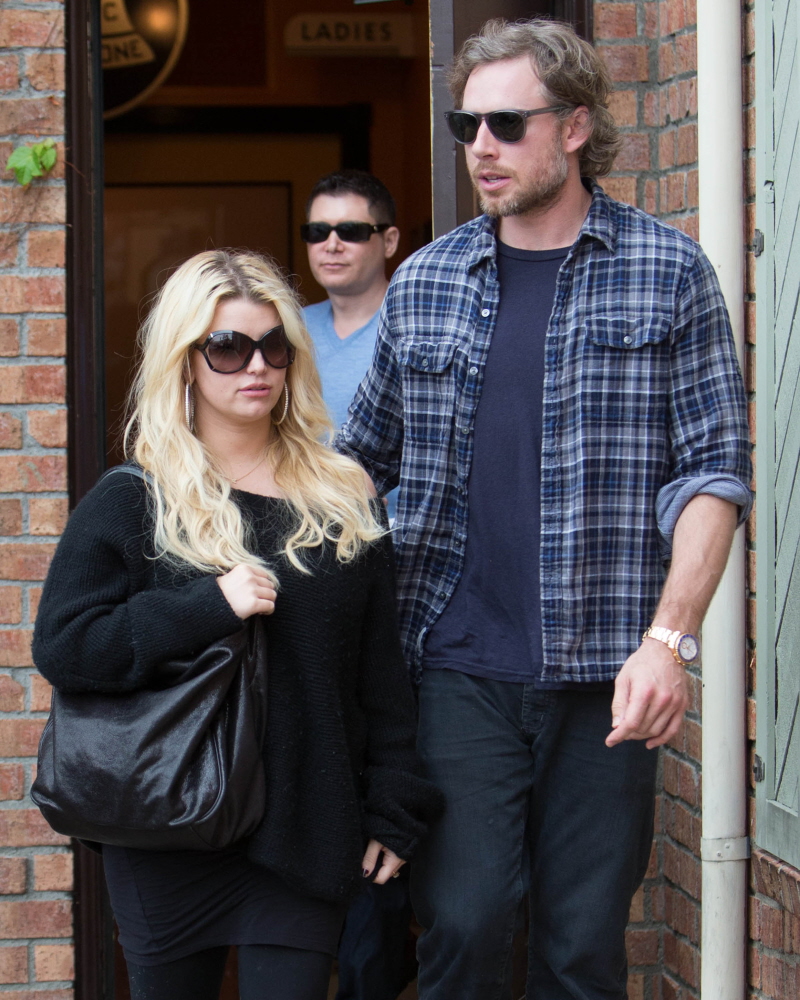 Photos courtesy of Fame/Flynet.