Amanda Seyfried in Marios Schwab at Critic's Choice: miserable or pretty?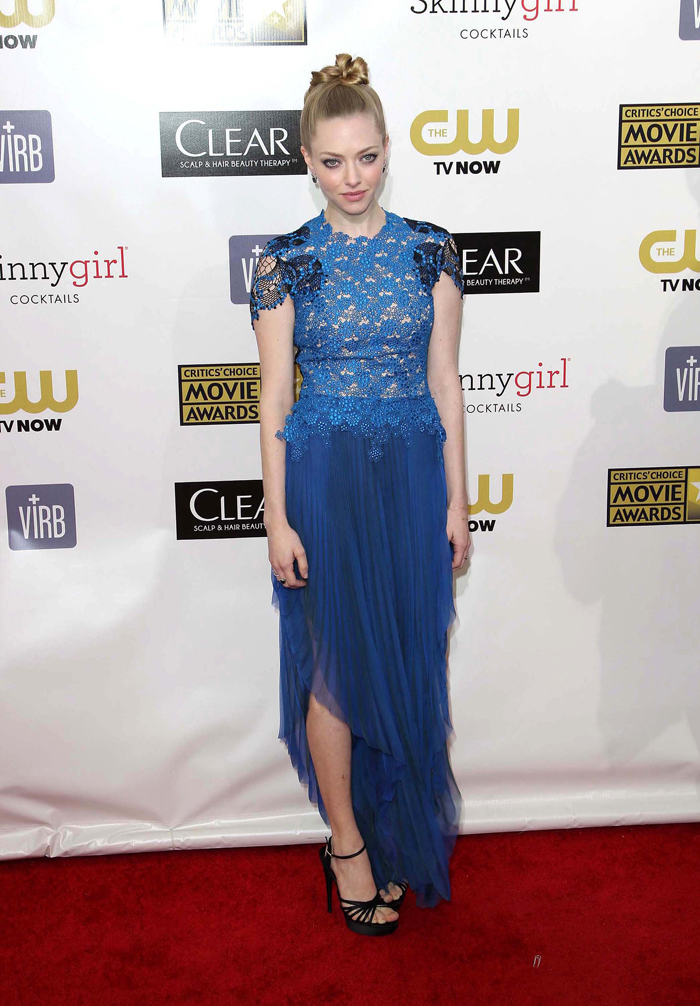 I have to giggle just a bit at poor Amanda Seyfried at last night's Critic's Choice awards because, just a few days ago, the actress confessed that her publicist often tells her what dresses to wear on the red carpet. Amanda also added that she usually hates these selections, and the situation usually escalates into a fight, which is followed by Amanda quickly backing down, bucking up, and wearing whatever it is that she is told to wear.
Such is the case with this blue-black Marios Schwab gown that ran with the overrated "see through" lace look on the top with a drapey, crepey shirt that looked like blue seaweed settling around Amanda's legs. Amanda truly looks like she does not like this dress at all, and I would almost feel sorry for her except that she needs to stand up for herself and make her own decisions on red carpet attire. The cut of this dress is so weird, and the fabric doesn't settle well around the bust area, but that could be because Amanda is slouching in an attempt to rebel against the sheer awfulness of the dress. Honestly, the only good thing about her outfit are the Roger Vivier black, strappy heels, which isn't saying much. Amanda does, however, pull off the dramatic eye makeup and gorgeous bun (she has such a great face shape) quite well.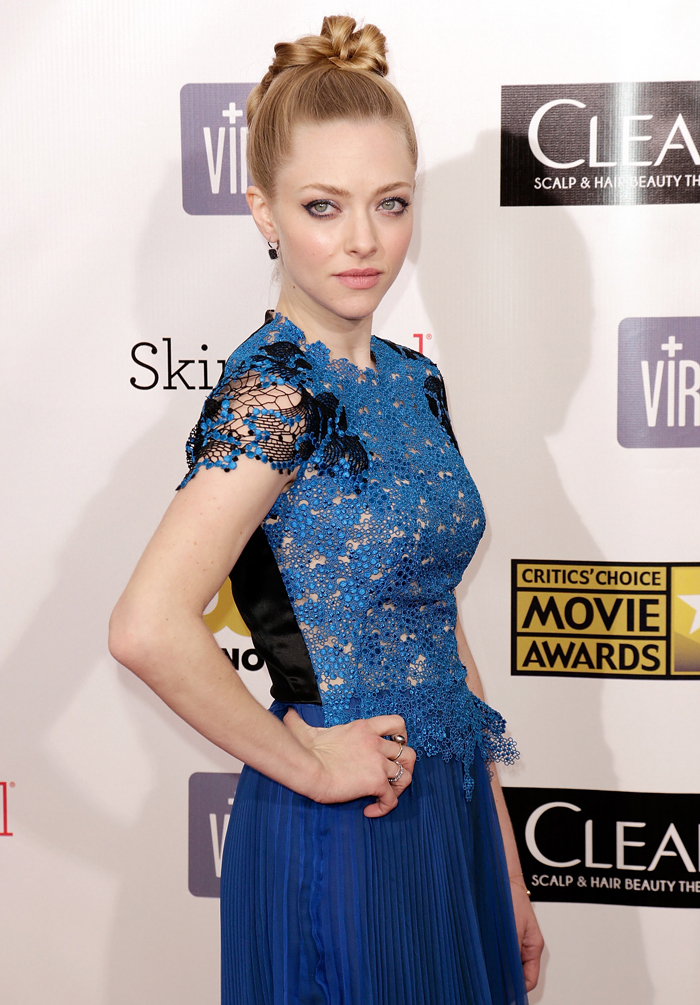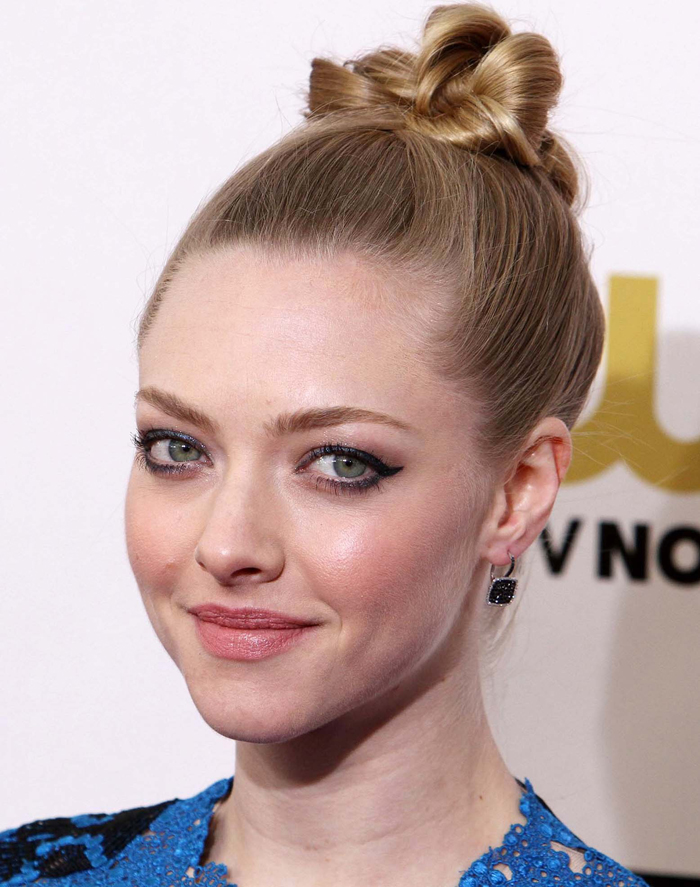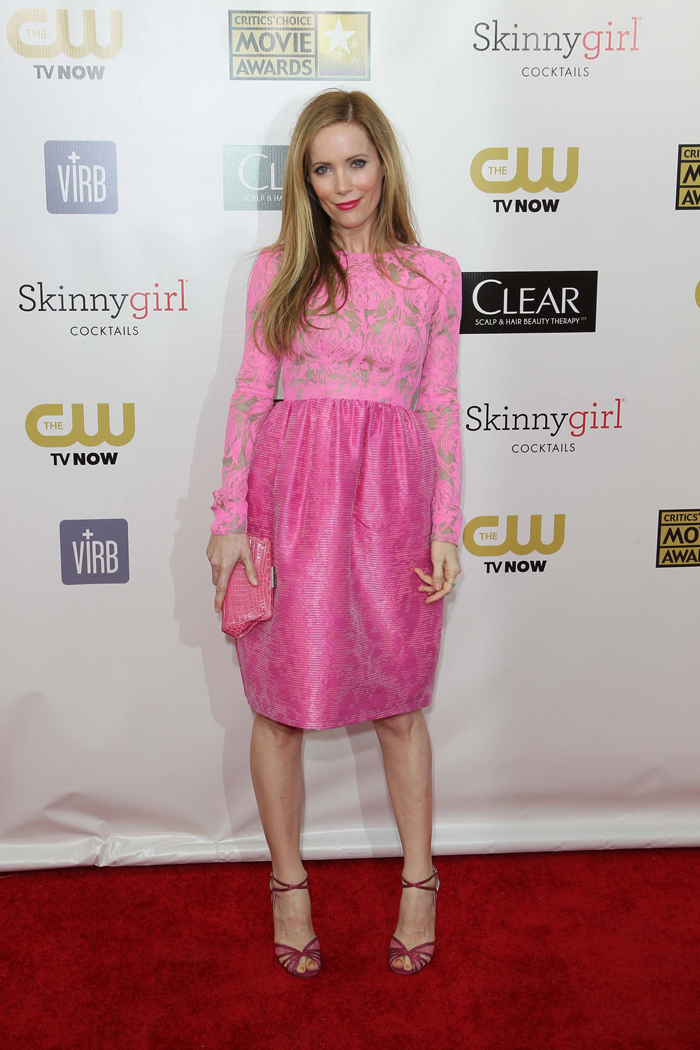 Leslie Mann looked like a Pepto Bismol nightmare on the red carpet last night. This carnation pink dress by Honor had an offbeat, kicky silhouette with a fitted top over a bubble-shaped skirt, but Leslie doesn't really have the pluckiness to pull this look off in any color, save for black. Her flat-ironed hair, while gorgeous enough on its own, seemed an odd choice for such a young-looking dress. This was definitely one of the worst looks of the evening.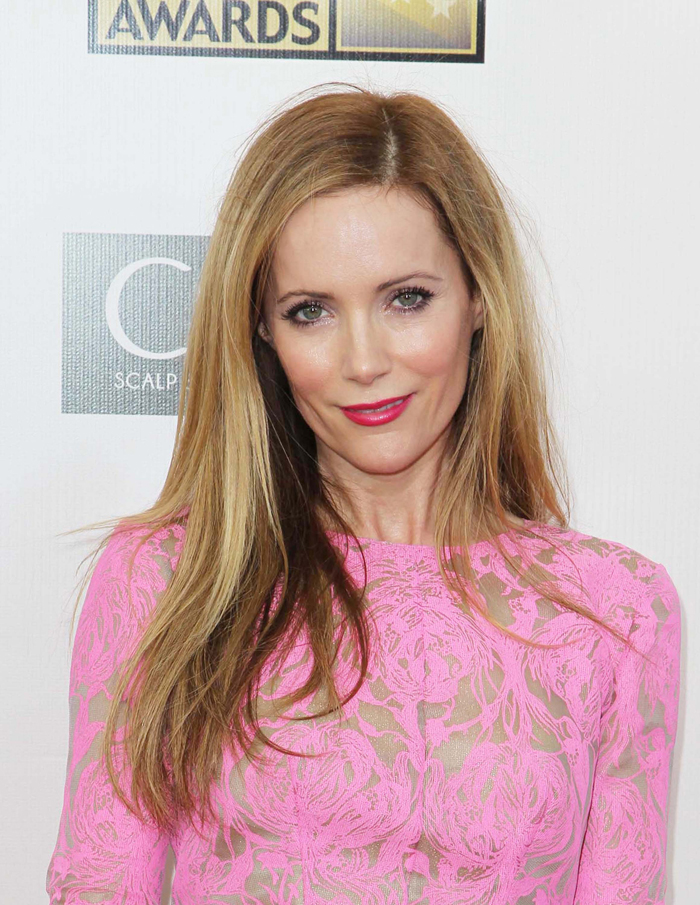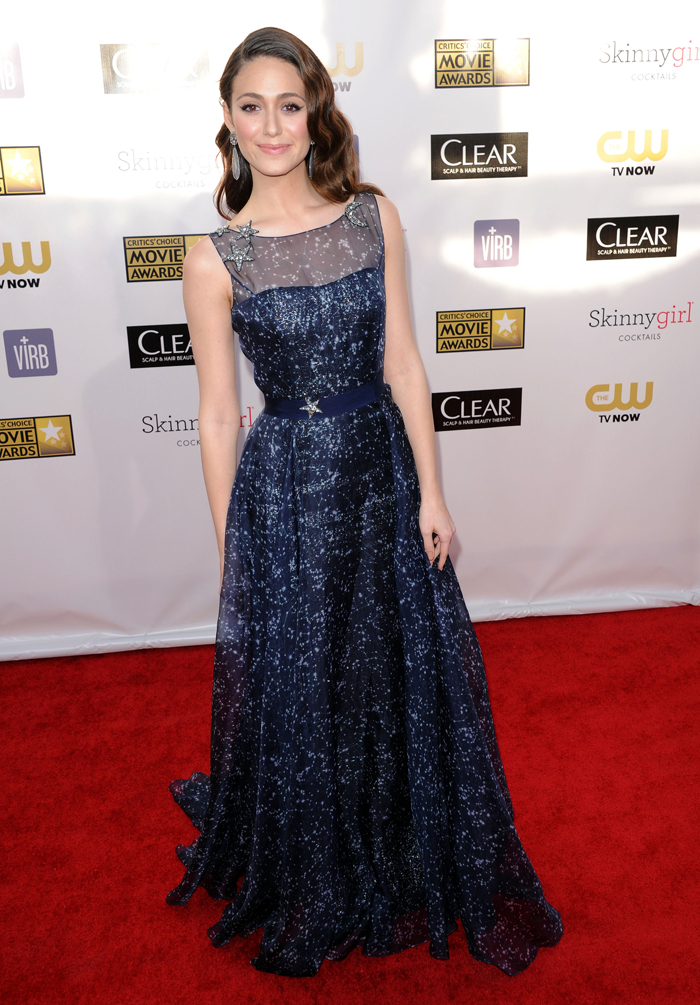 Emmy Rossum looks amazing here. I actually like this midnight blue, star-themed dress! This is a Carolina Herrera gown, and even though I'm not usually much for hugely ornate, overly embellished details, this dress just looked like a dream on Emmy. The gown itself moved beautifully, and I love the star-printed overlay over the whole dress and the way the belt emphasized Emmy's tiny waist. Her makeup looked a little bit waxy, but the hair was just romantic enough to be perfect.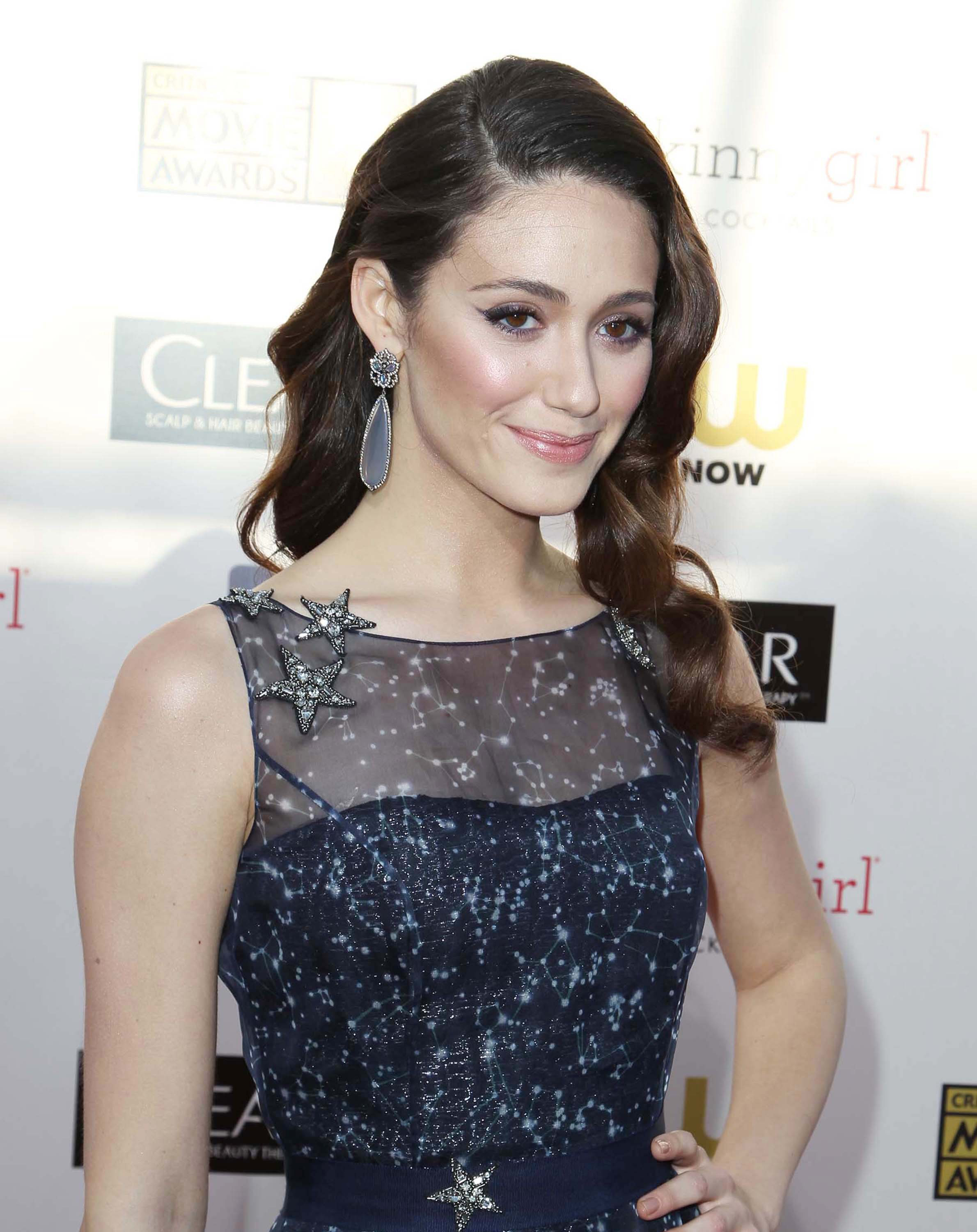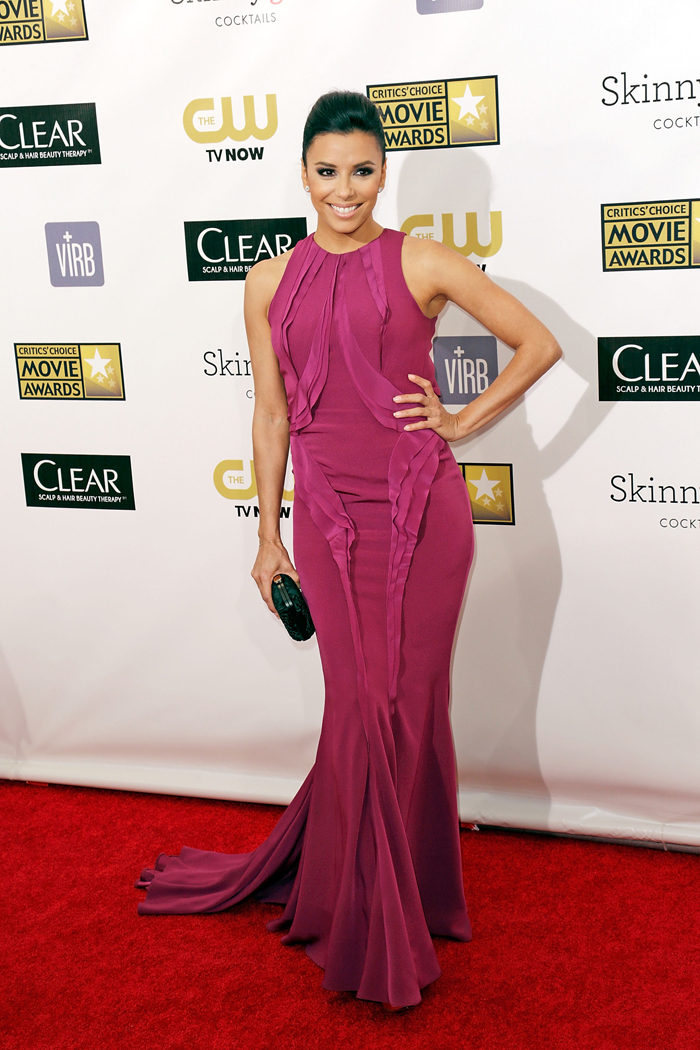 Eva Longoria wore this Monique Lhuillier "hourglass" gown, and I have to say that this dress looks like raspberry-colored crepe paper glued over what would otherwise be an uneventful, shapeless flow of fabric. There's something about the cut of the high-neck/collar area that bugs, but I can't put my finger on it. I also think she Eva could have gone with a bolder lip color and played down the eye makeup just a bit.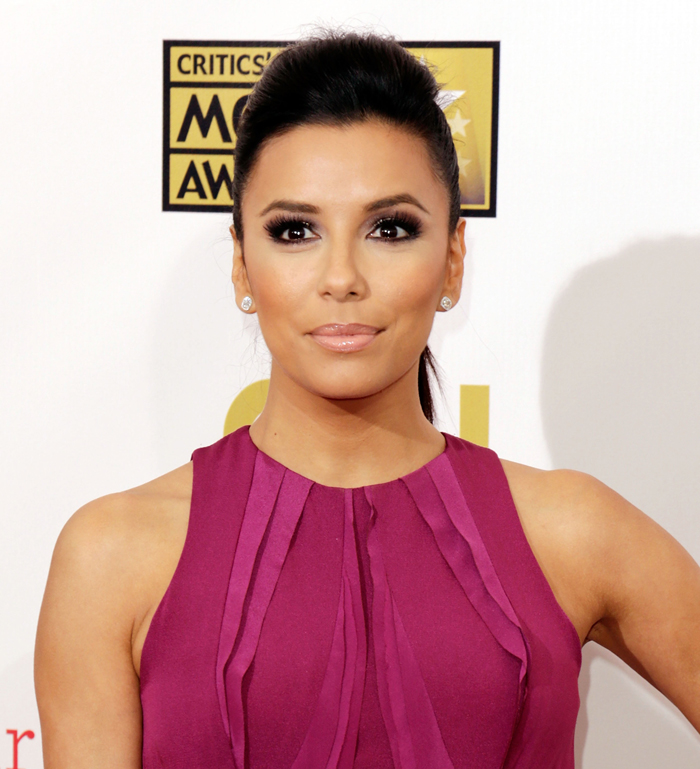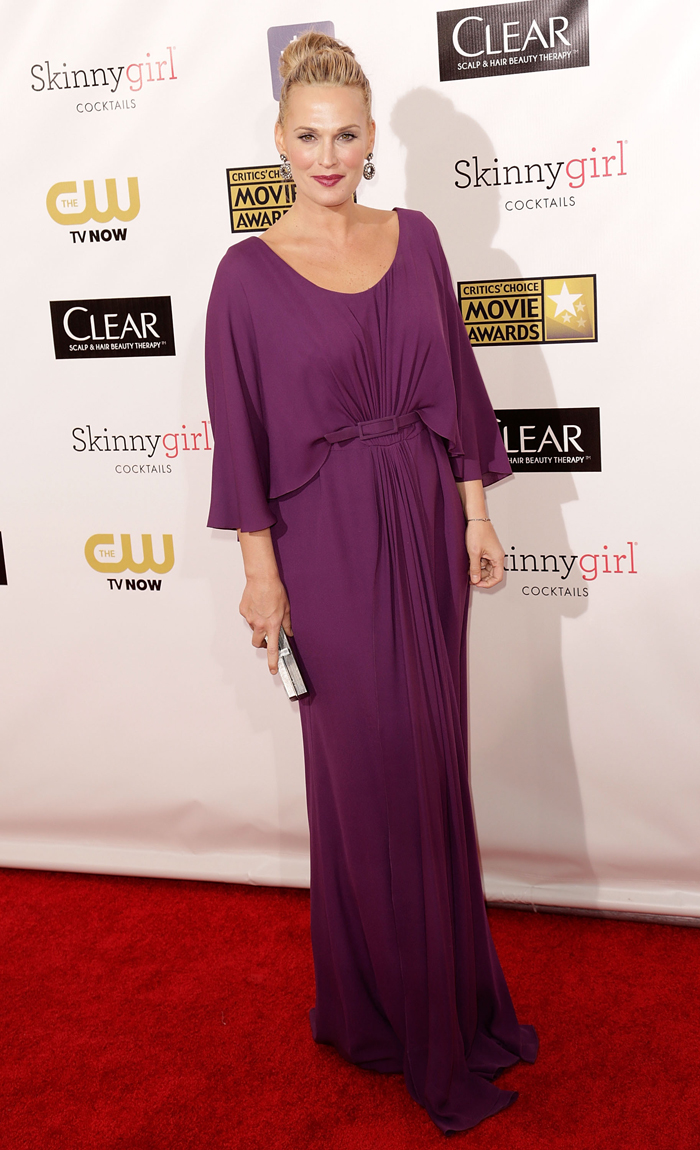 Molly Sims did herself no favors with this drapey, tent-like dress at all. While I ordinarily would give her a break because she just gave birth early last summer, Molly has been pimping a bunch of workout videos from her fraud trainer, Tracy Anderson. So why did Molly choose to wear an ugly, unflattering tent on the red carpet? Her hair looks lovely, but the makeup is way too severe and clownlike.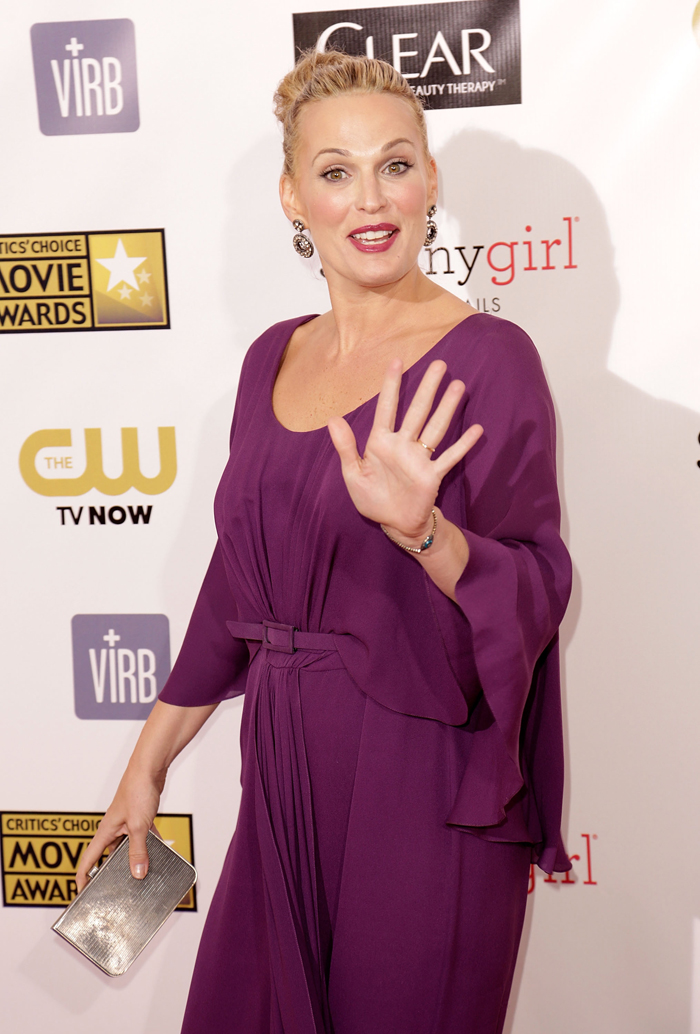 Photos courtesy of WENN
Written by Bedhead

Posted in Amanda Seyfried, Emmy Rossum, Eva Longoria, Fashion, Leslie Mann, Molly Sims

- Mariah Carey lip synced on American Idol [CDAN]
- Colin Firth is looking good [Lainey Gossip]
- Internet celebrity charged with murder! [D-Listed]
- What is Paz Vega wearing? [Go Fug Yourself]
- New bachelors on The Bachelorette [Reality Tea]
- Goodbye to The Office [Pajiba]
- Bachelor Sean's fiance cheats on him [Evil Beet]
- Britney Spears out with her man [Popsugar]
- Nina Dobrev works it [Popoholic]
- Cindy Crawford needs to lay off the 'tox [Celebslam]
- Who said it: Carrie Bradshaw or The Dalai Lama? [Buzzfeed]
42 Responses to "Amanda Seyfried in Marios Schwab at Critic's Choice: miserable or pretty?"