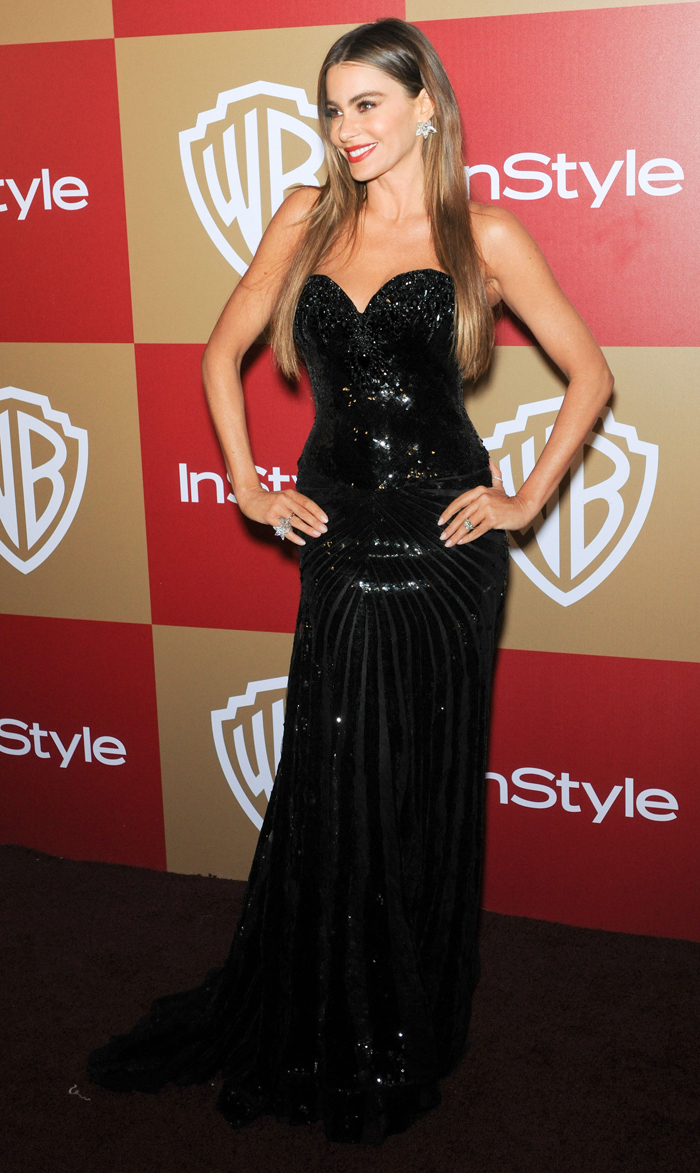 Sofia Vergara brought her usual look to the Golden Globes red carpet last night. She wore a slinky black mermaid dress by Michael Cinco, and she stated, "He's a new designer for me, I've never heard of him. But I saw the dress. Usually I try to stay away from black but I thought it was amazing." Sure, Sofia looks amazing here, but she looks like she always does. I hate to sound like a downer, but Sofia does this type of dress — the same exact bustline with sequins and a mermaid or fish tail — all the time. So yes, she's beautiful but very boring once again. I'd love for her to try out something new and adventurous (for her).
Sofia's accessories also fit with her usual shtick. The diamonds are by Lorraine Schwartz, and the flat-ironed hair and makeup all scream "Sofia!" It's one thing to have a distinctive style, but I'd love to see her in a short, fun dress with strappy sandals, a dearth of flashy diamonds, and a cute bracelet with understated makeup and cascading curls. Just anything besides the usual Sofia look.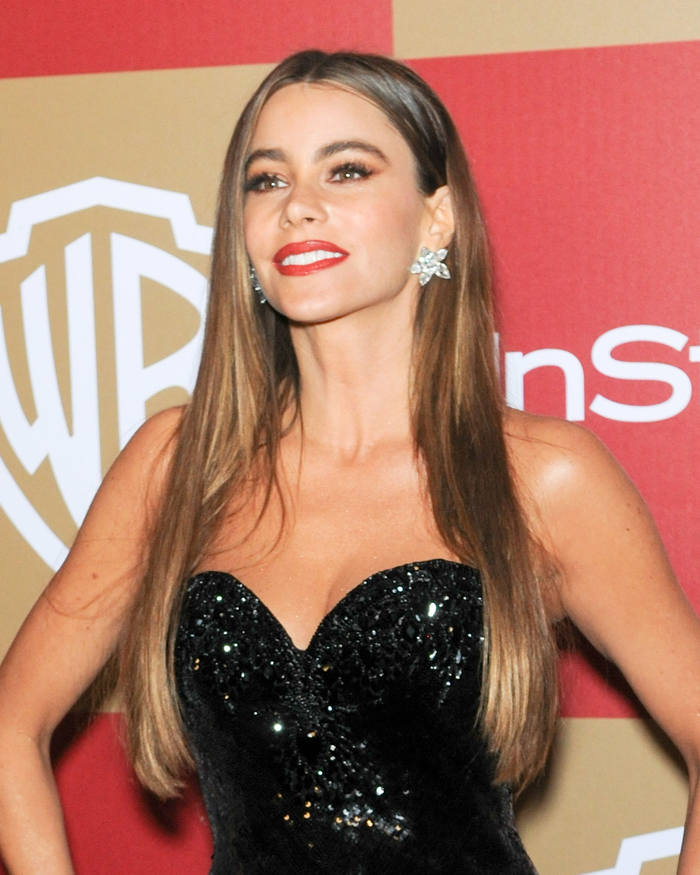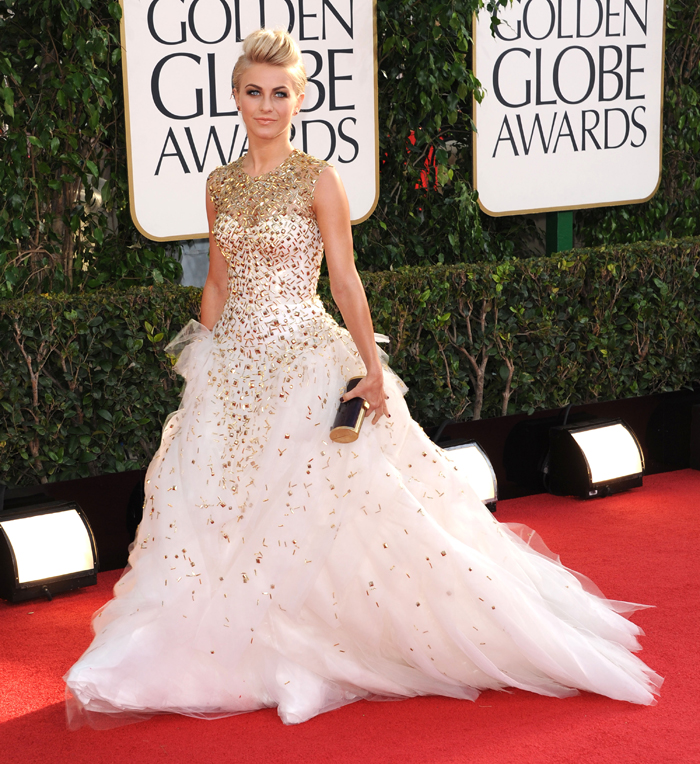 Julianne Hough looked like Rumpelstiltskin vomited all over the king's daughter's poufy white ball gown. This is a Monique Lhuillier number that is just way too dramatic (especially with that eye makeup), but Julianne really thought it looked great on the rack: "I have got to wear that." She completed the look with a Ferragamo clutch, and jewelry made from an actual carob beatle and stick insect. Gross. Also, her hair looks like "The Miley" without the haircut.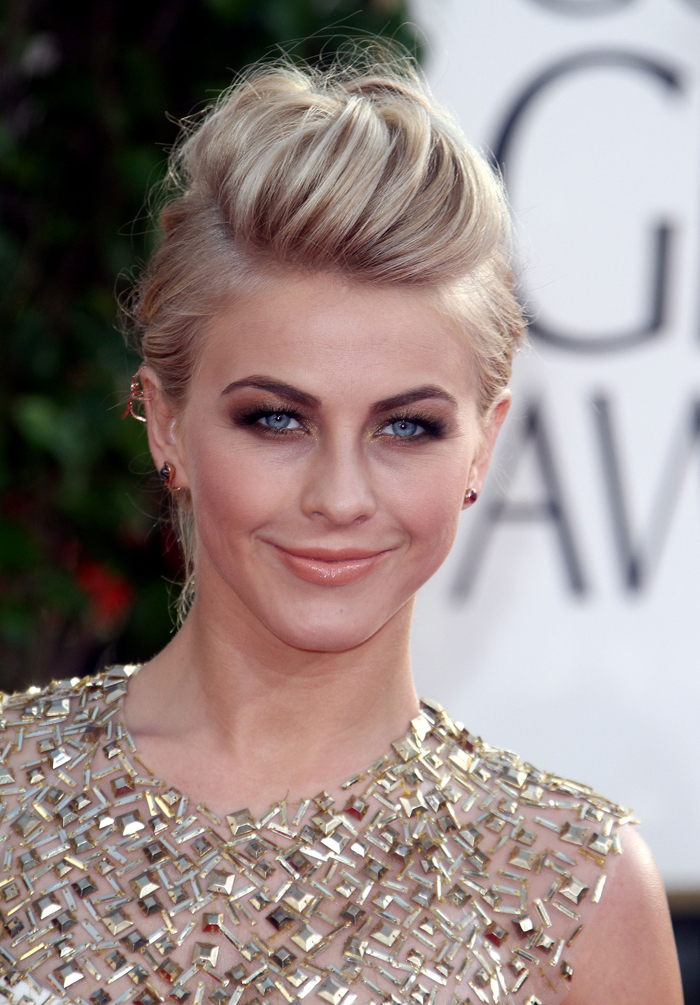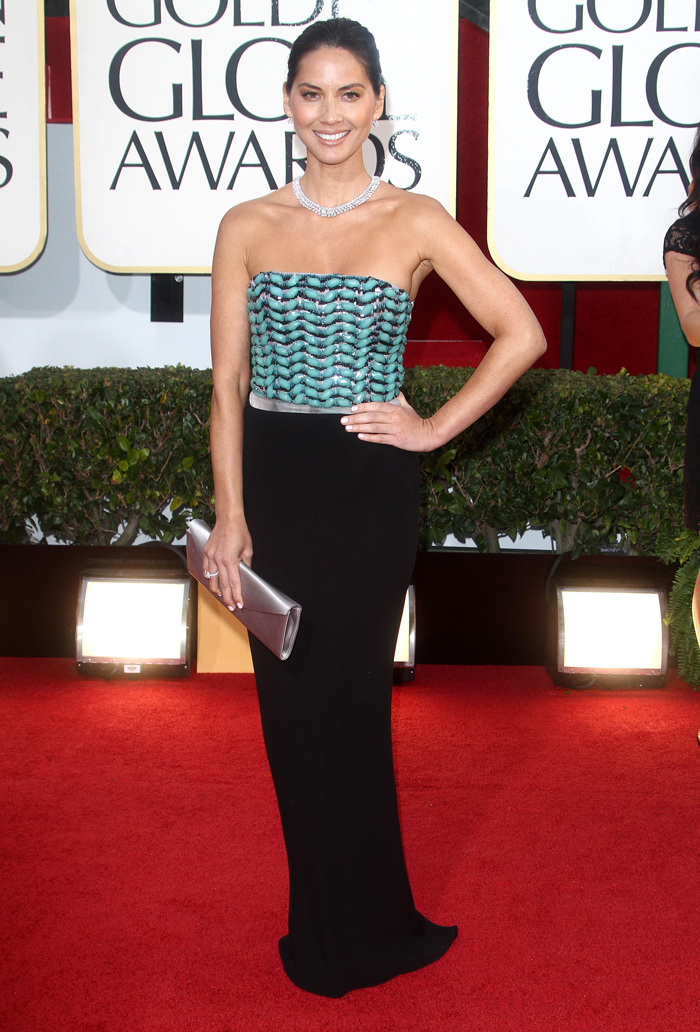 Olivia Munn wore a strapless Giorgio Armani dress that looked like separates but was really just one unfortunate piece. The top part of the dress is almost fully encrusted with turquoise on top of navy, and to me, this is a pretty unflattering look. Oliva should have gone with a sleeker dress. She accessorized with an Armani clutch and heels as well plus a Chopard choker necklace, which are all very meh to me. Her face also looks really shiny and frozen. Too much botox, baby.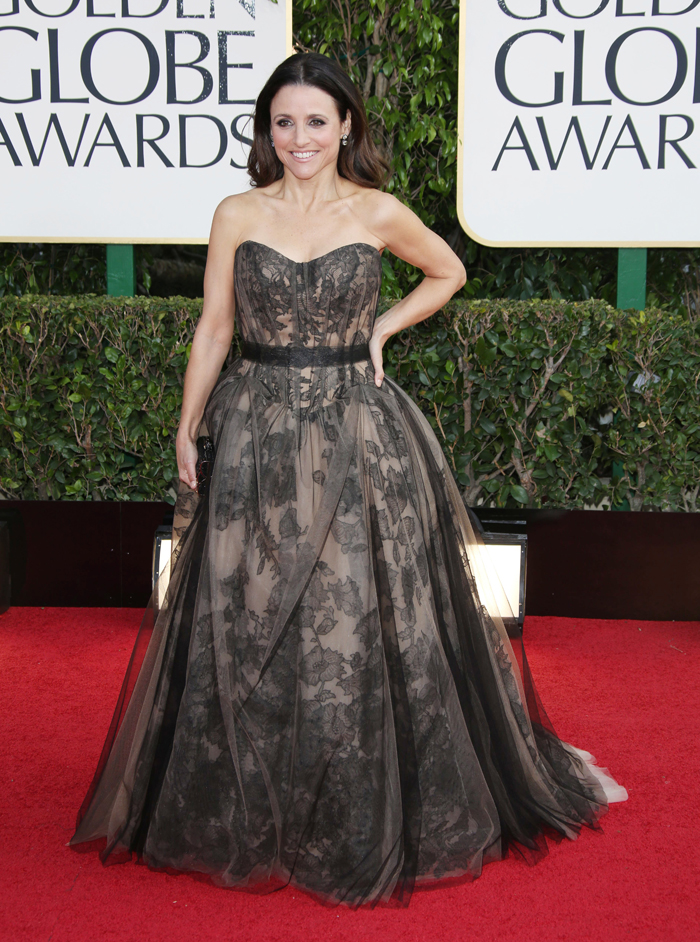 Julia Louis-Dreyfus wore a Vera Wang ball gown that made her seem a lot larger than her actual size. Acutally, I think this was a Very Wang organza tablecloth. Does Vera do house decor? Well, she certainly has an eye for it from the looks of this awful dress. Julia's makeup also looks really washed out.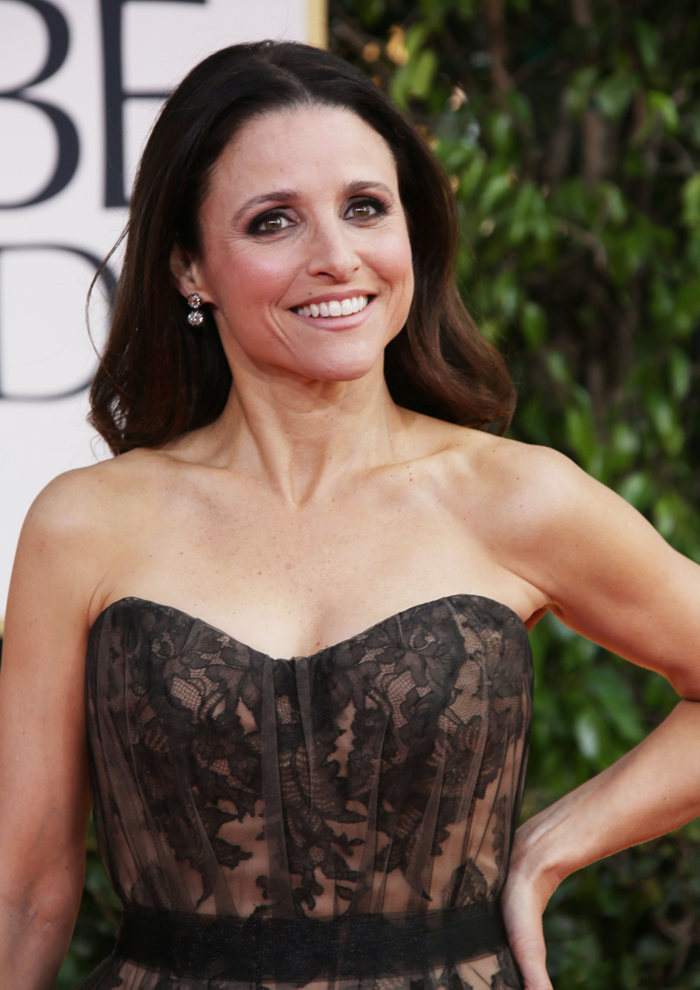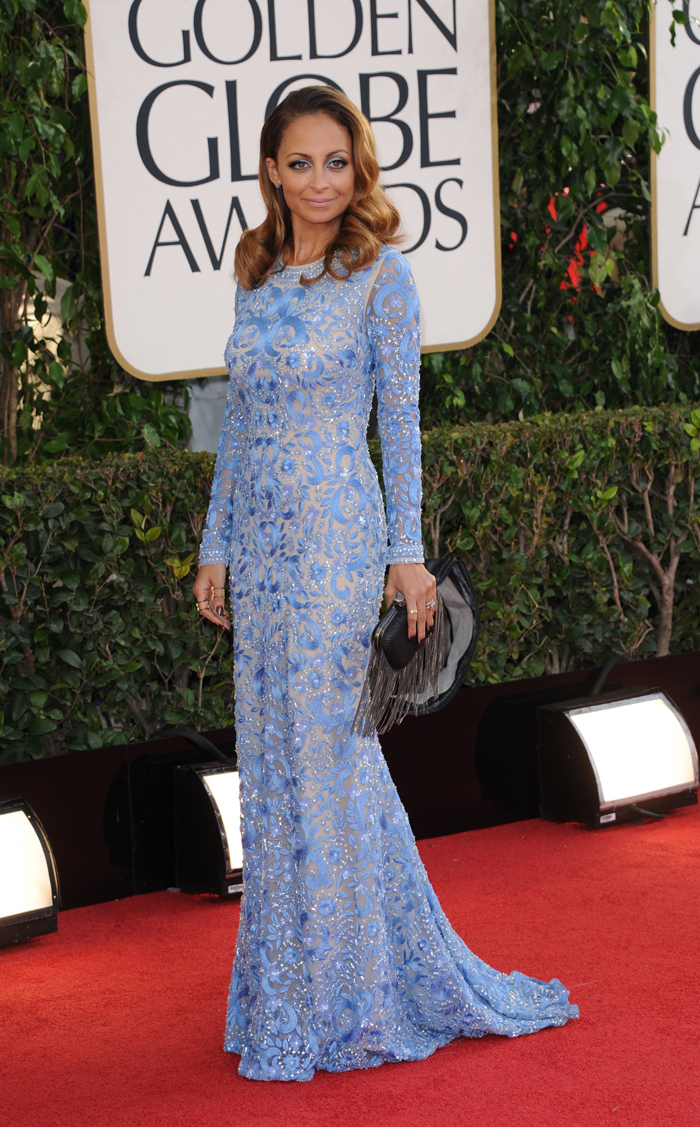 Nicole Richie confuses me. She wore a powder blue Naeem Kaan dress that was very demure in comparison to those trashy years that she was better known as Paris Hilton's unfortunate sidekick. To be certain, I do appreciate the grown-up attitude that Nicole has adopted, but this dress is just strange on her. It would have looked okay with blonde hair, but the caramel brown locks and the day-glo makeup make this whole outfit look a little bit drag queeny. No offense to drag queens. Some of them have great style.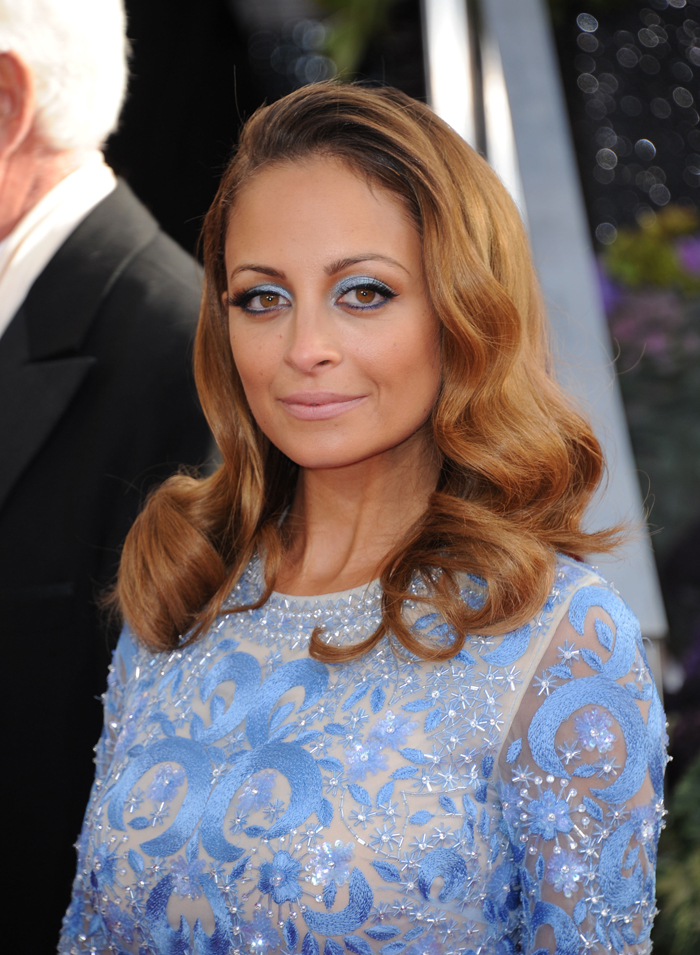 Photos courtesy Fame/Flynet and WENN