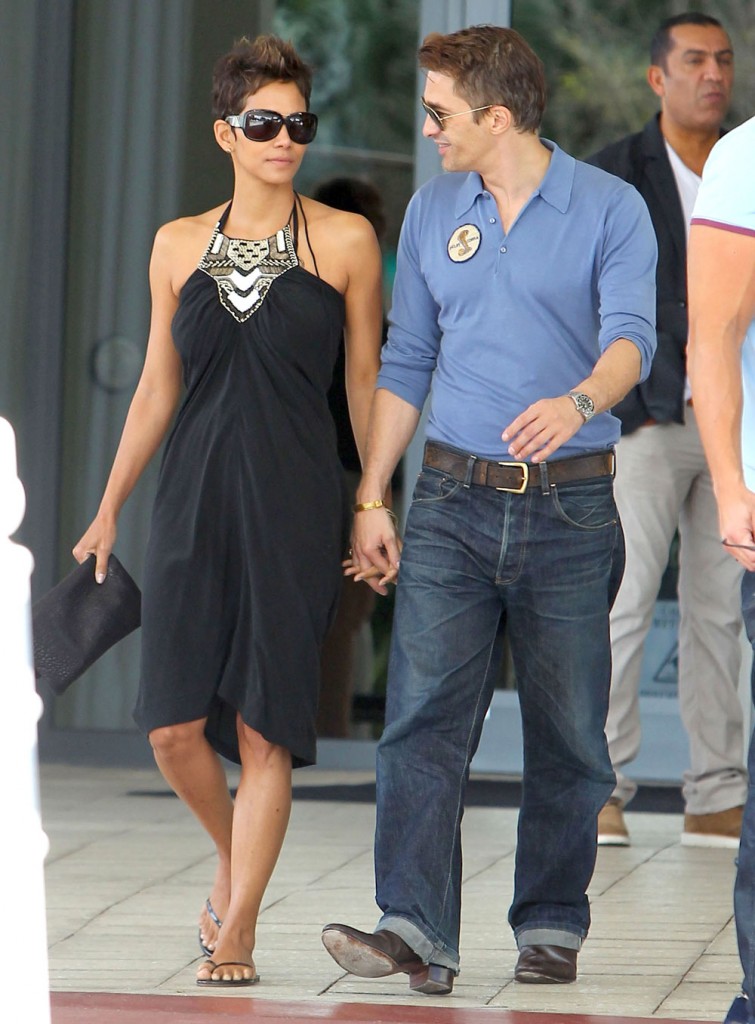 Here are some photos of Halle Berry and Olivier Martinez out together in Miami outside their hotel on Saturday. The presumably happy couple spent Superbowl weekend in Miami, where it's nice and warm and sunny in the mid to upper 70s. I'm jealous! It's so cold here and I'm sick of the wintry weather. Halle wore a very cute black sleeveless sheath dress with a gorgeous beaded neckline. It looked like a glamorous beach cover up and she paired it with some flip flops. She usually looks so amazing. Olivier was more goofy than cool in a long sleeve blue polo top with a big cobra emblem. (It's probably some high fashion brand that I've never heard of. The closest I could find was "Shelby Cobra" Update: which is a car, my bad.) He's also wearing those big jeans he loves and some cowboy boots.
The last we saw Halle, she was looking gorgeous in Vivienne Westwood at the NAACP Awards on Friday, in LA. So the next day she flew to Miami, where she and Olivier have conveniently been getting papped all over the place. (More photos of their coupled-up weekend are here.)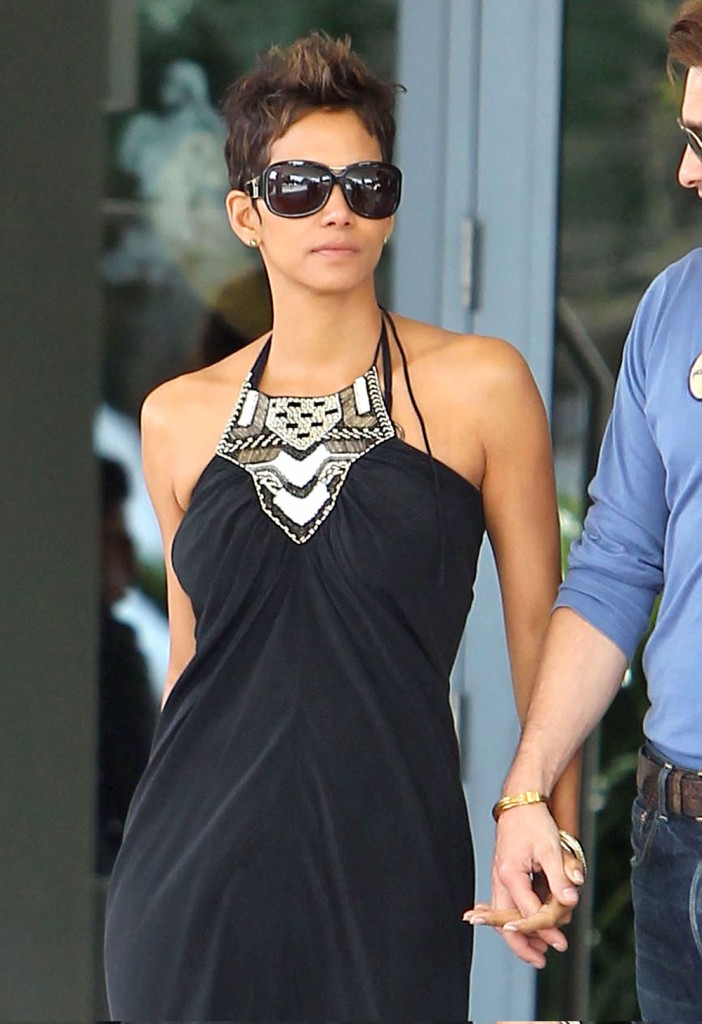 As the Daily Mail notes, little Nahla must be back with her dad in LA while Halle is off for a romantic weekend in Florida. Halle probably still wishes she were in Paris permanently, but as far as I know she doesn't speak French (she was only learning from what I heard) and it's around 40 degrees in Paris this week, with snow expected at the end of the week. I'm just saying. It's not like she's flying off to Paris for a romantic weekend.
Halle has a new movie out in mid March called The Call, co-starring Abigail Breslin. The synopsis: "When veteran 911 operator Jordan (Halle Berry) takes a life-altering call from a teenage girl (Abigail Breslin) who has just been abducted, she realizes that she must confront a killer from her past in order to save the girl's life." Horror/thriller films are not my bag, but this could do well at the box office. Not that Halle's films have been doing well at the box office lately.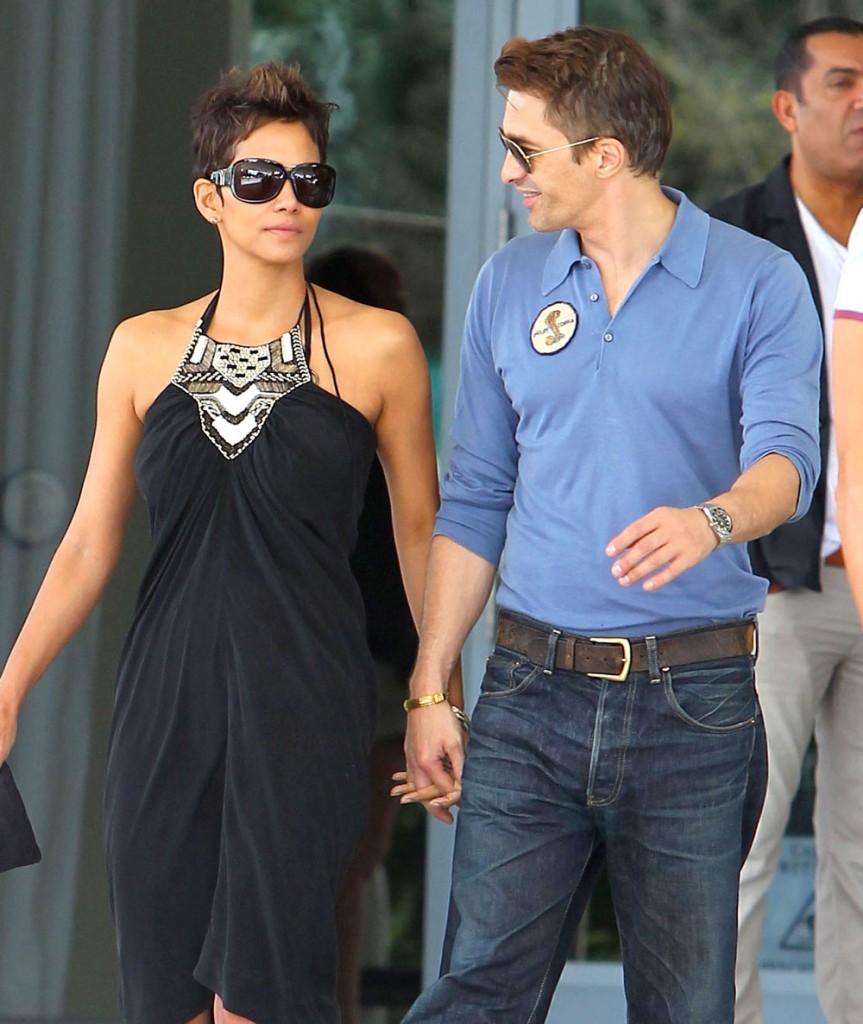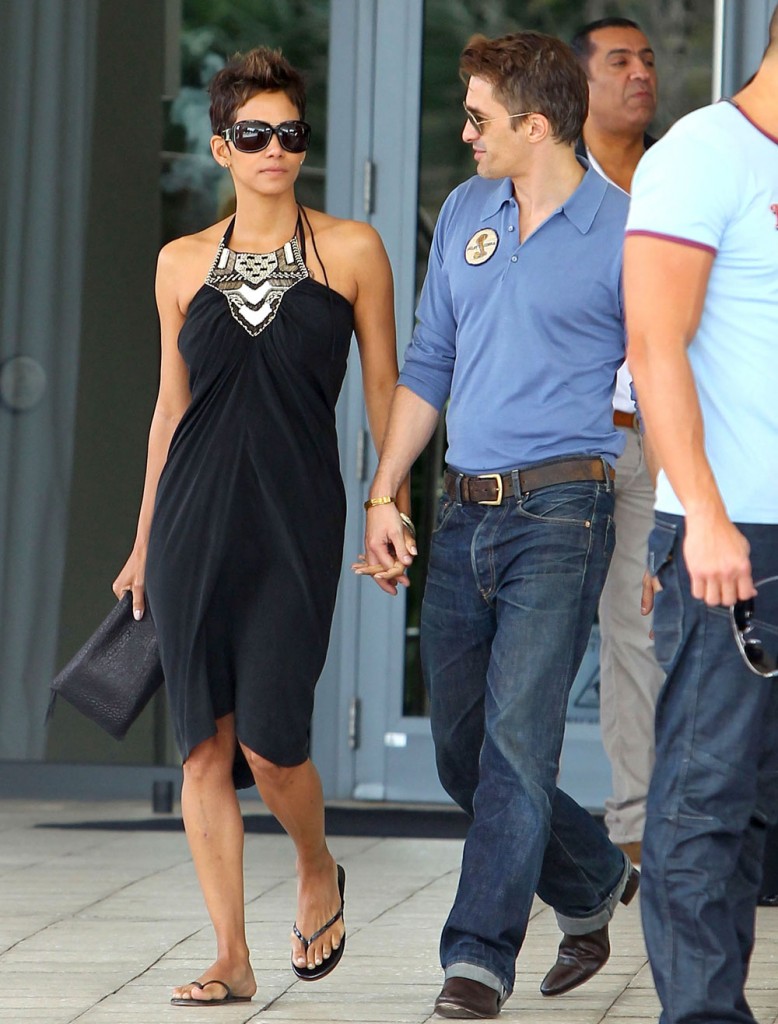 photo credit: FameFlynet