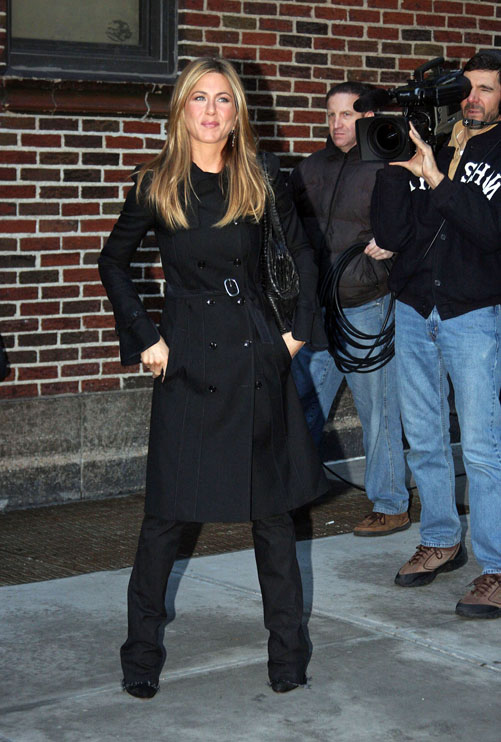 Several months ago, one of the tabloids ran a story about how Aniston's beloved dog Norman hated John Mayer. Something about Norman growling at Mayer, treating Mayer like the beta dog that he is. Well, according to the NY Daily News, the feeling it mutual – Mayer has banned Norman from Aniston's house.
Jennifer Aniston is promoting her new doggy comedy "Marley and Me," but her real pooches have been temporarily banished to the dog house . . . thanks to boyfriend John Mayer.

"John hates Jen's dogs," an inside source snitches to us, adding that Jen has left her beloved four-legged friends — Norman, a Corgi-Terrier mix, and Dolly, a white German Shepherd — at home in L.A. while promoting her film and playing with Mayer in New York City.

"John also hated [ex girlfriend] Jessica [Simpson's] dog Daisy," our insider laughs. While Jen's rep calls said allegations "ridiculous and untrue," we think John needs to honor Jen's puppy love. After all, the film isn't called "Mayer and Me."
[From the Daily News]
I'm having a severe giggling fit just imagining Norman looking up at Jennifer and saying, "I don't have a problem, you have the problem." And I'm not even stoned. But here's the lesson: if your guy hates your dog, kick the guy to the curb. No joke. There are other life lessons to be learned about dating John Mayer (something about "dark dicks" – I forget), but I won't get into that now. But this isn't Aniston's only puppy problem! Marley & Me is receiving lukewarm reviews, with one reviewer even pointing out some fatal flaws in the script.
The screenplay by two Hollywood heavyweights, Scott Frank and Don Roos, derives from journalist John Grogan's memoir about his young family's amazingly untrained yellow Labrador. As he (Wilson) and wife Jenny (Aniston) pursue newspaper careers, and when babies start to arrive and Jenny turns into a full-time mom. Meanwhile, their dog consumes sofas, eats dry-wall, drinks from toilets, overturns garbage, breaks everything and swallows a valuable necklace.

The dog is shown in one sequence failing obedience school despite instructor Kathleen Turner's stern demeanor. But the film never explains why the family failed to train Marley.

Since the dog endangers the small children in one scene, this particular nonchalance toward canine behavior can be construed as highly irresponsible. It might have helped if the filmmakers had worked out a scene showing that Marley, as dogs usually do, behaves differently around children than adults.

More troubling from a storytelling viewpoint is the total absence of conflict. An hour into the film, Jenny has a bad day with screaming kids and a misbehaving dog so she flips out, yelling at John and momentarily banishing Marley. But it's over by nightfall. Otherwise, John's editor (Alan Arkin) is pleased with his work as a columnist, John and Jenny love each other and the healthy family prospers. Marley's erratic and explosive activities supply all the suspense, action and drama.
[From Reuters/The Hollywood Reporter]
So I guess they're saying that the dog is the most interesting part of the film? Fascinating. Who would have thought that a film couldn't rest on Aniston's hair and body alone? (Me.) And I had no idea that the book or the movie had parts where the dog mistreats or roughs up kids. That's seriously the one exception all dog-owners need to draw: if your dog is rough with children, the dog is no longer a family pet. No "ifs, ands, or buts" about it. But if your dog is just rough with John Mayer, that dog's a keeper. *giggling fit imagining Norman biting Mayer*
Picture note by JayBird: Here's Jennifer outside the CBS studios where she was a guest on "The Late Show with David Letterman" on December 17th. Images thanks to Bauer-Griffin.