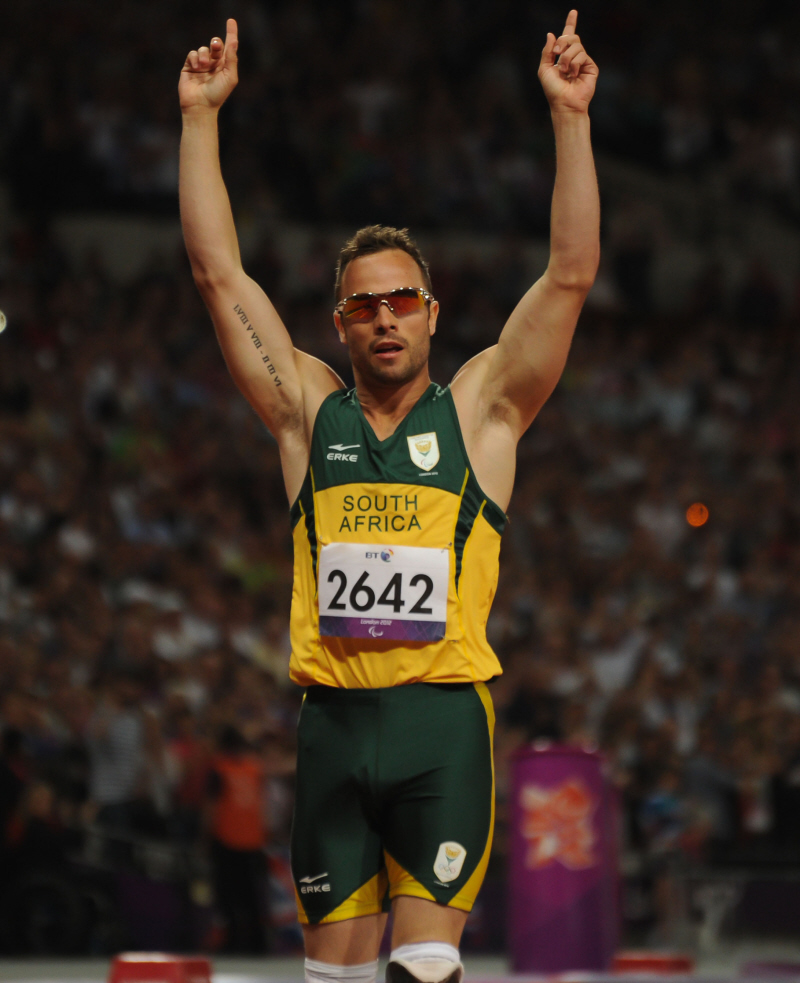 Oscar Pistorius's next court appearance will be on Tuesday, and that's when we'll see if the judge will allow him to be released on bail. Until then, media outlets are playing catch-up and trying out various theories and explanations to try to work out how Oscar's beautiful girlfriend Reeva Steenkamp ended up being shot multiple times in the early hours of Valentine's Day in Oscar's home. Vulture has some new details and a recap of where we are now:
Olympian Blade Runner Oscar Pistorius is currently on suicide watch in a jail cell in Johannesburg, South Africa, having been charged with premeditated murder for shooting his 30-year-old girlfriend, aspiring model Reeva Steenkamp, four times in the head, chest, and hand. Steenkamp was killed in the bathroom of Pistorius's home on Thursday, when the athlete claims that he mistook her for an intruder.

While that explanation has been largely dismissed by law enforcement so far, a source has told Afrikaans-language newspaper Beeld that paramedics arrived on the scene to find Pistorius attempting to revive Steenkamp with mouth-to-mouth.

Since Pistorius's possible second thoughts don't change what happened, prosecutors and police have yet to comment on the resuscitation update and are instead focusing their attentions on neighbors' reports of a disturbance at the home several hours before the shooting. More bad news for Pistorius, who faces a life sentence in one of the world's most ruthless prison systems: One of his ex-girlfriends, Samantha Taylor, has been approached by police to testify against him and says she is "prepared to reveal what Pistorius made me go through."

Australia's Daily Telegraph reports that Steenkamp, whose Twitter feed reveals her to be an outspoken critic of South Africa's pervasive rape culture, was scheduled to give a motivational speech to a group of high school students the day after she was killed.

"It was about empowerment and inspiration and what inspires you and how to follow your dreams," said her publicist, who'd seen Steenkamp's notes, which drew heavily on an abusive relationship she'd had before she started dating Pistorius back in November.

Meanwhile, a South African television channel says it still plans to go ahead with Tropika Island of Treasure, a reality show set in Jamaica where Steenkamp and several other celebrities compete for a prize worth over $100,000. One of Steenkamp's cousins says that, while the network has yet to get in touch with the family, they're actually all planning to watch the series premiere tonight.

"Her last words to us personally was that she wants us to watch it," she said. "Reeva would've liked us to watch it," her uncle told People magazine. Tonight's show will be dedicated to Steenkamp's memory and will include a tribute to her.
The part about Oscar's ex-girlfriend coming forward to tell her story is interesting, isn't it? I will be very interested to see where that goes. As for the part of the story where Oscar allegedly tried to revive Reeva after shooting her (through the bathroom door?), I guess that might work as an explanation for why Oscar didn't call the police or paramedics immediately – he was trying to take care of her himself? He was in shock? Perhaps. But here's another interesting wrinkle – Oscar's friend Justin Divaris has told media outlets that Oscar contacted him shortly after shooting Reeva:
Oscar Pistorius was shedding tears long before his trip to the courtroom on Friday, Feb. 15 — calling best friend Justin Divaris and sobbing in the moments immediately after his model girlfriend Reeva Steenkamp was shot, the UK's Sunday People reports.

According to the British newspaper, the 26-year-old Olympian reached out to Divaris, a chief executive of luxury car sales firm Daytona Group, in the early hours of Thursday, Feb. 14, saying that "Reeva had been shot."

"I said to him, 'What are you talking about? I don't understand you,'" Divaris told the paper. "He then repeated himself — 'There has been a terrible accident, I shot Reeva.'"

The businessman then detailed how he spoke with his distraught friend's neighbor and immediately rushed to Pistorius' gated estate with his girlfriend Sam in tow, only to find the home blocked off.

"It was very traumatic," he said. "By the time we got there it was already a crime scene and we weren't allowed in the house. But we could see Reeva through the door lying there covered in blankets and towels at the bottom of the stairs."

"[Oscar] was totally incoherent and just kept saying, 'My baba, I've killed my baba. God take me away,'" Divaris continued. "It is so sad. I introduced Reeva to Oscar. She was a really good friend of mine too and actually had been a friend longer. … I don't understand exactly what happened but the truth will come out."

Pistorius broke down in tears in a South African courtroom the following day, on Friday, Feb. 15, after being charged with premeditated murder. Mike Steenkamp, the 30-year-old model's uncle, told Us Weekly that the entire family "is still in a state of disbelief" over the situation.

"There are so many questions, so many things we need to know before we can start making sense [of the situation]," Steenkamp told Us. "We have each other and everyone is sticking together and supporting each other. We try and find comfort in the fact she is in a better place now … that's all you can do."

A private funeral for the South African beauty is set for Tuesday, Feb. 19, back in her hometown of Port Elizabeth.

Her father Barry Steenkamp spoke out to the UK's Mail for the first time on Sunday, Feb. 17, and expressed his grief over his daughter's tragic death, but said that the family has "no hatred" in their hearts toward Pistorius.

"He must be going through things that we don't know about," he told the paper. "There is no hatred in our hearts."
I'm starting to get uncomfortable with the way so many people are bending over backwards to give Oscar the benefit of the doubt. I mean, innocent until proven guilty, let's wait until all of the facts are in, etc, etc. But all of us pre-judge and all of us following this story have already formed opinions about what went down. What strikes me is how there seems to be a real movement to find something sympathetic about Oscar, to offer positive-spin theories about what might have happened… often in the face of contradictory evidence or what the police are saying thus far about the investigation. Is it a racial thing? Would the media treat Oscar differently if he was a black athlete who had murdered his girlfriend? Or is it not even a racial thing? Would the media be treating him differently if his story – before this horrible incident – hadn't been so inspirational, if he hadn't been such a hero and a beloved celebrity?
Oh, and police found a bloody cricket bat at the scene of the murder too. Because it was "an accident".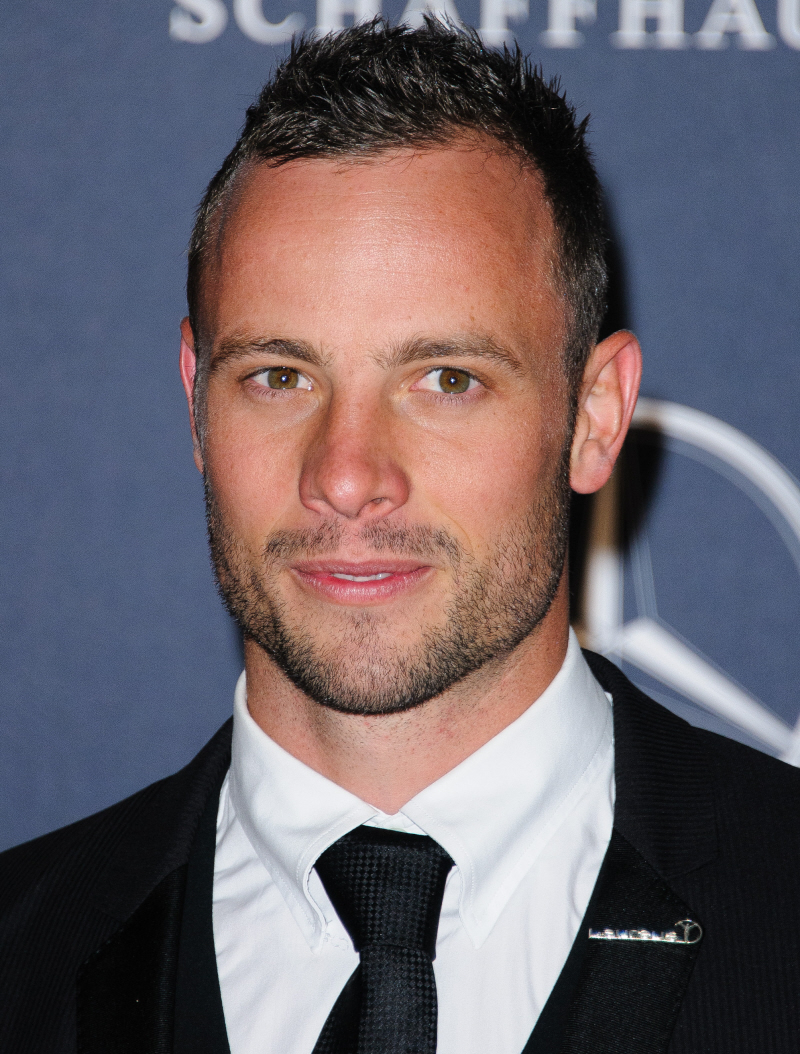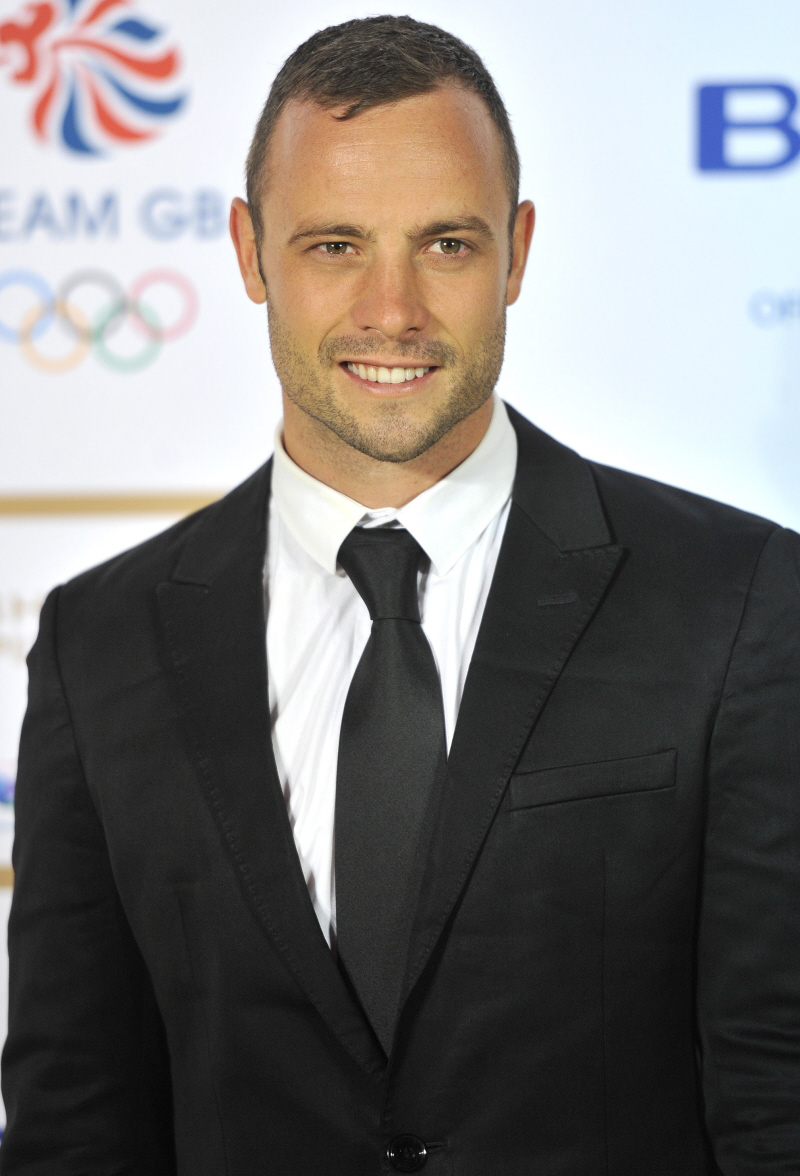 Photos courtesy of WENN.