Rihanna gets huge MAC cosmetics collaboration deal: good pick?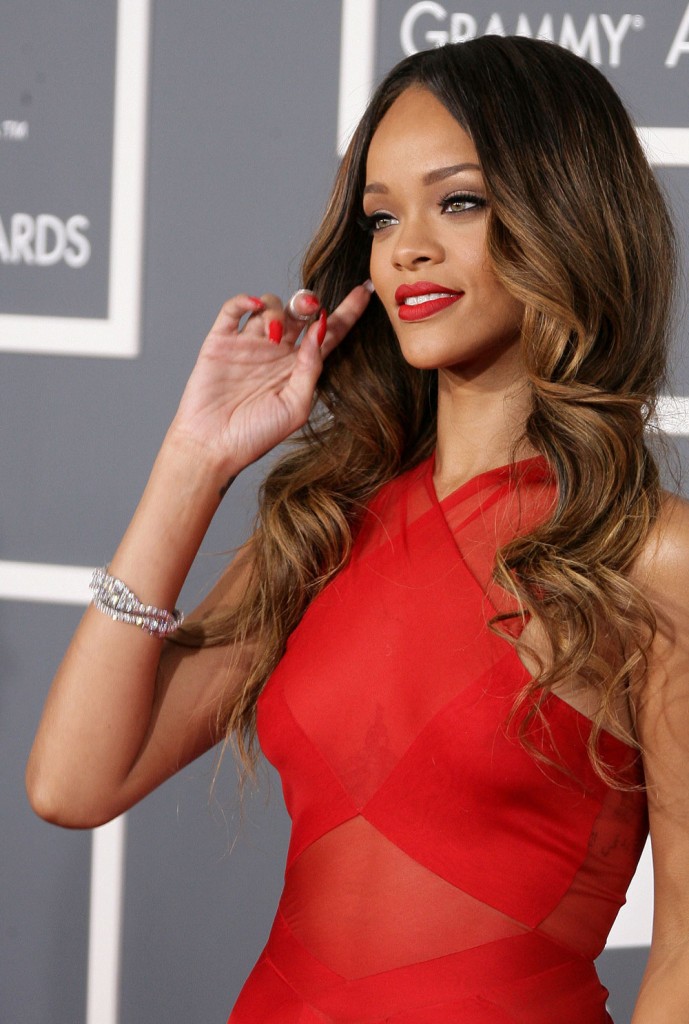 Rihanna is turning into quite the celebrity industrialist. She has a new super cheap-looking fashion line, her perfume and now her branded MAC cosmetics, which she claims to have co-designed. MAC made the announcement that they're going to put out four different collections from Rihanna this year. This is a new trend in celebrity endorsements, to give them some kind of ownership and creative control. Rihanna did a new interview with Women's Wear Daily to talk about the project and I have to say she sounds very professional and excited about it. She says she's used MAC cosmetics for years, that she's excited to be working with them, and that she tried out her new makeup on all her friends to make sure the colors worked with different skin tones. Here's more, with more at the source: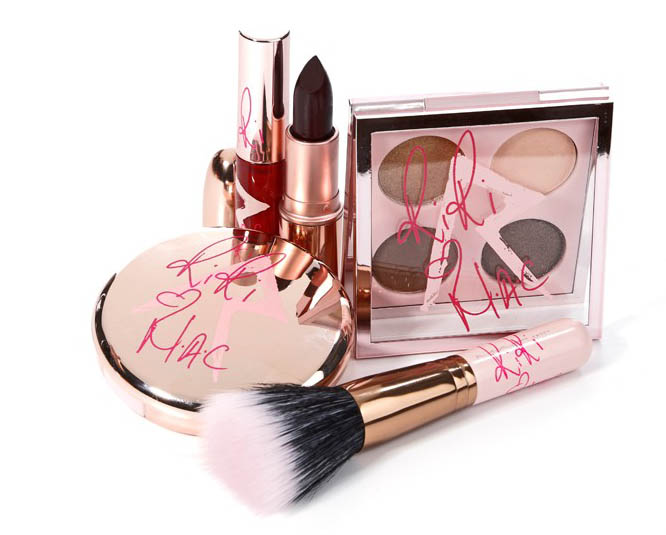 "The only thing the media really can get in the way of is my privacy," said Rihanna — fresh from taking her runway bow in a cavernous former post office sorting space in central London after the Rihanna for River Island show last weekend. "Privately, yeah, it's a pain in the ass, but at the same time they help me to get my message across. My creativity — I'll never let anyone interfere with that — because that's something I love. And if I'm not doing that, I'm wasting my time."

The MAC agreement — which Rihanna called "a no-brainer" — will help her be even more creative. In an unprecedented deal for both, MAC and the Grammy winner have collaborated on multiple collections of color cosmetics that will roll out later this year.

The first product to launch will be RiRi Woo, a lipstick inspired by her favorite MAC red, Ruby Woo. Its release will coincide with Rihanna's Diamonds Tour concerts on May 4 and 5 at the Barclays Center in Brooklyn, where MAC will open a pop-up shop on the first night to showcase the line.

"When you think of makeup, the brand that pops into your mind — for something legit — is MAC," said the singer, who was dressed in a black, strappy, curve-hugging dress of her own design and matching Manolo Blahnik heels during an exclusive interview with WWD. "Whatever color you want, it's like 'Let's go to MAC.' I've been using MAC on tour for such a long time it was a natural fit for me. I have always loved makeup, and I always said that if I do it, I want to do it with a credible brand…"

Rihanna argues that creating makeup is no different from making songs — or clothing, for that matter. "Being creative is something that I love, so I can put that into different outlets. Music happens to be the first thing that I gravitated to, and now music opens doors to just so many different opportunities, and they all tie in. My makeup looks, my fashion looks…they help me to express myself as an artist. I think it helps people to understand me or my mood, my story."

Although MAC has collaborated with myriad brands and celebrities in the past, this is the first time the brand has worked with a famous person for more than just a one-off project. "We always say that MAC likes to go on a date but doesn't really want to go into a relationship," said John Demsey, group president of the Estée Lauder Cos. Inc., MAC's parent company. "This relationship with Rihanna is a long-term one that involves the development of four distinct color initiatives."
I just have to call bullsh*t on her first quote about the media getting in the way of her "privacy." She's tweeting and instagramming constantly. She's the one getting in the way of her own privacy.
Getting back to this announcement, I've tried MAC in the past, but it's very expensive and I stick to more affordable drug store brands now. There's not shame in it! MAC has great eye shadow shades especially, but I can't see spending that kind of money on a single shade. Plus what if I don't like it? I just dropped over $10 on one color.
In terms of Rihanna as a spokesperson/collaborator, this is a great deal for both of them. MAC is edgy, they don't care if Rihanna is tweeting photos with her ass hanging out while she's smoking a blunt. Mac is known as a high end kind of punk rock brand. They're not like Nivea, whose CEO who called Rihanna trashy, basically, and severed their relationship with her. MAC knows what they're getting.
The MAC spokesperson was asked specifically about Rihanna's relationship with Chris Brown and he had a pretty sophisticated response, "She's a grown woman, and whatever makes her happy makes us happy. Life's complicated. Far be it for us to judge."
Also, as Kaiser said to me it's nice that MAC is trying to create makeup for women of color and this collaboration with Rihanna speaks to that. Sure she's a trainwreck in her personal life but she's massively successful and she loves makeup. As long as she stays away from Chris Brown (not likely) and stays safe she should be ok. She isn't drinking and driving, getting in fights or trash-talking anyone besides Karrueche. I've developed a kind of tolerance and understanding of her. She acts like she's super risky and hardcore while she does all her professional duties and cashes in bigtime. Her image is very calculated.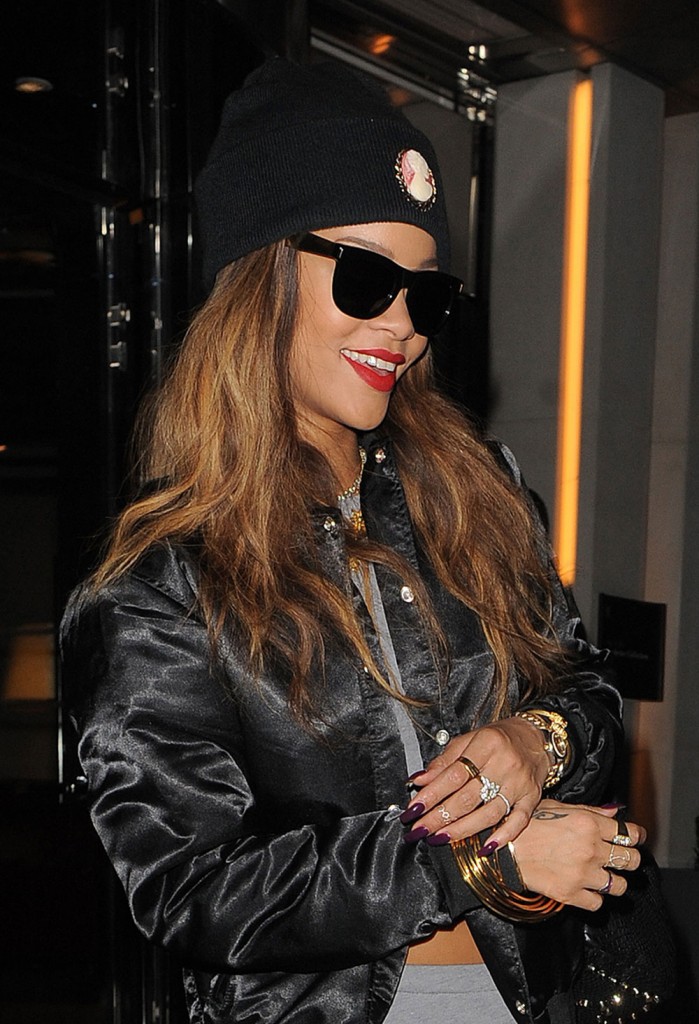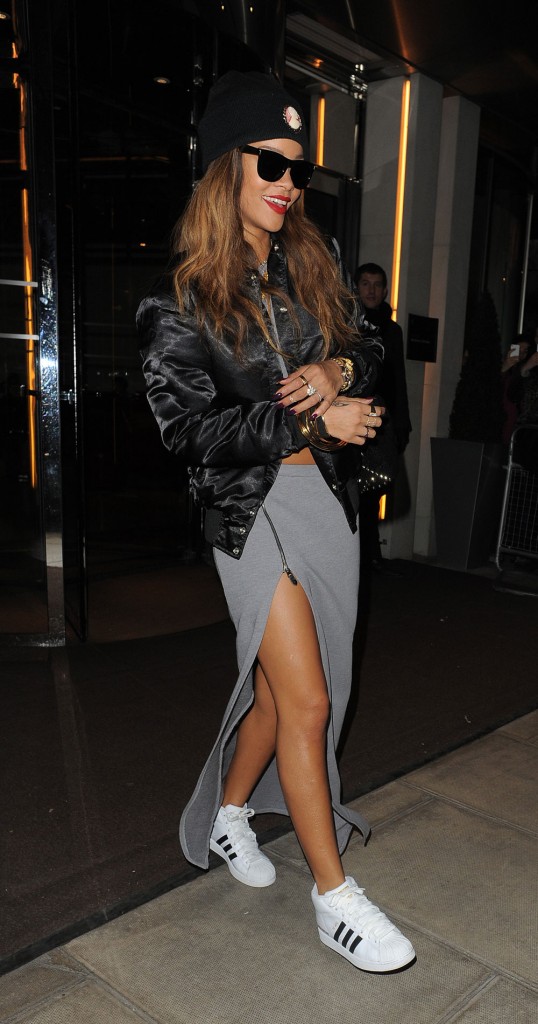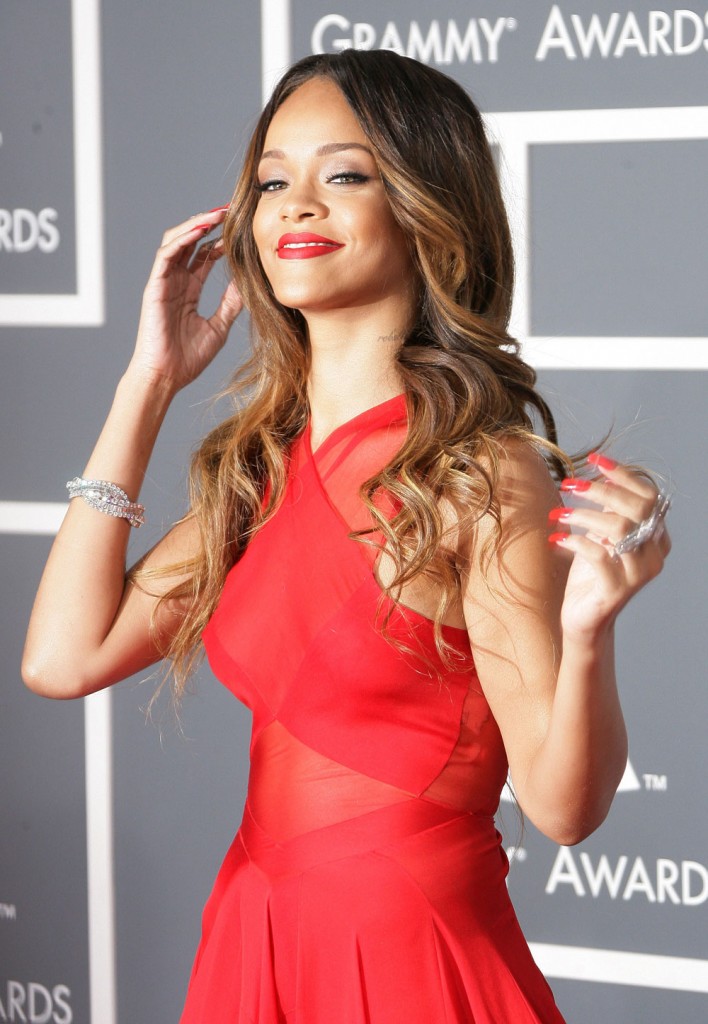 Rihanna is shown on 2-16 (white sneakers)and 2-10 (Grammys). Credit: WENN.com
Written by Celebitchy

Posted in Endorsements, Makeup, Rihanna

- The Blemish interviews Carmen Electra [The Blemish]
- Rumer Willis joins Pretty Little Liars [Lainey Gossip]
- Morgan Freeman falls asleep during interview [D-Listed]
- Fug or fab: Isla Fisher [Go Fug Yourself]
- Tamra Barney confirms spinoff [Reality Tea]
- Movie franchises that rebounded [Pajiba]
- Why Dylan McKay is the perfect boyfriend [Buzzfeed]
- Saoirse Ronan could have been a Lohan [Evil Beet]
- GIFs from Cannes [Popsugar]
- Cat massages a dog [CDAN]
- Heather Graham is so pretty [Celebslam]
- What is Lucy Hale wearing? [Moe Jackson]
31 Responses to "Rihanna gets huge MAC cosmetics collaboration deal: good pick?"