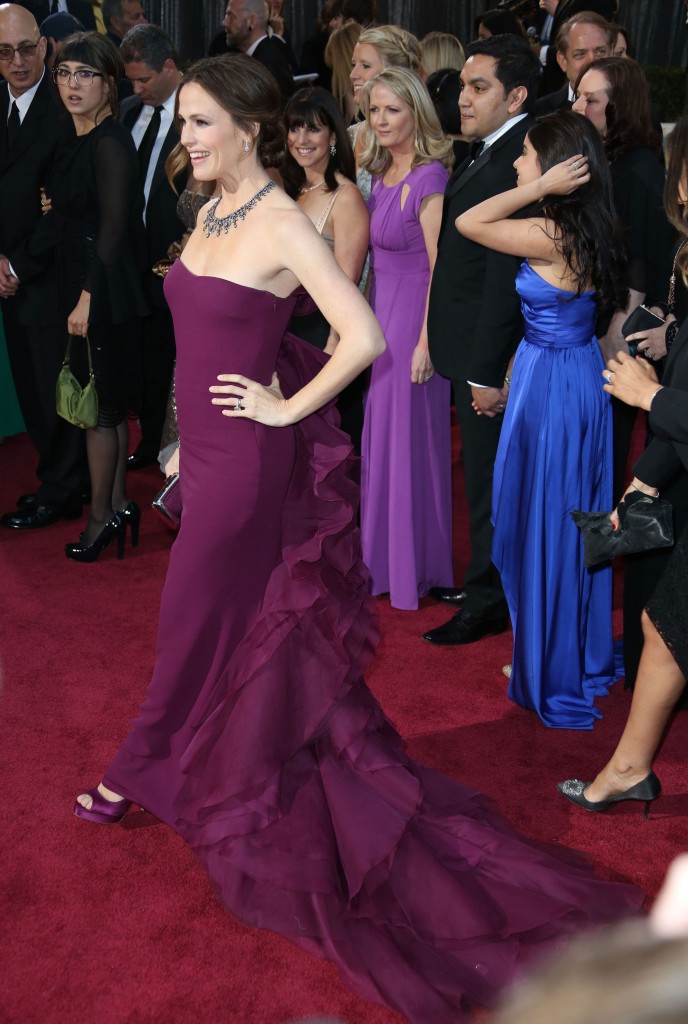 Jennifer Garner supported her husband Ben Affleck through his Best Movie win in this deep purple tight fitted Gucci gown accented by a bizarre ruffled back that continued into a train. In photos this dress looks better to me than it did on camera, particularly when she was being interviewed by Kristen Chenoweth. (Maybe that's because I found Chenoweth supremely annoying. Did you see that stunt she pulled with Hugh Jackman asking him if she weighed more than an Oscar?) Garner explained that the gown was custom-made and that "They gave me other ones to chose from but I loved this from the minute I saw the first sketch. I save up all my fashion for red carpet events." Garner has a banging body but somehow this gown didn't flatter her and accented the wrong places. Also: matchy bridal shoes! Something nice: I like her statement necklace and her hair and makeup are pretty.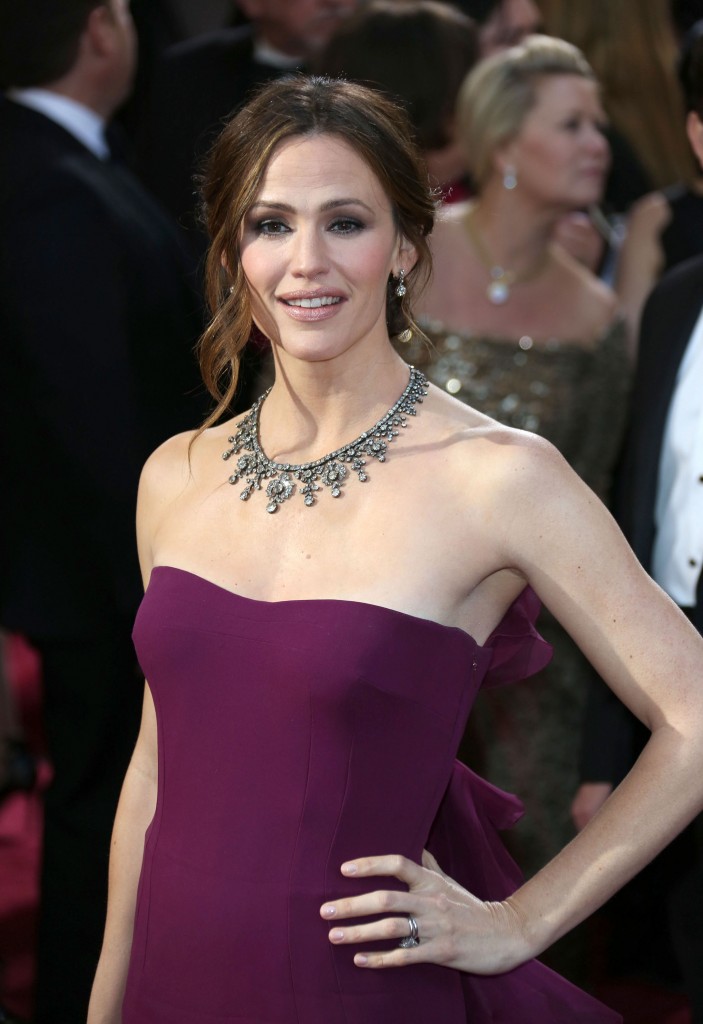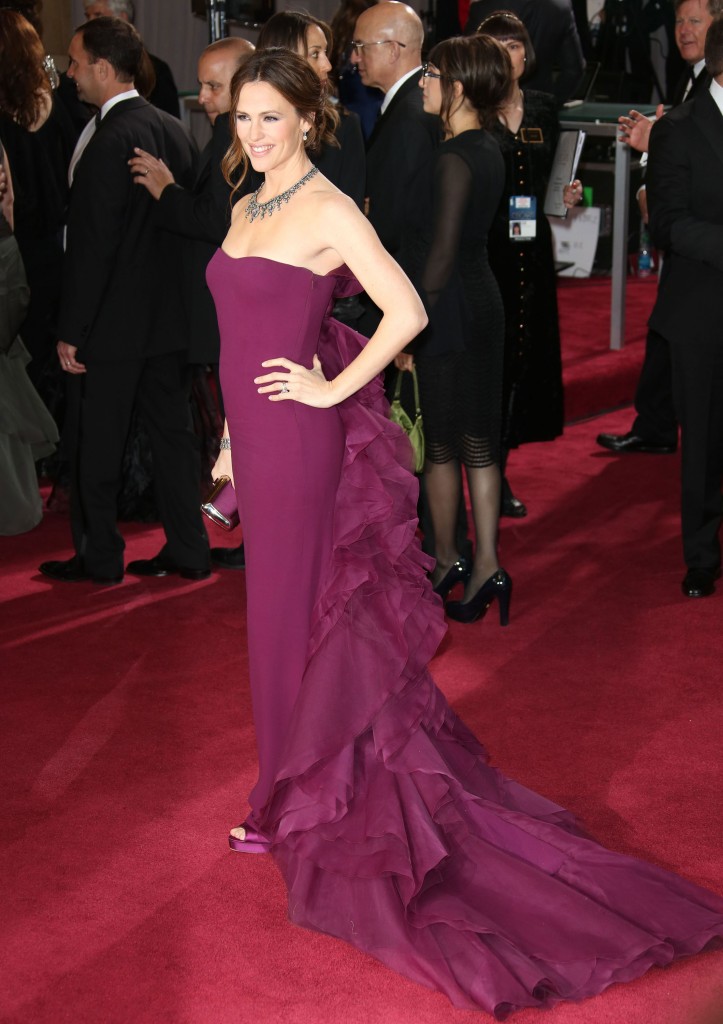 Jane Fonda brought the 80s back in this fierce canary yellow v-neck Atelier Versace complete with freaking shoulder pads and gold detailing around the waist. I'm not kidding, I love this look. This is some bold, dated styling and Fonda pulls it off. The dress looked sexy from the back when she was presenting, too. Work it, Jane!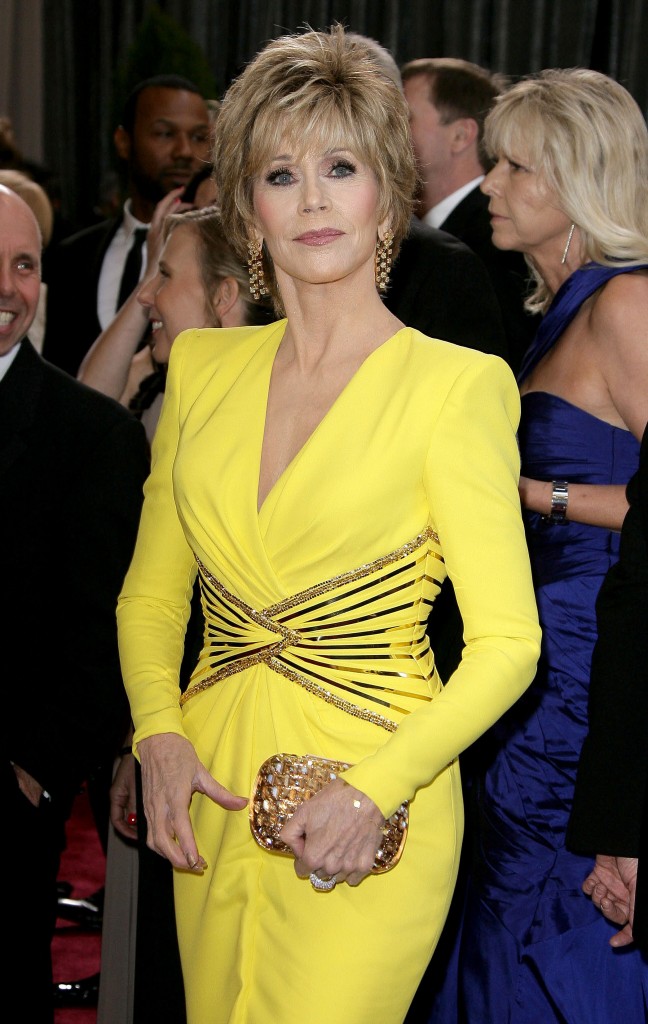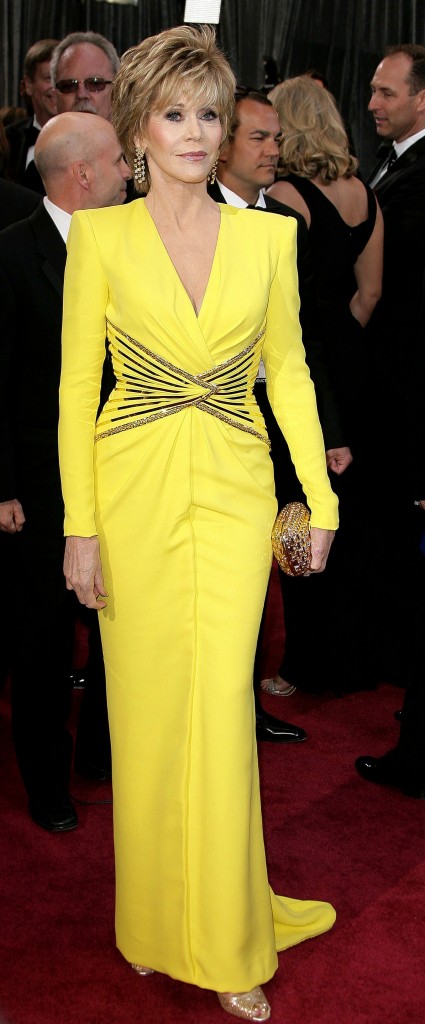 Melissa McCarthy wore grey David Meister, a designer she's used many times in the past, and I was underwhelmed by the fit and color of this dress, which was similar to her past red carpet looks. This designer hasn't really brought it for her. When she was presenting I was struck by the pretty details of the gown, like the beaded sleeves and the cool black triangle inset panel on the gown where a slit would be. Also, I really disliked her huge poofy hair. It seems like everyone was doing that a few years back.
I loved Melissa's presentation with Paul Rudd for Animated Short and Feature. They're both excellent at deadpanning it. I was hoping that the show would keep up those staged awkward moments, but apart from the weird Avengers thing there wasn't much.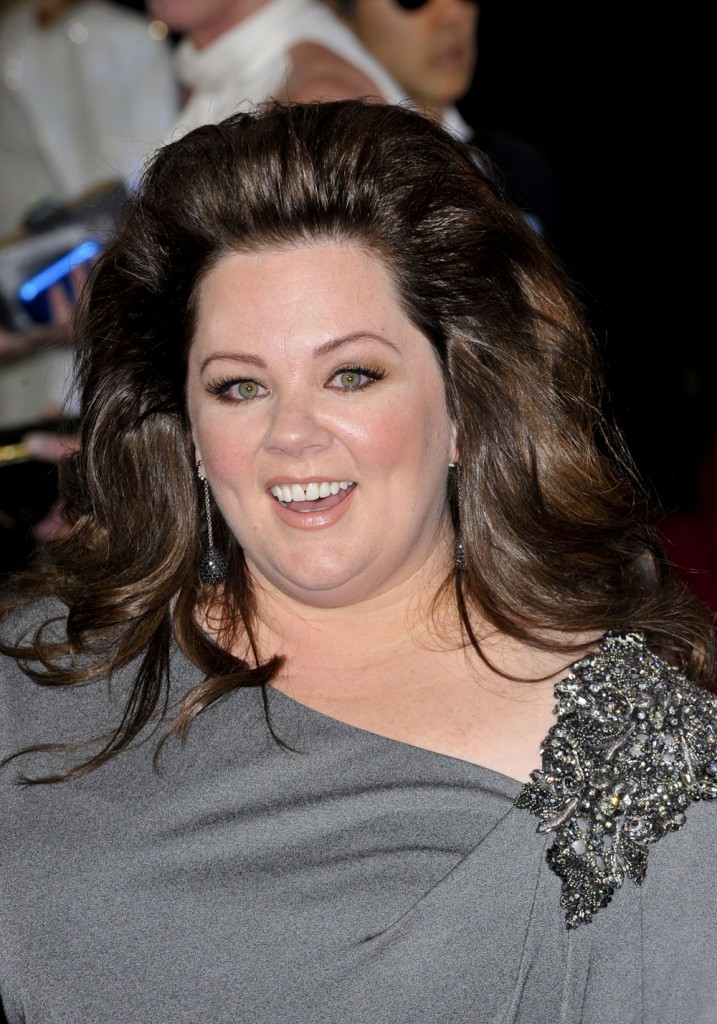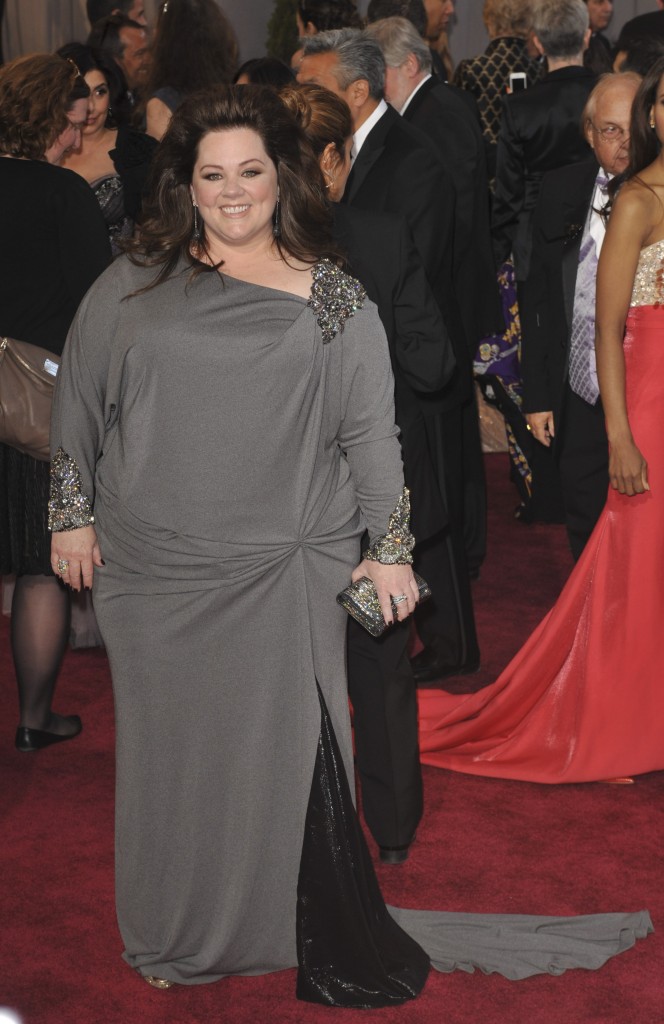 I'm adding Norah Jones in here as she was also in grey and was just so sweet on the red carpet. I was impressed with how shy yet genuine she was with Ryan Seacrest. She told him that it was her first Oscars. I don't have a designer ID on her gown yet, which was pretty but kind of plain to me, which may have been due to the color. Her hair was also too fussy piled on top of her head like that, but she still looked so pretty. Norah performed "Everybody Needs a Best Friend," from Ted, you can see her performance here on The Oscar website. I felt bad for her because the sound for her vocals was being overwhelmed by the music. The engineers should have perfected the levels during the rehearsals, there was no excuse for that.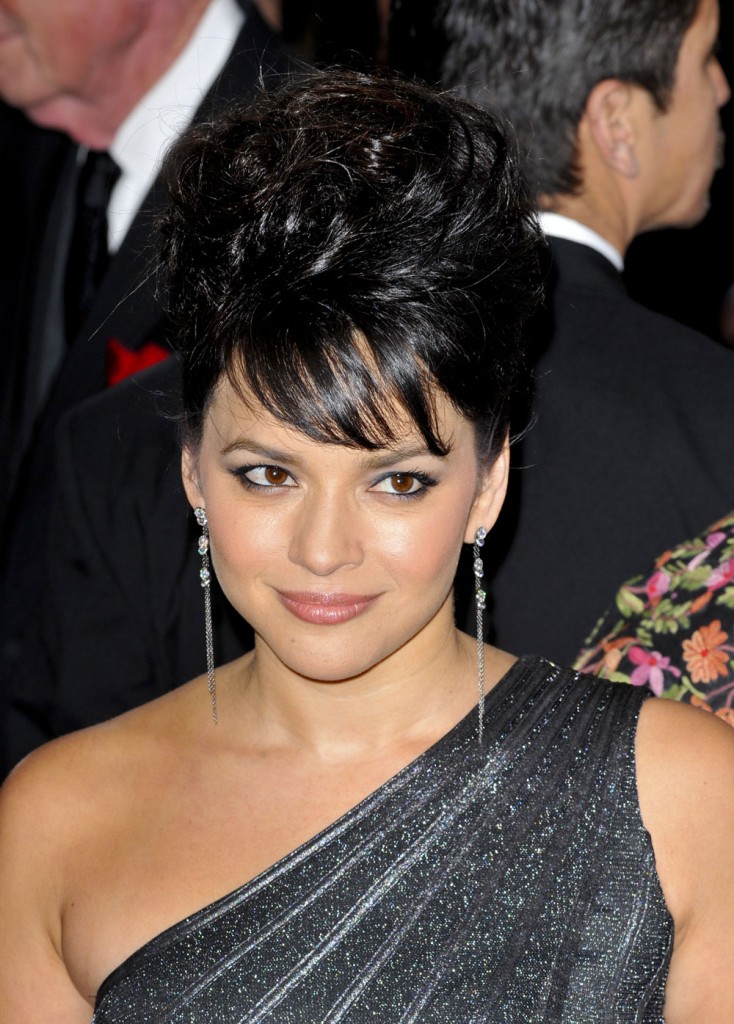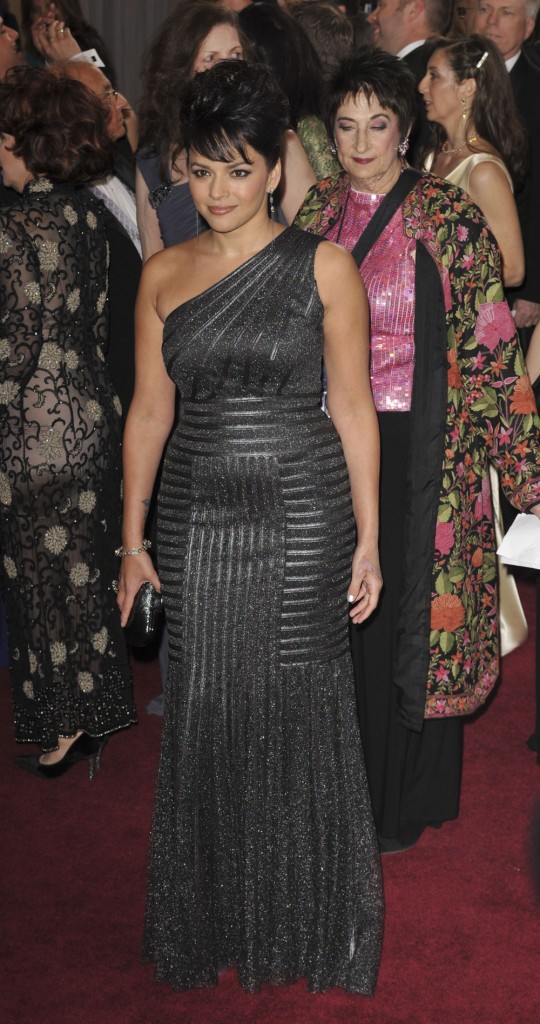 Bonus pic with Adele! We'll have more on her shortly.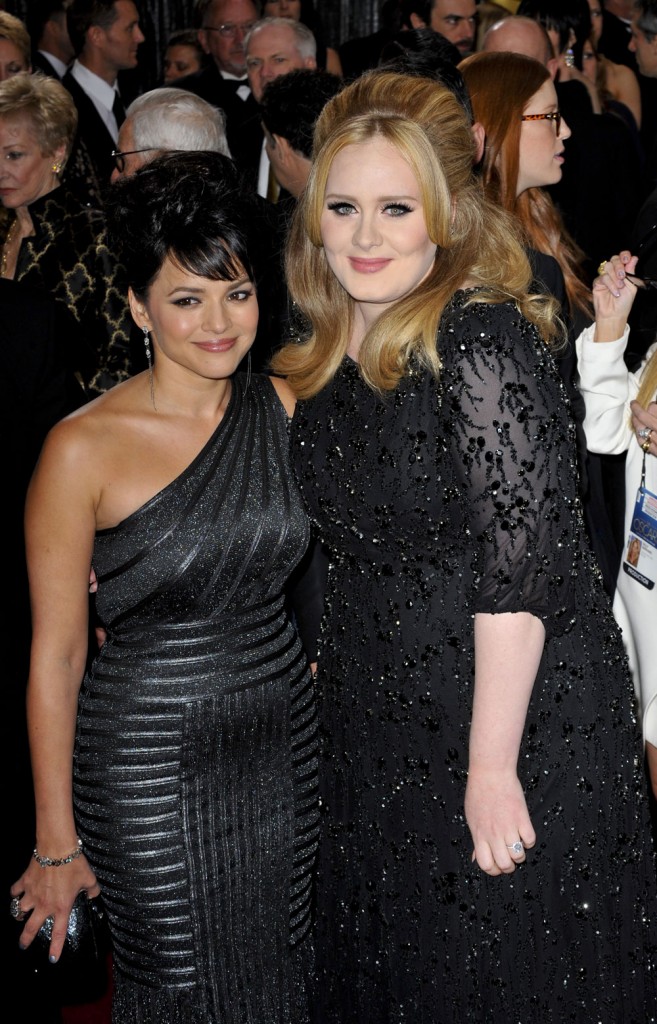 Photo credit: WENN.com and FameFlynet