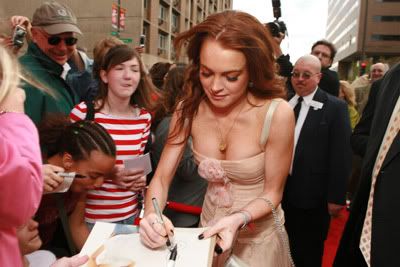 Now that our faith in the gossip industry is waning, we're going to call it like we see it. (For a day or two at least.) The reporting paper where we read this tried to make out like Lindsay Lohan was in a catfight with Cameron Diaz since they both dated the same guy at some point, but it sounds like Cameron simply asked Lindsay to stop smoking when they were in the VIP section of a NY club together:
Star Magazine details the battle as it took place inside the VIP section of Shag club with this report.
Scarlett Johansson, Lindsay Lohan, and Cameron Diaz have a lot in common – including dating Jared Leto!
That fact still makes Lindsay seethe and she has made no secret of her ire for Scarlett – and even reportedly wrote some pretty nasty notes on an NYC bathroom wall about Scarlett…
On April 24th Lindsay also lashed out at Cameron Diaz, who asked her to stop smoking in the VIP section of Shag club. It really wasn't about smoking but Lindsay's lust after Jared Leto still a pal of Cameron's.
There's a lot of jealousy there!
Lindsay's a nasty skank who thinks she can get away with whatever she wants. It's been illegal to smoke in bars in NY for years now, so she should know better. She was probably pissed because she knew Cameron was right.
Meanwhile Lindsay still hopes to clean up her image with that humanitarian mission to Africa we told you about. She's only considering it, doesn't have a date planned, and it's clearly all about making her look good:
"Lindsay truly does feel for those who are suffering from AIDS and who are poor — she genuinely feels she needs to pay something back to the world for the fortunate life she's led," said the insider. "At the same time, she wants to be taken seriously as a person, and she's well aware of her image as a fluffy party girl. She sees working in Africa as a means to shed her 'naughty girl' reputation.
"Lindsay knows the esteem in which Angelina Jolie is held has increased immeasurably since she started her work with the poor for the UN — and she'd like to be seen as more than an airhead who doesn't care about anything but partying…"
While Lindsay's rep said no immediate trip to Africa is scheduled, the source added: "Lindsay's ready to show a new, very human side — one that cares deeply about the problems in the world."
Lindsay's ready to try to get some good press for once is all.
Here she is in St. Paul, MN yesterday for the world premiere of A Prarie Home Companion. Stars were "carried in horse drawn carriages led by the Highland Park Senior High marching band down Wabasha St."