Zoe Saldana on her style: 'We always choose class over anything else'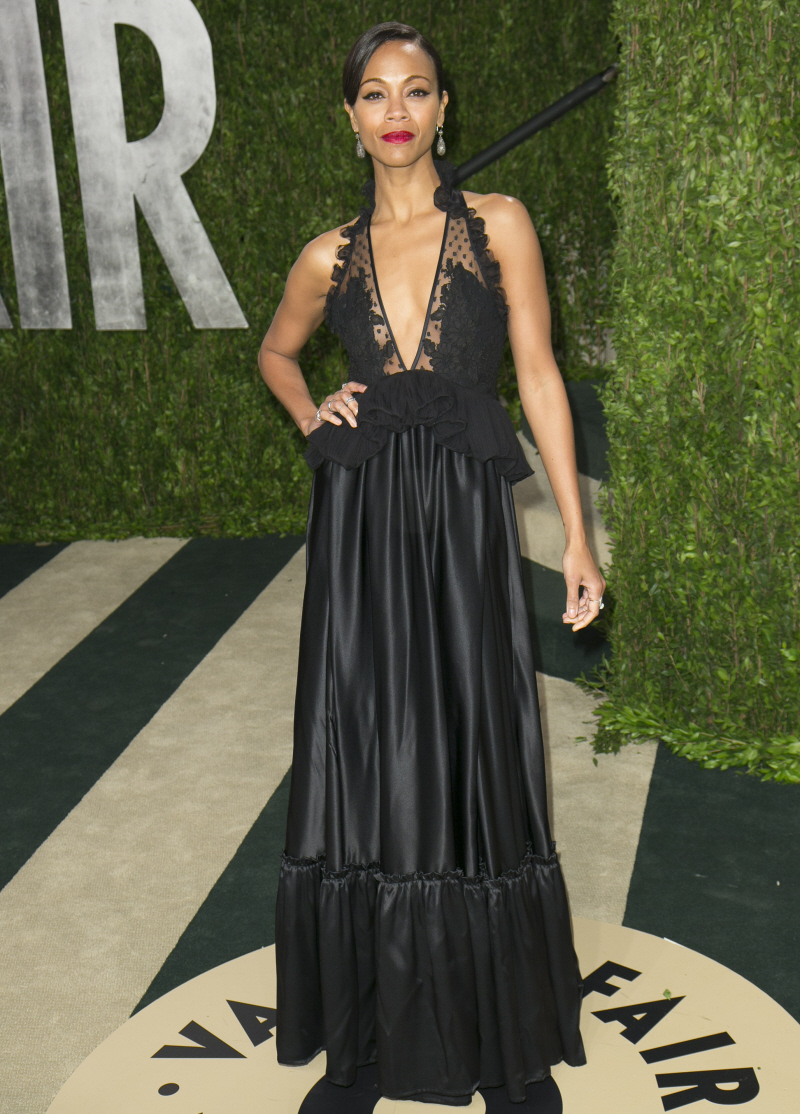 One of the first times I ever acknowledged my dislike of Zoe Saldana was when she made an appearance on The Rachel Zoe Project several years ago. Before then, I didn't have strong feelings about Saldana either way. But when she came into Rachel's styling studio, she just seemed pretentious and presumptuous, like a girl who didn't know what looked good on her body but who was really smug about her "vision" for how great she looks in couture. Anyway, as I was startled to discover, Saldana is no longer being styled by Rachel Zoe these days. Her stylist is Petra Flannery, and Saldana and Petra sat down together for The Hollywood Reporter's epic multi-cover coverage of Hollywood actresses and their powerful stylists. You can read the cover story here at THR. THR says that Rachel Zoe is still the most powerful stylist in Hollywood – she's on top because she styled the two actresses who won Oscars this year, Anne Hathaway and Jennifer Lawrence. But Saldana isn't crying about it – to hear her talk, Petra knows everything!
What Saldana learned from her stylist Petra: "She taught me that you don't necessarily need to wear less to look sexy. You go through those phases where sometimes you feel super sexy and you want to wear something tight and short. We're prone to tacky every now and then… [Petra] always makes me see it on another end, and you end up feeling so much sexier. We always choose class over anything else."

Saldana on what's "tacky": "The trend of trying to dress like everybody else is the tackiest and most dishonest thing you can do to yourself. You suffer so much because you don't ever really find your own true voice."

Her style must-haves: "I'm into jeans on jeans. There's a Johnny Depp thing to it that I'm digging and I feel really sexy wearing it. Red lipstick will never go out of style. There's no such thing as not pulling it off. My grandma taught me this. Every woman can pull off red lipstick; you just have to find the right shade. Red looks good on all of us. Nature made red for us."

Saldana pulls rank for Petra: "We've managed to convince a lot of directors who now have respect for what we put together and for Petra's essential place in a huge press tour like Star Trek or Avatar." When Saldana takes a memorable turn on the carpet, "Those directors are like, 'Oh my God, Petra really knocked it out of the ball park,' and you're like, 'Yeah, she did.' She killed it, which is very important for me and for her and for selling a movie."
Yeah. This would be more interesting if I thought Zoe Saldana was some big Fashion Girl who always delivered some spectacular look on the red carpet. While I do think her style has improved over the years, Zoe still falters a lot (style-wise). It might not be Petra's fault, maybe Saldana just doesn't listen when people tell her "you shouldn't wear that ugly dress, it looks like a cheap bedspread."
Petra also styles Emma Stone (ugh, that explains a lot), Claire Danes (that's interesting), Mila Kunis (huh), Megan Fox (RLY?) and Faith Hill (meh). Doesn't that explain so much? Like, remember when Claire refused to wear a maternity gown at the Emmys and she wore that weird chartreuse Lanvin? Petra had a hand in it. Remember when Emma went from a beautiful, bubbly redhead to a sleek, super-skinny blonde "Fashion Girl"? Petra had a hand in it.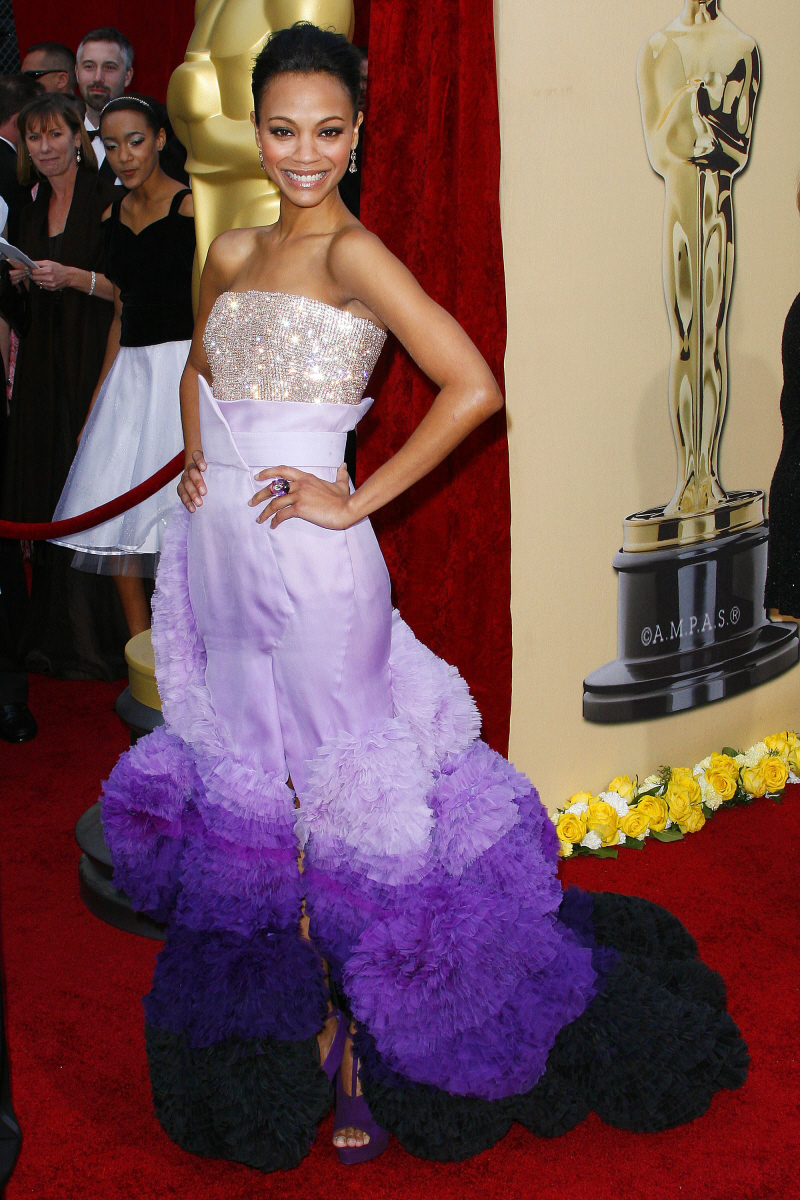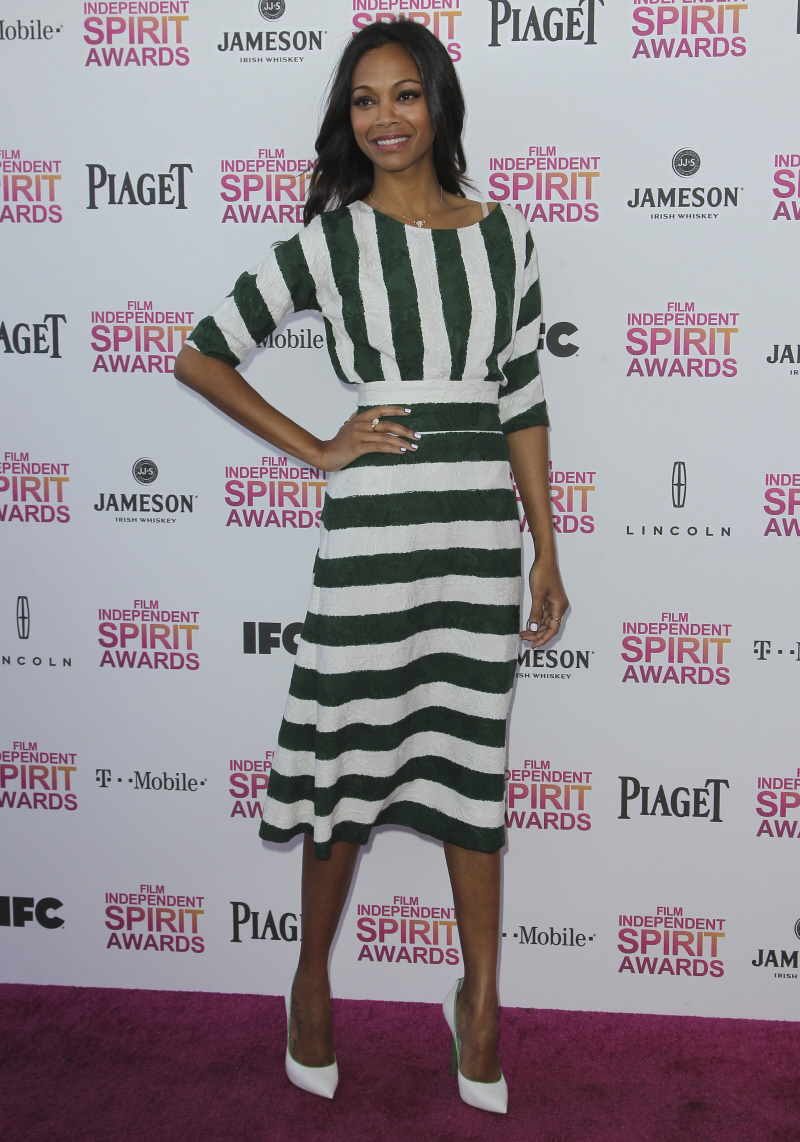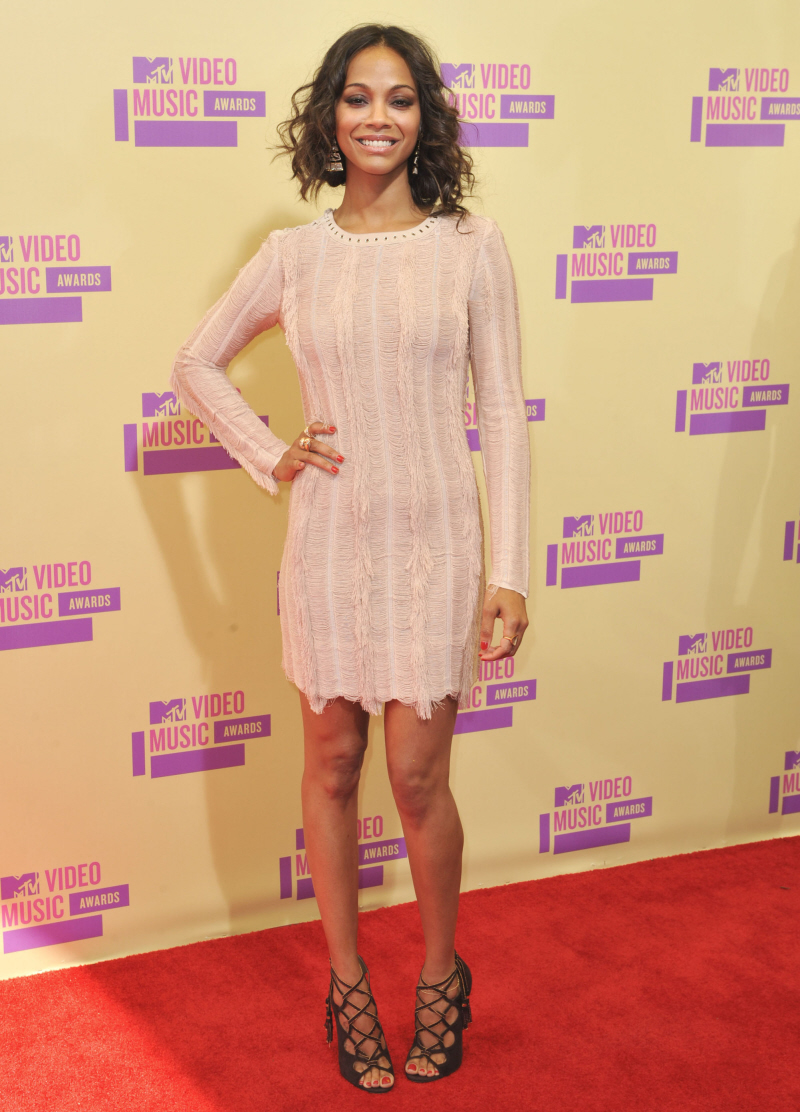 Photos courtesy of WENN.

Written by Kaiser

Posted in Fashion, Zoe Saldana

- Mariah Carey lip synced on American Idol [CDAN]
- Colin Firth is looking good [Lainey Gossip]
- Internet celebrity charged with murder! [D-Listed]
- What is Paz Vega wearing? [Go Fug Yourself]
- New bachelors on The Bachelorette [Reality Tea]
- Goodbye to The Office [Pajiba]
- Bachelor Sean's fiance cheats on him [Evil Beet]
- Britney Spears out with her man [Popsugar]
- Nina Dobrev works it [Popoholic]
- Cindy Crawford needs to lay off the 'tox [Celebslam]
- Who said it: Carrie Bradshaw or The Dalai Lama? [Buzzfeed]
31 Responses to "Zoe Saldana on her style: 'We always choose class over anything else'"