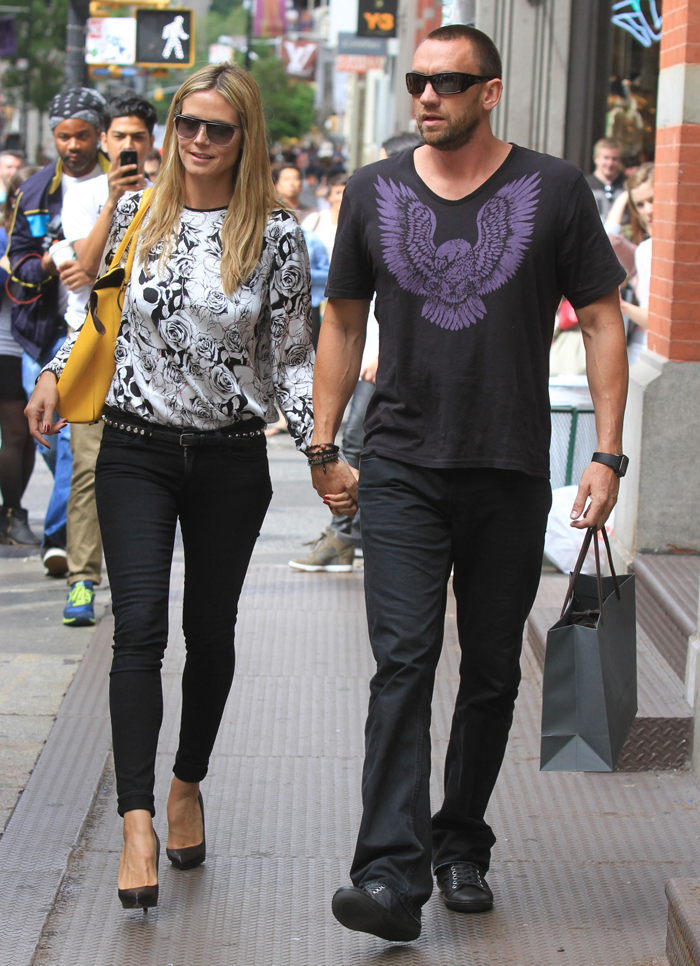 Here are photos of Heidi Klum and her bodyguard/boyfriend Martin Kristen, who have both been in New York City for several days together. Obviously, they've been doing some shopping, and Martin is being a good little bodyguard by carrying Heidi's bags for her. Just to recap, Heidi and Martin went public with their romance last September in a weird People exclusive a few weeks after Seal claimed that he and Heidi split because she was banging the bodyguard (or as he put it, "the help") during the marriage and for an undisclosed period of time.
Since Heidi and Martin have been an official couple, we've been treated to periodic happy-family photo ops with all of Heidi and Seal's kids present. Heidi's really been pushing this perfect romance pretty hard to the press, but it's mostly been a yawnfest for gossip purposes. Things have gotten interesting though in light of all of the tabloid stories about Seal's temper that were floating around after last year's nasty split. According to Star, Seal once had to be physically restrained by security after he pushed Heidi. I've always assumed that "security" referred to Martin and that the story — truthful or not — came from Heidi's camp. Of course, we also heard stuff from one of Seal's exes, who claimed he had a violent temper, but clearly, there was some bad blood with that breakup, so who knows. Now, in a telling twist, it seems that Heidi and Martin got into a drunken war of words in NYC on Sunday night, according to Page Six: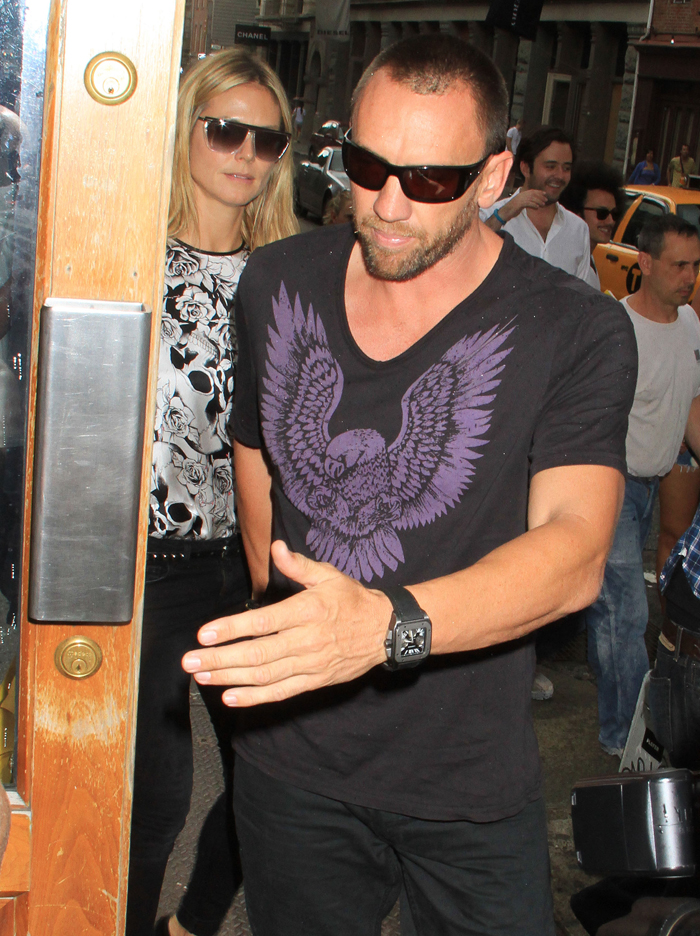 Heidi Klum got into an alcohol-fueled argument with her bodyguard boyfriend at a New York restaurant before he stormed out, leaving her behind. The "America's Got Talent" and "Next Top Model" icon got into a public bust-up with Martin Kristen on Sunday night at West Village favorite The Spotted Pig.

A fellow diner tells us of the drama, "They had been drinking with a male friend at a table, and things became heated very quickly." The spy said that after an hour of arguing, an upset Klum abruptly walked out of the restaurant alone and stumbled down the block trying unsuccessfully to hail a cab.

Finally, she returned to the eatery, "but stubbornly refused to go inside and rejoin Martin at the table," said the witness, who added Klum "stood in the doorway looking upset."

Kristen eventually went outside to speak to her. Further words were exchanged before he left alone, while Klum went back to the table to carry on drinking with the friend, thought to be her fellow "Germany's Next Top Model" judge Thomas Hayo.

The supermodel began dating bodyguard Kristen last year following her split with former husband Seal. Kristen had been hired to protect her and her kids Leni, Henry, Johan and Lou.

Klum said last year, "They [the kids] like him very much. This is also one reason why I'm so fond of him. He's been helping me for four years now. And he takes wonderful care of the kids. He plays with them, he protects them. I trust him."

A friend of Klum confirmed last night, "She'd had one drink too many, and they had an argument. All couples have disagreements, but most don't get recognized when they have them."

Yesterday, it was all smiles between the pair, who were spotted leaving a Manhattan address holding hands while he carried her bag. Her rep declined to comment last night.
[From Page Six]
An hour of arguing? That must have felt like forever since this was essentially a drunken argument — those are the worst, most circular arguments in existence. I guess, once again, Heidi has attempted to push a portrait of a "perfect relationship" upon the press, and of course, she's full of crap. She should really stop doing that because no romance is perfect. It's funny though that Heidi is pegged as the instigator here while fighting with Martin when she tried to make herself look like such a wide-eyed innocent during her breakup with Seal.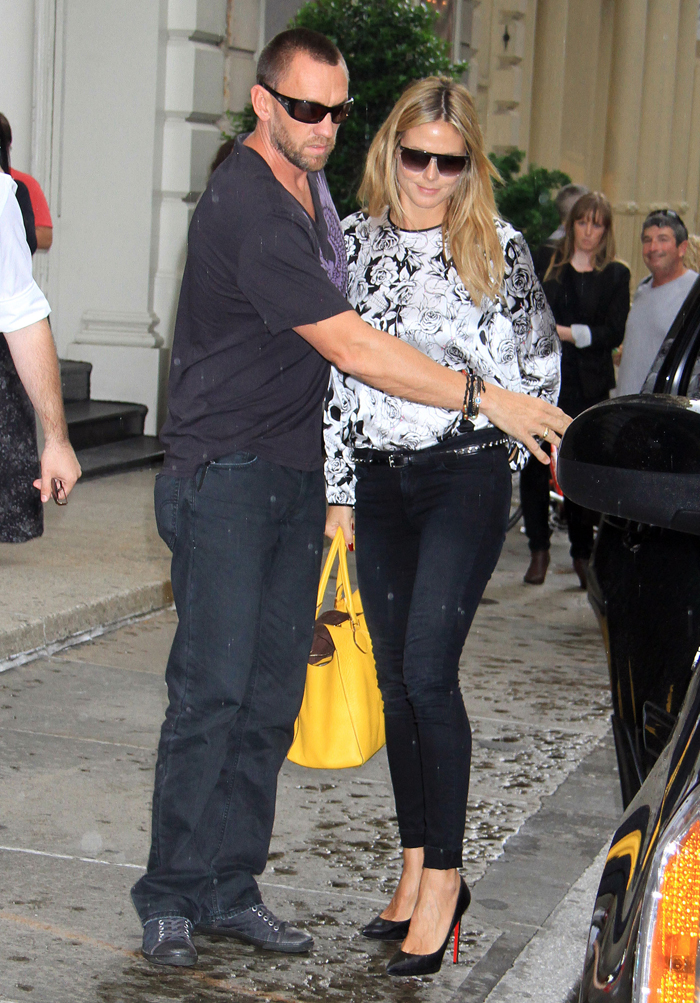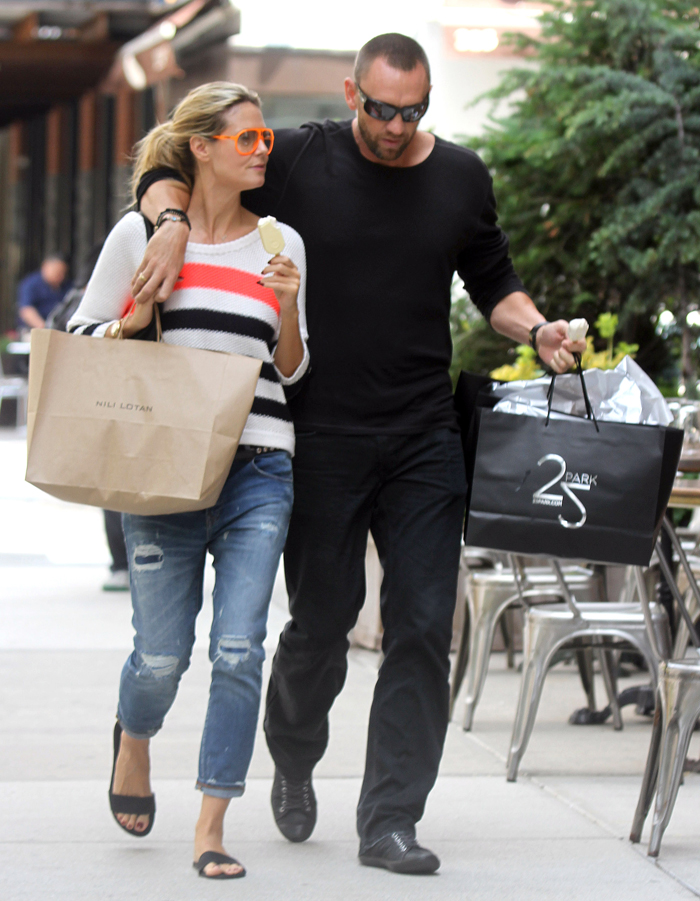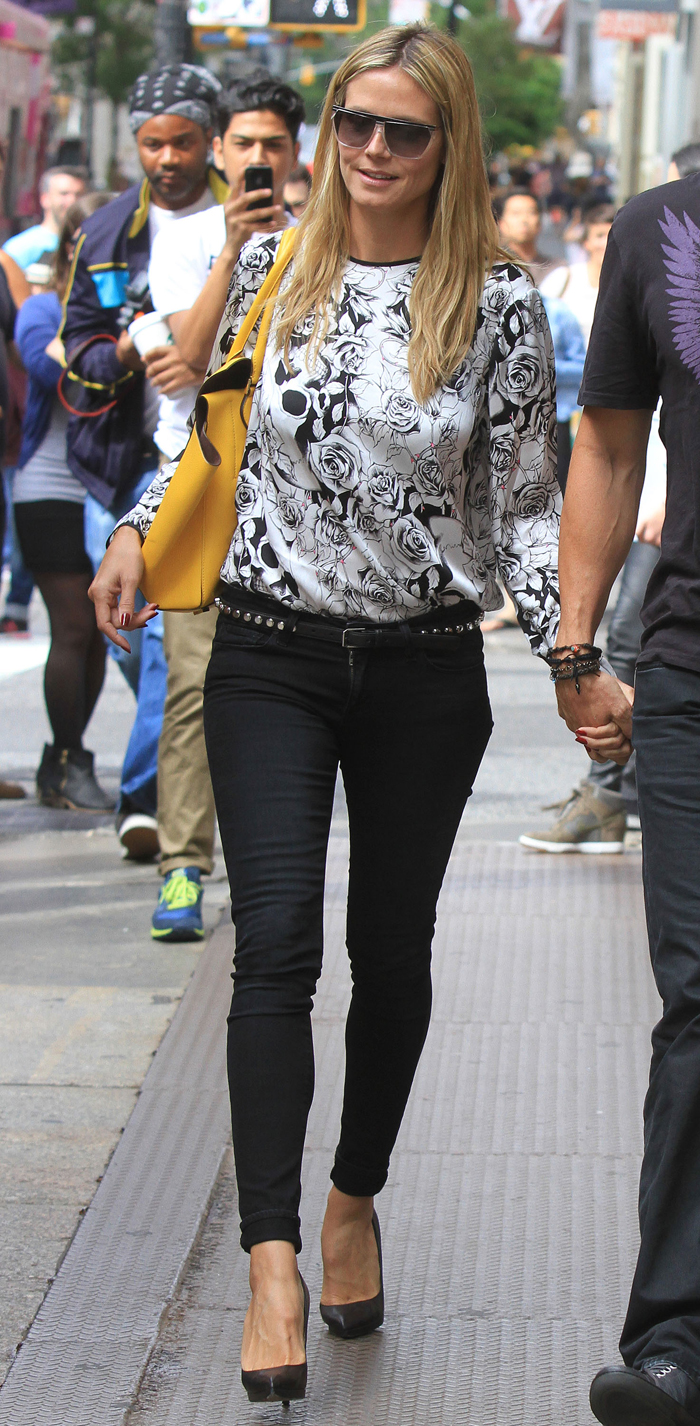 Photos courtesy of Fame/Flynet