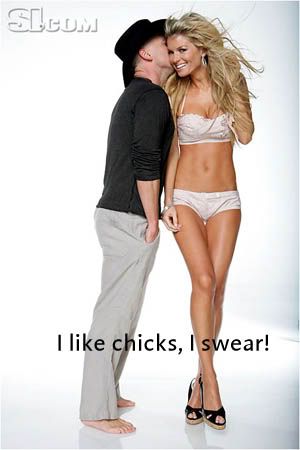 Kenny Chesney has finally addressed rumors that his four month marriage to Renee Zellweger ended after she woke up from her puckered stupor and realized he plays for the other team. He told Anderson Cooper that he's not gay, but he never really used the word gay, just said he's uh, not.
Chesney said that the only reason "fraud" was checked on the annulment was because he didn't understand that marriage meant he'd actually have to have sex with his wife, and that it certainly didn't have anything to do with all the pills he was popping. Cooper raised a well groomed eyebrow but didn't miss a beat.
"It's not true. Period. Maybe I should have come out and said, 'No, I'm not (gay),' but I didn't want to draw any more attention to it," the 38-year-old country singer says. "… I didn't have to prove to anybody that I wasn't (gay). I didn't feel like I really did."

Zellweger and Chesney were married on the Caribbean island of St. John in the U.S. Virgin Islands in May 2005. It was the first marriage for both. Four months later, Zellweger listed "fraud" as the reason she was seeking an annulment.

The Oscar-winning actress later issued a statement saying the term "fraud" was "simply legal language and not a reflection of Kenny's character."

"We thought the least harmful (stated reason) was fraud because it (is) kind of broad … doesn't specify," Chesney says. "And boy … we were wrong."

"The only fraud that was committed was me thinking that I knew what it was like … that I really understood what it was like to be married, and I really didn't," he says.
I haven't actually seen the video clips available on the CBS website because they won't play for me in any of my web browsers. So I'm making all that filler up, of course.
Chesney must need the publicity for his upcoming summer tour. He also appeared in the Sports Illustrated swimsuit edition alongside Marisa Miller.
Here's what he says on his official website about his photoshoot with Miller:
And just when it seems life can't get any better, here comes Sports Illustrated infamous Swim Suit issue, and rather than buying it, you're in it. Hard to believe a kid from Luttrell, Tennessee who started picking guitar in sundry bars in college could get so lucky – and yet, there he is: Kenny Chesney, paired with leggy blond beauty Marisa Miller for a free-for-all in front of a white scrim.

"I could tell doing this shoot, we had very similar lives," Chesney said of what appears on the page to be instant chemistry. "We're both very normal people, but then the lights come on, she becomes this other person. People who seem me onstage know what that means…"
So when he says he's another person when the lights are on, that must also apply to when they're off.
Chesney's interview will air this Sunday on 60 Minutes at 7 p.m. EST and PT.
Pictures of Kenny Chesney and Marisa Miller from SportsIllustrated.com.