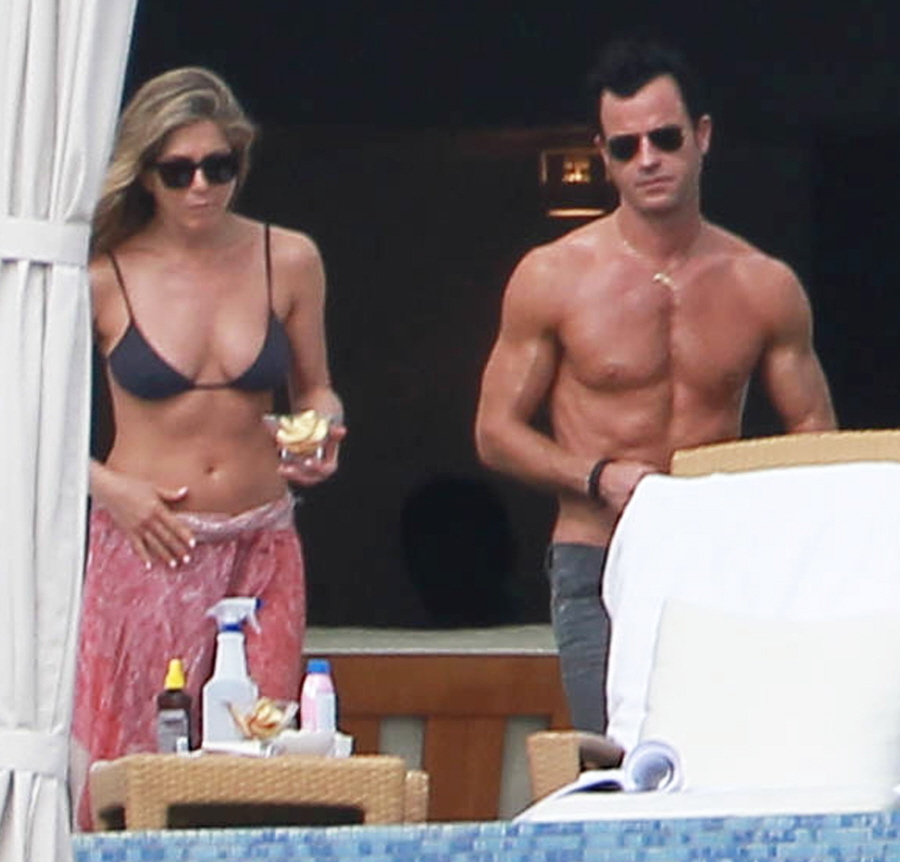 This should get good. As People Magazine's sources claimed a few weeks ago, Jennifer Aniston and Justin Theroux's wedding is on hold indefinitely. It's not just a timing issue, or a "we're too busy to get married" issue. Even pro-Aniston sources are admitting that JustJen still has issues they need to work out before they get married. So what are those issues? Radar says it's just a matter of Jennifer being a West Coast girl and Justin being an East Coast Boy.
Don't ring those wedding bells quite yet. Jennifer Aniston has finally found true love with fiance, Justin Theroux but RadarOnline has learned exclusively why the couple has put their wedding on hold.

Justin is miserable living in Southern California and desperately wants to move back to New York City but Jen refuses to go, a source close to the situation tells Radar exclusively.

The Friends actress built a guest house at her stunning Bel Air mansion for Justin, a place for him to play music, and hang out with his pals, hoping it will ease his New York City blues. The couple has been engaged for 10 months but several recent reports have dished on the wedding being put on hold.

The conflict, says the source, is all about where to live.

"Justin has really tried to like living in Los Angeles, but he just doesn't," the source told Radar. "It's not his vibe, he loves the energy and grittiness of New York City. He actually jokingly complains about the weather in LA, he doesn't think it's natural for it to be sunny year round, and misses having actually seasons.

"Jen is firmly planted in LA, and doesn't like New York City. She felt exposed and hounded by the paps there. She bought several apartments in NYC, hoping to to make it home for the couple, but in the end, her heart just wasn't in it."

Aniston was hopeful that "building a nearly 2000 square foot guest house at her Bel Air mansion for Justin to use however he wanted would sway him to want to stay in Los Angeles," the source added. "Jen has encouraged Justin to decorate it and use it however he wants. He could play his music, have his buddies over, or turn it into a state of the art man cave! He is appreciative of Jen's efforts, but in the end, it still doesn't change the fact that the couple is living in LA."

And that conflict has prevented the couple from walking down the aisle so far — but is not expected to break them apart, says the source.

Despite having concerns about where the couple will live, "Justin loves Jen, and doesn't want this to be a deal breaker for the relationship. He is confident they can work through it," the source said.
I said this a while back – Jennifer had always talked a good game about being a "New York Girl" at heart and how she always dreamed of moving back to New York. After she and Justin met on the set of Wanderlust (when he still had a live-in girlfriend), she decided to remake herself a New York Girl – she bought several properties in Manhattan and she started renovating them and she tried to play the New York hipster chick. But it became a game of bait-and-switch, because she's really a California Girl, and as soon as she "won" Justin, she made him move back to California with her. And now she's even gotten him a job with an HBO series, and I'm sure the series films in LA too. And still Justin is unhappy:
Jennifer Aniston has officially shot down fiance, Justin Thoreaux's proposed plan for the couple to live in New York City part-time, and the actress is refusing to live anywhere but in Southern California, RadarOnline.com is exclusively reporting.

Jen's refusal to leave L.A. full time is the secret behind the couple's stalled relationship., a source tells Radar exclusively.

While the couple seemed to be on a direct route to marriage, there has been no announcement but plenty of reports of trouble. But Jen and Justin are happy, the source tells Radar, with one major life-changing decision delaying their wedding: where to live.

As Radar reported, Thoreaux has been miserable living in sunny Los Angeles. But Jen has refused to move to New York. In an attempt to break the impasse and formalize the start of their new life together Justin proposed a bi-coastal solution.

"He suggested the couple could live in New York City part-time, no more than six months a year (and L.A. the rest of the time)," the source said. "Justin misses the Big Apple, and his friends. His entire life was in New York, and he uprooted his entire life to move to LA to be with Jen. He thinks it's time Jen start to compromise, but she is absolutely refusing to live on the East Coast, even part-time."

That refusal by Jen has led to the delay in marriage by a couple that seemed quickly headed down the altar. Jen has settled in Los Angeles and even spent a significant sum fixing up her house, where she expects to live with Justin.
Aw, he misses his hipster friends! He wants to be able to hang out with Terry Richardson and…? I don't know, I'm sure there are more. I mean, I get it, it's a lot of change for him and he really doesn't understand why Jennifer is so unwilling to compromise. I'm sort of surprised that she's so unwilling to compromise too – I mean, it's not like he's asking her to spend six months in a crappy little apartment, you know? They can afford to be bicoastal in luxury.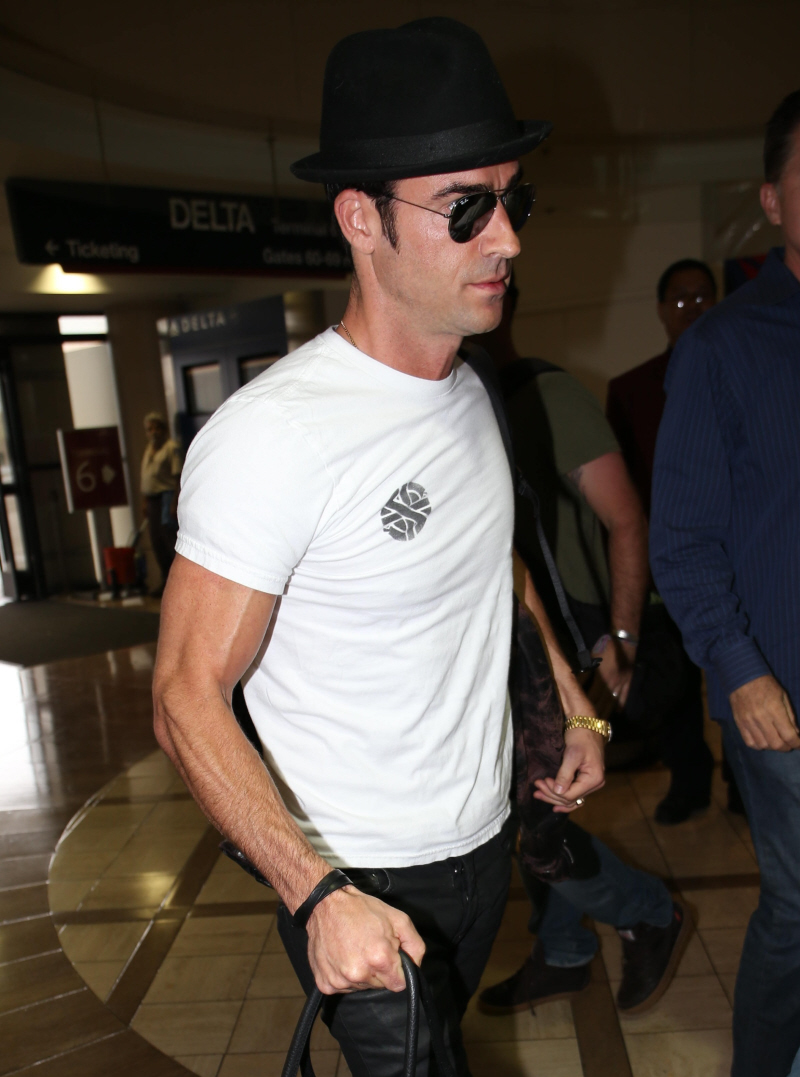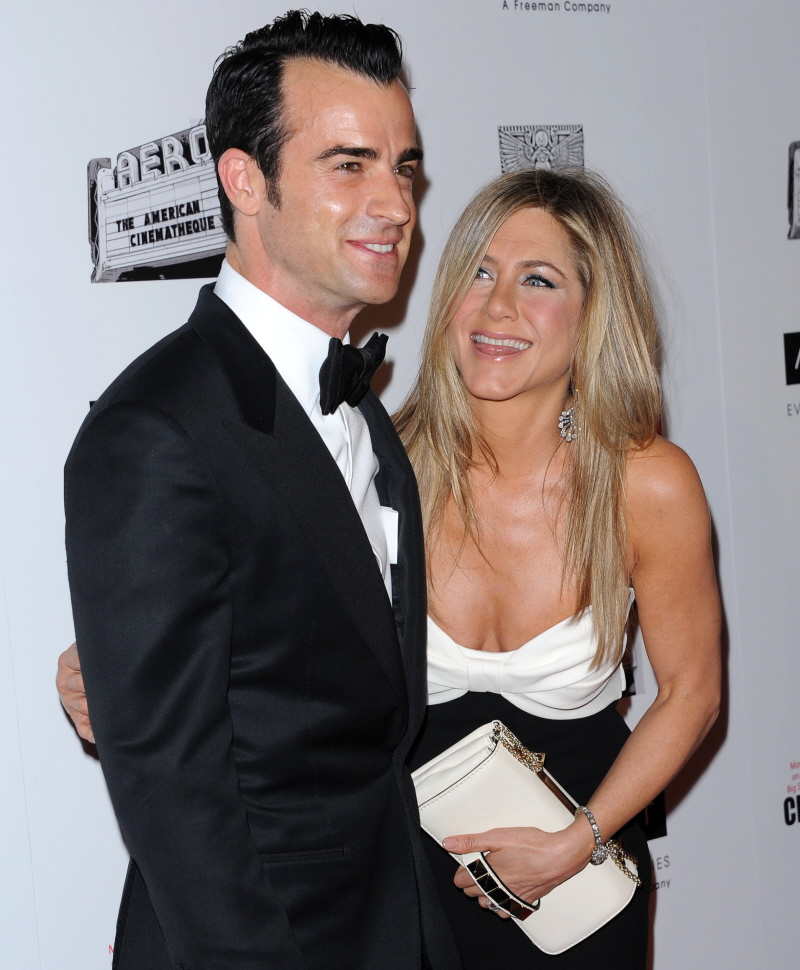 Photos courtesy of Fame/Flynet and WENN.