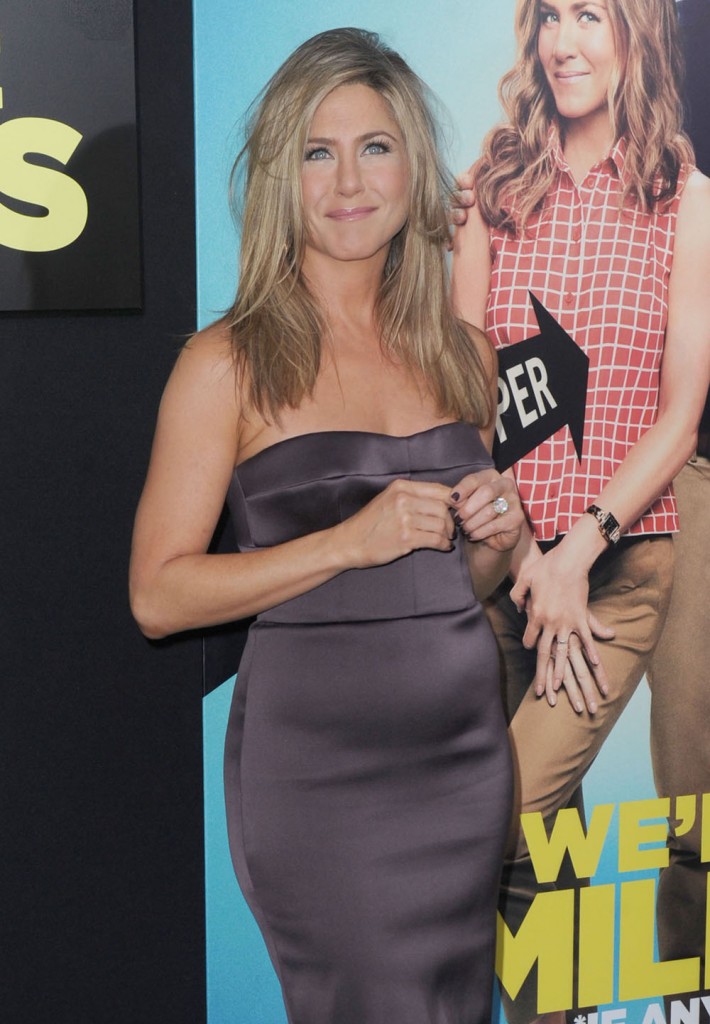 These are photos from the We're the Millers premiere featuring Jennifer Aniston in a tight, strapless eggplant Burberry dress. The dress is very formfitting and unforgiving. Very few women could pull off a fitted dress like that. At least one of our photo agencies posed the "is she pregnant" question, but I think it's just the way the dress fits. I would look way more pregnant than she does in that dress. I wish she would mix it up with some prints or different styles, but she prefers solid colors and classic fashion.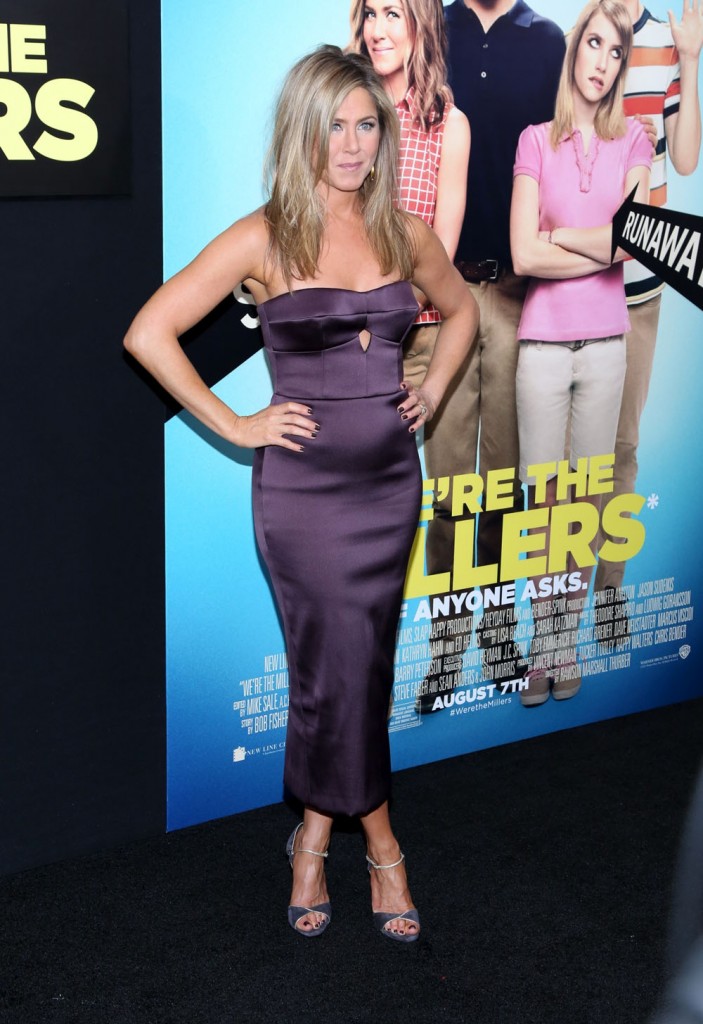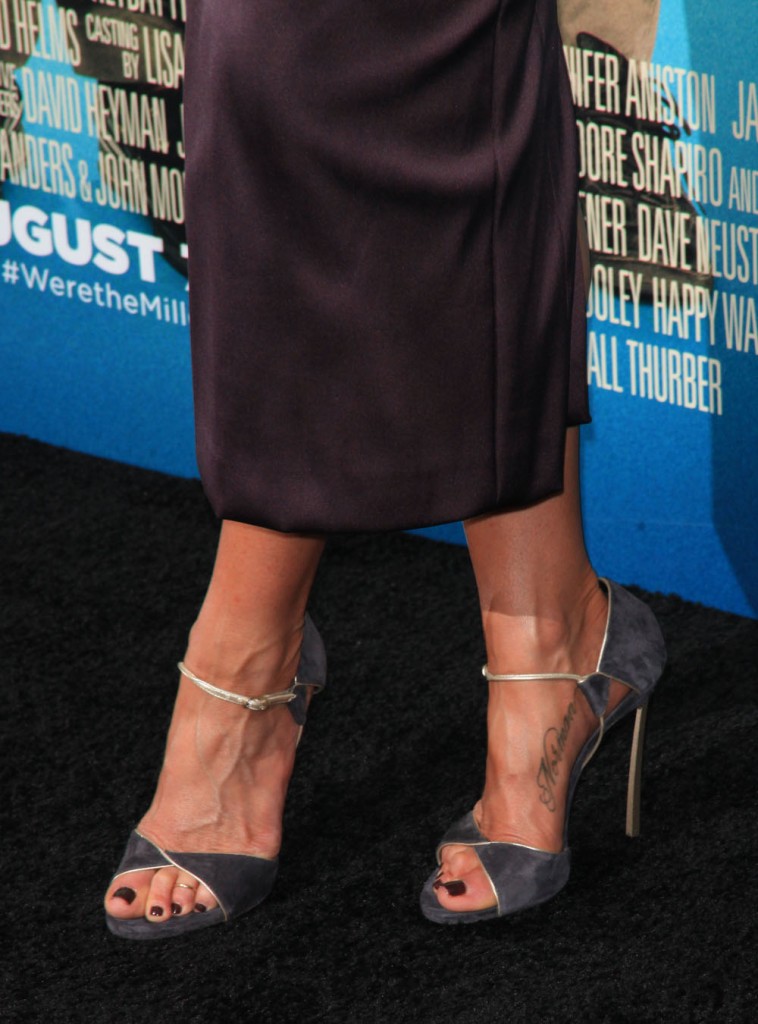 Anison paired this with some peep-toe suede sandals which don't seem to go with the elegant look she was going for. She's wearing her hair in a simple blow out, the way she always does, and her makeup is pretty but understated, which is what we usually see from her. It works for her, I'd just like her to switch it up. I do like how she matched her nails and toes with the dress color.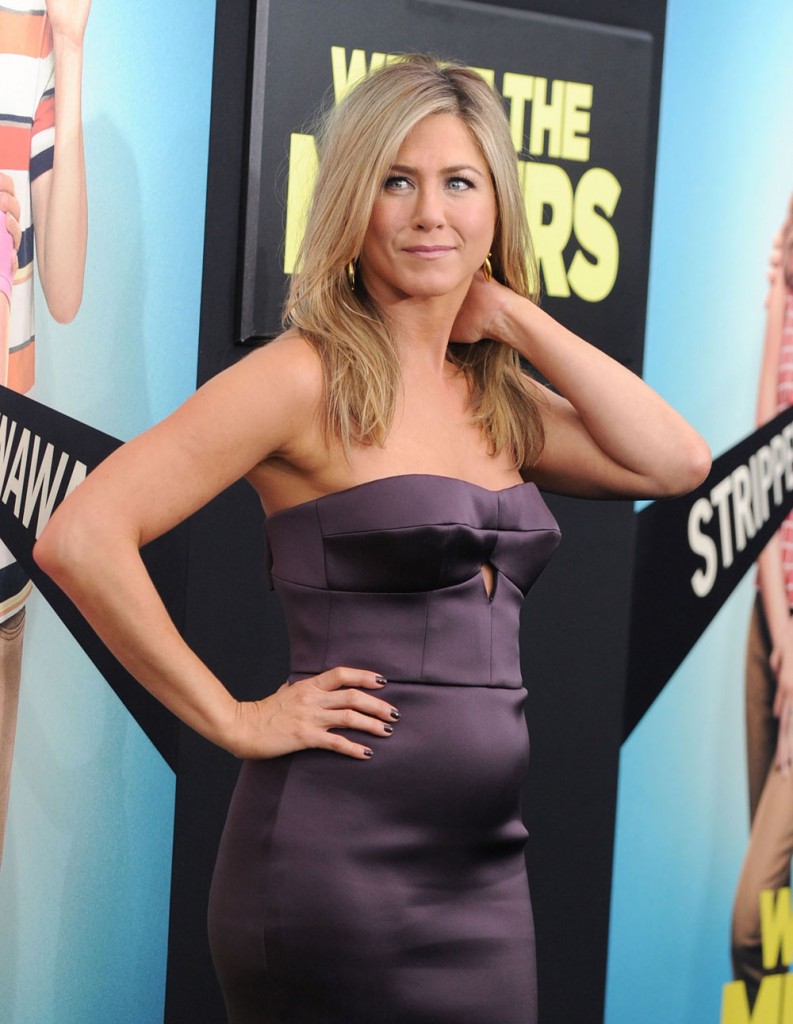 Also there we have Olivia Wilde, in bright red Osman. She's not in this movie and a striking red dress seems a little "look at me," but that's a minor complaint. Her nude strappy sandals are a nice complement to the dress. Wilde's fiance, Jason Sudeikis, costars in We're the Millers. Here they are acting very couple-y. He plays a drug runner who pretends to be married to Aniston's stripper character.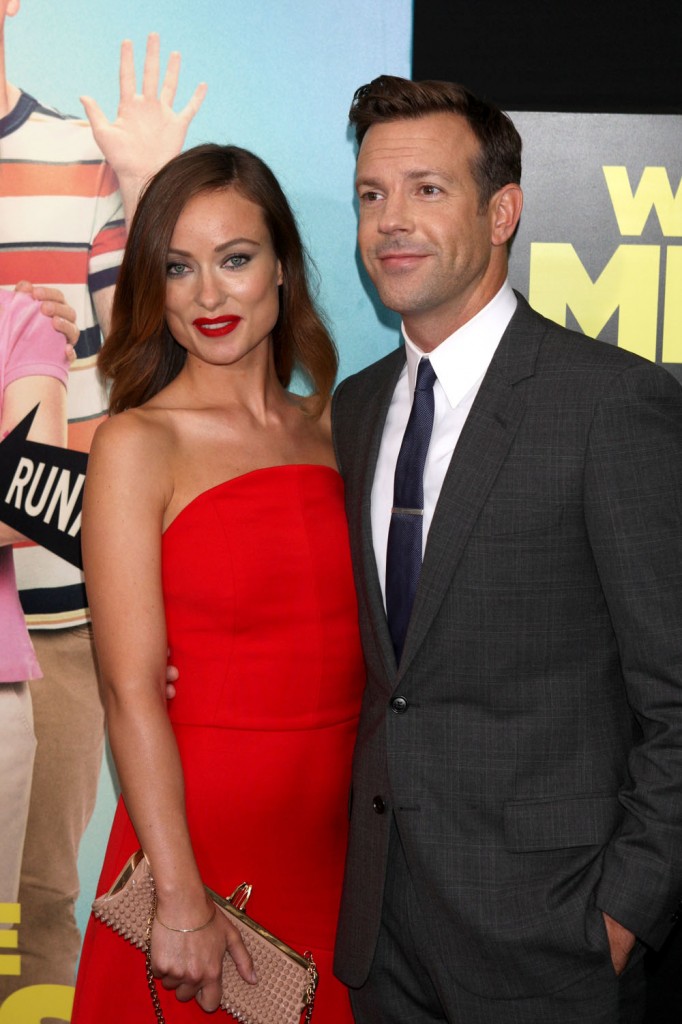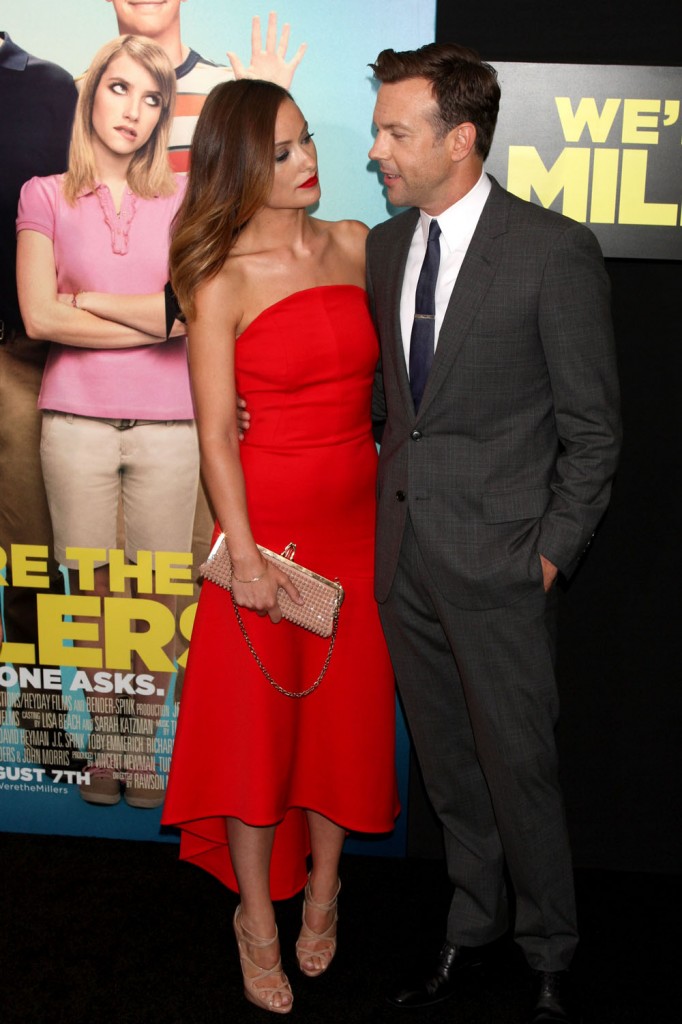 Emma Roberts wore this very fug black mullet dress. I can't look at Emma the same after her domestic violence incident. Something nice: her sideswept wavy hair and makeup are so pretty. I would love to get my hair to look like that.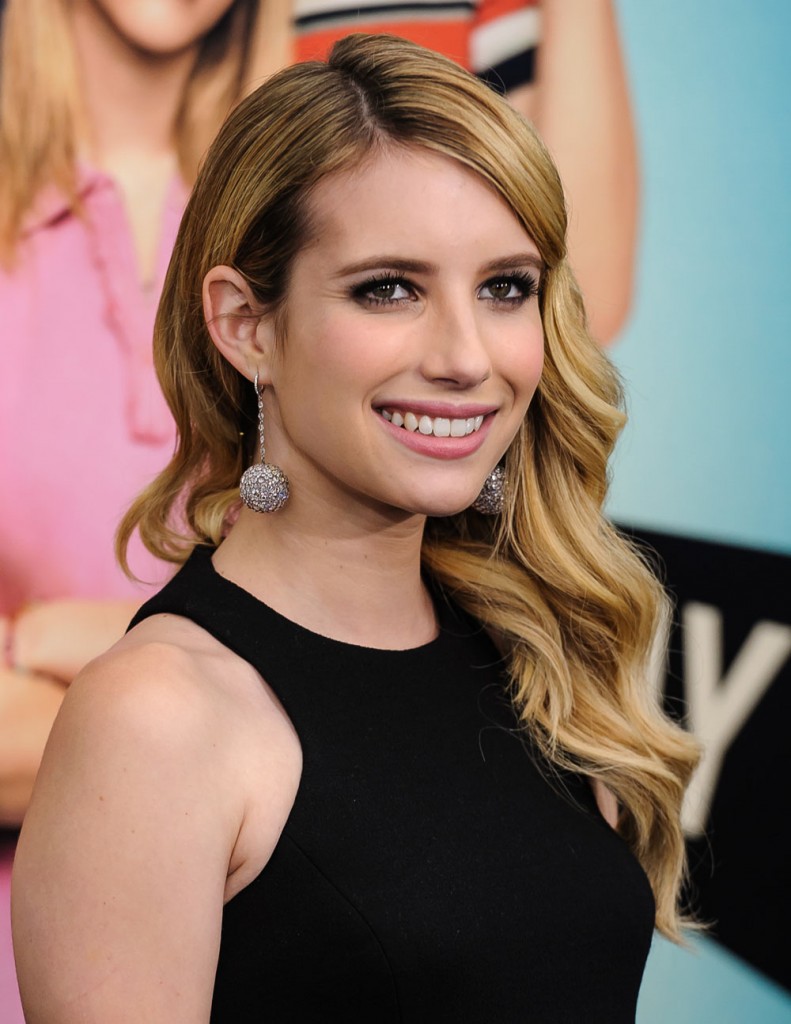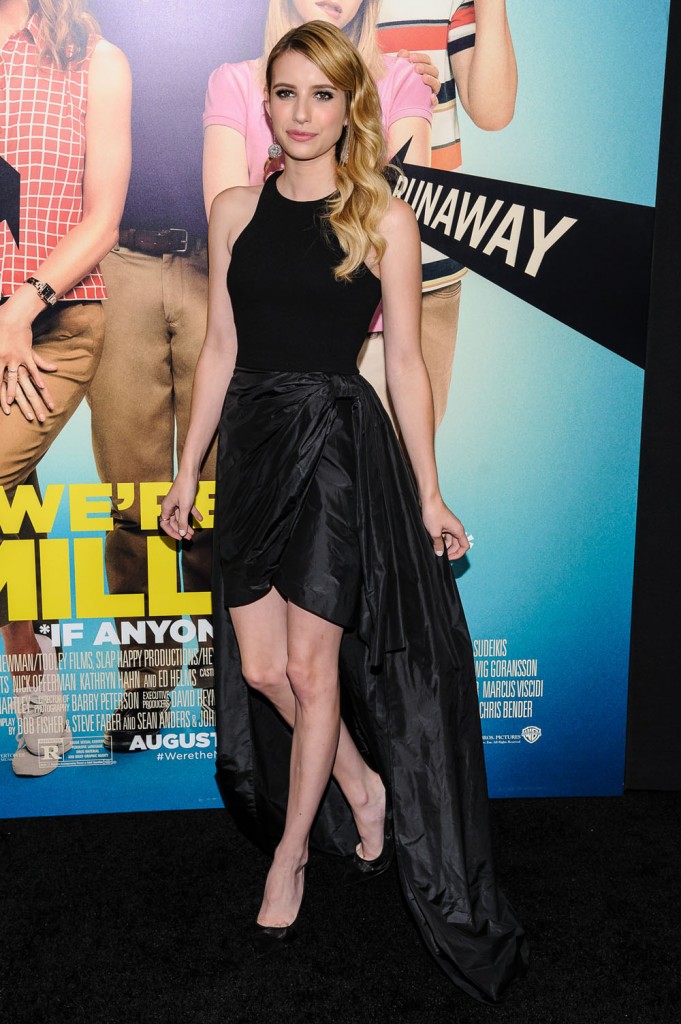 Here's a link to the trailer for We're the Millers. (*Update: Here's the red band NSFW trailer) It opens next week, so there's still a lot more promotion that's going to be happening.
Bonus pic of Justin escorting Aniston to the premiere. I like that they didn't pose together, that was kind of smart this time around.