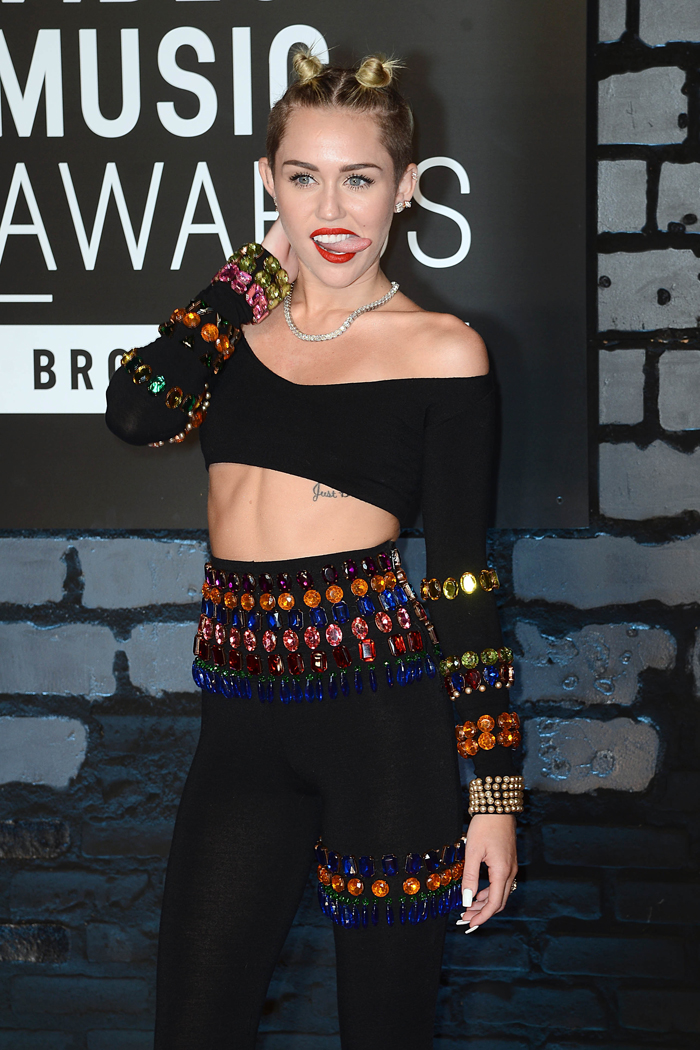 The tongue is back! Did you notice that we took a bit of a breather yesterday from the wall-to-wall Miley Cyrus coverage? In the meantime, the media frenzy surrounding the twerking seen 'round the world didn't stop (and it won't stop) because Miley was classy enough to flip off the paps on Labor Day. In addition, Vanity Fair chose to hilariously spoof Liam Hemsworth's reaction to the VMAs and (in the process) basically call him a battery-powered robot. Finally, Dr. Laura Schlessinger has slammed Miley as "a disgusting little pig" as well as "a little miss piece of crap," which is pretty rich coming from a woman that posed topless in her 20s. I won't link the photos because — let's face it — I love you guys. Nobody wants to see Dr. Laura's knockers.
Rest assured though that Miley has inspired global-bound twerkout classes that promise to burn upwards of 500 calories per hour. If nothing else, we can all keep our girlish figures amidst this Cyrus frenzy in the lead up to the release of Bangerz in October.
Now Miley has given her first official interview since the VMA madness, and her sense of entitlement remains relatively unrivaled even within the realm of former child stars. This sense of arrogance is what disturbs me the most about Miley's recent behavior. It's not enough for her to beg for attention. She also has to insist that she's living everyone's dream because we're all jealous of her childhood empire that she built all by herself (nevermind Disney's instrumental involvement). Indeed, Miley fully views herself as an indispensible mover and shaker. In that spirit, she has told MTV that she fully intended to "make history" by grinding against Robin Thicke's crotch. As such, she willingly compares herself to Madonna rolling around in a wedding dress in 1984 and Britney Spears dancing with a snake in 2001 (and for that matter, Britney shaking it in a nude bodysuit in 2000).
The delusions certainly run deep here. On the other hand, Miley does deliver confirmation about whether or not Robin Thicke was possibly conflicted over their act; and if she's speaking the truth, then Robin was completely on board: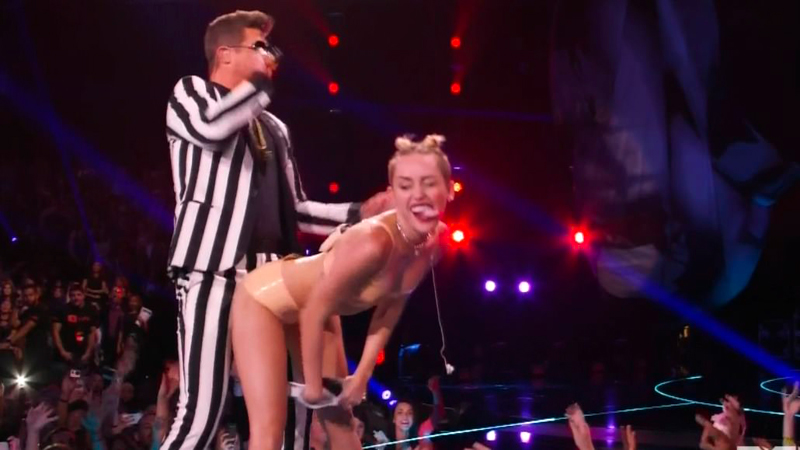 Miley & Robin's joint goal at the VMAs: "Me and Robin [Thicke,] the whole time said, 'You know we're about to make history right now.'"

Miley is amused: "What's amazing is I think now, we're three days later and people are still talking about it. They're over thinking it. You're thinking about it more than I thought about it when I did it. Like, I didn't even think about it 'cause that's just me."

She's not worried at all: "I don't pay attention to the negative because I've seen this play out so many times. How many times have we seen this play out in pop music? Madonna's done it. Britney's done it. Every VMA performance, that's what you're looking for; you're wanting to make history."
[From MTV]
Sigh. This would have been a much better argument if Miley would have specified that she wanted to make a splash in "pop-culture history," "music history" or even merely "MTV history." Instead, she makes it sound like she broke down the Berlin wall or was the first woman to walk on the moon. Instead, Miley merely shook her booty. Enough said.
I also have to admit to finding Miley's supposed ambivalence to all of our "over thinking" to be quite amusing considering that her own manager, Larry Rudolph, admitted that Miley was absolutely thrilled with the collective reaction to her gross twerking. Girlfriend has loved every second of this fallout, and she's thinking about it just as much as the rest of us have been for well over a week.
Here are some pictures of Miley over the weekend at a photoshoot. Naturally, her booty was hanging out because girlfriend can't be tamed.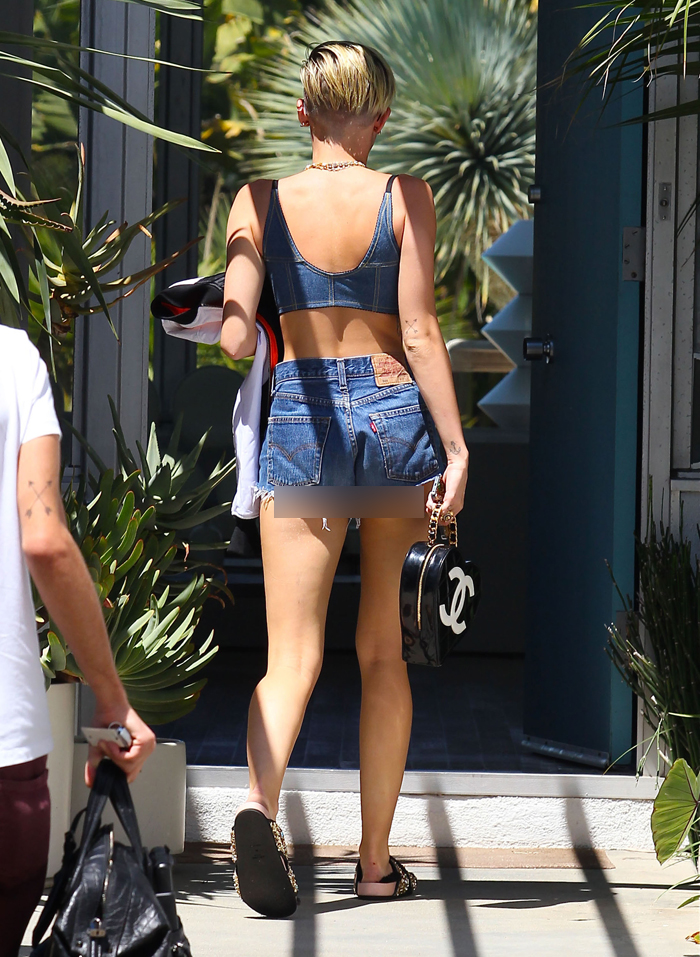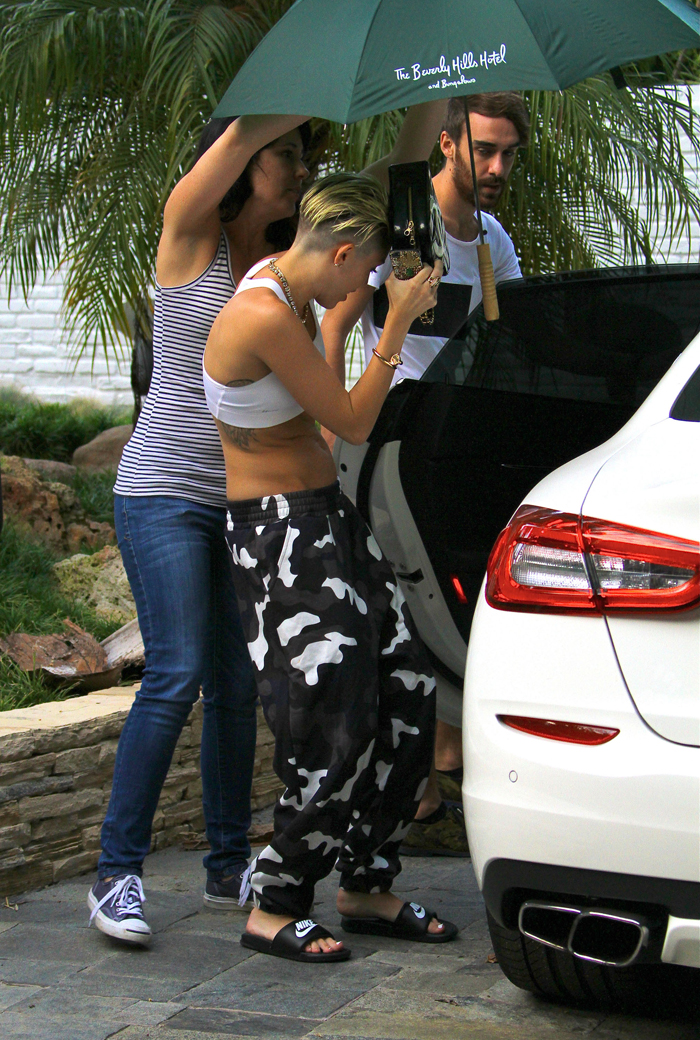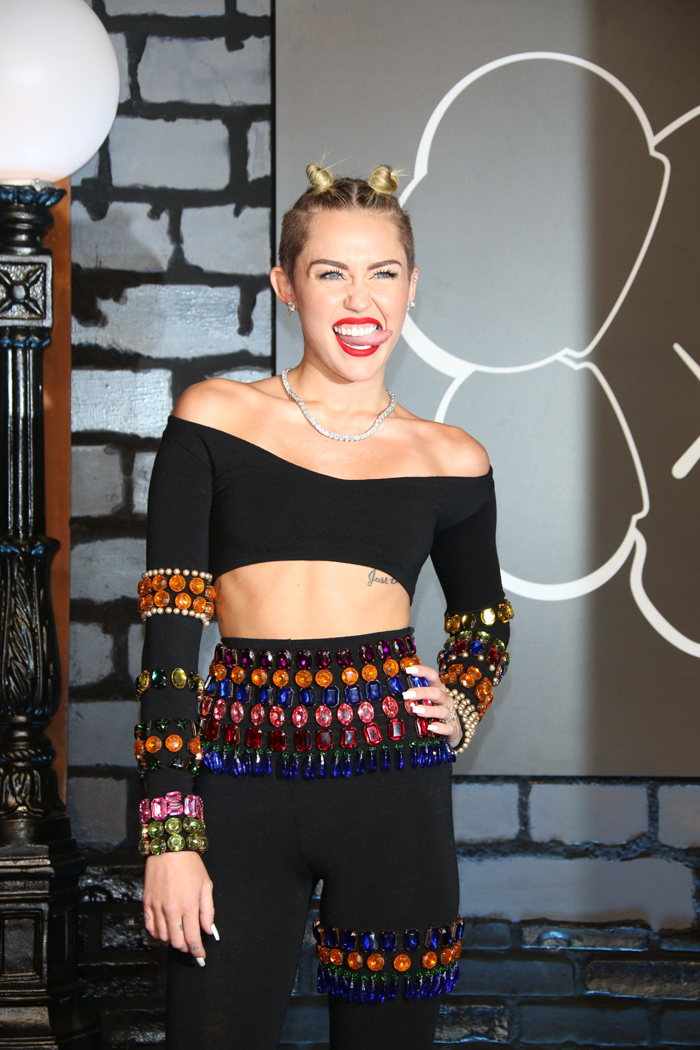 Screenshot courtesy of MTV. Photos courtesy of Fame/Flynet and WENN