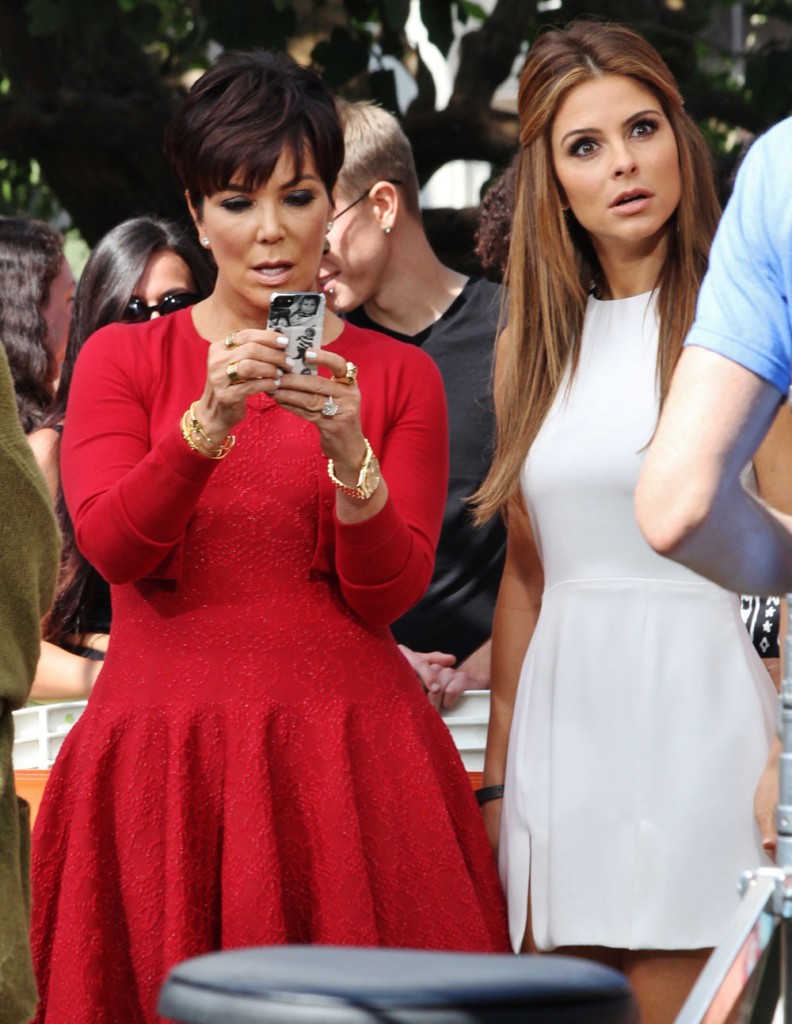 As you've probably heard, Kris Jenner's talkshow is highly unlikely to be renewed by Fox after its lackluster six week trial run. There is no official word yet, and Kris has half-denied the show is canceled. The likelihood that it will be back is basically nil.
Star Magazine [via Radar] has a new interview with an anonymous production worker from Kris' show. The source claims that Kris was so difficult, and that she was so stingy, that her staff is glad they no longer have to work with her. That's pretty bleak. I would rather work with a mean boss than not have a job, but maybe these people were reassigned after Kris left. Here's more:
A new report from Star claims Kris would show up the set hungover, was annoying to the staff and overall unbearable.

"We could not wait for the end of the show's six-week trial period," a member of Kris' production team told Star.

"Working with Kris was absolutely unbearable. She would show up on set hung over and demand her beauty team to fix her up and make her look stunning."

And even more, the crew member tells the magazine that staff got no "extras" like they usually do on other talk show sets — instead Kris would hoard them for her family.

"Kris would give goody bags to the audience, but instead of giving the crew some too, which is typical, she insisted that she take them home to her family. Talk about tacky!" the insider revealed.

"And at the wrap party, Kris gifted the crew with fleece blankets that looked like they came directly off an American Airlines plane — they didn't even have the show's logo embroidered on them!"
That's hilarious that Kris hoarded the gift bags for herself and gave her staff fleece blankets as a parting gift. It reminds me of the story that Tyra Banks didn't give her talkshow staff a Christmas bonus and only served cold McDonalds cheeseburgers at the holiday office party.
I mentioned this briefly in the Khloe Kardashian story, but there was a report last week (which I'm just seeing now) that Kris Jenner met with high-powered divorce lawyer Laura Wasser on Khloe's behalf. According to the NY Daily News, Kris thinks that Khloe is "is 'too emotional' and can't see things clearly." Kris, Kim and Kourtney are said to be encouraging Khloe to "dump Odom, telling her she can't live with a drug addict and that the marriage is beyond repair and 'can't be saved.'"
I do think Khloe's family should advise her to leave Lamar, especially after he so publicly humiliated her. Going to a divorce lawyer to try and force Khloe's hand is way overreaching, though. Kris is so self righteous that she thinks she can dictate her daughters' choices. Kris also has serious problems in her own marriage which she's lied about and covered up. This is all about the family's image and protecting their brand. Kris doesn't care if Lamar is mistreating Khloe as long as he keeps it private. When the mistresses came out of the woodwork, that's when the Kardashian press machine went into overdrive with stories of Lamar's drug addiction. I'm not saying those stories aren't true, just that the timing is suspicious.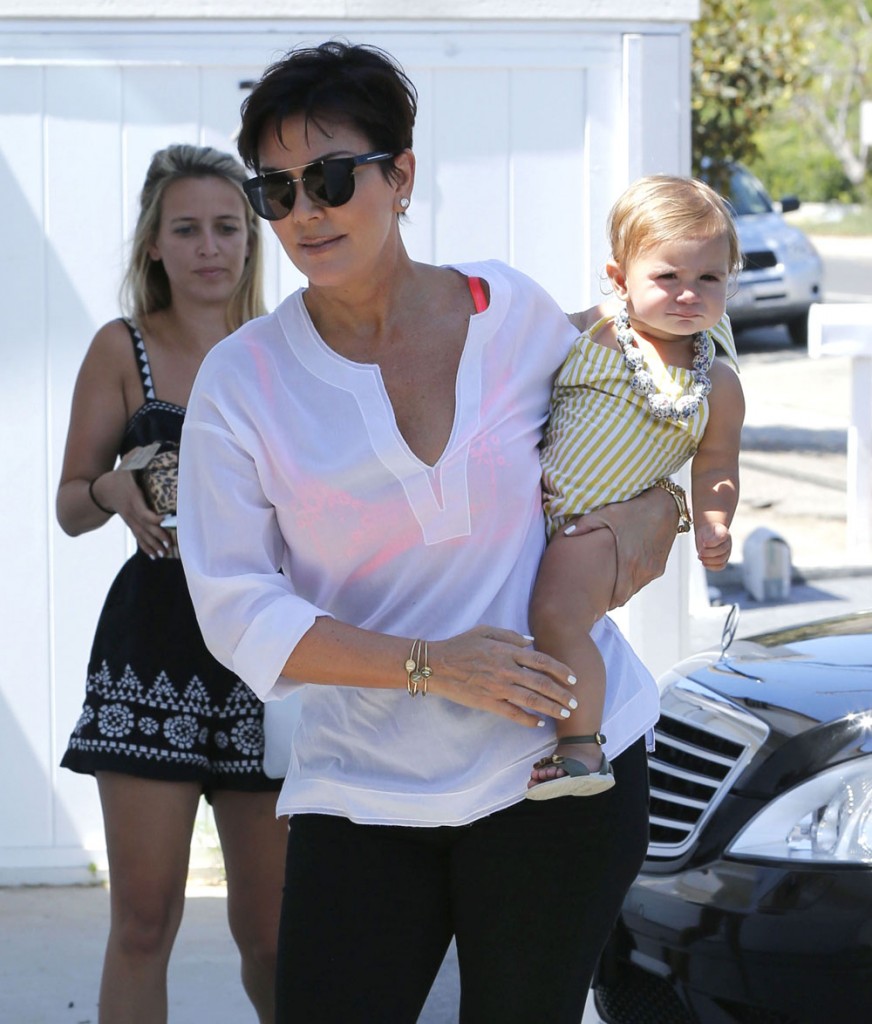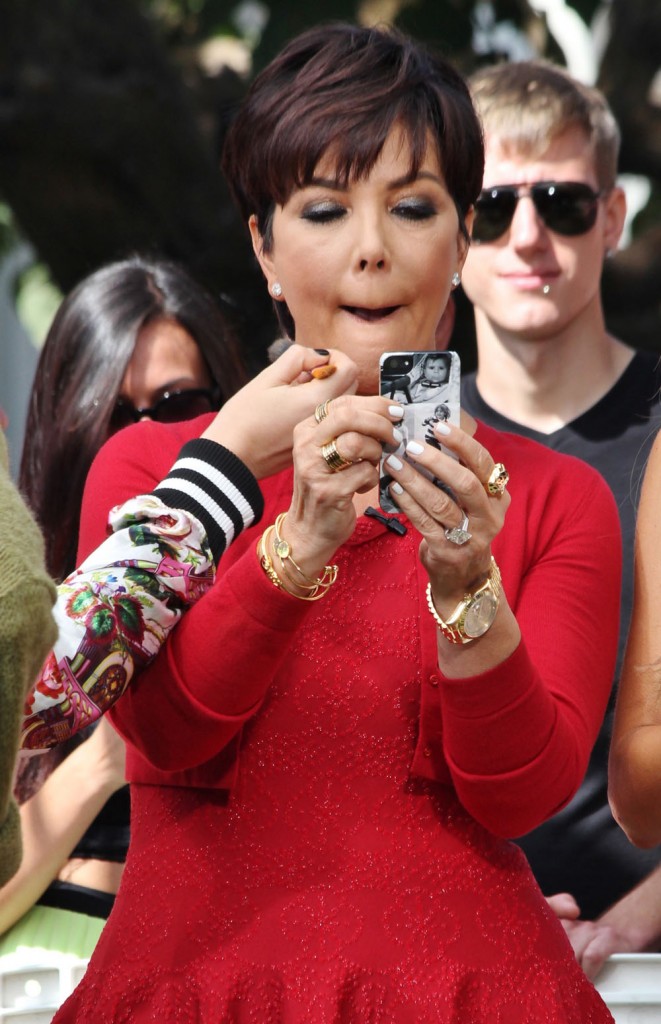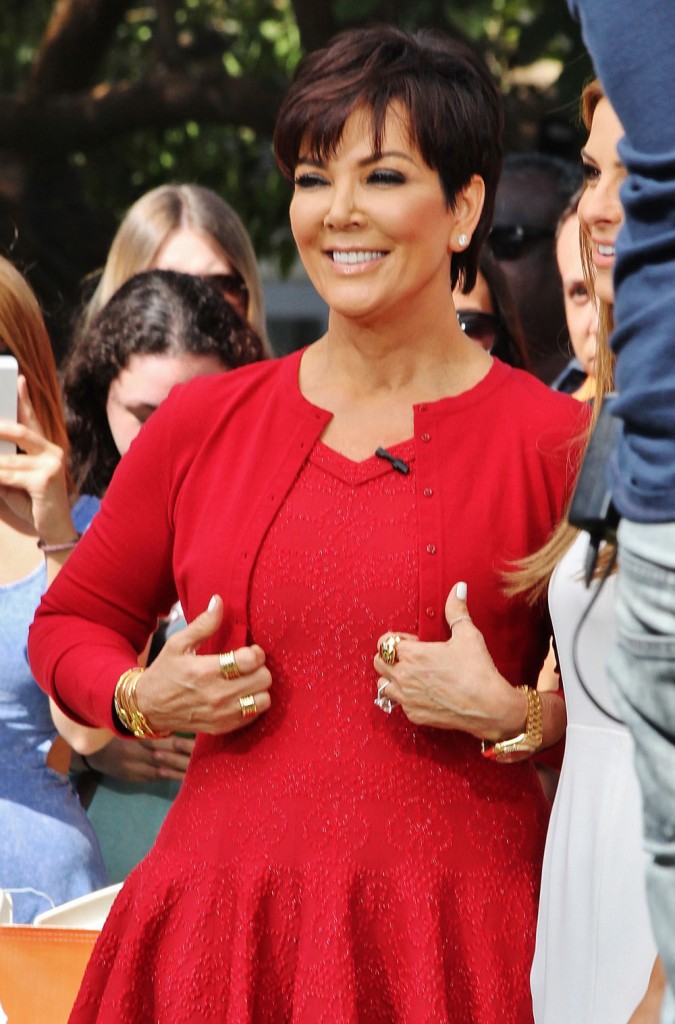 Kris Jenner is shown on 8-20-13 at The Grove being interviewed by Extra and on 8-13-13 with her granddaughter, Penelope Disick. You know she would love to parade North around like that. Credit: WENN.com and FameFlynet