Angelina and Brad really are going to adopt a Vietnamese boy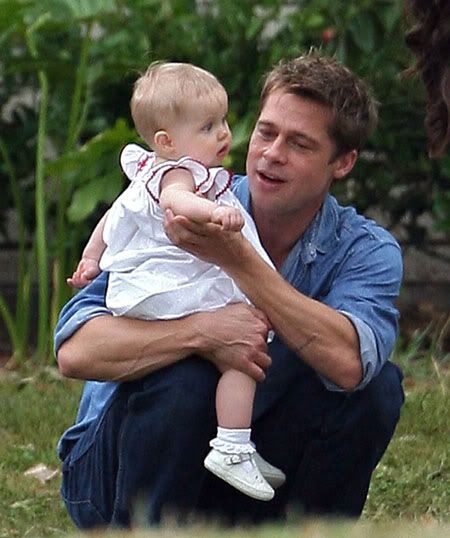 It turns out the latest Brad and Angelina adoption rumor was true.
Originally the story was that they were going to adopt from the Tam Binh orphanage that they visited in Ho Chi Minh City. Then the head of that orphanage denied that they were adopting from his facility, saying that he wishes it were true.
Now the top adoption official in Vietnam has confirmed that Angelina has started the process there to legally adopt a boy, and she's filing as a single parent
Angelina Jolie has filed papers to adopt a Vietnamese child, the country's top adoption official said Friday.

A U.S. adoption agency representing the 31-year-old actress filed the papers at Vietnam's International Adoption Agency, said Vu Duc Long, the agency's director.

"She just filed the papers this week," Long said.

Brad Pitt, have three children: 5-year-old son Maddox, adopted from Cambodia; 2-year-old daughter Zahara, adopted from Ethiopia; and another daughter, Shiloh, who was born to the couple in May.

Long would not name the U.S. adoption agency working with Jolie, who applied to adopt as a single parent.
The head of the Tam Binh orphanage has withheld comments on this latest news, and said he is waiting to see the papers.
This must be the real reason that Angelina wasn't at the Oscars, although considering how much she travels she probably went to Dafur for that UN mission and then popped over to Vietname to take care of the adoption details. Brad and his parents have been taking the kids. From these latest photos of Brad with Shiloh, he's doing a good job. There's also a cute picture of Shiloh eyeing a little girl's cookie like we saw in that candid with Zahara.
Pictures from SimplyBrad.com.
Written by Celebitchy

Posted in Photos

- Zach Galifianakis is awesome [Buzzfeed]
- Prince at the Billboard Music Awards [D-Listed]
- Bieber's Billboard look [Go Fug Yourself]
- Married to Medicine recap [Reality Tea]
- Celebrity first marriages [Pajiba]
- The last Mad Men baffled a lot of people [Lainey]
- Karolina Kurkova's crazy hot dress [Moe Jackson]
- Jennifer Garner on set [Popsugar]
- Kitten vs. Lizard [CDAN]
- Doetzen Kroes' great butt [Celebslam]
- Shameless star Jeremy Allen White [OMG Blog]
- RIP Ray Manzarek [Bossip]
Pages: 1 2 3 4 5 6 7 8 9 10 11 12 13 14 15 16 17 18 19 20 21
22 Responses to "Angelina and Brad really are going to adopt a Vietnamese boy"