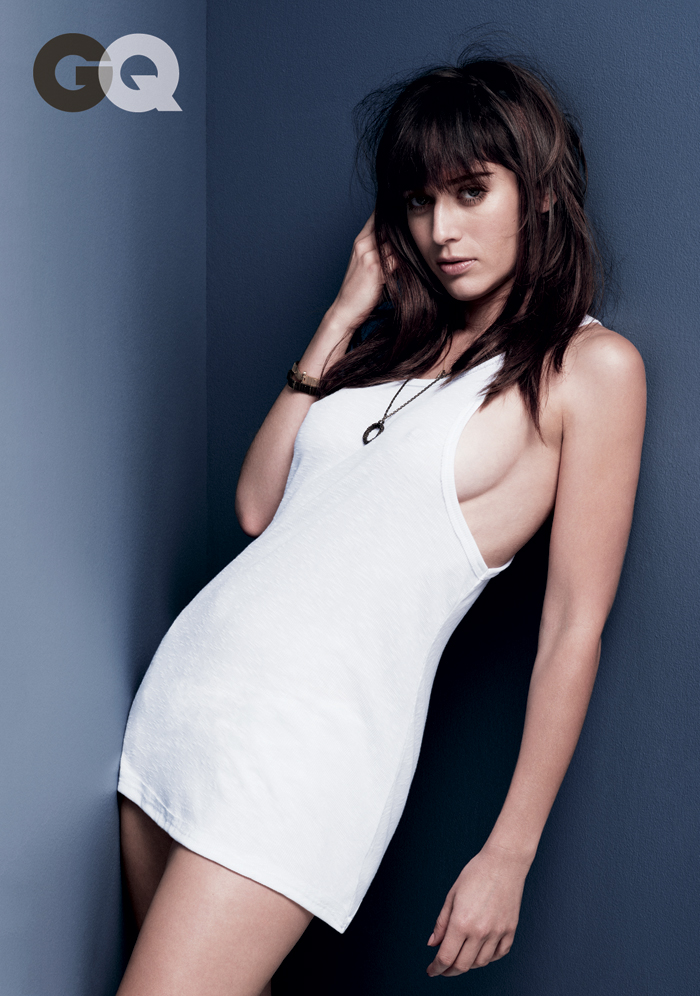 Lizzy Caplan appears in the October issue of GQ to promote her Showtime's Masters of Sex. I guessed the show was some sort of BDSM dramedy, but it's really a "true story" about sex researchers William Masters and Virginia Johnson. Lizzy co-stars alongside Michael Sheen, who is amazing in everything (even those dumb Twilight movies). I know Lizzy has been in a ton of stuff, but the Guardian predicts this show will be her big break. To me, she'll always be the girl from Cloverfield who (SPOILER) met a very memorable demise.
Since she's on a show about sex, Lizzy amps up the raunchy talk for GQ. She gives a pretty good photoshoot (you can see heavy cleavage here). Let's do PG-13 excerpts: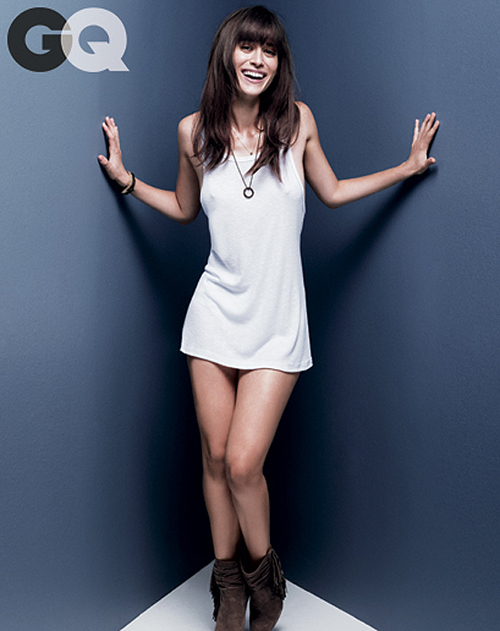 The real athletes in the bedroom: "They basically figured out that the female body is far better equipped for sex than the male body. Women can have multiple orgasms; men cannot. They're actually the sexual athletes, not the men."

Her show is educational: "If you watch Masters of Sex, you will score chicks. This is everything your readers need to know. I know that the show will be equally relevant to men and women, if for no other reason: tits!"

On double standards: "If a woman said to me, 'Hey missy, you look like menage trois material,' yes I would find that flattering. If a man said that to me, I would be offended. It's a double standard."

On the "L" word: "If a guy said to me I reminded him of his childhood pet because of how much he loved her, I would say "I'm very uncomfortable with the word love, and so please get out of my house.'"

Tongue on the first date? "There's nothing more offensive than when a guy only uses half of his tongue on the first date. For what? Unclear. Just use all of your tongue whatever you do on the first date."
[From GQ]
She's clearly aiming for controversy in this interview. I get it. What else can I possibly add in response? Well there's one thing — if Masters and Johnson were still alive (Virginia died in July of this year, RIP), I'd suggest they study the bizarre sexual specimen known as Russell "Nine Per Night" Brand.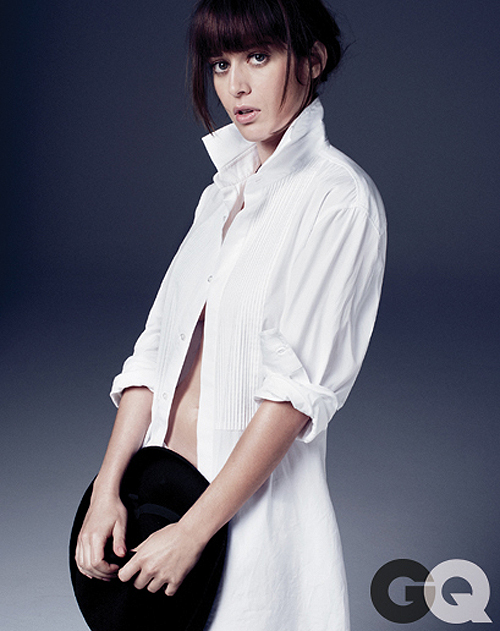 Here's some photos of Lizzy outside Letterman on Wednesday. She's wearing Alberta Ferretti. I love cobalt blue with Lizzy's coloring. I'm also a sucker for well-timed velvet.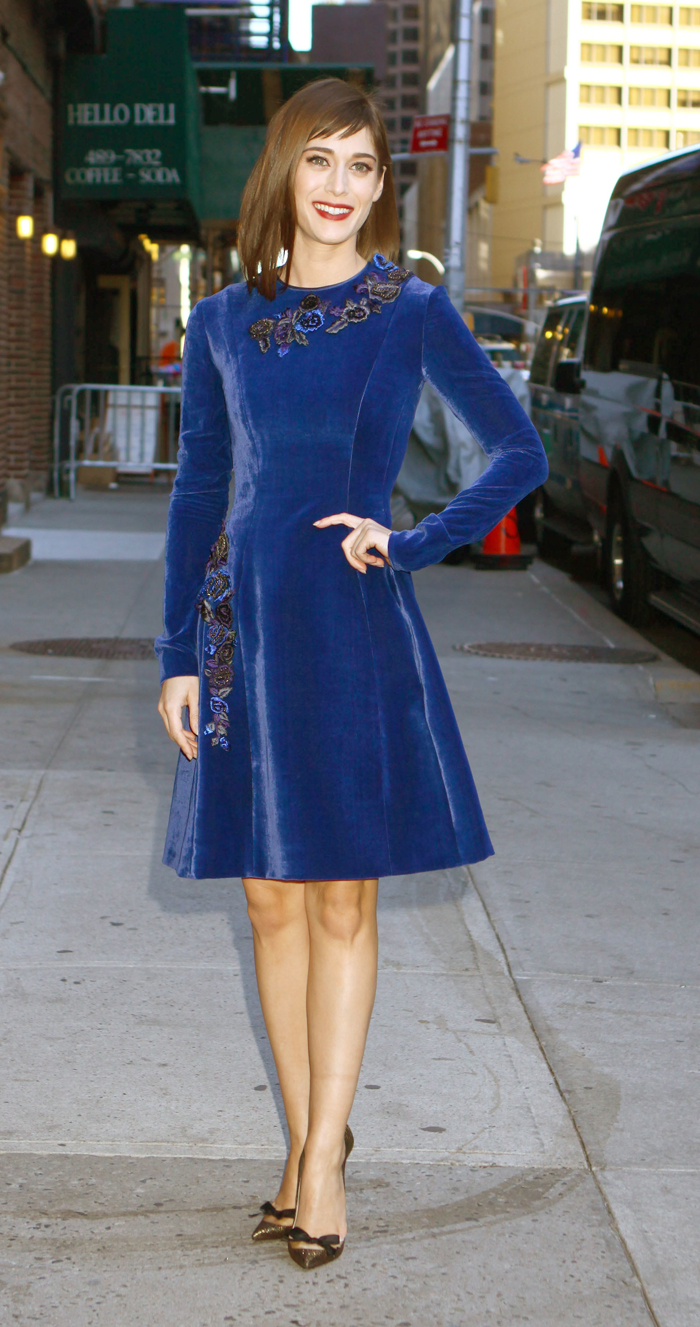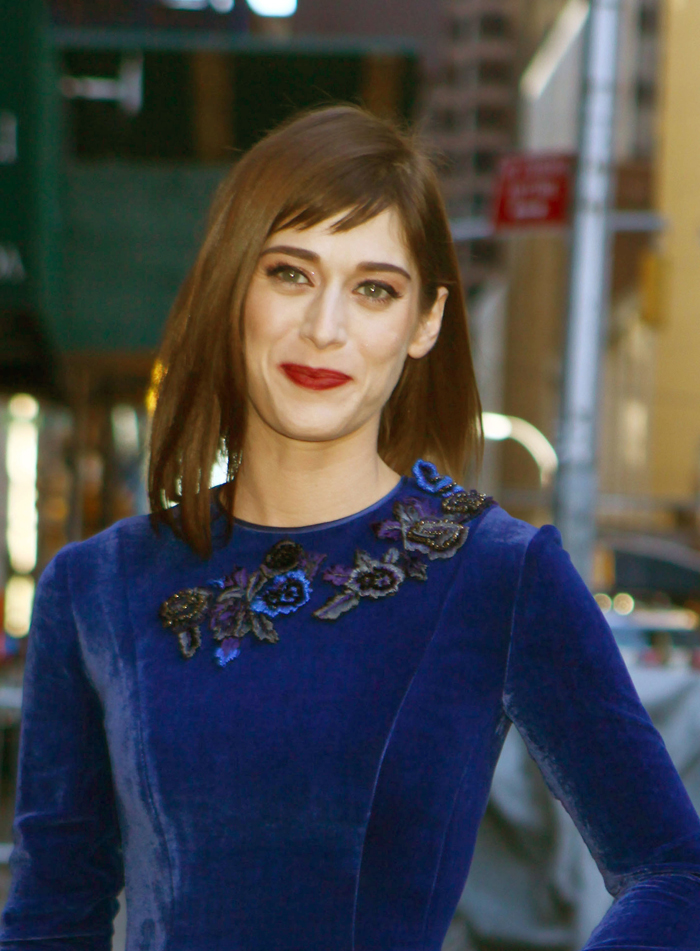 Photos courtesy of GQ & WENN