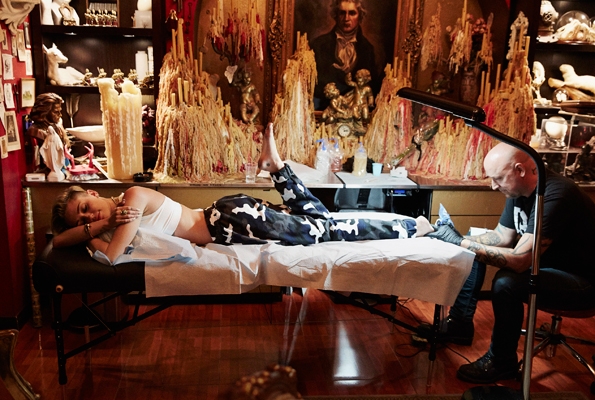 You didn't think the world (i.e., Larry Rudolph) was done with Miley Cyrus' unholy union with Rolling Stone, did you? We've already covered much of Miley's warring statements. All at once, she was not trying to be sexy at the VMAs while also doing her best impression of "a creepy, sexy baby." RS has now made the skydiving video available. Yes, that's right. Miley got a tattoo and jumped out of an airplane all for the sake of one try-hard interview.
There are even more Rolling Stone quotes if you can believe it. I'll get to those in a second, but first I want to mention a Page Six item that follows up on Miley's professed love for molly. Pals say Miley took the drug before twerking all over Robin Thicke's crotch at the VMAs. Her friends are worried because she pops the drug all the time. Page Six notes how Miley's "white-coated tongue [is] a telltale sign: People who take molly often become dehydrated, leaving them with a dry mouth." Dehydration also leads to the "stringy spit" displayed in the "Wrecking Ball" video. I don't know much about molly (except that it causes holes in the brain), but how often would Miley need to do the drug to become so chronically dehydrated? Here are those other RS quotes: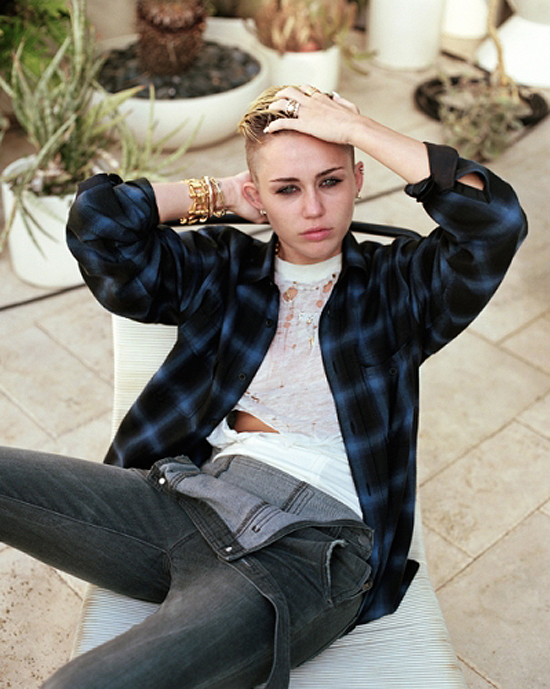 On racism & pop music: "Me and [producer] Mike WiLL were talking about it. He said, 'For me, my biggest achievement has been working with a white girl–but for a white girl to work and associate with black producers, you're being ratchet.' He's like, 'Why am I on the come-up if I work with you, but if you work with me, it's like you're trying to be hood?' It's a double-standard. I didn't really realize it, but people are still racist. It's kind of insane. Like if I had come out [at the VMAs] with all white-girl dancers, and done the f— ing "Cha Cha Slide"– same outfit, same everything — it wouldn't have been bad. But because of who I came out with, people got upset. Because they were girls from the club. They had thick asses. They were twerking. That's what I want, though — I want real girls up there who can really party. The Baker girls [her backup dance crew, the L.A. Bakers] don't give a f— about me. They love me, but they're not kissing my ass. They're just excited to not be dancing at the club."

On civil rights: "When my kids are around, there will be no one on this planet who was alive when there was segregation. Like, my grandma was around when there was real segregation, when there was no intertwining. For her, for someone that was born in the '30s, it's kind of shocking to have a black president. My grandma didn't have a f*ing phone even in her house. It was like Gone With the Wind. Calling long distance was like the craziest shit ever. Now my grandma's like, 'What do you mean you can watch a video on your phone?' It's gonna be the exact same thing with my kids: 'What do you mean gay people couldn't get married?'"

On the outrage: :I think it's all marketing. If a website is like, 'We love Miley's performance!,' I don't think people are gonna click on it. 'Miley's cute performance with teddy bears!' – no one is gonna click on that. So I think it's the media riling up the people, rather than people riling up the media. And what makes me kind of sick is, Trayvon Martin's trial didn't happen more than two months ago. It got talked about a lot — but it still got done being talked about a lot quicker than the VMAs. And that's really sad. For about two days, it was on Twitter and everything, everyone had their pictures as Trayvon — and then two days later, where was it? Who cared anymore? It slips your mind. We go on to the next thing, our next problem. It's like, 'Why are we not still dealing with that? Why are we not still mourning that loss?'"

On the tongue: "I just stick my tongue out because I hate smiling in pictures. It's so awkward. It looks so cheesy. Now people expect it — like, 'Put your tongue out!' It's just easier that way. Taking pictures is so embarrassing. But there's also something about it that I think is cool. Every other girl is so serious — like this is my moment on the red carpet, I'm in my ball gown, looking pretty. There's something empowering about what I'm doing right now. Especially having 'short hair don't care.' I think it's empowering for girls. Because there's not one thing that defines what beauty is."

On Bangerz: "It's coming out soon, so right now I'm listening to it 20,000 times to make sure it's perfect. I have to make sure every detail is perfect. There are albums that people still are listening to, like Michael Jackson's Bad, because it's so f*ing dope. I want people to listen to my album like that. There's a line Ludacris says on my album that goes, "If I die before my time, at least I'll still be living through my music." That's something I've said over and over again. Like, I have one Pixies record that is a time for me — from the time I was 16 until I was 18, the Pixies is all I listened to. And I'm going to be that artist to so many people, so I want to make sure my record is the best it can be. I'm trying to set a new standard for pop music. So it has to live up."
[From Rolling Stone]
Did you hear Miley on that last point? She's going "to set a new standard for pop music." It would be fine if Miley admitted she's only interested in making music for fun, fame, and fortune because that's exactly what the outcome will be. Unfortunately, she's about a millimeter away from describing her music and stage shows as ART.
I do see what Miley's trying to say about racism, but I think her point is lost in the humblebrag about Mike WiLL elevating himself by being associated with her. The part about her tongue being empowering is silly — especially since it's now viewable as evidence of dehydration. Miley can say whatever she wants about why she sticks her tongue out, but you know she does it for the attention.
* If you're curious about what Bangers actually sounds like as an album, all of the songs can be partially streamed here.
* Miley announced she's been booty-tweeting Liam Payne of One Direction: "Hi Liam." Oh brother.
* Liam Hemsworth was papped in NYC on Saturday. He looks like a different person, right? Maybe he was excited about his People-sanctioned breakfast date with his bros.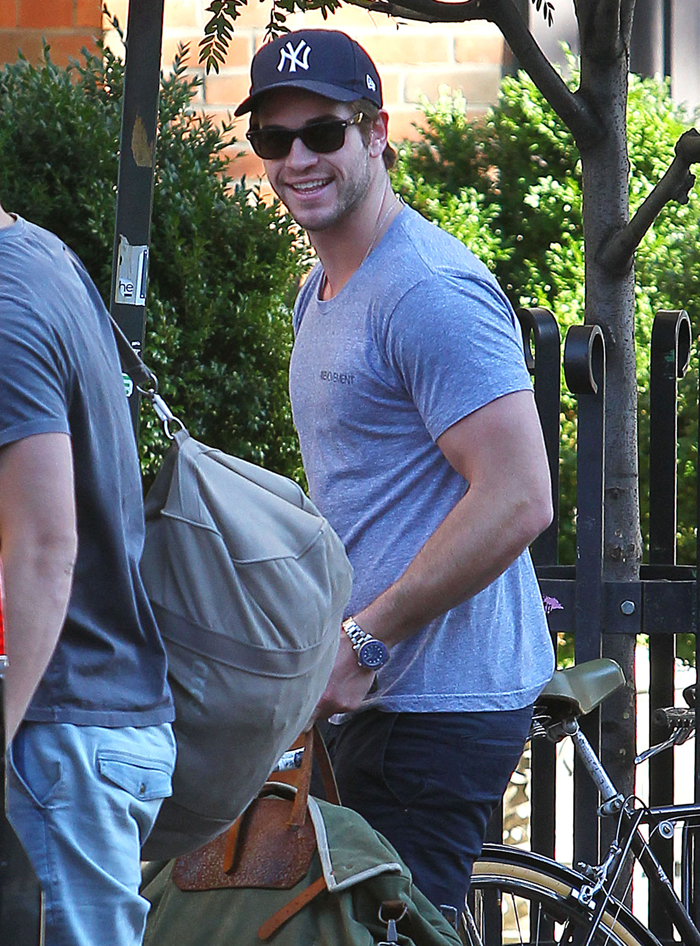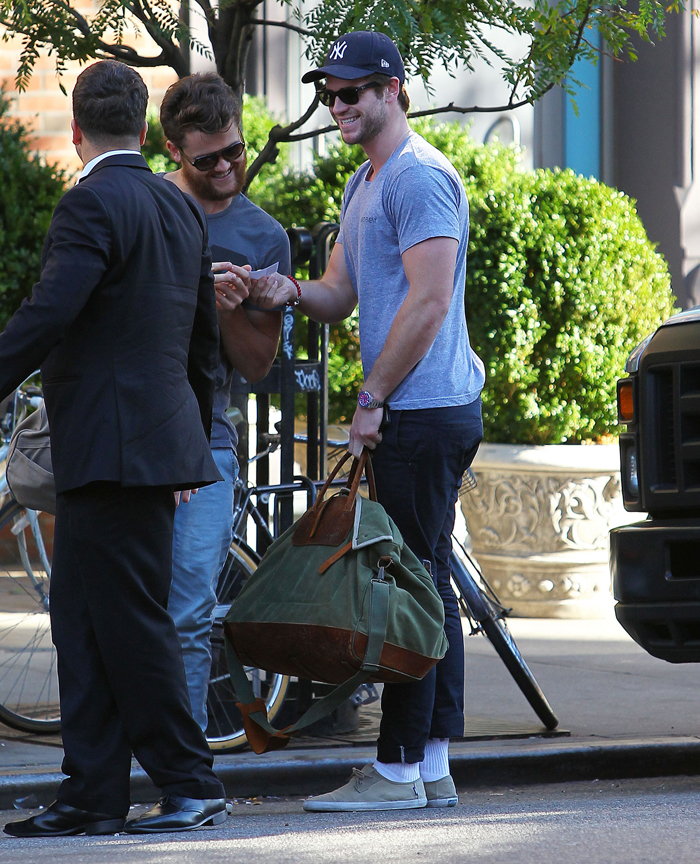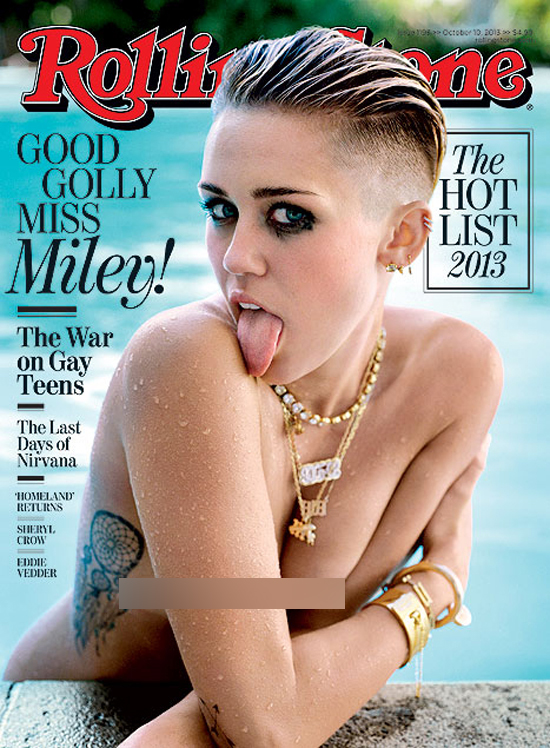 Photos courtesy of Fame/Flynet and Rolling Stone