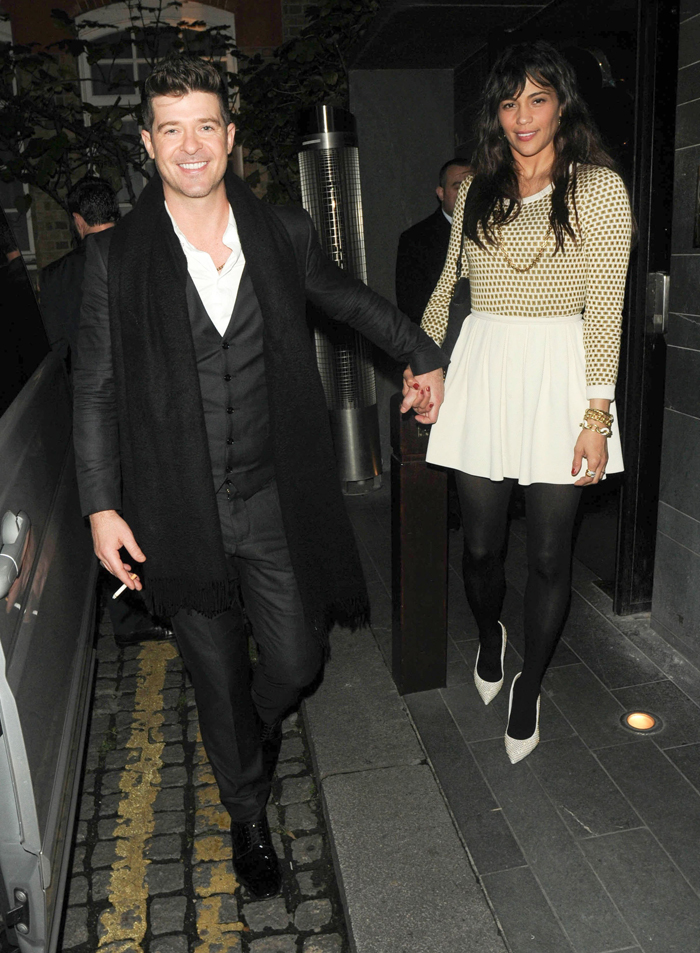 Robin Thicke and Paula Patton are currently be sleeping off the party in NYC right now. These are photos of them last week all over London, and I'm not really sure what Paula is wearing. She usually does a lot better in the style department, but Robin looks just as sleazy as always. Kinda hot sleazy but sleazy nonetheless.
Robin has an interview in the November issue of Elle magazine. He doesn't talk about his music but focuses on chicks. Mostly he talks about his wife and answers the obligatory "big d–k" question. Then he once again lays it on thick(e) when talking about how much he loves Paula. The real kicker is his discussion of what he learned from his dad, Alan, about how to get with da ladies. Did you know that Alan Thicke was/is a womanizer? I'll never think of Mr. Seaver the same again. Gross: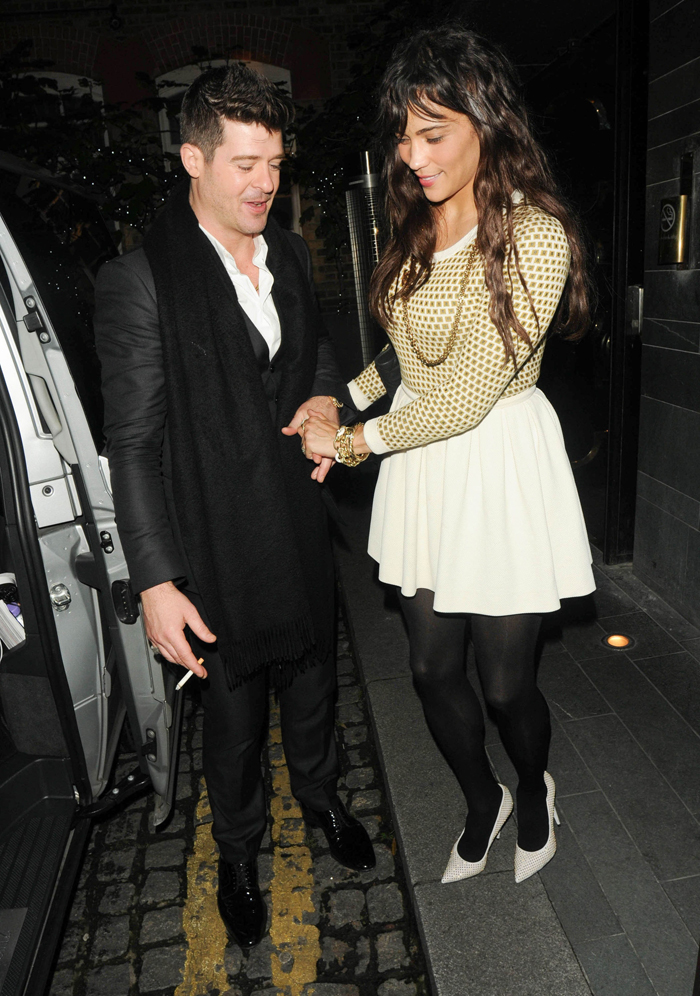 Alan Thicke's womanizing rep: "My dad was single my whole pubescent period. [Laughs] He had Ms. Alabama, Ms. Dominican Republic–every week. I was like, Dang, Pops. He had an indoor Jacuzzi, and he frequented it. The first time I saw a naked woman was when I went to take a shower one morning before school. I was like, Who is this girl in my shower?

His dad's dating advice: "He was always very intuitive. And very smooth. He didn't really tell me what to do. He told me what not to do, which is actually more important. We were on vacation and some pretty girl walked by. I started ogling her like a 12-year-old boy, and he said, 'I know she's pretty, but you stared at her and followed her across the room. What if there's a prettier girl sitting two tables away? Now she's not going to feel special. She'll say, 'You look at all the girls like that.' You've gotta play it cool so you don't look like you're desperate."

How big is his wang anyway? "Listen, compared to my son, I'm packing. If I'm next to LeBron James? It's probably not quite as impressive."

: "I write songs like 'The Sweetest Love.' Of course I'm a little cheesy. Love is cheesy. Love is corny. But it's also the greatest feeling in the whole world."

On being with Paula since age 14: "I'm sure when your parents get divorced when you're seven, maybe as a kid I thought, I'm going to take care of my wife. I'll be a great husband. But the real reason is because of the person that I met. We're pretty sure we've loved each other for a few lives."

Does he get jealous of her love scenes? "Who wouldn't? Those are my lips. I support her first. I never make it an issue while she's filming. And then when she's done, I ask a few questions. Oh yeah, you like that? Then it'' gone. It was harder when I was younger. Now I'd be like, Okay, come on home. Me and the baby are watching The Croods."

On keeping spice in the bedroom: "The spice is not our problem. We're overspiced. We could probably take a few spices off the shelf."

Does he listen to his own music while doing it? "Yes. In fact, she likes to do it more than ever now. Sometimes she'll even play groupie for me."

He's so misunderstood: "My gift and my curse is that I really want to be loved. What drives me to make music is love–whether it's shallow or deep or whatever. I want to do things that make people love me."

How he romances Paula: "The rose petals all over the floor…. [I'm that guy.] I like to take her out to a fancy, six-course meal that lasts three hours and stare into her eyes. Of course it's a little schmaltzy. There's nothing women love more than an effort. You can even mess it up. The shoes that you bought don't have to be right. You might have gotten the wrong chocolates. But she'll know if you made an effort."

Do they ever fight? "Oh yeah! If you don't fight, then you don't care. If you're not fighting for the relationship, you need to move on."
[From Elle]
Are you buying Robin's script about what a wonderful, doting husband he claims to be to Paula? Part of me wants to believe it. She seems happy, and they talk a good talk. There are still those rumors of an open marriage and photos of blondes getting groped. It's definitely possible they're playing into the role of a lusty, satisfied marriage merely to attain power couple status.
As for Robin's claim that fighting is necessary in a relationship, I guess that's partially true. There are so many different types of "fighting" though, you know? Some couples claim to never fight, and some freely admit they do it all the time. The bottom line is that no one ever knows what goes on behind closed doors, and I'm convinced that far too many people (including Robin and Paula) might be lying about the true dynamics of their relationship.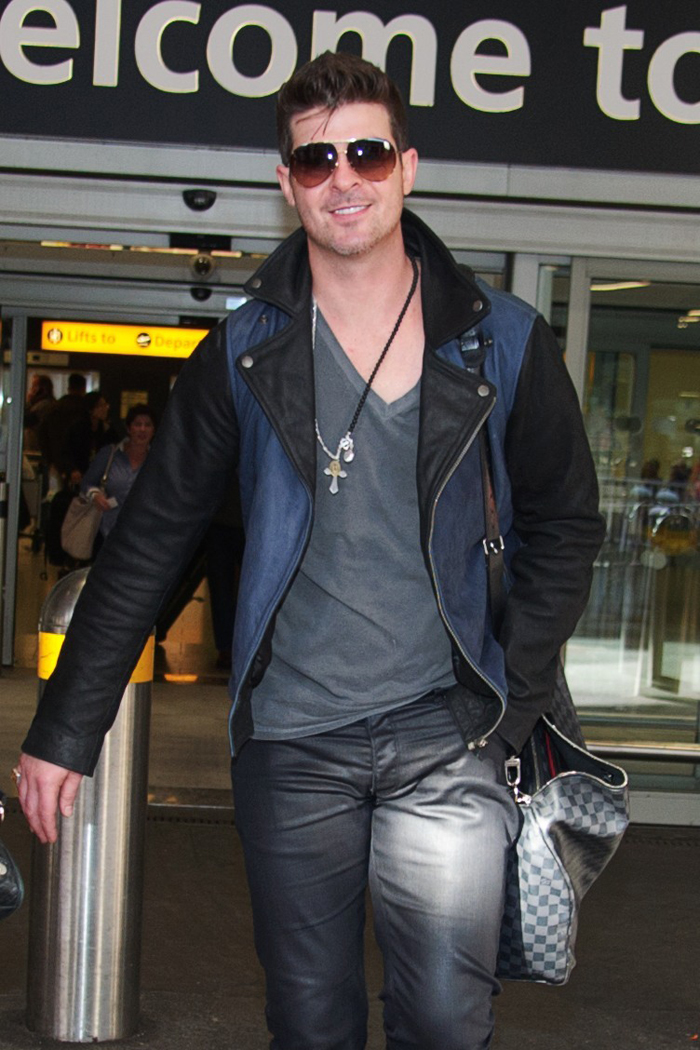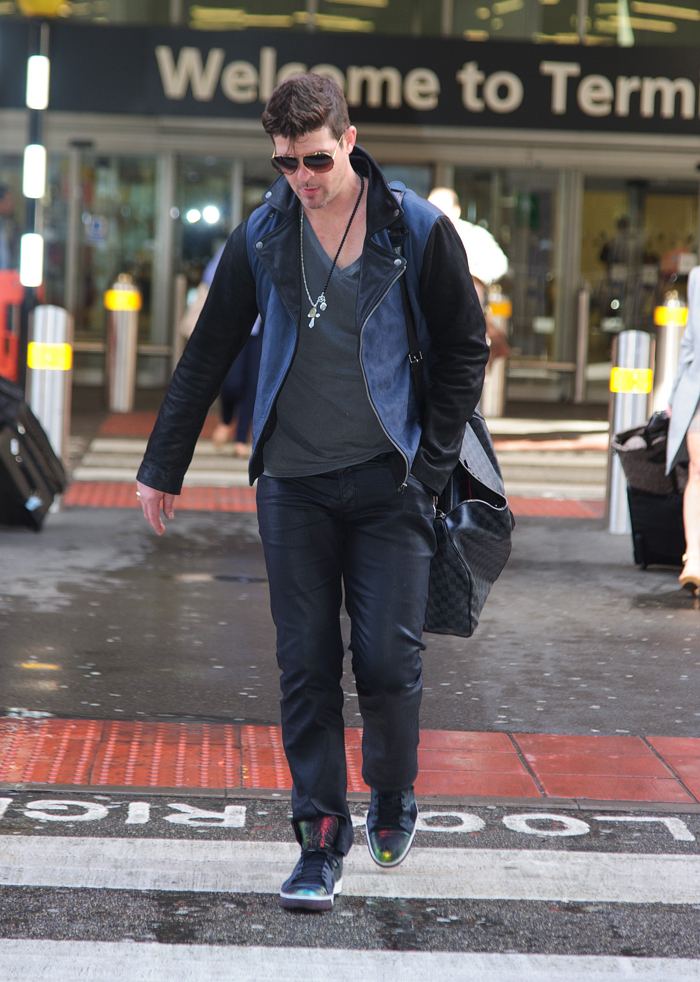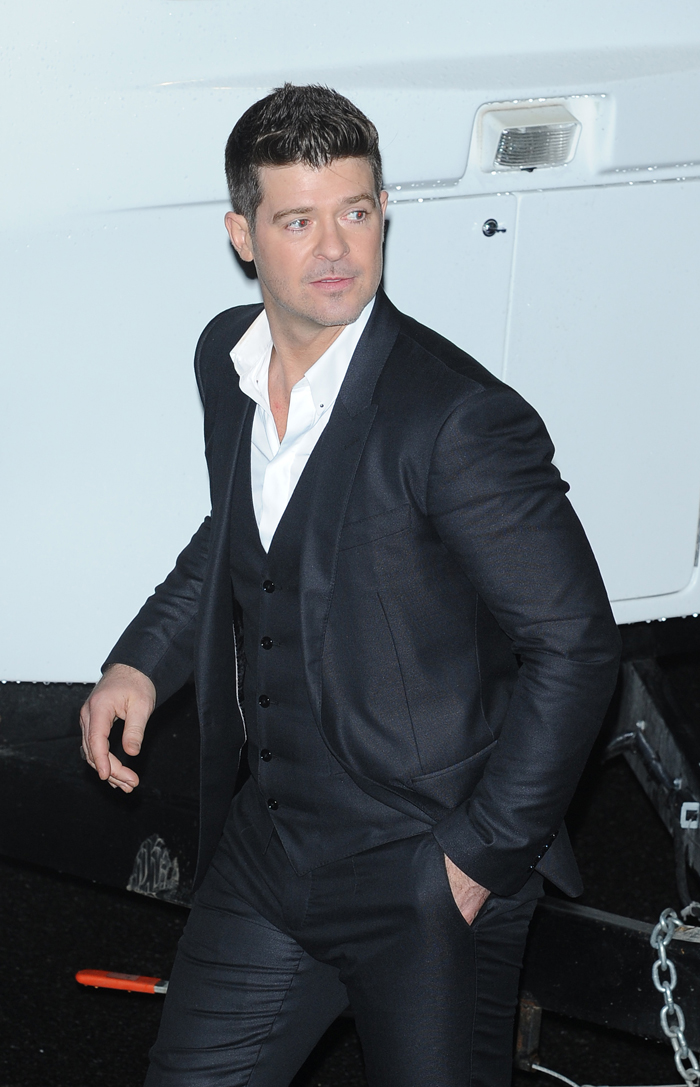 Photos courtesy of Fame/Flynet & WENN