Poseidon Premiere: Emmy Rossum, Josh Lucas, Salma Hayek & Fergie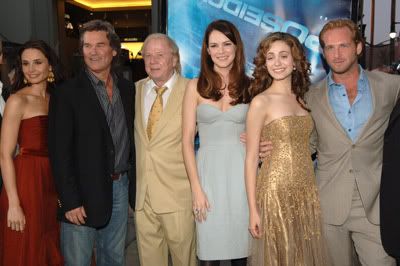 "Poseidon," a remake of the 1976 thriller "The Poseidon Adventure," premiered last night in LA. It features Josh Lucas, Kurt Russell, Jacinda Barret, Richard Dreyfuss, and Emmy Rossum.
While ringing in the new year aboard the cruise ship Poseidon, a giant wave crashes into the ship and flips it upside down. A ragtag group of survivors realize their only chance is to make their way to the deepest bowels of the ship, now at the top, if they are going to have any chance of getting out.
It's getting bad reviews, and from the looks of the trailer, below, it's a bit too scary for our tastes.
Fergie of the Black Eyed Peas has a cameo in the film. She does not look pregnant in these pictures, but she does look plastic. She's wearing black so it's hard to see if she has a tummy buldge, though.
Here are Emmy Rossum, Josh Lucas, Kurt Russell, Mia Maestro, Salma Hayek, Fergie, Jacinda Barrett, Jerry Lewis, Kevin Dillon, Freddy Rodriguez, Emmy Rossum and Pamela Sue Martin at the premiere and after party.
Written by Celebitchy

Posted in Fergie, Movies, Photos, Premieres, Salma Hayek

- Mariah Carey lip synced on American Idol [CDAN]
- Colin Firth is looking good [Lainey Gossip]
- Internet celebrity charged with murder! [D-Listed]
- What is Paz Vega wearing? [Go Fug Yourself]
- New bachelors on The Bachelorette [Reality Tea]
- Goodbye to The Office [Pajiba]
- Bachelor Sean's fiance cheats on him [Evil Beet]
- Britney Spears out with her man [Popsugar]
- Nina Dobrev works it [Popoholic]
- Cindy Crawford needs to lay off the 'tox [Celebslam]
- Who said it: Carrie Bradshaw or The Dalai Lama? [Buzzfeed]
One Response to "Poseidon Premiere: Emmy Rossum, Josh Lucas, Salma Hayek & Fergie"