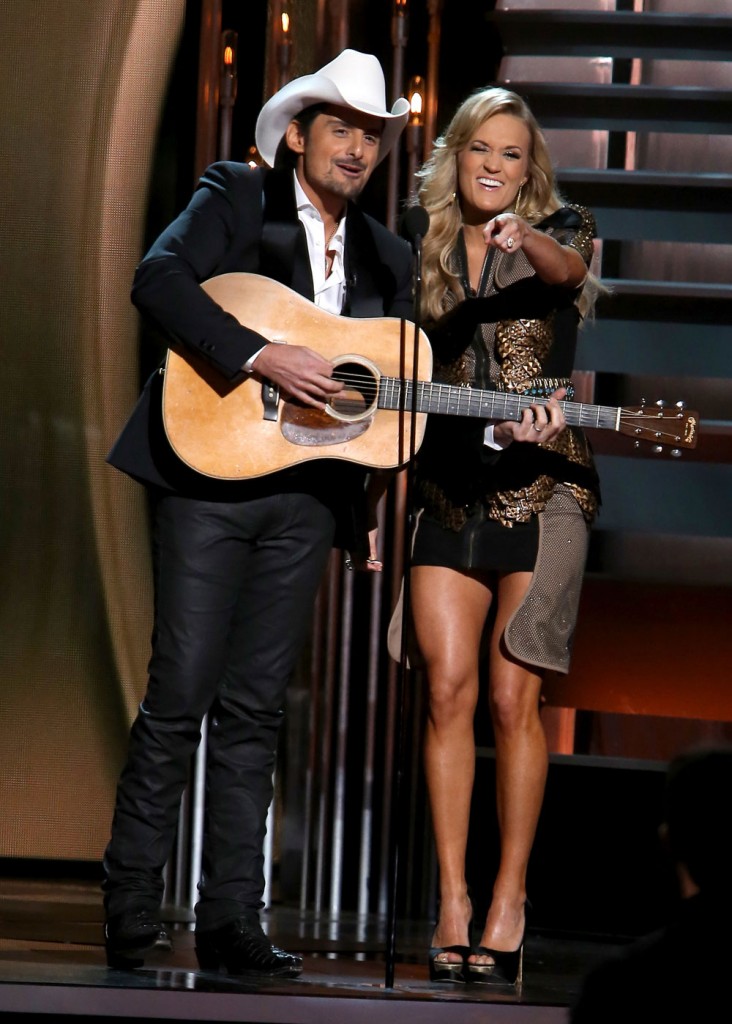 Oooh Carrie Underwood is going to have to key her own car! The National Enquirer claims that Carrie is getting a little too close with also-married country singer, Brad Paisley, 41. (He's 41? Damn.) To be fair, the Enquirer doesn't say it's a true cheating situation, just that (if their story is true) Carrie may be having a type of "emotional affair" with Brad. She's supposedly texting and talking to him constantly, which doesn't sound like a good idea at all considering that her own marriage, to hockey player Mike Fisher, is said to be on the rocks. Here's some of the Enquirer's story, with more in their new print edition, the one with "Body Disasters" on the cover.
The cheating rumors grew after Carrie, 30, and Brad – a 41-year-old married father of two – sparkled together as hosts of the Nov. 6 Country Music Association awards.

The joy they displayed on stage contrasted sharply with Carrie's storm-tossed life with her pro jockey player husband, Mike Fisher, 33.

As the Enquirer previously reported, Carrie and Mike have been struggling to hold their union together following fights over starting a family and fears that Carrie is working so hard she's headed for a breakdown.

"In recent months, as she's faced one marriage crisis after another, it seems like Carrie is leaning on Brad more than ever. They text and email each other constantly, and Carrie confides in Brad about all the problems she and Mike are having."

The source adds that Carrie and Mike live near Brad and his wife of 10 years, Kimberly, in the Nashville area, and Carrie and Brad get together sometimes for coffee or lunch when their spouses are busy.
[From The National Enquirer, print edition, December 2, 2013]
I was thinking that the Enquirer was basing this story on Carrie and Brad co-hosting the CMAs and singing a song together until I came to the detail that "Carrie and Brad get together sometimes for coffee or lunch when their spouses are busy." As long as their spouses know about it, and as long as they're just buddies, that's no problem. The issue is when someone starts to confide in a member of the opposite sex about their marriage problems, especially when they're going outside the marriage to someone they're potentially attracted to. That's a recipe for disaster. It seems supremely self-defeating to do that instead of trying to work the problem out with your own husband or wife. Let's hope this story is a lot of conjecture though.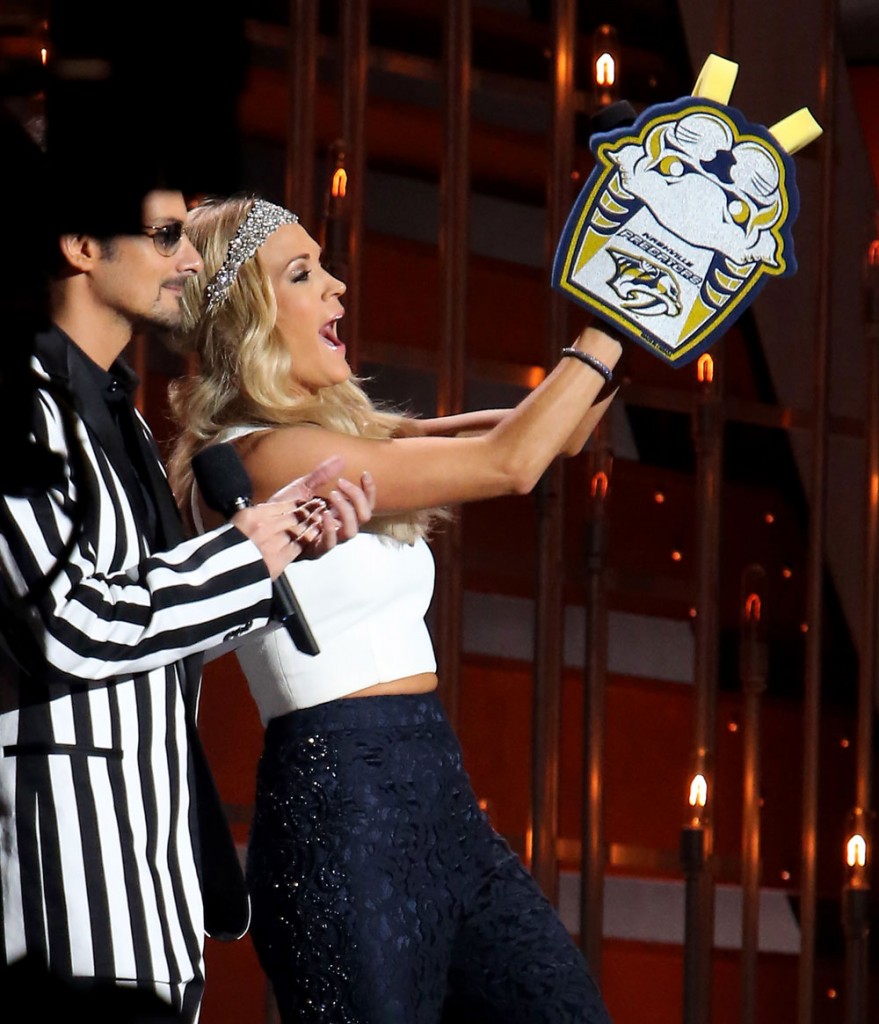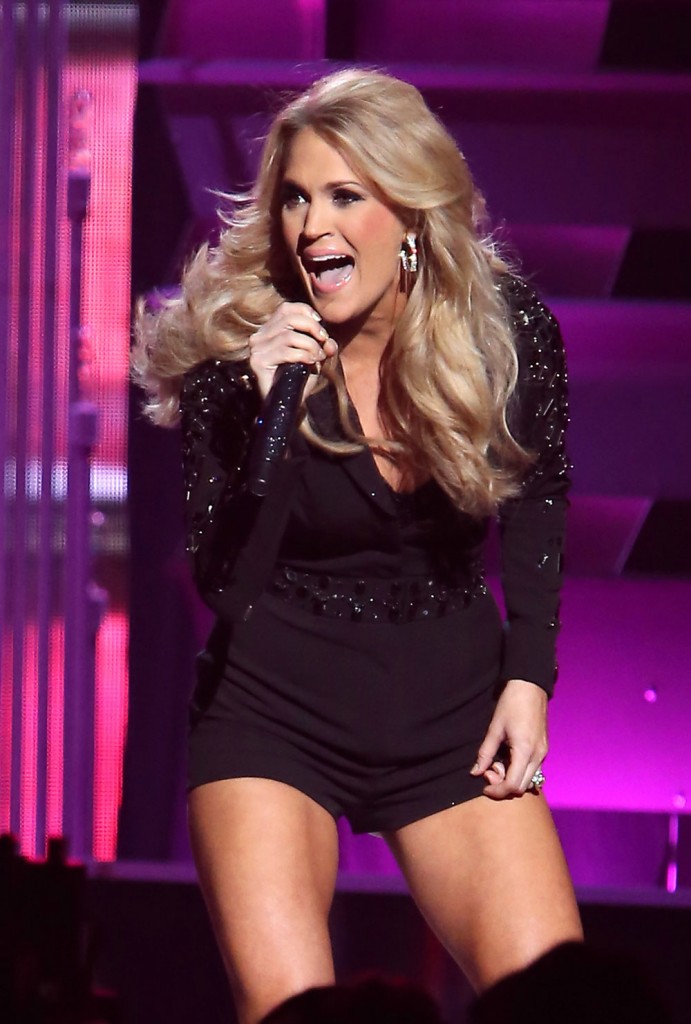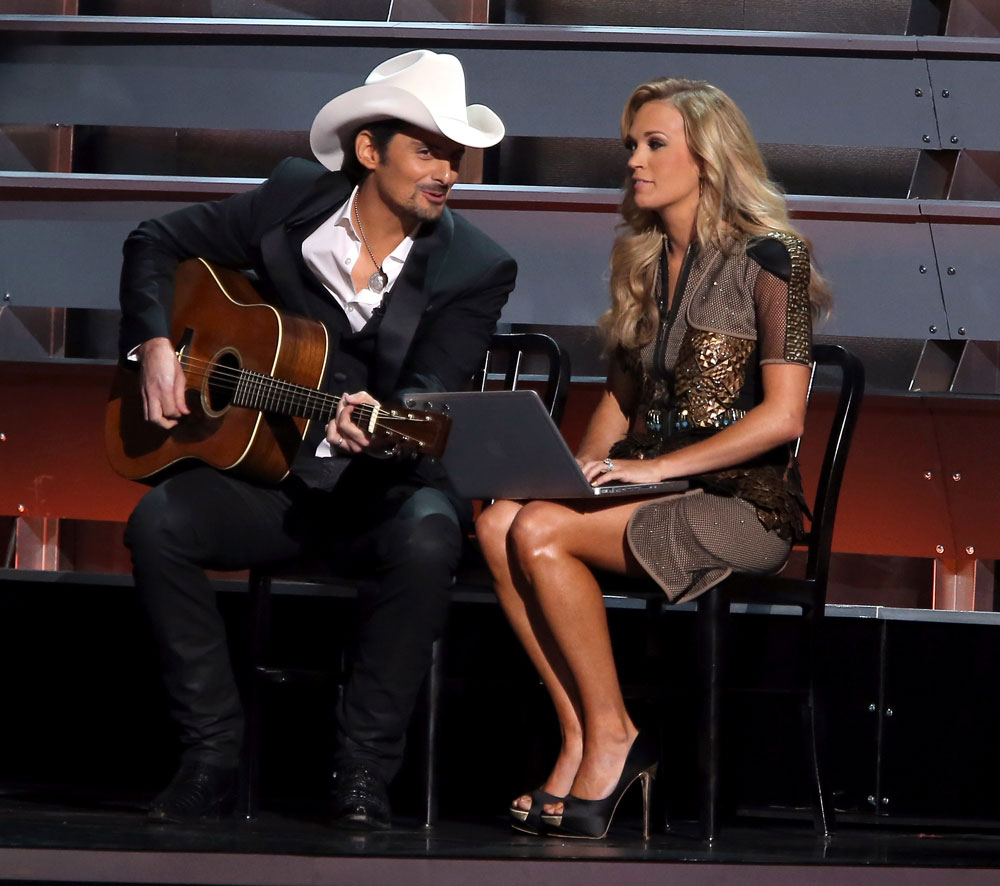 Carrie Underwood and Brad Paisley are shown at the CMAs on 11-7-13. Her legs look amazing. Credit: WENN.com