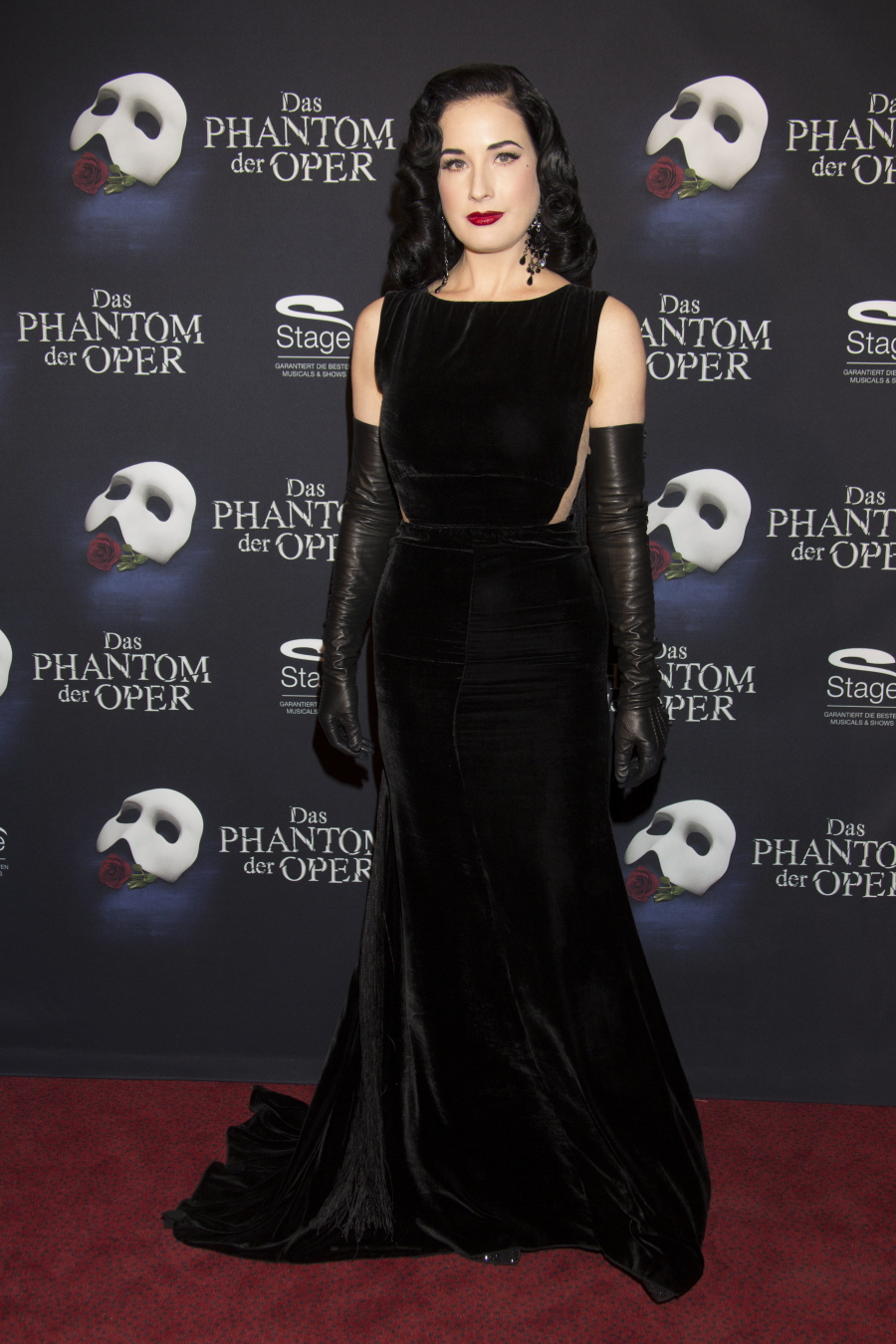 Dita Von Teese has given several interesting interviews over the past few weeks, but I've hesitated over covering Dita because I sometimes wonder if you guys give a crap. I LOVE her, though, and I enjoy hearing what she has to say about hair, makeup, clothes and pop culture. Dita is cool to me because A) she's a lot smarter than people think and B) while she's never going to be the "most beautiful" person ever, she's brilliant at maximizing her assets and always looking flawless. Basically, I'd rather hear what Dita has to say about almost everything.
First up, here's Dita's take on Miley Cyrus and "twerking":
Dita Von Teese is not impressed by Miley Cyrus' twerking routine. "I'm not someone who is appalled by Miley Cyrus, thinking it's vulgar," Von Teese, in a low-cut Carolina Herrera dress, told us at Van Cleef and Arpel's flagship opening on Madison Avenue.

"I love the very beautiful combined with the vulgar. The problem is, I don't find it very beautiful. I'm more interested in looking at a Helmut Newton photograph of fetishistic situations and nudity and er0ticism . . . that drives my imagination, not the everyday vulgarity." Noted!
I agree with Dita – do whatever you want with your body, but I have the right to think that Miley's "twerking" is not beautiful and, in fact, vulgar. Dita's all about the celebration (in an adult way) of sexuality.
Dita also had a recent interview with YourTango which you can read here. I enjoyed several of these quotes:
YourTango: Do you feel sexier now in your 40s than you did in your 20s?
Dita Von Teese: Definitely. I'd say between my 30s and now I've felt my best because I don't have to try to get acceptance from other people anymore. I feel very settled in myself, this is who I am. It's easy for me to say what I want.

YourTango: Are you dating anyone?
Dita Von Teese: No, I'm single, just dating casually. I do a lot of juggling of dates. It's fun.

YourTango: Do you want to get married again?
Dita Von Teese: I'd love to, I just haven't met the person I'm ready to get married to.

YourTango: Do you want kids, either having your own or marrying a man with children?
Dita Von Teese: I'm open to anything. I don't have any restrictions. I try to be open to whatever happens.

YourTango: What's the quirkiest thing you do when it comes to love and relationships?
Dita Von Teese: There are so many tricky elements about dating. I'm always struggling with how to bounce a man out of bed. There's no nice way to say, 'You can't sleep here.' I'm still struggling with the lingo for that. When I was in my 20s, any guy I was with would get up and go home, and now they don't want to leave. Is it because my bed is so comfy? I don't know what that is!

YourTango: Is there a celebrity people would be surprised to know you once dated?
Dita Von Teese: Yes, but I would never reveal that.

YourTango: How do you keep things spicy in your relationships?
Dita Von Teese: I'm an advocate of great lingerie. I think that being open and making someone feel like they can tell you anything and you're not going to get offended is a big thing—having such a great relationship with somebody that you can tell them exactly what you want, and they can tell you what they want, and nobody ever gets their feelings hurt or feels weird or uncomfortable.

YourTango: What are the biggest mistakes that guys make in the bedroom?
Dita Von Teese: Trying to learn about sex through p0rn.

YourTango: What are the biggest mistakes that women make in the bedroom?
Dita Von Teese: I don't know, it's been a long time since I slept with a woman! I guess you'd have to ask a man. No, I know what you mean. Women need to stop thinking that men are judging their bodies. Men don't care about cellulite. Men aren't looking at your stomach. They're so happy that you're there and you have your clothes off!

YourTango: Where's the wildest place you've had sex?
Dita Von Teese: My wildest sex has been behind closed doors because you can be more free. My days of public sex, I don't really do that sort of thing anymore.
I laughed at the part about trying to learn how to "bounce" a guy from her bed. Imagine you're that dude and you just slept with Dita Von Teese and you're like, "Yeah, I'm spending the night!" And she's like, "Um, no." I wonder what celebrity she's dated but won't reveal? I've always wanted her to get with George Clooney – I think they would be a great couple. I was half-expecting to hear her say that they had dated at some point.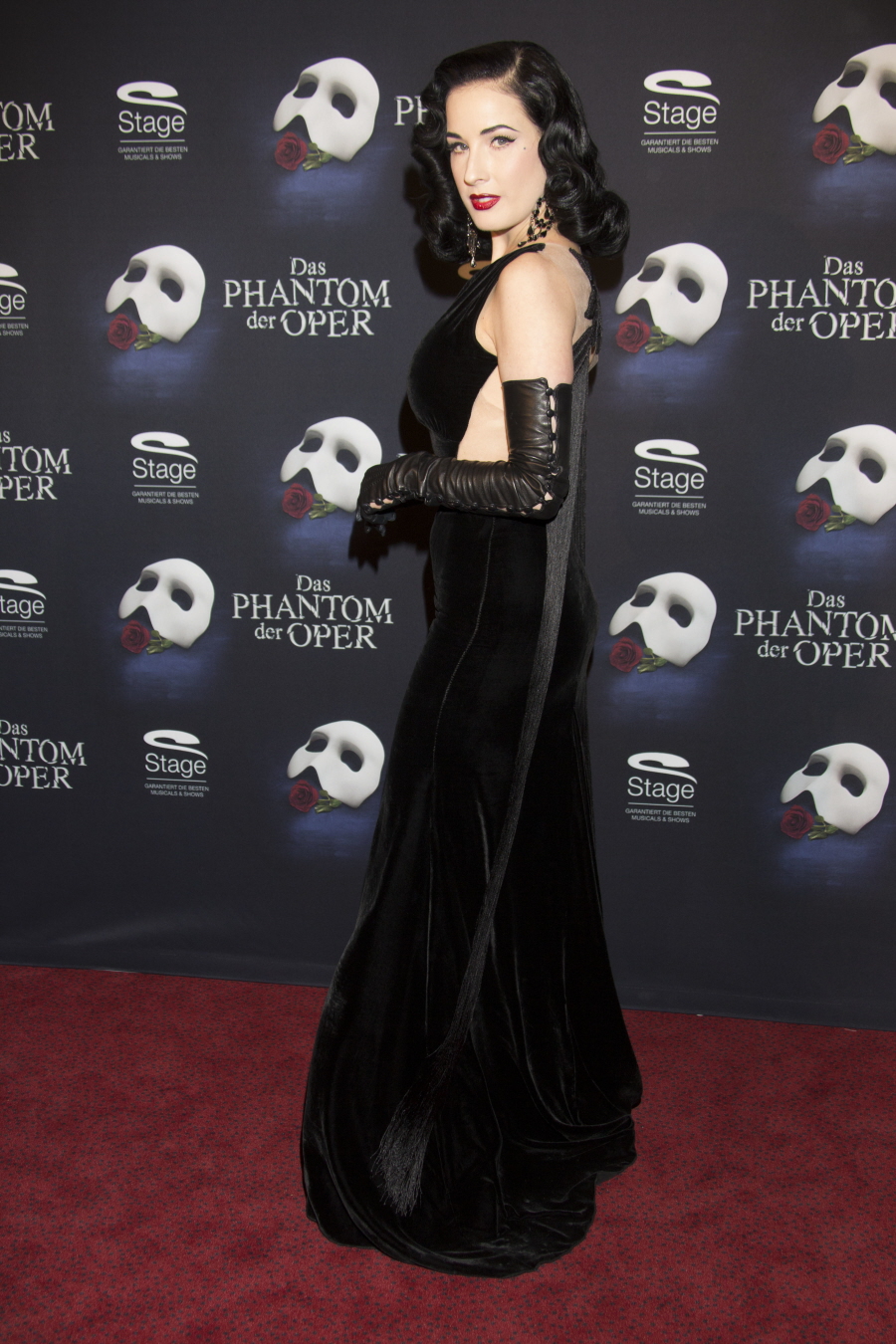 Photos courtesy of WENN.