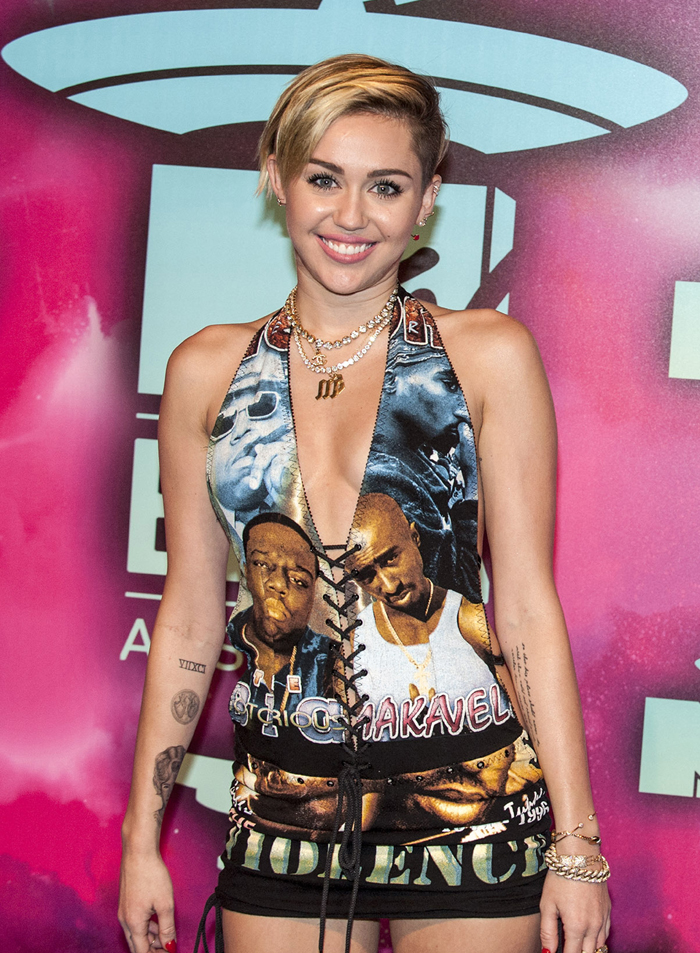 Yesterday we talked about Miley Cyrus' new video for "Adore You". The video featured Miley rolling around under gauzy sheets and pretending to touch herself. The video leaked one day early on Christmas Day, and I remember looking at the views yesterday (they were at about 20,000) and thinking, "Oh how the 'mighty' have fallen." Miley shattered the VEVO record with "Wrecking Ball" (19 million views in 24 hours), but that was because she was naked on a wrecking ball. Duh. Well Miley thinks people tuned into that video because of her awesome singing and artistry. She's fronting like "Adore You" would have brought the same number of VEVO hits if it had been properly released on the planned day.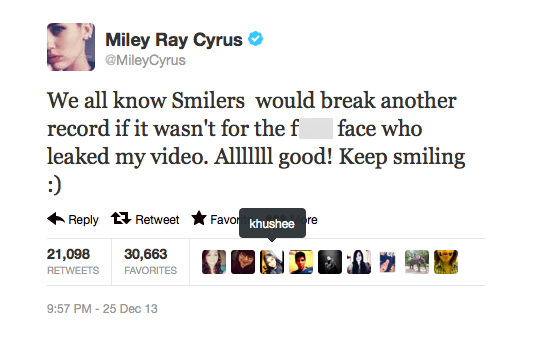 Riiiight. I'm guessing someone on Miley's team (Larry Rudolph?) leaked the video a day early so they could pretend that a lack of VEVO views didn't matter. Miley is heading out on tour in February, and "hopefully some people show up." You'd better believe her team is nervous.
Miley has a new interview out with the New York Times. It's been over a month since Miley did a true media blitz, and this interview puts Miley back in obnoxious form. She talks about her minstrelsy at the VMAs and says the "new Miley" is all just an act. As in … she doesn't really sit around dropping perc and molly and smoking pot all day. Ha. She also shades Joe Jonas for saying Miley pressured him into hitting a joint. Plus Miley says she chose to lose that Vogue cover (?), and she forecasts her own irrelevance. Let's do this:
She wasn't racist at the VMAs: "It's actually really funny how many people could watch my performance, and they think it was, like, sexist and degrading to women, and somehow people found that it was racist, which I couldn't even wrap my mind around. Because I'm like: 'How do I win? If I have white dancers, then I'm racist. If I have black girl dancers, then I'm racist.' We know we're not racist, and I know I'm not putting down women. People got a rise out of me saying that I was a feminist, but I am. I'm telling women be whoever you want to be."

Her transformation is all an act: "I went from people just thinking I was, like, a baby to people thinking I'm this, like, sex freak that really just pops molly and does lines all day. It's like, 'Has anyone ever heard of rock 'n' roll?' There's a sex scene in pretty much every single movie, and they go, 'Well, that's a character.' Well, that's a character. I don't really dress as a teddy bear and, like, twerk on Robin Thicke, you know?"

Forcasting her own irrelevance? "Last night, I was talking about some Madonna performances, and I said, 'At some point, everything becomes irrelevant.' Like, no one even thinks about when she did 'Like a Virgin' at the V.M.A.s. That just becomes a standard, where it's just like, 'Oh, that's her thing.' So, I feel like now that I did the V.M.A.s, that just kind of became a standard for me, and then anytime I do anything else, they're like, 'Miley kept it tame tonight.'"

The difficulty of being Miley: "I watch everyone's music videos, to the point where I'm O.C.D., looking at every single thing they're wearing and what they're doing. Before, because I didn't have my own personal self yet, it was hard for me to watch that kind of stuff. I was so jealous of what everyone else got to do, because I didn't get to truly be myself yet. But now I realize how much they're not being themselves either. You don't have to be signed to Disney Channel to be put in a box, or to be rated PG. I'm with artists sometimes, and I'll take a picture of them or whatever. They make me delete it. It's insane. I'll get someone to, like, flash me, and they'll be, like, 'You have to delete it!' I had to do that when I was 14 or 15, but even then I didn't care. Like, if someone was videoing me ripping a bong, I didn't care, so it's just funny to me. I'm like: 'Dude, you're 30. Like, why can't someone see a picture of your [breasts]?'"

Hmm: "I don't have a bunch of celeb friends, because I feel like some of them are a little scared of the association. This is terrible. I was backstage with [the rising pop star] Ariana Grande. I'm like, 'Walk out with me right now and get this picture, and this will be the best thing that happens to you, because just you associating with me makes you a little less sweet.'"

On Joe Jonas blaming her for his pot smoking: "If you want to smoke weed, you're going to smoke weed. There's nothing that two little girls are going to get you to do that you don't want to do. I thought maybe he was saying that like it was going to make him look badass. We were so young that it's actually like, 'How did you get peer pressured by me?'"

Did she really lose a Vogue cover? "I can't say too much. But it was where I was kind of going to have to do this trade-off, and I wasn't willing to. Right now, me doing any kind of cover for anything that's like, a Seventeen or Teen Vogue or whatever, the way that I talk isn't the way that people that are 17 really understand. There was a thing that Kurt Cobain said, something like, 'There's a special place in hell for people that glamorize drugs,' and I never want to be that person that's, like, talking to 16- and 17-year-olds and being like, 'Smoke weed.' I've got a little sister. I don't want her to smoke weed, and it's not because I think weed is bad, but … she'll make the choice. Or even, like, my language. I don't know how to not talk the way I talk. I would rather have everything I do be 100 percent honest. I just want to be who I am."
[From New York Times]
Miley is just full of contradictions. She's says everything she does is "100 percent honest," but somehow she's still just playing "a character." I don't really understand what Miley's saying about her lost Vogue cover. Miley wants us to think she gave the foam finger to Anna Wintour, but it's coming out all wrong. Or maybe the Vogue cover was really a Teen Vogue cover all along. In that case, Miley doesn't understand that all of her antics are influencing teen girls whether she covers their damn magazine or not. They read the internet where all these interviews show up. They see photos of her at events where she's wearing nipple pasties and thongs. She's so ridiculous.
Oh and Miley tweeted this before-and-after picture of the Cyrus family. It's comforting to know that Billy Ray's facial hair never changes.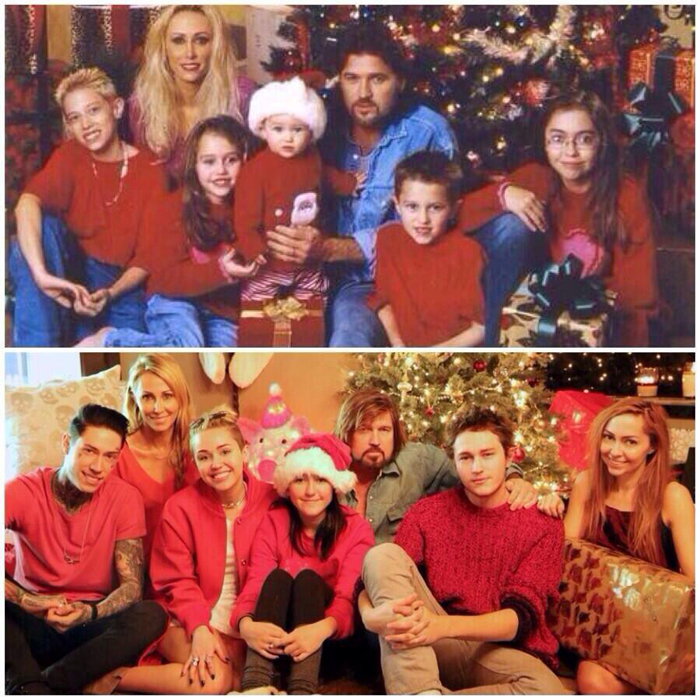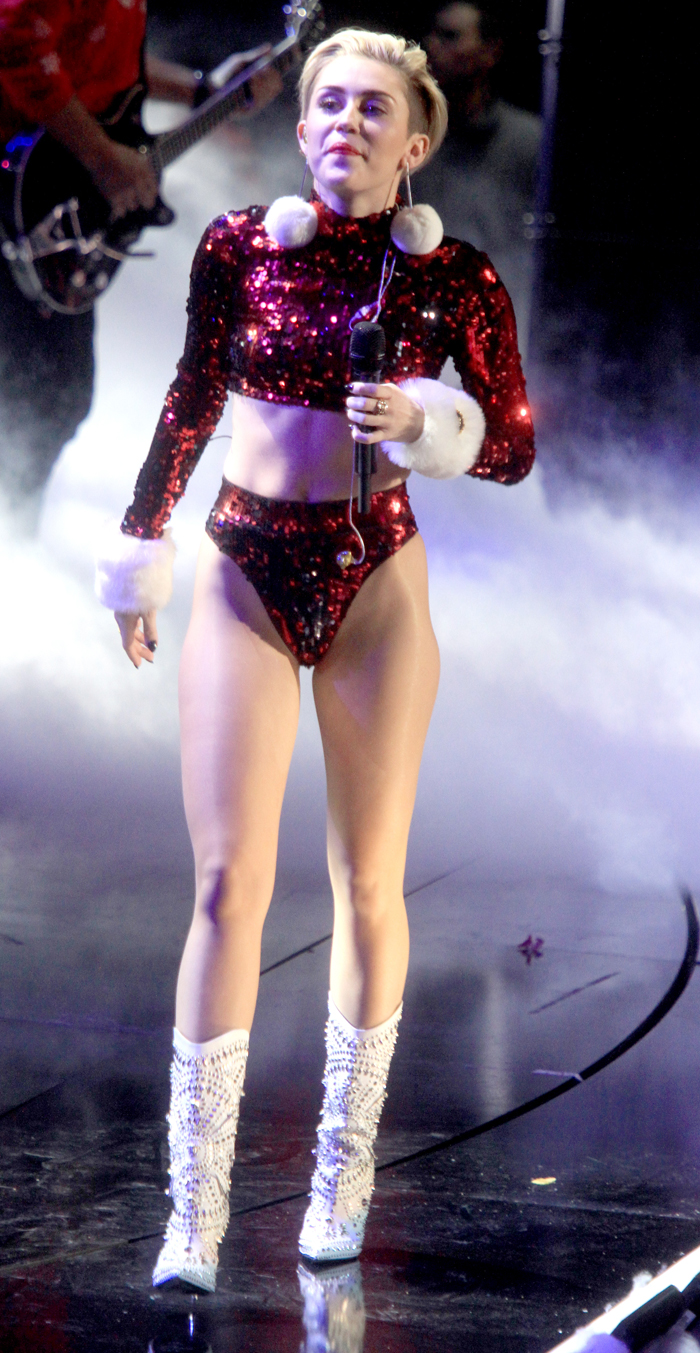 Photos courtesy of Miley Cyrus on Twitter & WENN