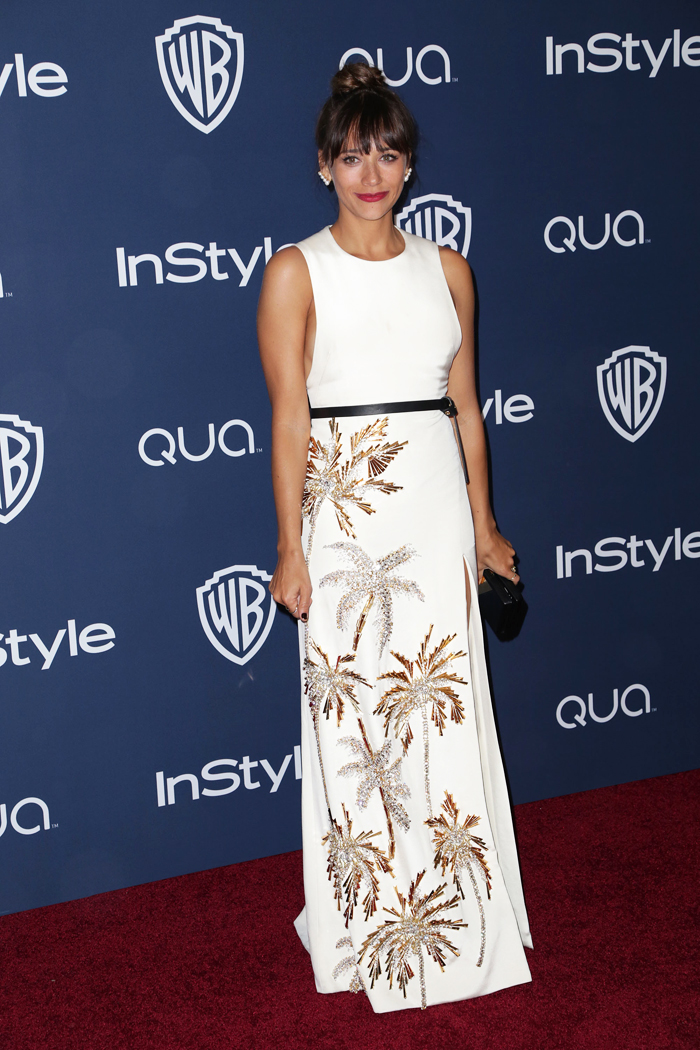 Rashida Jones sat down with the Guardian for an interview to promote the UK release of Cuban Fury, which sounds like a comedy about a washed-up salsa dancer. I don't know. It seems like a weird movie that won't do well at the box office. (It's not out in the US until May.) Maybe we'd watch on USA Network reruns in a few years, right?
Rashida is undeterred by this unpromising film, which she doesn't talk about at all during the interview. That seems telling. What she does discuss is a supplement to her outspoken message to female celebrities: "Stop acting like wh-res." Her outburst came after a steady buildup of Miley twerking and Lady Gaga booty-crack single covers. Rashida had a valid point for sure. What's really sad is that Gaga's crack didn't boost sales at all. Rashida followed up with a Glamour column about how she yearns to "just like a song without having to take an ultrasound tour of some pop star's privates." I dig that sentiment, but I still think Rashida shouldn't have used the "wh-re" descriptor. Let's go in for another chapter:
On the pressure to be sexy: "Oh God, that whole LA Barbie doll look, right? It's weird that everybody wants to look like everyone else. I love what you can do with fashion, but that look is just not my nature. I like conservative dressing. I don't like to dress to tell people that they want to have sex with me."

She's not a Hollywood brat: "It was never a reaction, really. I'm obsessed with the nature/nurture argument, and the older I get, I think nature is paramount to everything. I am who I am, and I wanted to go to Harvard when I was four years old, and I still wanted to go when I was 18, and so I went. I was never going to be like, 'You know what my last name is, right?'"

Her childhood was awkward: She was "a chubby nerd. Nobody was trying to have sex with me, so I had to find other things, like reading and being good at school. That is so it. Every time I look at a photo of myself as a teenager, I think, this is who I feel like. So uncomfortable, so sad, so much food… On family vacations, I used to wake up before everyone else and make a sourdough bread sandwich with butter, eggs, bacon and cheese, and then go back to bed and, like, one hour later be, 'So what's for breakfast?'" She laughs. "So sad."

Limited roles for women: "I realised I was in this small space with all these super-talented women vying for one part in one movie, and it was always the sh-tty part in that year's one good movie: someone's wife, or someone's shrew girlfriend. So that has definitely played a part in my decision to act a little less and create a little more, because I want to add more to that conversation about what it takes to be a woman."

On telling girls to stop acting like wh-res: "I'm just asking people to take a breath and talk about it. I also wanted to say there's more than one way to be a woman and be sexy — like, you're a really great dancer, or you're really f—ing smart."

On criticism of her Glamour column: "I'm old enough to say, just f— off. But to suggest that the way to be a feminist is to snark about other women is such a dangerous example to set."

On possible nepotism: "I would never say 'poor me', but there definitely was a lot of pre-judgment about how I got my job in the beginning, when the truth is I was just another actress getting knocked back at auditions for years. I do have a hang-up about it sometimes. No, I just don't care any more." These days she is just happy no longer "having to fight for the sh-tty role. I feel things are changing, and there are real female comedy stars now — and that's exciting, isn't it?"
[From The Guardian]
Rashida's denial of nepotism caused a few eye rolls over here. It's hard to convince celebrity offspring that they do get their feet in the door a little easier than civilians do. Rashida does make an excellent point about limited roles for females though. Natalie Zea tweeted a few choice words on that very same topic a few weeks ago. Natalie welcomed Michelle Monaghan to "the 'Underwritten Wife Character on an Otherwise Brilliant TV Show' club." Funny but sadly accurate. If Rashida is serious about creating better roles for females, then nothing but good can come from this.
On the whole "sexy" debate, I obviously don't have a problem with Rashida choosing to dress conservatively and not flash her hoo-ha every time she exits a car. It's nice to have a little feminine mystery from a female entertainer. I only wish she'd figure out how to style herself a little better. She picks some awful dresses. You don't have to be frumpy to not show off your rack.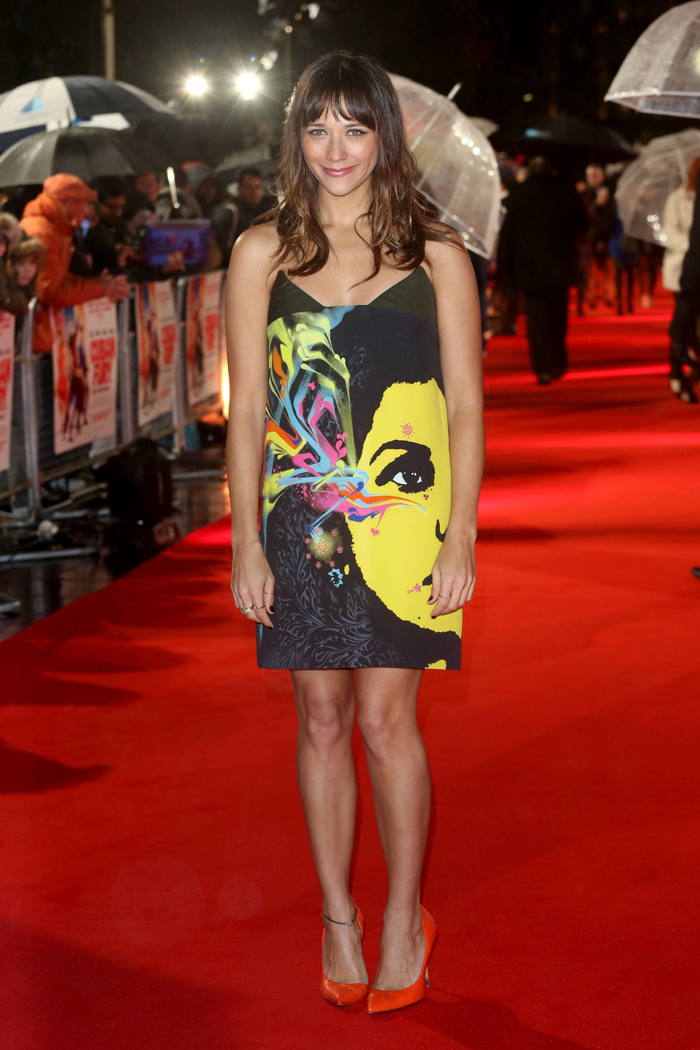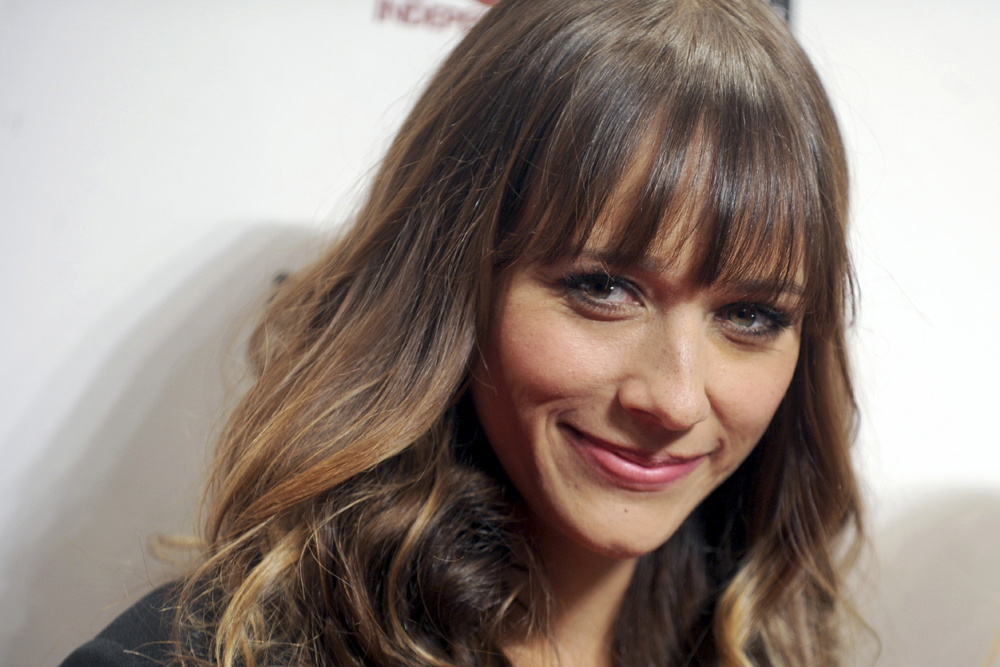 Photos courtesy of WENN