Did Jessica Alba get a nose job?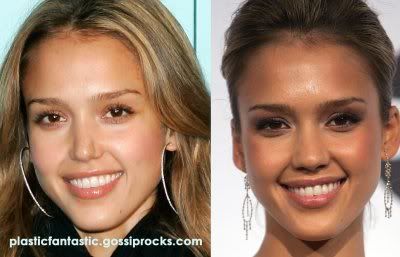 Plastic Fantastic is reporting that Jessica Alba's nose looks surgically altered based on photos taken of her several days apart last week. At the ALMA awards on 5/7 her nose looks normail, but in a photo taken at Joe Francis' birthday party on 5/11, it looks pinched and strange. The article explains:
It's most likely that she's just sucking in her nostrils, but her face looks too natural for her to be doing that. Also her nostrils don't look deflated, which would occur if she was using the muscles on her face to "squeeze" her nose down. But she's smiling very widely.
If she did get a nose job, it's bad, because it's much too small, pointy and…for lack of a better word, dinky.
Jessica has expressed unhappiness about her nose in the past, she mentioned that she can't use too much powder on her nose, because it's round.
A rhinoplasty usually takes a few weeks to a month to be presentable, but apparently Ashlee Simpson's nose job healed in 5 days as well – and hers is very real and very apparent.
They can use injectable fillers above and below a hump, like Ashlee's nose, to camouflage the hump, but to shrink a nose you actually need to do a full on surgery to remove material from inside.
It's possible she's wearing a lot of makeup, and has taken anti-inflammatories such as bromelain, arnica and cortisone steroids. Or she's just squeezing her nose. On some of the close-ups, here, there's some slight discoloration around her cheeks, close to the nose.
At first I didn't believe that Alba got a nose job, but then I looked carefully at several before and after HQs and her nose seems to take up less space now. You can see a real difference in these two pictures:
Before HQ: 5/7/06
After HQ: 5/11/06
There's a little discoloration in her cheeks near her nose as the article mentions. Her nose could look smaller due to a difference in the lighting or makeup, and it's not that clear cut a difference across different photos. Her new nose doesn't look as bad as the article suggests, but it was cuter before.
There is also a good debate on the gossip rocks forum whether or not she's had a nose job.
Here are some more pictures to compare for yourself. These are pretty big, but you can see super high-res versions at the source:
Before pictures
After pictures
Written by Celebitchy

Posted in Jessica Alba, Plastic Surgery

- Friends reunion on Ellen [Popsugar]
- Lindsey Vonn watches Tigers kids [Lainey Gossip]
- George Michael fell out of a car going 70mph [D-Listed]
- Real Housewives of Orange County recap [Reality Tea]
- New Man of Steel trailer [Pajiba]
- Jared Padalecki's hot bod [Buzzfeed]
- Doctors confirm Taylor Swift's new boobs [Evil Beet]
- Catherine Zeta-Jones finished treatment [CDAN]
- Anna Paquin hates the paps [Celebslam]
- Lance Armstrong is gross [The Blemish]
- What is Barbara Palvin wearing? [Moe Jackson]
- This is Petra Nemcova? [SVC]
4 Responses to "Did Jessica Alba get a nose job?"