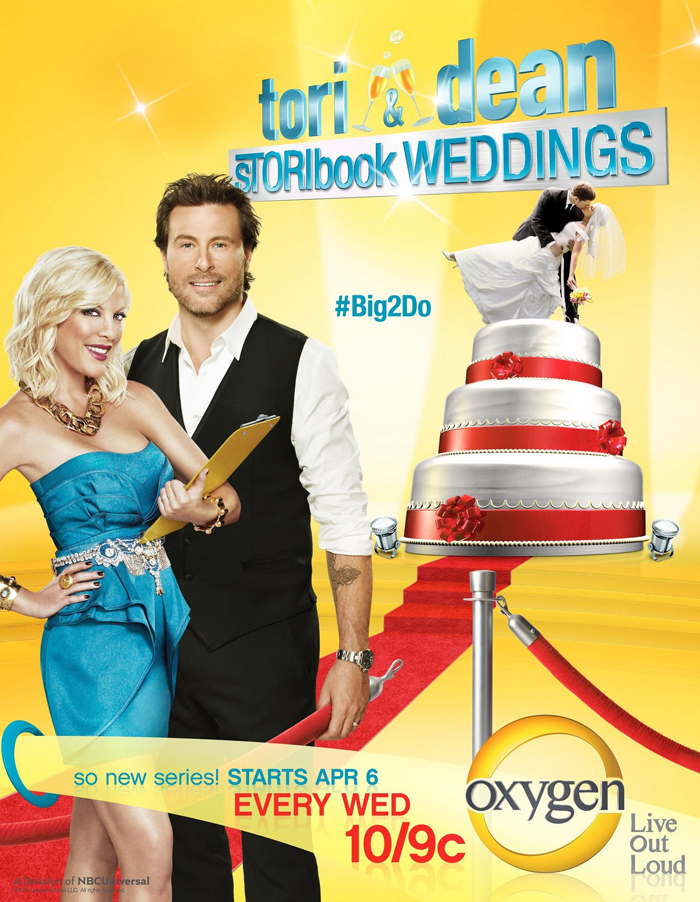 The sad, forlorn tale of Tori Spelling and Dean McDermott's crumbling marriage is a tabloid gift. This week's episode features Tori finally buckling down to manage her finances. I don't even know how much (if any) of this is true anymore. I'm just happy that Tori has newly settled a lawsuit filed against her Oxygen reality show, sTORIbook WEddings. Now I can use these hilarious promos for the show! The plaintiffs alleged that Tori had stolen their idea for the show, which saw her and Dean creating "dream weddings" for couples. LOL.
Tori is probably relieved to settle that lawsuit. She and Dean just finished shelling out $70,000 on his rehab even though the couple is too broke to afford a vasectomy. Tori and Dean also blew $10,000 on holiday last year just for fun. The tabloids tell us that the couple has dug themselves into a financial hole so deep that they cannot afford to divorce.
Then Dean went to rehab. He worked so hard attending outpatient sessions and dancing in the pale moonlight. Now Dean is home, and he and Tori are biting the bullet. They're finally budgeting their expenses and visiting discount grocery stores. A bystander told Radar that Dean is not happy about it:
Spelling's husband Dean McDermott was spotted picking up groceries for the family on March 7 at Smart and Final, a discount warehouse chain in L.A. As he rolled a cart full of toilet paper, bread, and other groceries out to his car through the crowded parking lot, "He looked miserable," an onlooker who contacted Radar reveals.

In the past, Spelling was usually spotted shopping at chi-chi celeb-friendly grocery store Gelson's Market, or the expensive Malibu farmer's market, but perhaps those days are over for her family.

That's not the only way her retail habits have changed. As Radar has reported, Spelling recently closed the doors to her Sherman Oaks store InvenTori, insisting that she would reopen in another as-yet unnamed location.

Last fall, she opened up for the first time about her financial difficulties in her book, Spelling It Like It Is, writing, "I can't afford to live like this anymore. Our circumstances have changed … our bank account has taken a major hit."

Spelling says real estate missteps took a chunk out of her change. She and McDermott were also served with an order to "pay or quit" their home in January, but they insisted it was a misunderstanding.
[From Radar Online]
I have to wonder whether Dean expected a television deal to fall into his hands after he left rehab. Is that why he went back to Tori? Because if he actually has half the side pieces he claims, the only reason he'd go back to his marriage is for money. Dean's miraculous return would fit the pattern of Tori's carefully parcelled life story that's been hitting the tabloids like clockwork over the past year. If the expected deal didn't arrive, that could explain why Dean looks so bloody "miserable."
On a related note, Radar has chosen to publish a feature of Tori's most shocking "fake-outs" over the course of her marriage. Hmm.

Photos courtesy of Fame/Flynet, WENN, Oxygen Network & Tori Spelling on Instagram