Tori Spelling's "private" wedding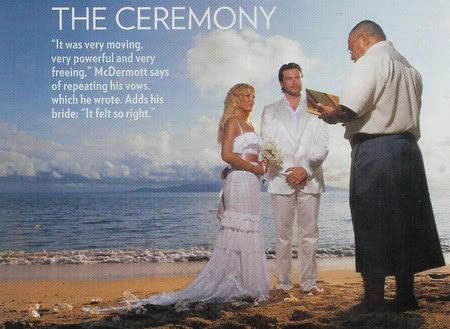 Last weekend Tori Spelling and Dean McDermott were married in a private ceremony on an island in Fiji attended by just the two of them – and a professional photographer. The couple had a large June wedding planned and the invitations were already sent out. They supposedly didn't tell anyone and decided to have a ceremony on the spur of the moment – but, oh yeah, they staged plenty of photo opportunities so that they'd have pictures to sell to People magazine.
The pictures are accompanied by cliched quotes from Tori and Dean about their wedding, like:
"It was very moving, very powerful…" – Dean

"It felt so right." – Tori


"I wanted to stay in this moment forever with him." – Tori
Trite details are included about the ceremony and reception, in which Tori and Dean did dumb shit just for the cameras:
The couple sipped mojitos and were treated to a traditional island show called a meke.
After the ceremony, the pair built sand castles complete with banners that read "McDermott Castle," "Truly," "Madly," and "Deeply."
The couple's first dance [in the water] was to "Amazed" by Lonestar. "My dress was soaked on the bottom and his pants were soaked."
How annoying is that? When "celebrity" couples get married on a private island, you're supposed to be spared the details and the pictures should be far away and blurry.
Tori Spelling is widely rumored to be pregnant, which would explain the rush wedding and Tori's pouchy stomach.
Dean McDermott's ex-wife, Mary Jo Eustace, says that McDermott left her for Tori just two months after they had adopted a baby girl, and that he didn't give her essential money for bills. Mary Jo Eustace may not be the victim she makes herself out to be. She's shopping around a book proposal for a tell-all about her failed relationship with McDermott, and has sold several stories to the tabloids.
These pictures were published in People magazine. When better scans come out, we'll replace them. [via]
Written by Celebitchy

Posted in Photos, Tori Spelling, Weddings

- Mariah Carey lip synced on American Idol [CDAN]
- Colin Firth is looking good [Lainey Gossip]
- Internet celebrity charged with murder! [D-Listed]
- What is Paz Vega wearing? [Go Fug Yourself]
- New bachelors on The Bachelorette [Reality Tea]
- Goodbye to The Office [Pajiba]
- Bachelor Sean's fiance cheats on him [Evil Beet]
- Britney Spears out with her man [Popsugar]
- Nina Dobrev works it [Popoholic]
- Cindy Crawford needs to lay off the 'tox [Celebslam]
- Who said it: Carrie Bradshaw or The Dalai Lama? [Buzzfeed]
3 Responses to "Tori Spelling's "private" wedding"