Keith Urban & Tom Cruise attend Daytona, try to ignore each other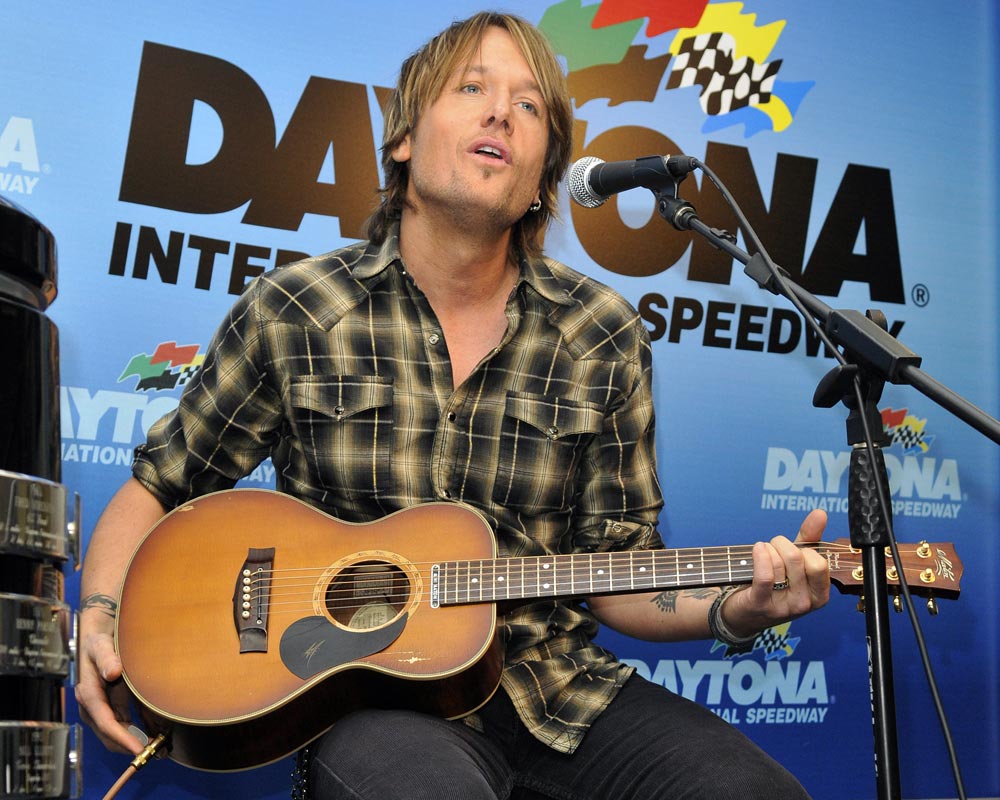 Keith Urban and Tom Cruise, the current and former husbands of Nicole Kidman, were both in Daytona on Sunday. Early reports say that the two men seemed to only meet each other face to face once, but spent the rest of the time avoiding one another.
Urban was there to perform – which he did, not only for an official concert, but he also played for the journalists who trying to ask him such pressing questions as "Keith, what's your favorite racing movie?" and "Why are you playing music right now?" Tom Cruise was there because… he loves racing? I think that's it.
TMZ is reporting that the two men "came face-to-face during the driver's meeting" and that they "shook hands and had a few laughs". It seems like manufactured drama, right? The Associated Press has more details on Keith Urban's press conference. Guess what? It seems like Keith doesn't care for Days of Thunder! Shocking.
Country music star Keith Urban performed a surprise two-song set for reporters to kick off his day at the Daytona 500, where he was the featured artist for Sunday's pre-race concert.

"First time playing a press room," he quipped before launching into "Sister Golden Hair" by America.

It was the first press room concert performed by any of the musical acts that Daytona International Speedway officials have brought before the media. Urban said he wasn't trying to one-up previous music guests Big & Rich, Bon Jovi or Brooks & Dunn, but played because "I just wanted to get in my comfort zone."

Urban took brief questions and laughed awkwardly when asked what his favorite racing movie is.

"Uhhhhh … `Cars'?" he stammered, choosing the animated movie over the more obvious "Days of Thunder" that featured his wife, Nicole Kidman, with her ex-husband, Tom Cruise.

Later, Urban and Cruise both attended the pre-race driver meeting. The two were seated on opposite ends, but Cruise heartily applauded Urban when the singer was introduced.

Urban also joked to reporters that he's never driven more than 65 mph in his personal car, before coming clean.

"Maybe 130," he said was his fastest. "It was pretty insane. It was only for a glimpse."

Urban is scheduled to perform three songs from his new album "Sweet Thing," which is set for release next month. He performed the title track for reporters to end the 10-minute session.

Urban also said he and Kidman were glad to offer their support to victims of the wildfires in their native Australia. The couple recently donated more than $300,000 to a relief fund.
From The Associated Press Hosted by Google
This is one of those times I feel bad for Tom Cruise (praise Xenu). He's been working hard, building his comeback brick by labored brick. Tom probably just wanted to go to Daytona and blow off some steam, watch some racing and have a nice day off. And now he has to deal with all of the manufactured drama. It seems like Tom and Keith were both gracious, right? Like, what's the big deal? Why in the world wouldn't Nicole's former and current husbands get along?
Tom Cruise is shown at Daytona on 2/15/09 with his son, Connor, 14. Credit: UPI/Newscom. Keith Urban is shown at a press conference at Daytona. Credit: WENN
Written by Kaiser

Posted in Keith Urban, Tom Cruise

- Who butchered the National Anthem? [D-Listed]
- Rob Lowe never ages [Lainey Gossip]
- What is Vanessa Hudgens wearing? [Go Fug Yourself]
- Summer guide to reality TV [Reality Tea]
- Game of Thrones recap [Pajiba]
- Tan Mom's music video [Buzzfeed]
- Amanda Knox is broke [Starcasm]
- Backstage at the Billboard Awards [Popsugar]
- Miley is still stuck in the 90s [Popoholic]
- Blind Items revealed: Adam Levine [CDAN]
- Hugh Hefner bought Crystal Harris a house [Celebslam]
- What happened to Aimee Teegarden? [The Blemish]
10 Responses to "Keith Urban & Tom Cruise attend Daytona, try to ignore each other"