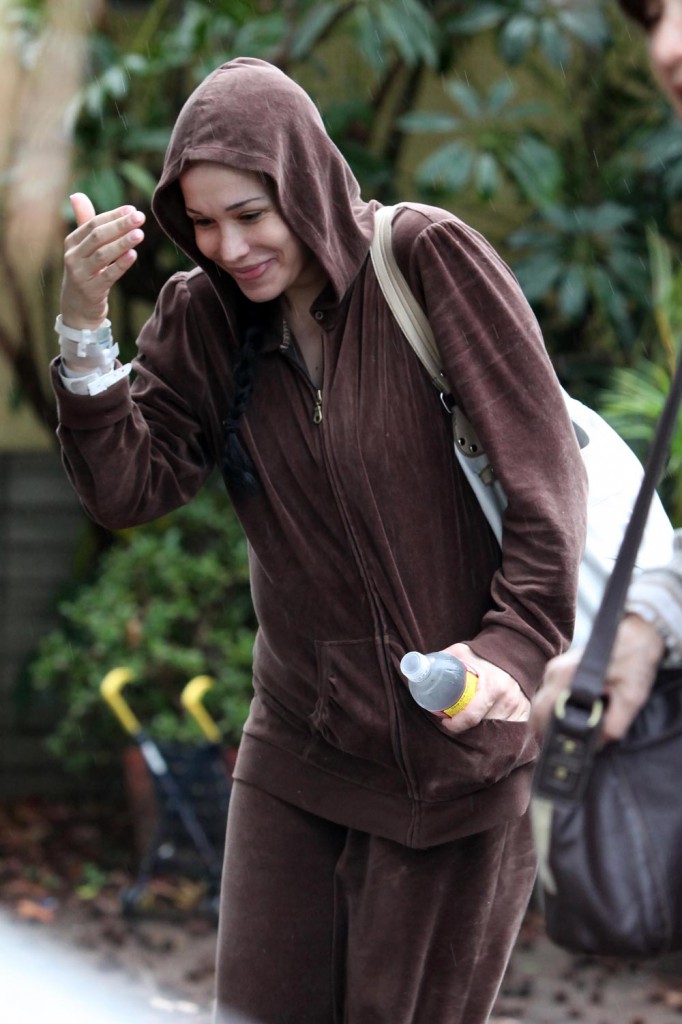 Octuplet Mom Nadya Suleman has a huge photo spread and interview in this week's Hello! Magazine from the UK and you can bet she was paid a nice sum for it. The accompanying interview features more of Suleman's by now well-recognized self-justification for having a whopping 14 children without a partner, with no job, and relying on the government and her parents for support. In the article, she reveals what many have suspected for a while: she got implanted with all six or seven embryos, it's hard to tell with her, because she thought they were all "alive" and she couldn't bear to part with even one. These are day old fertilized eggs, they're not babies. She also adds the gem that she wouldn't "allow a doctor to play God" despite the fact that many would argue that's what she's been doing all along:
Why weren't six enough?
"I wanted one more because I had these frozen embryos. Otherwise, I would have been done. To me, the embryos were alive, and I couldn't imagine not having them."

As with all your pregnancies, you had six embryos implanted. How soon did you learn that they'd all taken?
"Right away, I was told I was having five. A week later, they said six. Three weeks later they said seven." [It was eventually discovered that two of the embryos had divided into twins.]

You knew multiple births were possible, and of the health risks…
"Multiples were a concern. But never in my wildest imagination did I believe there would be more than one or two. I had to learn to let go of that fear [of multiples], because I believe things happen for a reason. I will not allow a doctor to play God and pick which embryos are more valuable than the other. My children are all healthy. Even my child with autism is so amazing and loving.
[From Hello! Magazine, February 9, 2009, print edition, emphasis added]
She has three kids that are getting SSI disability payments monthly from the state, and she told Ann Curry that one was autistic, one had ADHD and a third has "mild speech delay" and "maybe tiny characteristics of autism." But if she thinks they're all healthy then the state of California shouldn't be footing the bill for any of them, especially since her family is sending the autistic son to a private school that costs $1,800 a month. Suleman says in this interview that more than one of her children is in private school, too. She also adds the same lie she's already been caught telling that she's not on government assistance, technically she's not on "welfare," but then backtracks and admits to using disability for her children and food stamps "temporarily." As for how she'll go back to school, she somehow believes her college's daycare center is going to accept all eight of her newborns along with her twins.
Are you living off welfare now?
"I've never been on welfare nor do I intend to me. I did resort to receiving food stamps. That was way before this pregnancy. Had I been taking advantage of the system I would have taken them years ago. I feel guilty. I was reluctant." [Note by Celebitchy: it's hard to tell what she means here, but this is how it is written]

You are now planning to go back to university to finish your master's degree in counselling. How can you possibly manage this?
"I'm hoping the babies will be strong enough to attend the daycare center on my university campus. So the twins and octuplets will go there. The others will be in school, except for Aidan who is autistic – a nanny is imperitive."

You were injured… in 1999… Are you still receiving any disability payments?
"No. The only help I get that will probably continue is for Aidan. Two of my other kids have been receiving help, but it's only temporary.
[From Hello! Magazine, February 9, 2009, print edition, emphasis added]
You can see how she justifies her lies to herself. She says she doesn't get welfare or government assistance, but then admits she does get "temporary" assistance.
On how she is going to manage with her children, Suleman reveals that she plans to write a book. She recently told TMZ that she had no plans to do reality show and called it "exploitation."
"When Aidan was diagnosed with autism, I had thought of writing a book. That's still a goal. Now, of course, I'll include the octuplets."
I wonder what kind of advance she's asking for. The state of California is laying off 20,000 state workers because it can't afford to pay them. She needs to have all government assistance immediately stopped. I wouldn't say this if I thought her children would suffer at all.
Nadya Suleman is shown visiting her babies in the hospital on 2/16/09. Credit: SplashNews