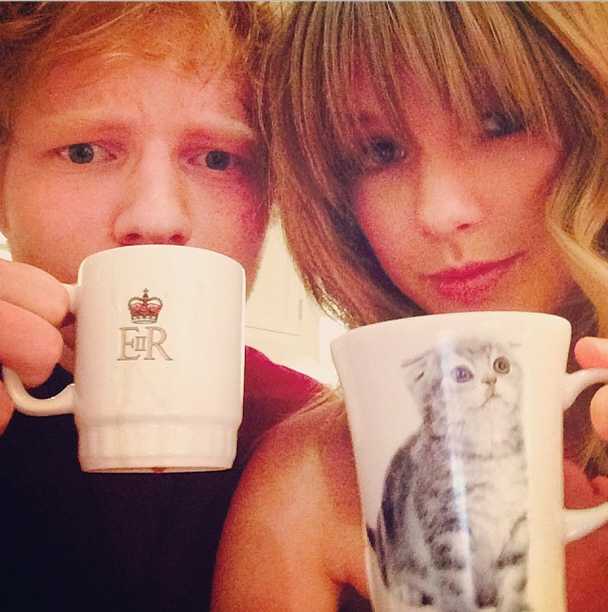 Even though I think Taylor Swift is a very strange bird, one of my favorite parts of Swifty's life these days is her friendship with Ed Sheeran. They've collaborated on some songs, they've toured together, they've done shows together, and they seem to have some sort of genuine friendship. It's not just one of her weird playdates – they are genuine friends who care about each other. Swifty even made Ed a special needlepoint based on a Drake lyric – go here to see. It's a "Started From the Bottom Now We're Here" needlepoint and Ed hangs it proudly in his home, as revealed in Ed's recent MTV documentary. So when Ed was interviewed by Time Mag, they asked him about his friendship with Swifty. His answer was priceless.
When Ed Sheeran talked to TIME for this week's issue, the full conversation ranged from his go-to karaoke song ("Pony" by Ginuwine) and what will happen to his puppet alter ego for his "Sing" video (it will be used again, and then he'll eventually keep it at home in a display box), to dealing with a break up (writing a song beats crying at home) and worrying that his album will leak (if it happened to Kanye, it could happen to anyone). And, of course, the infamous Drake-lyric needlepoint.

Time: Did you make Taylor Swift anything in return for the Drake needlepoint?
Sheeran: No, but I'm not a very crafty sort of person. She's very crafty.

Obviously.
I know she's 24 but she's a sort of middle-aged woman trapped in a 24-year-old's body. She hangs out with her cat and sews things.

How old are you, at heart?
My soul age differs from day to day. It can be 8 or 80.

Can you tell when you wake up which it will be?
It just depends on what I'm doing. If I'm working it's usually pretty spot-on for work, but if I'm with my friends and the clock's off I'll go back to being young.
Yeah, I like Swift more now that I know she makes Drake-lyric needlepoints for her famous friends. It's actually sort of adorable and yes, cat-ladyish. I don't think Taylor is a middle-aged woman stuck in a 24-year-old's body. There aren't that many middle-aged women who needlepoint Drake lyrics, you know? I think Taylor has the soul of a 88-year-old cat lady who loves antiquing, kitty cats and needlepointing. She loves nothing more than to find a piece of antique lace. That's not middle-aged – she's a senior citizen, stuck in a 20-something body.
Here are some photos of Swifty out and about in NYC a few days ago. I love that dress.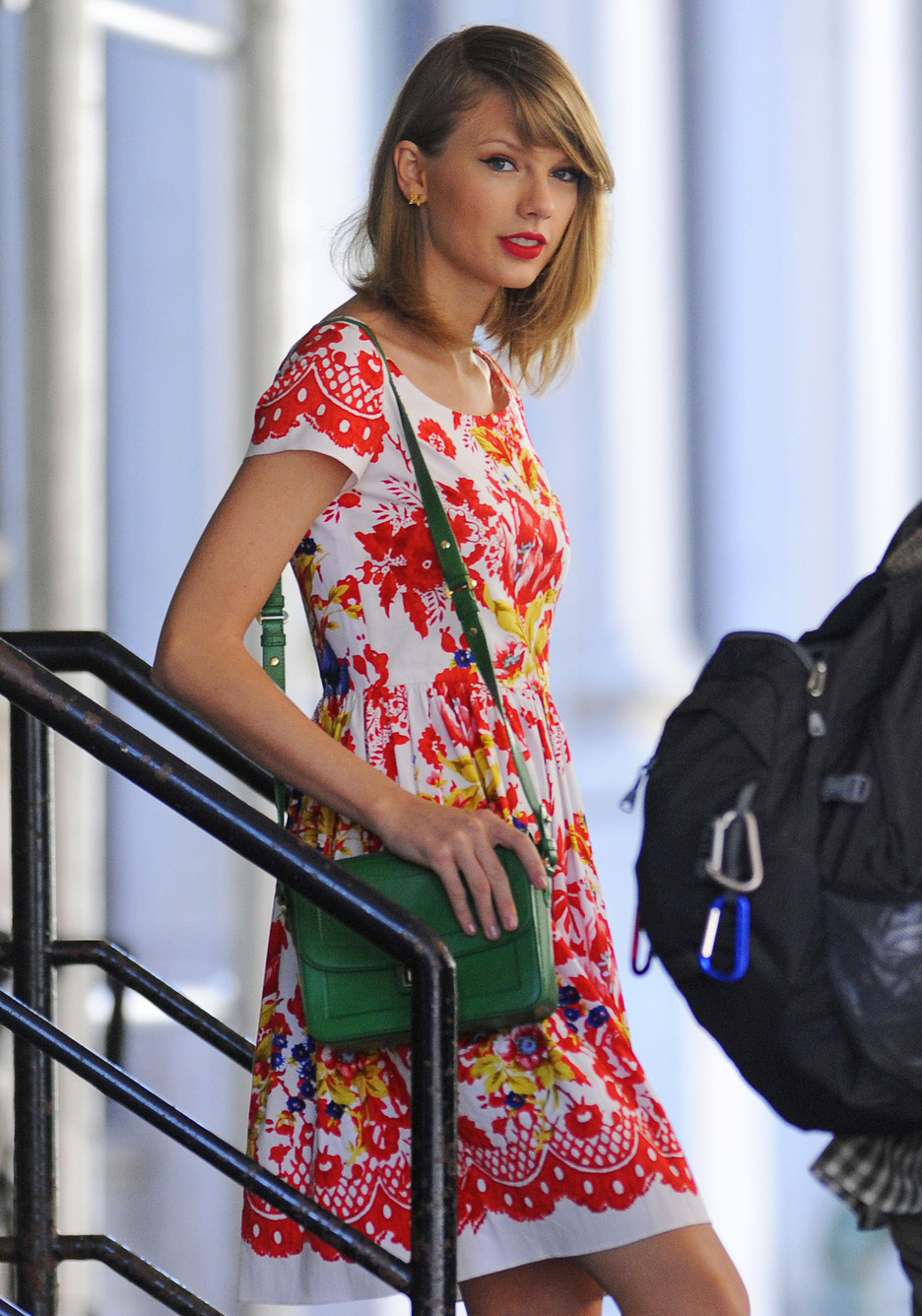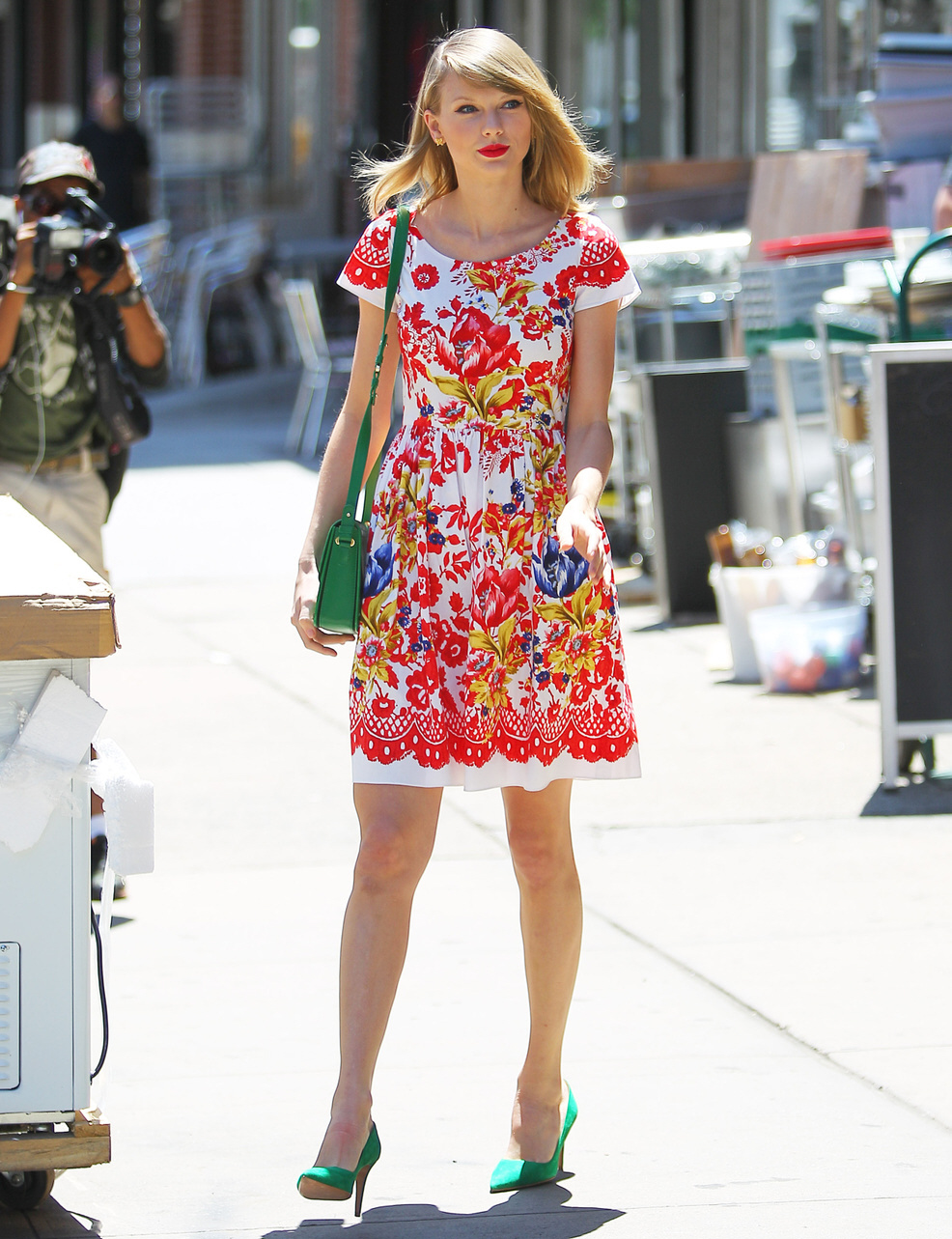 Photos courtesy of Swift's Instagram, Pacific Coast News.