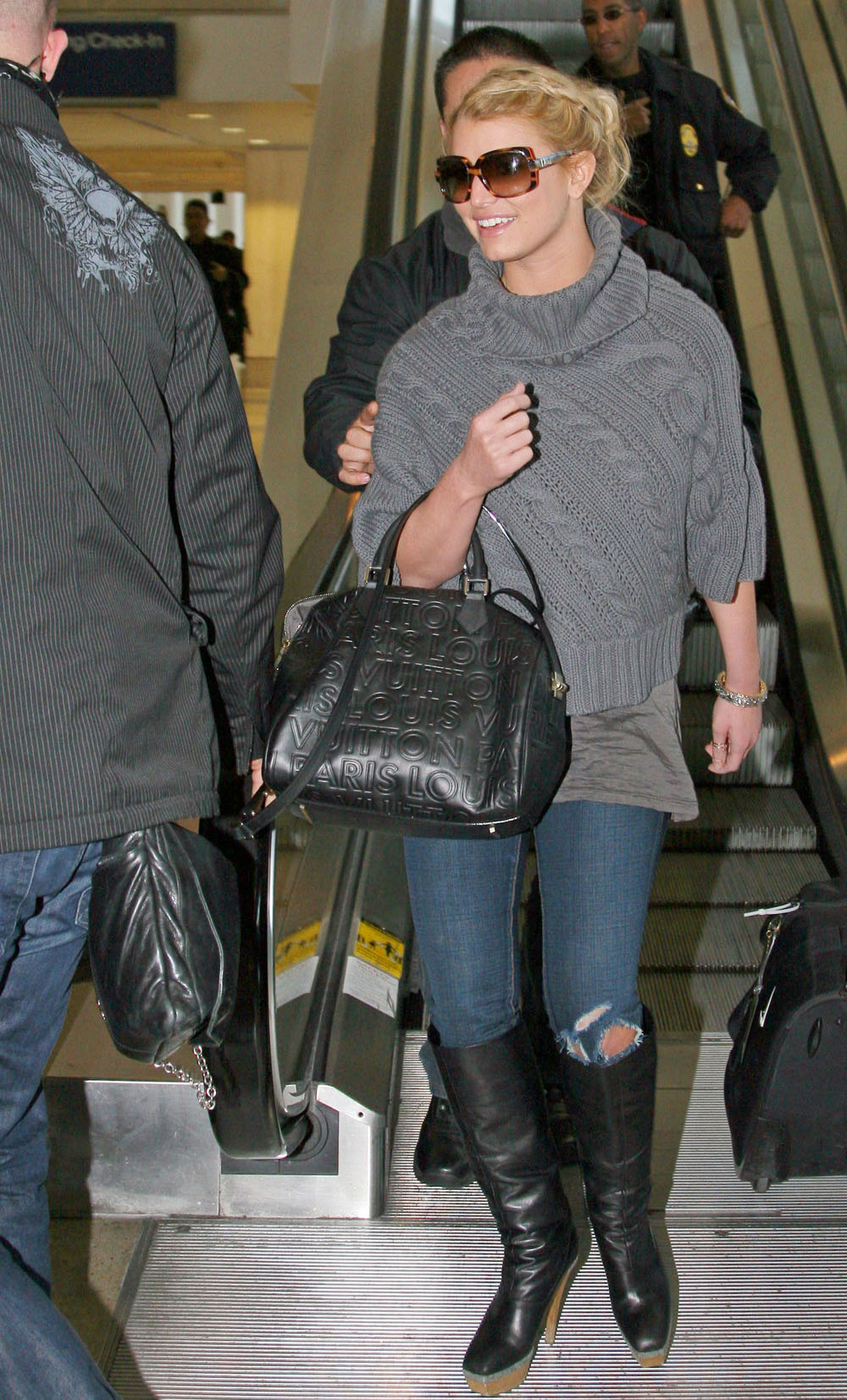 The frenzy over Jessica Simpson's weight has died down a little, but that doesn't mean people still aren't trying to make a buck off it. A great example is FBE Holistic Health & Fitness in Los Angeles. They've offered Jess a lifetime free membership (valued at a ridiculous $21,000 a year). And their main doctor has had the audacity to already come up with a diet and exercise plan for Simpson – apropos of nothing.
Simpson, however, has declined the offer – and has a damn good reason for it. She's happy and doesn't feel the need to go to Madonna-esq dieting extremes.
It's no secret that Jessica Simpson 's weight has gone up and down considerably over the years, but now the starlet has no excuse for any more fluctuations. The songstress was offered a lifetime membership (complete with personal consultations with doctors and trainers) to L.A.'s swanky star-studded FBE Holistic Health & Fitness, valued at a cool $21,600 per year.

The center's in-house doctor, Ken Best, already designed a program for Jessica which involves limiting "inflammatory" foods such as bread, gluten, cheese and alcohol and a strict ratio of protein to carbs that he says will enable her to shed around 10 lbs. in the first 10 days. She was also offered an unlimited run of detoxing equipment like the Infrared Sauna and Air Therapy Machine and was advised by Best to take a leaf out of Madonna's buff-bod book and get on the Whole Body Vibration Machine (we hear Madge has the pricey little device in her private home.)

However, Jessica declined the offer, and according to insiders, Miss Simpson's body change is just an sign that she's content and in love. "Jessica has been spending a lot of time in Texas so her eating habits have changed," said our source. "And with Tony on hiatus, they've been eating out more and just enjoying life together."

"When she has a guy, Jessica just seems to accept herself and stops obsessing over her body," added the insider.
[From Fox News' Pop Tarts]
I think Jessica should accept herself and not obsess over her body regardless of her dating life. But I'm glad she doesn't feel pressured to take this doctor up on his offer. Seriously, if you equate any health or fitness concept to something Madonna does, no one in their right mind would want to be linked to it. But that Infrared Sauna and Air Therapy Machine sure sounds extreme enough for me to believe Madge owns one. It's clear the "spa" is just trying to profit off of Jessica's weight-based notoriety. She's handled the whole thing with aplomb – unfortunately the same can't be said for a lot of other people.
Not that a diet restricting bread, gluten, cheese and alcohol that makes you lose 10 pounds in 10 days sounds like something you couldn't stick with in the long run or anything… but good for Jessica for saying no thanks.
Here's Jessica Simpson arriving at LAX with several Louis Vuitton bags on Sunday. Images thanks to Bauer-Griffin.