Pete Doherty's sick blood-squirting stunt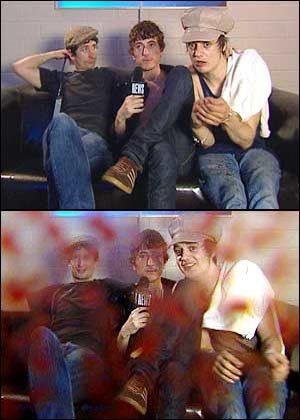 Pete Doherty squirted a syringe full of blood onto a camera during an MTV News UK interview, causing one of his band members to apologize and declare how f**ked up it was:
Troubled rocker PETE DOHERTY disgusted his bandmates and an MTV News film crew when he fired a syringe seemingly full of his own blood at cameras during a TV interview. The unpredictable BABYSHAMBLES frontman initially refused to be questioned, but turned up halfway through the interview hiding a syringe in his hand under a towel. Smirking, the singer proceeded to squirt its red contents over thousands of dollars worth of filming equipment and the terrified crew. Doherty joked after, "That was a wicked shot. That's going to make a cracking link that is." His bandmate, bassist DREW MCCONNELL, was less impressed, storming out of the room after first apologising to the MTV group. He said, "I think the interview is over my friend. "I'm really sorry about that mate, that's f**ked up." Doherty performed a song after the camera lens had been cleaned.
That wasn't just anyone's blood – it was heroin addict blood which is extra foul. The cameramen were said to fear for their health after coming in contact with the blood.
This comes right after news of Doherty smoking crack before he performed dressed in drag in Germany last weekend. He was wearing what looked like a wedding ring at the time, causing people to speculate that it was from his on-again off-again girlfriend, supermodel Kate Moss, whom he once bragged that he was going to marry.
There is a video of the blood-squirting incident, but MTV has ridiculously limited access to it to people who are in the UK or Ireland. I tried to use a UK proxy to view it, but it didn't work.
Pete's mom is writing a tell-all book about her son. There's not much about Doherty that can shock people, but it is sure to be full of interesting tidbits.
Here is Doherty in a different Channel 4 interview.
In the interview above he talks about his brief imprisonment and drug use, but he mumbles a lot and is really messed up, so it's hard to tell what he's saying. He does say he's going to "start a drug-free life." Yeah, right. Towards the end of the interview he waves to the camera and mouths "Hello Kate" when asked about his relationship with Kate Moss, but he doesn't admit much and calls the interviewer nosy.
Pictures [via]
Written by Celebitchy

Posted in Abusive, Addictions, Drugs, Pete Doherty

- Harry Styles & Kimberly Stewart going strong [Lainey]
- Demi Moore's new man is gross [D-Listed]
- Fug or fab: Emma Stone [Go Fug Yourself]
- Arrest warrant issued for Jenelle Evans [Reality Tea]
- Only God Forgives review [Pajiba]
- Hugh Jackman, scooter master [Buzzfeed]
- Who does Drew Barrymore call her sister? [Evil Beet]
- Cannes couples past and present [Popsugar]
- Arrested Development supercut [CDAN]
- Lea Michele's see through skirt [Celebslam]
- Cheating wife's lover escapes out of window [Movin925]
- Joe Francis is crazy [Starcasm]
3 Responses to "Pete Doherty's sick blood-squirting stunt"