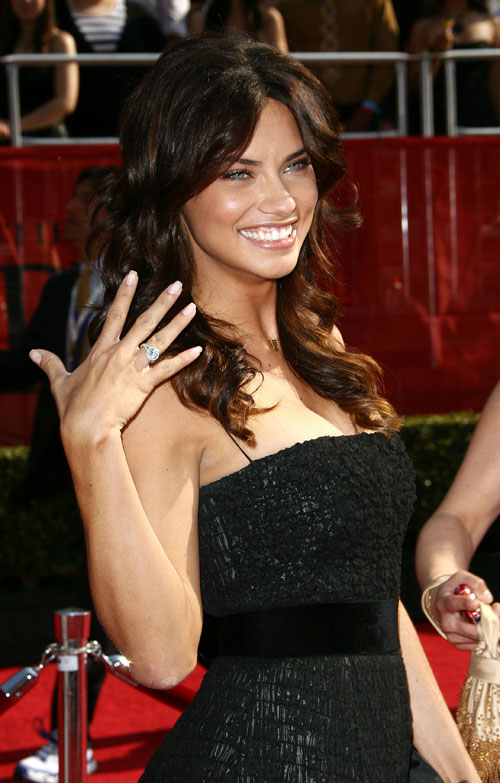 Yet another Brazilian supermodel is off the market. Sorry, guys. But from what I've seen, Brazil is chock full of ridiculously beautiful women, so I'm sure another one will be along very soon. Victoria's Secret model Adriana Lima announced yesterday that she and her boyfriend, basketball player Marko Jaric, were married in a hush-hush ceremony on Valentine's Day. Lima is one of the more famous Victoria's Secret models and has spoken publicly about being a 27-year-old virgin. Her family is devout Catholic and she has been saving herself for marriage.
An engagement ring on her birthday and a secret marriage on Valentine's Day – who knew jocks could be so romantic!

Adriana Lima, a Brazilian supermodel and a Victoria's Secret Angel, eloped with NBA star Marko Jaric on Feb. 14 in Jackson Hole, Wyo., in a small, private civil ceremony, PEOPLE confirms exclusively.

"We are so excited about our future together," says Lima. "And we are really looking forward to a big romantic wedding this summer with all of our friends and family."

The pair, who want their next wedding celebration in Brazil or Jaric's native Serbia, met in 2006 and were engaged last June on Lima's 27th birthday.
Lima broke the news on her MySpace blog before confirming the marriage to People. Who knew supermodels could even turn on a computer? I'll bet the bride had no shortage of sexy lingerie to wear on the honeymoon. Let's hope the wedding night lived up to expectations – I'm still skeptical about the whole "virgin" thing myself. Anyway, I'm sure that these two will have very tall children. Congrats to the happy couple.
Photos of Adriana Lima with new husband Marko Jaric at the 2008 ESPY Awards, shortly after the couple announced their engagement. Photo credits: Fame. Lima struts the runway at the 2008 Victoria's Secret Fashion Show. Photo credits: Bauergriffin.