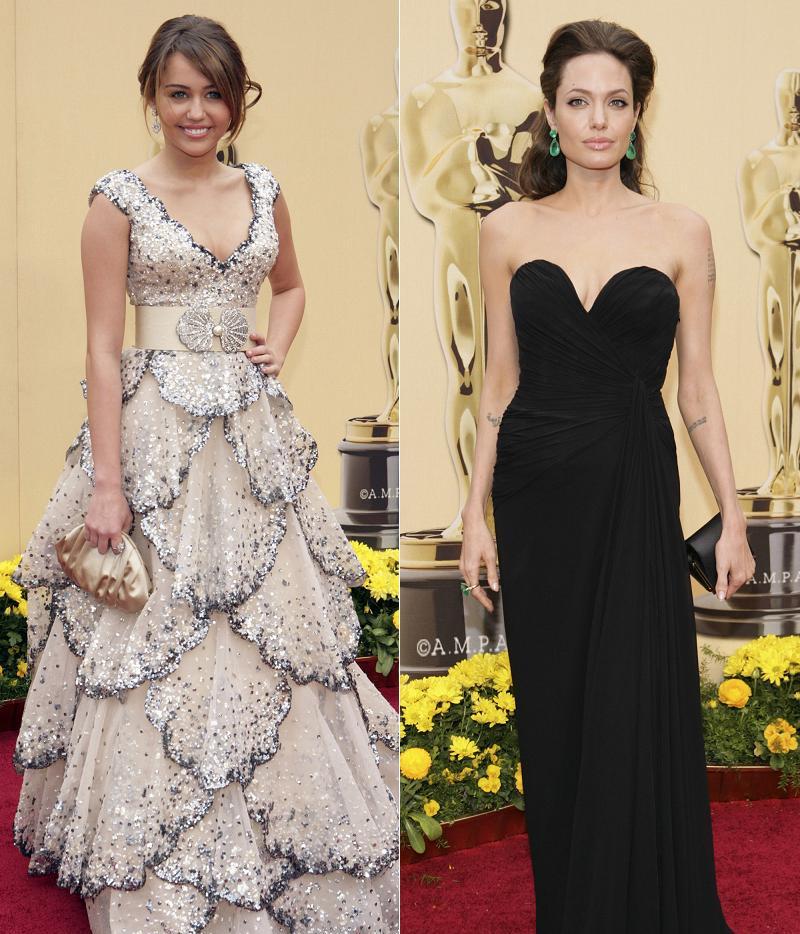 Miley Cyrus is a Brangaloonie. She revealed herself as such on the Oscar red carpet on Sunday. She was the first "big" celebrity to show up on the red carpet, so when she came up to talk to Ryan Seacrest, the interview went on and on. At some point, Seacrest asked Miley who she really wanted to meet, and Miley replied "I'm just hanging out and star-stalking…I want to see Angelina Jolie. She is beautiful. She could adopt me if she wants to."
I saw that part as it happened, but apparently Miley talked to several reporters before and after the Oscar ceremony about how much she wanted to meet Angelina. She didn't get to, though. I guess Angelina and Miley didn't collide on the red carpet, or during the ceremony. Reports indicate that Brad and Angelina didn't attend any of the after-parties – and Miley did, which speaks volumes. Two middle-aged Oscar nominees didn't party, yet a 16-year-old Disney star, fresh out of a racist photo scandal was partying it up all night. The Times of India has more:
Teen sensation Miley Cyrus is upset because she didn't get to meet her idol, Angelina Jolie, at the Oscars.

"I wanted to see Angelina, but I didn't get to see her," Usmagazine.com quoted her as saying.

In an interview to E!'s Ryan Seacrest , the 16-year-old starlet had even put a adoption proposal for Jolie. She said she wouldn't mind becoming a Jolie-Pitt.

"She's beautiful…she could, like, adopt me!" said Miley.

The Disney star walked the red carpet in an ivory silk chiffon beaded Zuhair Murad ball gown along with mother mom Leticia " Tish " Miley.
[From The Times of India]
I wonder if any of the Jolie-Pitt kids are into the Disney programming for tweens. Maddox is old enough to get who Miley is, but he probably just spends his time doing internet searches for knives. That the Jolie-Pitt kids (and by extension, their parents) probably have no idea who Miley Cyrus is, explains why Angelina might have been ambivalent about seeking out a meet with Miley. Or maybe Angelina does know who Miley is, and thinks she's a little racist brat. Who knows?
Here's Miley in her sweats as she leaves her Pilates class in Los Angeles on Friday. Images thanks to Fame.