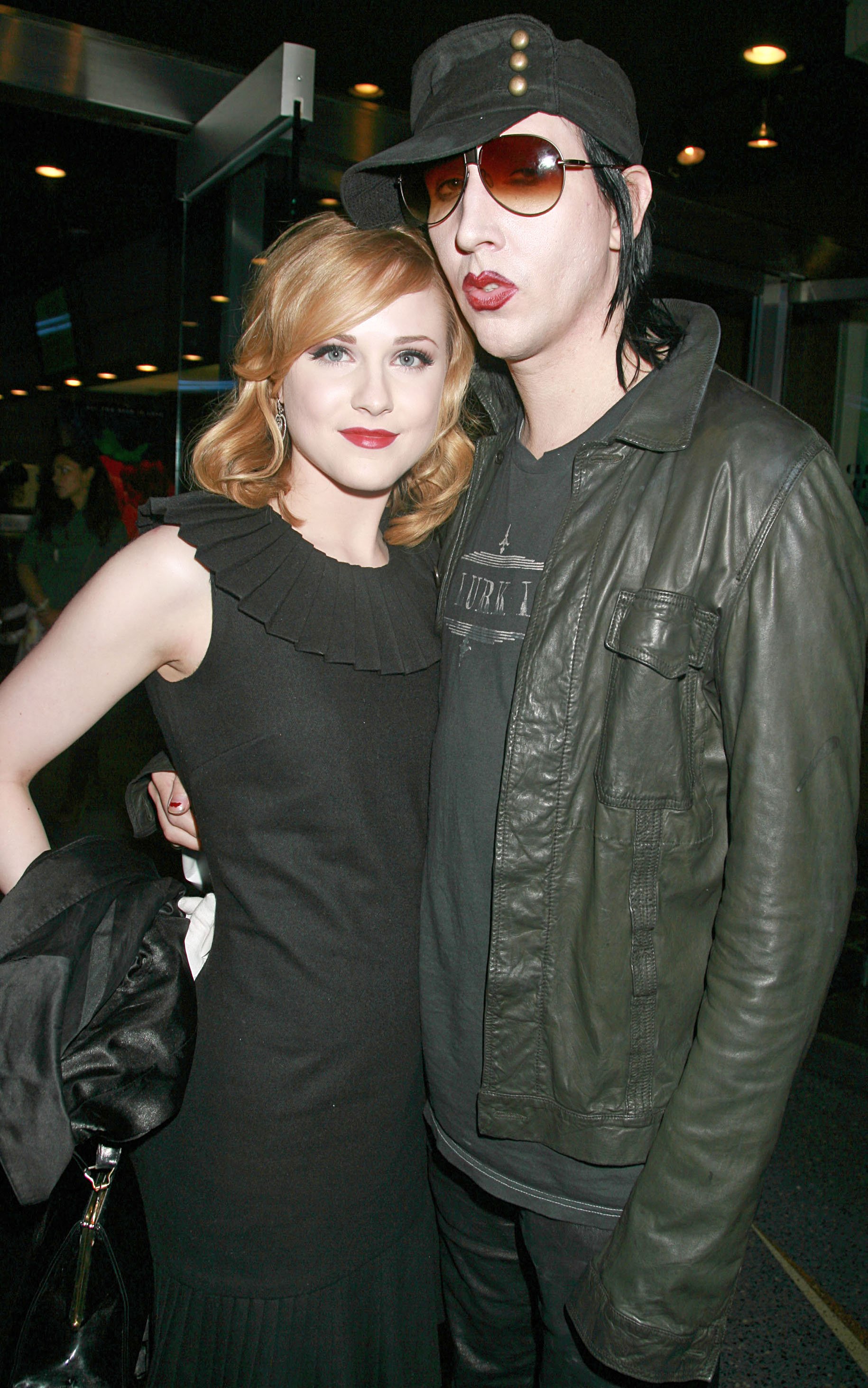 Evan Rachel Wood really has unusual – and unsettling – taste in men. Though she's been an actress for a long time, she really became famous when she dated Marilyn Manson two years ago. She was 19 at the time while he was 38. A fairly significant age difference, which is sorta creepy. Oh yeah, and he's Marilyn Manson, which is really creepy. They broke up this past November.
Wood was most recently linked to Mickey Rourke, who played her dad in "The Wrestler." That's right, she likes 'em old and crazy. I don't want to play shrink here, but it seems like Evan has some serious daddy issues. She also dated Ed Norton before Manson, and while he's 39, he strikes me as a better choice. Anyway, rumor has it that Evan and Marilyn are back together again – he even referred to her as his girlfriend.
ARE bizarre couple Evan Rachel Wood and Marilyn Manson an item again? They were seen leaving the W Hotel in LA together Sunday morning before Wood walked the red carpet at the Oscars. The 21-year-old actress recently denied rumors she was hooking up with her "The Wrestler" co-star Mickey Rourke – and now we know why. Our source outside the hotel said Manson emerged first and "said he was waiting for his girlfriend." Then, she came out and they climbed into a waiting car.
[From Page Six]
Ordinarily I'd kick and scream and pitch whatever fit I could muster. But Evan Rachel Wood clearly has such poor/messed up taste in men that I'm not going to bother. Keep on making bad decisions, let's see how well that works out for you.
My mom once gave me some really good advice. She said, "You'll never look back at your life and wish you were drunk more often." I think something similar could be said here, and it's very easy to argue that Manson is a lot worse than being drunk. "You'll never look back at your life and wish you were having sex with Marilyn Manson more." Obvious advice, but clearly something Evan needs to hear.
Evan and Marilyn are shown in 2007. Images thanks to Bauer-Griffin.