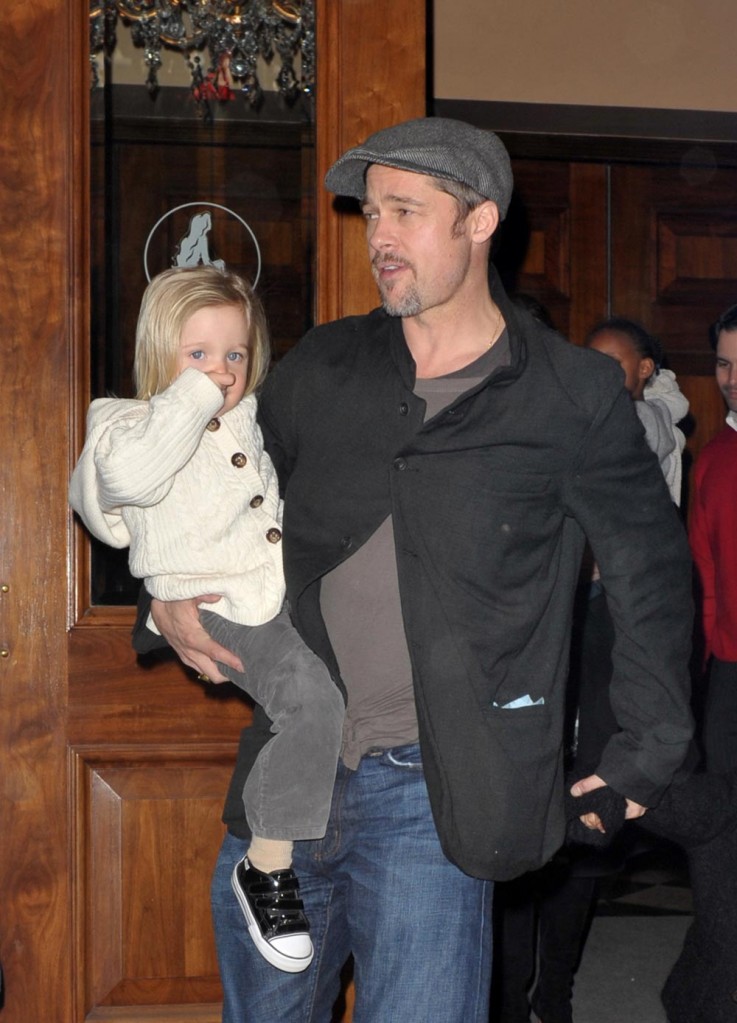 The Jolie-Pitt crew, fresh from their never-ending awards show losing streak, have moved on to New York. Last night Brad and Angelina took their four oldest kids – Maddox, Pax, Shiloh and Zahara to see The Little Mermaid at the Lunt-Fontanne Theatre in New York. In the pictures, you can see Shiloh is back to being carried by her dad, after a brief foray into walking on the ground last week. Princess Zahara looks especially sleepy – jet-lag, perhaps?
The family is in New York because Angelina has either started filming Salt, or it's still in rehearsals. The only reason I tend to think principal photography hasn't started yet if because the cast is still coming together. Liev Schreiber just joined the cast last week, and a few days ago it was announced that British actor Chiwetel Ejiofor is in talks to join the cast of the spy thriller. Reuters has more:
Chiwetel Ejiofor is in negotiations to join the cast of "Salt," the Angelina Jolie spy thriller that Phillip Noyce is directing.

The high-profile Columbia Pictures project centers on a CIA officer named Salt (Jolie) who is fingered as a Russian sleeper spy set out to assassinate the president. The woman struggles to prove that someone else is the traitor.

Ejiofor will play Peabody, a CIA counterintelligence officer.

Liev Schreiber also is in the cast, as Salt's boss and friend on the CIA's Russian desk.
Ejiofor, whose screen credits include "Inside Man" and "American Gangster," next appears in Roland Emmerich's disaster pic "2012."
From Reuters
This cast sounds great – I really love both Ejiofor and Liev. God knows how long this film production is going to take, so we'll probably have more and more pictures of Angelina and Brad out with the kids in New York throughout the next few months. I hope this "spy thriller" is shot in more places than New York, though. What's the use of being a CIA officer if you don't get to go to exotic places like Italy or Albania?
Photo credit: Bauergriffinonline