Debbie Reynolds: Jennifer Aniston & Angelina Jolie could be friends one day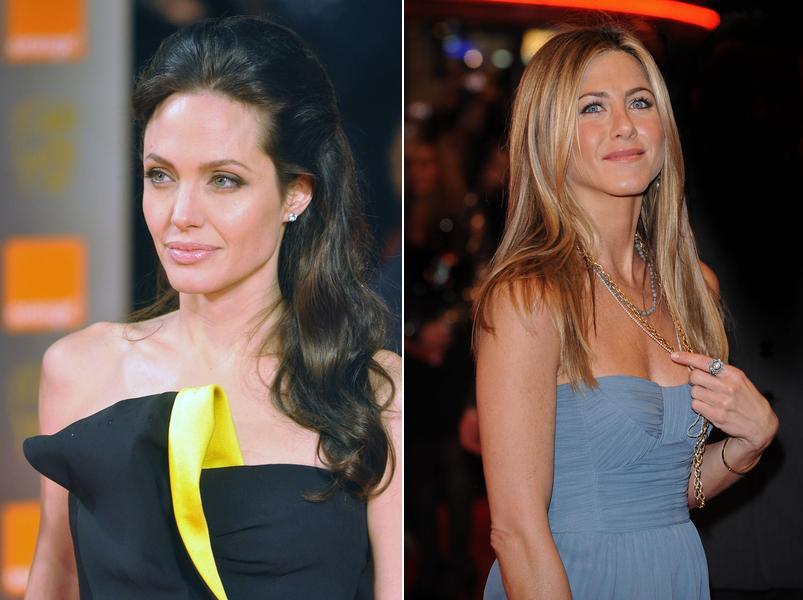 When discussing the "Bermuda triangle" of Angelina Jolie, Jennifer Aniston and Brad Pitt, many people have cited a Hollywood incident that happened some fifty years ago. They mention the "Bermuda triangle" of Debbie Reynolds, Eddie Fisher and Elizabeth Taylor. The story goes that Debbie and Eddie were married, with children, and their closest friends were Elizabeth Taylor and her third husband, super-producer Michael Todd. Todd died tragically in a plane crash that left Elizabeth distraught. Eddie Fisher spent a lot of time comforting the young widow and mother, and soon left Debbie for Liz. Just a few years after that, Liz left Eddie for the also-married Richard Burton.
I suppose the comparisons are there. Debbie Reynolds and Jennifer Aniston both have/had that same kind of "America's Sweetheart" mantle. Both Liz and Angelina have that "Beautiful Homewrecker" mantle. But comparing Brad Pitt to Eddie Fisher just seems weird. Nonetheless, there were similarities in their situations.
Anyway, Debbie Reynolds has chimed in about the recent "Bermuda triangle", and she claims that with some time, Angelina and Jennifer could be friends. PR Inside has more:
Love rivals Jennifer Aniston and Angelina Jolie could be pals one day – according to veteran actress Debbie Reynolds.

Aniston and Jolie are still feuding through press interviews, four years after Brad Pitt ended his marriage to the Friends actress and fell for his Mr and Mrs Smith co-star Jolie.
Reynolds insists the love triangle mirrors her own heartache back in 1959, when her first husband Eddie Fisher left her for close pal Elizabeth Taylor.

Fifty years on, Reynolds and Taylor have overcome the rivalry to form a firm friendship – and she insists Aniston and Jolie can too.

The 76-year-old says, "(The split with Fisher) reminds me of what happened with Jennifer Aniston, Angelina Jolie and Brad Pitt. Except we were a generation earlier." And she urges the pair to become friends – insisting there was nothing Aniston could do to keep Pitt from leaving.

Reynolds adds,"We (she and Taylor) are friends again."

"I mean, what can you do? When the man wants to leave he wants to leave."
[From PR Inside]
I've always thought that a big reason Debbie and Liz buried the hatchet was because Liz dumped Eddie when someone better came along. It just took some time for both ladies to come to the shocking realization that they were fighting over a pipsqeak like Eddie Fisher, and that they were both better off without him. Liz has admitted that she never would have married Eddie had she not been so heartbroken over Michael Todd's death, and she's often described both Todd and Richard Burton as "the loves of her life".
Here's Elizabeth Taylor, Eddie Fisher, and Debbie Reynolds in 1958.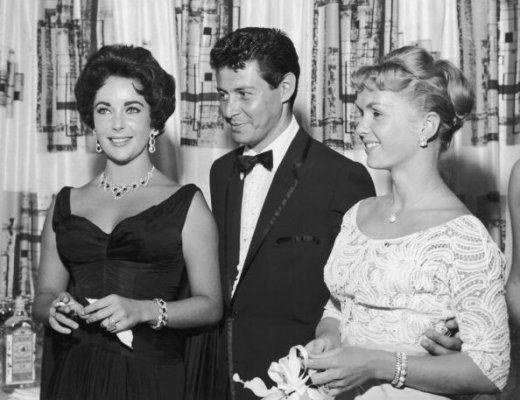 Written by Kaiser

Posted in Angelina Jolie, Brad Pitt, Debbie Reynolds, Jennifer Aniston, Liz Taylor

- The Blemish interviews Carmen Electra [The Blemish]
- Rumer Willis joins Pretty Little Liars [Lainey Gossip]
- Morgan Freeman falls asleep during interview [D-Listed]
- Fug or fab: Isla Fisher [Go Fug Yourself]
- Tamra Barney confirms spinoff [Reality Tea]
- Movie franchises that rebounded [Pajiba]
- Why Dylan McKay is the perfect boyfriend [Buzzfeed]
- Saoirse Ronan could have been a Lohan [Evil Beet]
- GIFs from Cannes [Popsugar]
- Cat massages a dog [CDAN]
- Heather Graham is so pretty [Celebslam]
- What is Lucy Hale wearing? [Moe Jackson]
85 Responses to "Debbie Reynolds: Jennifer Aniston & Angelina Jolie could be friends one day"