Jennifer Love Hewitt rumored to be dating co-star Jamie Kennedy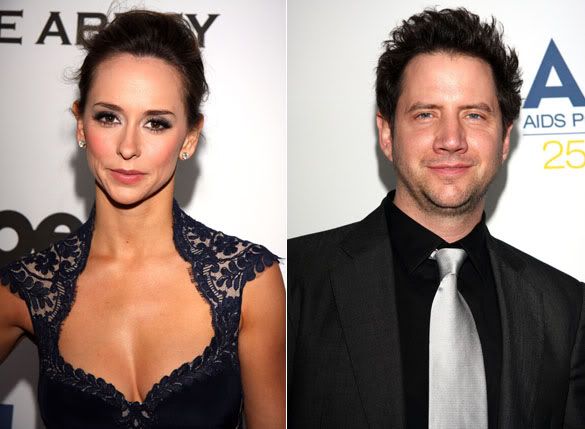 Jennifer Love Hewitt has not officially announced the end of her relationship with Ross McCall, and the last we heard was that the engagement is off but the relationship is on. Now Star magazine says that not only is the McCall/Hewitt relationship over, she's dating her co-star Jamie Kennedy.
The actor joined Hewitt to celebrate her 30th birthday last month (Feb09) and America's Star magazine claims they are now a couple.

A source tells the publication, "Jennifer and Jamie have grown incredibly close since he joined the cast of her show last fall. They hit it off right away, and her feelings for him have only grown stronger.

"She's trying to keep her relationship with Jamie a secret, telling people they're just friends, but she can't hide her true feelings.

"They work together all day and hang out most nights. And when they aren't together, they're constantly on the phone… Jamie makes (her) laugh, which she really appreciates after crying over Ross the last few months."
Star magazine is not the most reliable source, but I think we cans safely assume that Jennifer Love Hewitt and Ross McCall are done. Not many relationships survive a broken engagement, and these two pushed their wedding date back several times.
On a side note, does anyone remember when Jennifer Love Hewitt decided to just go by the name 'Love' in the style of Prince or Madonna? I think that's back when she was going to be a singer rather than an actress. Her music wasn't too bad, for the actor-turned-singer genre. Here's a link to her video for the single "Bare Naked" from 2002.
Note by Celebitchy: I hope this isn't true, as Kennedy seems like a giant douche to me. This is Star Magazine, though, so it's just as likely to be completely fabricated.
Jennifer Love Hewitt and Jamie Kennedy are shown at The Envelope Please Oscar viewing party on 2/22/09. Credit: WENN
Written by Helen

Posted in Jamie Kennedy, Jennifer Love Hewitt

- Harry Styles & Kimberly Stewart going strong [Lainey]
- Demi Moore's new man is gross [D-Listed]
- Fug or fab: Emma Stone [Go Fug Yourself]
- Arrest warrant issued for Jenelle Evans [Reality Tea]
- Only God Forgives review [Pajiba]
- Hugh Jackman, scooter master [Buzzfeed]
- Who does Drew Barrymore call her sister? [Evil Beet]
- Cannes couples past and present [Popsugar]
- Arrested Development supercut [CDAN]
- Lea Michele's see through skirt [Celebslam]
- Cheating wife's lover escapes out of window [Movin925]
- Joe Francis is crazy [Starcasm]
11 Responses to "Jennifer Love Hewitt rumored to be dating co-star Jamie Kennedy"